Our first snow marked the full arrival of winter in Chicago. And you know what we're thinking? A list of the best places for hearty comfort food in Chicago. Tis the season to unleash our cravings and indulge in guilt pleasure. We can always go to the gym before or after, right?
Oh, and don't forget to check out our list of best places for a hot bowl of soup in Chicago!
444 N Wabash Ave, Chicago, IL 60611
Located in the heart of Chicago, K+K redefines comfort food by adding a modern flair to your all-time favorites, from chicken and waffle to the best lobster Mac n' Cheese in town! Bring your friends and come enjoy their large kraft cocktails designed to tune up your mood. They've also recently started offering brunch. Saturday morning and some shrimp and grits with a twist definitely sounds right.
500 N Clark St #465, Chicago, IL 60654
At Jaleo – José Andrés's original and most personal restaurant concept, which opened in Chicago's River North neighborhood in July 2021 – enjoy Spain's most iconic dish:  Paella. Served by the whole pan for a group of two to four, try any of the five varieties with your favorite protein, from chicken to oxtail to fish, or opt for the vegetarian option.
The authentic Bomba rice from Valencia or Calasparra from Murcia absorb all the amazing flavors and to keep a perfect texture — perfect for a soul-warming comfort dish on a cold Chicago winter.
3335 N Halsted St, Chicago, IL 60657
The six-time Michelin Bib Gourmand winner in Northalsted is the perfect spot to enjoy a warm, hearty dish this winter. Diners can indulge in a Mushroom & Onion Flatbread featuring creamy mornay sauce, caramelized onions, glazed mushrooms, baby arugula, and grand cru alpine cheese.
Also on the menu, Wood offers a variety of housemade pastas including the Porcini Radiatore featuring house-made pasta, wood oven-roasted maitake mushrooms, tuscan kale, roasted garlic truffle butter, parmesan cream, fines herbes, and topped with mushroom bread crumb.
1709 W Chicago Ave, Chicago, IL 60622
At Funkenhausen, Chef Mark Steuer draws on his German heritage and Charleston, South Carolina upbringing to create dishes that reimagines his fondest meals and memories from childhood.
The modern beer hall serves a soulful mash-up of Southern and German flavors in Chicago's West Town neighborhood and innovative dishes including Pretzel French Toast, Summertime Spaetzle, Riesling Steamed Mussels, and more.
225 Michigan Ave, Chicago, IL 60601
A vibrant bar and restaurant on Michigan Ave, Sweetwater is known for its modern American food menu, perfect for lunch and dinner. When it comes to finding the best comfort food in Chicago, Sweetwater is definitely high on our list. Their soup of the day is always a great way to start the meal, and nothing says more about a hearty bite than the Crab Fondue. For main courses, try their Cajun Linguine and Shrimp n' Grits. Then, finish with the delicious S'mores Dip.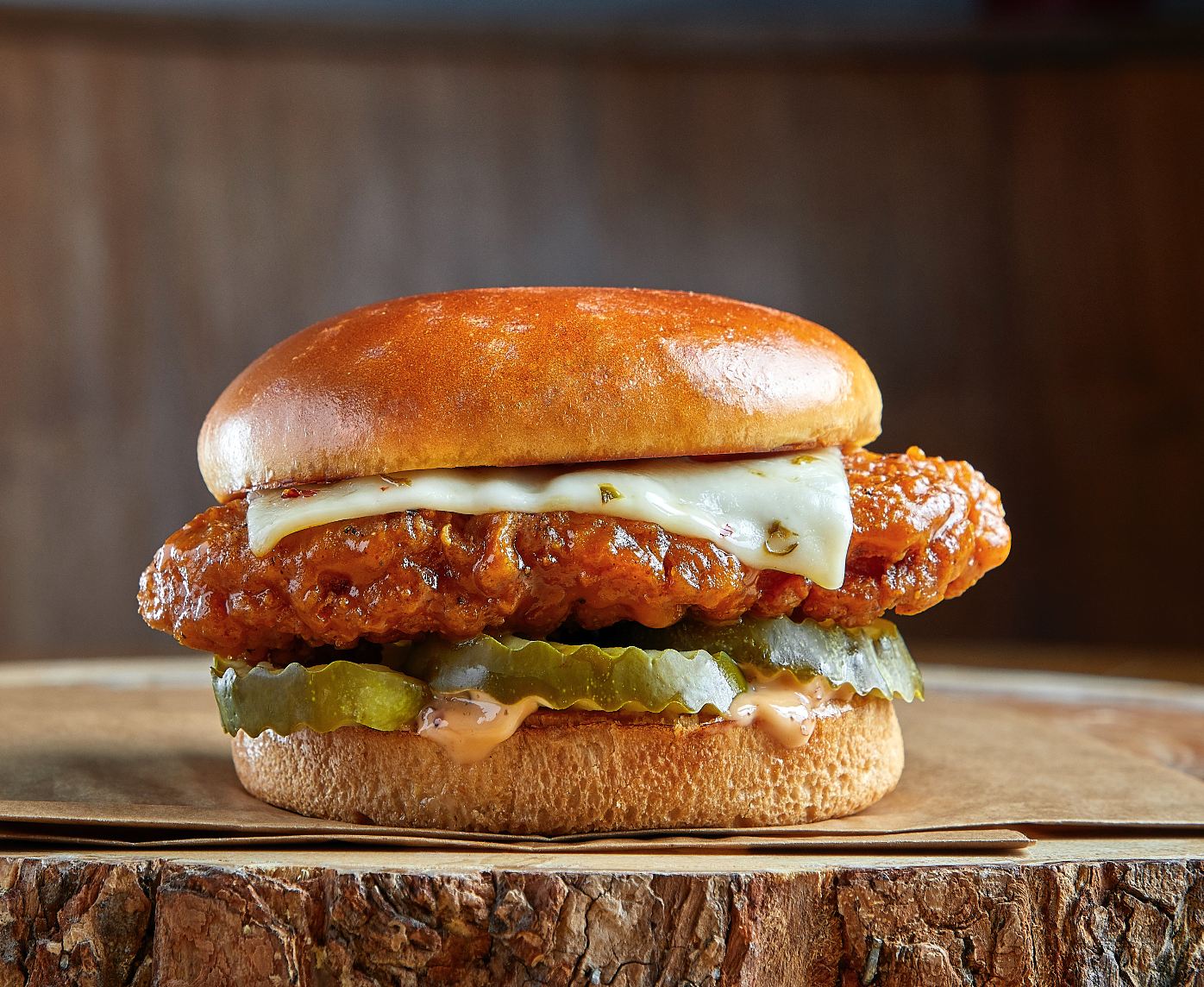 River North, Lincoln Park, South Loop, Skokie, Gold Coast, West Loop, Evanston location
If you don't consider honey hot chicken comfort food, I'm not sure if we can be friends anymore. 🙁
Anyways, if you haven't heard, our beloved Epic Burger has launched new items! Their Honey Hot Chicken sandwich uses all-natural Cajun fried chicken breast, honey hot sauce, pepper jack, pickle, and Epic sauce, served on a brioche bun. Not in the burger mood? Get a tender basket and mix & match your favorite dipping sauces!
2051 N California Ave, Chicago, IL 60647
3 simple words. Chicken. Pot. Pie. This hidden gem on N. California features a rotating menu of savory pies and sweet pies. And they have, for all things divine, one of the best chicken pot pies in town. Personally, we're also a huge fan of their Southern Tomato Pie! It's not too sweet or too tart, and that melty cheese definitely turns the whole experience into eating a classic tomato-sauce cheesy pasta — in pie form!
145 N Dearborn St, Chicago, IL 60602
Located in the Loop and Theater District, The Dearborn is the premiere dining destination for the area. Diners can indulge in a variety of Tavern Style pizzas, The Dearborn's signature burger, Parmesan Truffle Fries, Famous Fish & Chips, and many more!
205 N Peoria St, Chicago, IL 60607
Located in the heart of Chicago's West Loop neighborhood, PB&J is the ultimate comfort food destination. Serving a variety of pizzas including the "Loaded Baked Potato" featuring Ricotta Bechamel, Sliced Potatoes, Bacon, American Cheese, and Chives. Other menu items include the Country Chicken Sandwich featuring Crispy Cornflake-Crusted Fried Chicken, Creamy Slaw, Chipotle Aioli, Kosher Pickles, on a Brioche Bun.
At this West Loop speakeasy, Chef Noah Zamler has got guests looking for comfort food covered. Nestled under The Publishing House, diners can indulge in a variety of housemade pastas including the Cocoa Carmelle featuring shiitake mushrooms, parsnips, ricotta, fried shallots, and saba while transporting themselves to the 1920's. Additionally, guests can order the Sourdough Cavatelli with a cacio e pepe sauce.
400 N Clark St, Chicago, IL 60654
Along with their full menu, The Smith has got diners covered with the ultimate comfort food special, Red Sauce Sundays. Priced at $45.00 for two, diners will receive a Chicken Parmesan, Caesar Salad, Rigatoni alla vodka, Parmesan garlic flatbread, and finish the meal out with rainbow cookies. Making it the perfect date night dinner for two.
1542 N Damen Ave, Chicago, IL 60622
Chef Bill Kim's urbanbelly is home to Chicago's best curry and some of the city's ultimate comfort food. Priced at $14.50, Chef Kim's Ramen comes with braised pork belly, radish, scallions, cilantro and mushrooms.
Vegetarians can also indulge in urbanbelly's Shoyu Mushroom Ramen for $15, which comes served in a spiced shoyu broth with tofu, a soft-boiled egg, bean sprouts, scallions and cilantro. Winter is also a time for Pho, and urbanbelly offers Coconut Curry Pho for $13.50 with rice noodles, ground lemongrass chicken and cilantro bean sprouts served in a coconut broth.
838 W Kinzie St, Chicago, IL 60642
Chef Amanda Salas has completely revamped the menu at Recess, home to Chicago's largest outdoor patio. The patio is currently decked out like a lodge with comfy furniture, incredible games and a heated tent to keep you warm through the winter.
While enjoying the patio, be sure to try standouts from Chef Salas' menu like The Quilted Hog — a giant, exaggerated and elevated pig in a blanket. Recess also offers more childhood favorites like the new Big Boss Grilled Cheese, which is a huge and hearty grilled cheese and pairs perfectly with the new Chicken and Waffle Fries. Check out the full menu now by visiting www.chicagoinrecess.com.
932 W Fulton St, Chicago, IL 60607
Rose Mary in Chicago's historic Fulton Market District is Chef Joe Flamm's debut restaurant and an ode to his family and their Italian and Croatian roots. One of the favorite comfort foods from Chef Flamm's ever-changing menu is his Cevapi made with lepinja, ajvar, kajmak and red onion for $19.
But can you get more comforting than pasta? Rose Mary's Tortellini Djuvec has the carbs you need for Chicago winter with red pepper, eggplant, preserved zucchini, parmigiano and pine nuts for $20. Chef Flamm also offers a fun take on Risotto with his Funghi ($22) — served with grilled, pickled, and crispy mushrooms and ricotta. Reservations can be made by visiting Rose Mary on OpenTable.
817 W Lake St, Chicago, IL 60607
One of Executive Chef Johnny Besch's most popular menu items at BLVD Steakhouse is his Onion Soup Fondue. Chef Besch's Onion Soup Fondue is made with caramelized onion, veal stock, gruyere cheese and crostini, and it's literally the perfect soup to beat back the cold. The soup itself is an incredible feat and takes up to 50 hours for prep time.
For those in search of proteins, BLVD's Butcher's Block features some of the best cuts of beef from local Midwest farmers and even A-5 Wagyu from Miyazaki Prefecture in Japan. Orders can be made online by visiting www.blvdchicago.com.
2542 N Milwaukee Ave, Chicago, IL 60647
Inspired by the cosmopolitan taverns of Greece, Andros Taverna in Logan Square is a story of culinary heritage, purity of flavors, and warm hospitality from the husband and wife team consisting of Chef Doug Psaltis and Chef Hsing Chen.
Andros specializes in sophisticated Mediterranean soul food. Comfort foods come from Chef Psaltis' family recipes and Andros offers specialities like Wild Boar Macaroni ($27), Phyllo Spanakopita ($18), Prawn Saganaki ($24) and Eggplant Moussaka ($20). One of the favorites from Andros is Georgie's Gyros, which is cut from pork neck and shoulder and served on a wood fired pita with tomatoes, cucumber, spiced yogurt and fries.
2200 N California Ave, Chicago, IL 60647
Lardon in Chicago's Logan Square offers up the best charcuterie and sandwich program in the city. The best Reuben in Chicago is like a warm hug on a cold winter day and it comes served with heaps of pastrami, Midnight Moon gouda, fancy sauce, house-made kraut, deli pickles on marbled rye. All meat at Lardon is cured completely on site and utilizes the entirety of the animal.
Diners should also jump to order Lardon's Chef Board, which boasts rotating cured meats from Chef Chris Thompson and is guaranteed to be the best house-made charcuterie available in Chicago. Order to-go and takeout now by visiting Lardon on Toast.
340 N Clark St, Chicago, IL 60654
Nonnina in Chicago's River North is home to a slew of Housemade Pastas to fill up even the hungriest diners in the city. Available for both dine-in and takeout, diners will love comfort pastas like Nonnina's Gnocchi (ricotta gnocchi, Tuscan kale, roasted vegetables, parmesan broth), Pappardelle (ribbon cut pasta, braised short rib ragu and parmesan) or the Carbonara (hollow spaghetti, house cured pancetta, egg yolk, and pecorino Romano cheese).
Nonnina also offers amazing main courses like the Chicken Vesuvio, which is served oven-roasted with fingerling potatoes and peas in a Vesuvio sauce, or the Salmon — pan-roasted and served with spinach, artichoke, San Marzano tomatoes, fregola, and pistachio pesto.
150 N Dearborn St, Chicago, IL 60601
The recently reopened Petterino's in Chicago's Theater District features a new chef-driven menu of classics and new comfort foods from Chef Ozzy Amelotti. Diners will love to stop into Petterino's for pre-show or post-show comfort foods like Chef Amelotti's handmade pasta, sandwiches served with chipperbec fries, or Petterino's new Chicken Pot Pie, served piping hot in a puff pastry and stuffed with garden vegetables smothered in Chef Amelotti's besciamella sauce.
Petterino's offers diners lunch and dinner specials, as well as an afternoon bar menu and the perfect Happy Hour with bites for anyone traveling through Chicago's Loop.
221 N Columbus Dr, Chicago, IL 60601
Experience farm-to-table dining in the heart of Downtown Chicago at FireLake Grill House & Cocktail Bar. Steps from Lake Michigan and Millennium Park, FireLake is an inviting showcase for the excellent food and welcoming spirit that define our city. The acclaimed American grill concept, known for its wood-fired cooking, offers a menu featuring the Midwest's best meat, freshwater fish, and produce.
This winter diners searching for delicious comfort food can enjoy Executive Chef Leonard Ventura's Buttermilk Biscuit Sandwich featuring a house made biscuit, choice of egg any style, sausage patty, cheddar cheese, avocado, arugula, and potatoes for breakfast or brunch, and Coffee Rubbed Smoked Brisket, smoked almond sauce with tobacco onions and house potato salad for dinner.
854 W Randolph St, Chicago, IL 60607
Who said sushi is just for the summertime? At Nobu Chicago, all your senses will be wowed as Chef Nobu continues to bring the latest trends in new-style, Japanese cuisine to life with an extensive menu of inventive dishes and bold cocktails. Enjoy classic Sushi favorites like the Salmon Avocado, Yellowtail and Scallion, Spicy Tuna, or try something new with the House Special.
Also, don't forget to try Nobu's wide selection of hot dishes that are a perfect comfort on a chilly, Chicago evening such as the Creamy Spicy Snow Crab or the Umami Chicken paired with a side of Roasted Baby Corn.
Featured Image: Rose Mary