Partied a little too much on NYE? Or simply looking for a healthier start in 2022? Well. We challenge you to participate in Dry January this year and give your body a cleanse — only without sacrificing the deliciousness and delight brought to you by a good drink! Check out our favorite zero-proof beverages from spots across the town, or DIY a mocktail at home with our favorite bartender's secret recipes!
302 N Green St 3rd Floor, Chicago, IL 60607
Enjoy the light and breezy flair at Aba, the all-time favorite for Mediterranean fare and cocktails. But wait, it's mocktails we're talking about this month! Well, if you're familiar enough with Mediterranean cuisine, then you know they're no short on non-alcoholic beverages at all. For this Dry January, check out Aba's Blueberry Tonic, Pineapple Serrano Soda, and Raspberry Orange drinks.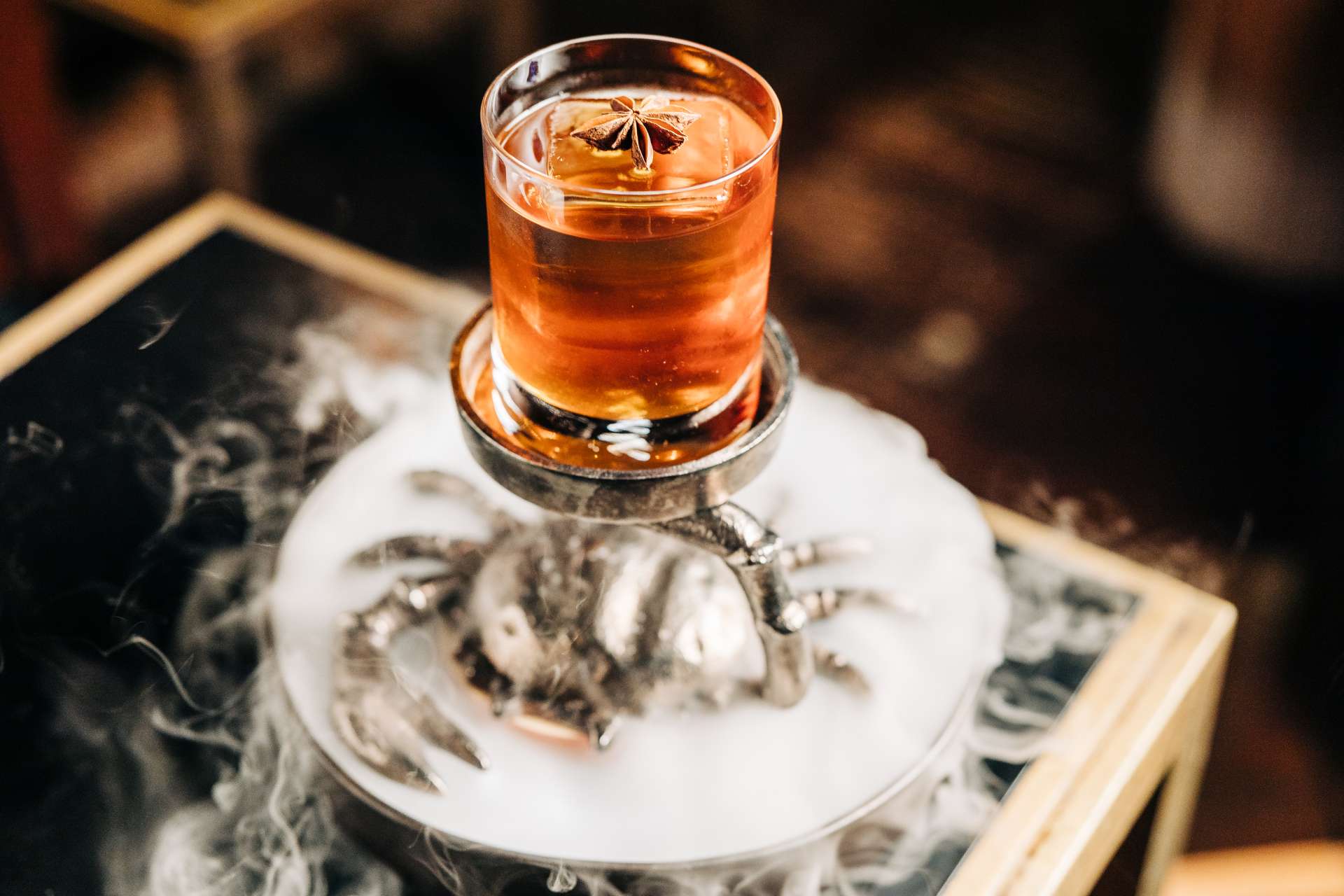 435 N Clark St, Chicago, IL 60654
Your favorite Tiki Bar in Chicago brings you the brand new Con Artist, made with Cocoa Nib, Chinese Five Spice, cinnamon bark. The Con Artist uses a tea that we make with Costa Rican single estate cocoa nibs, lending a perceived bitterness as well of sweetness. Honestly, this is just as tasty as any of their regular cocktails. Highly recommended!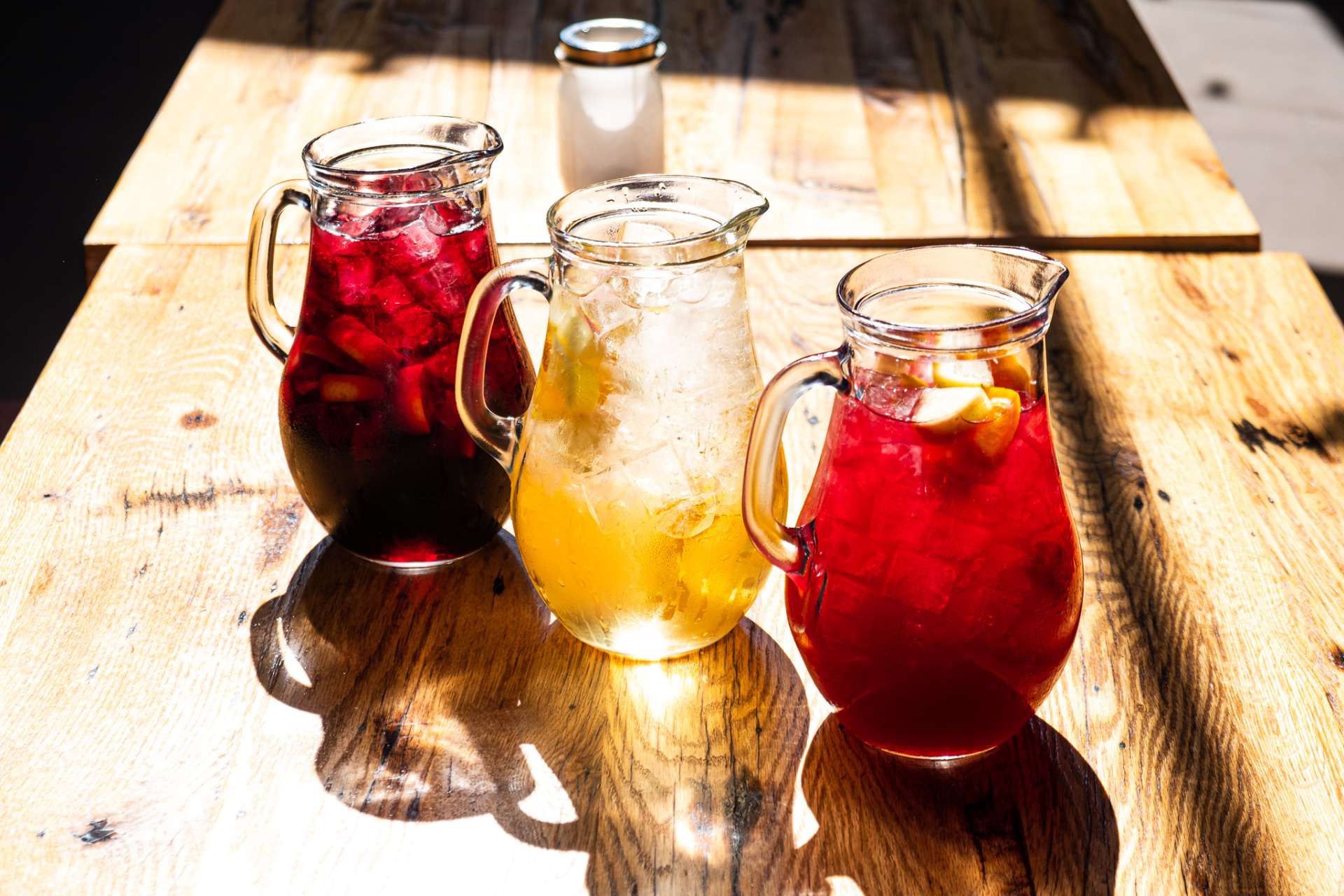 2024 N Halsted St, Chicago, IL 60614
Need some motivation to stay dry? Cafe Ba-Ba-Reeba! is here to help! Their Virgin Sangria Dry January specials feature $6 glasses and $24 pitchers, plus tax. What's your favorite flavor? Or might as well try all three!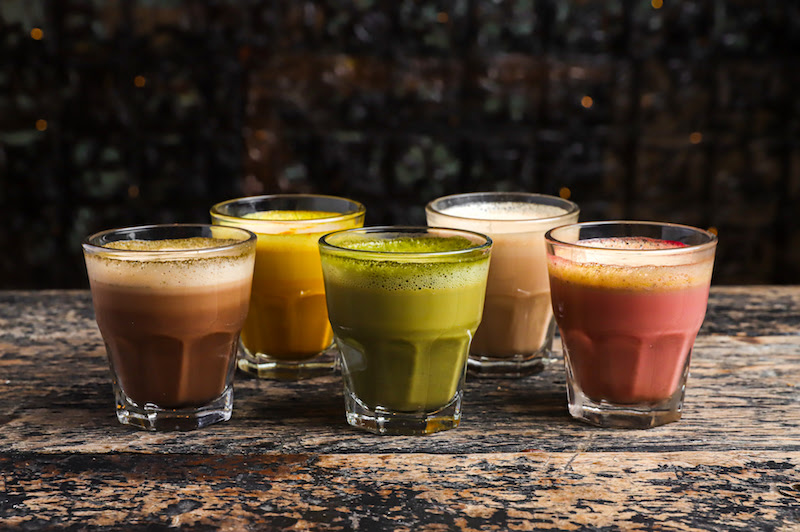 Chiya Chai
79 E Madison St. Chicago, IL 60602
Chiya Chai (79 E. Madison Street) encourages Chicagoans to chai something new with their "Chai Happy Hour". Beginning Monday, January 17, Chiya Chai will offer any medium hot chai from their menu for $3 (originally $4.25 to $4.50) from 3 to 5 p.m., every Monday through Friday at the Loop location.
Dubbed as the "original mocktail," the zero-proof beverages are the perfect alternative for those wanting to unwind — while avoiding alcohol — for Dry January and beyond. With over 150 chai combinations, guests can find their favorite flavor while centering themselves before going back to the office or unwinding after a long workday. Chai flavor favorites include originals like Spicy Masala, Ginger Cardamom, and Ginger Fennel, as well as specialty flavors like Sea Salt Caramel and Turmeric Curry.
74 W Illinois St, Chicago, IL 60654
Enjoy zero-proof cocktails at Ema for a healthier start to 2022! Highlighted menu items include the Pineapple Ginger Soda with pineapple, lime, ginger, and soda and Pomegranate Backsplash with pomegranate, lemon, orange, and soda.
441 N Clark St #1, Chicago, IL 60654
Looking for more dry January specials? Lil' Ba-Ba-Reeba! is pouring up Virgin Sangria and Virgin Mojitos all January long. Get the sangria and the mojito for $7 per glass.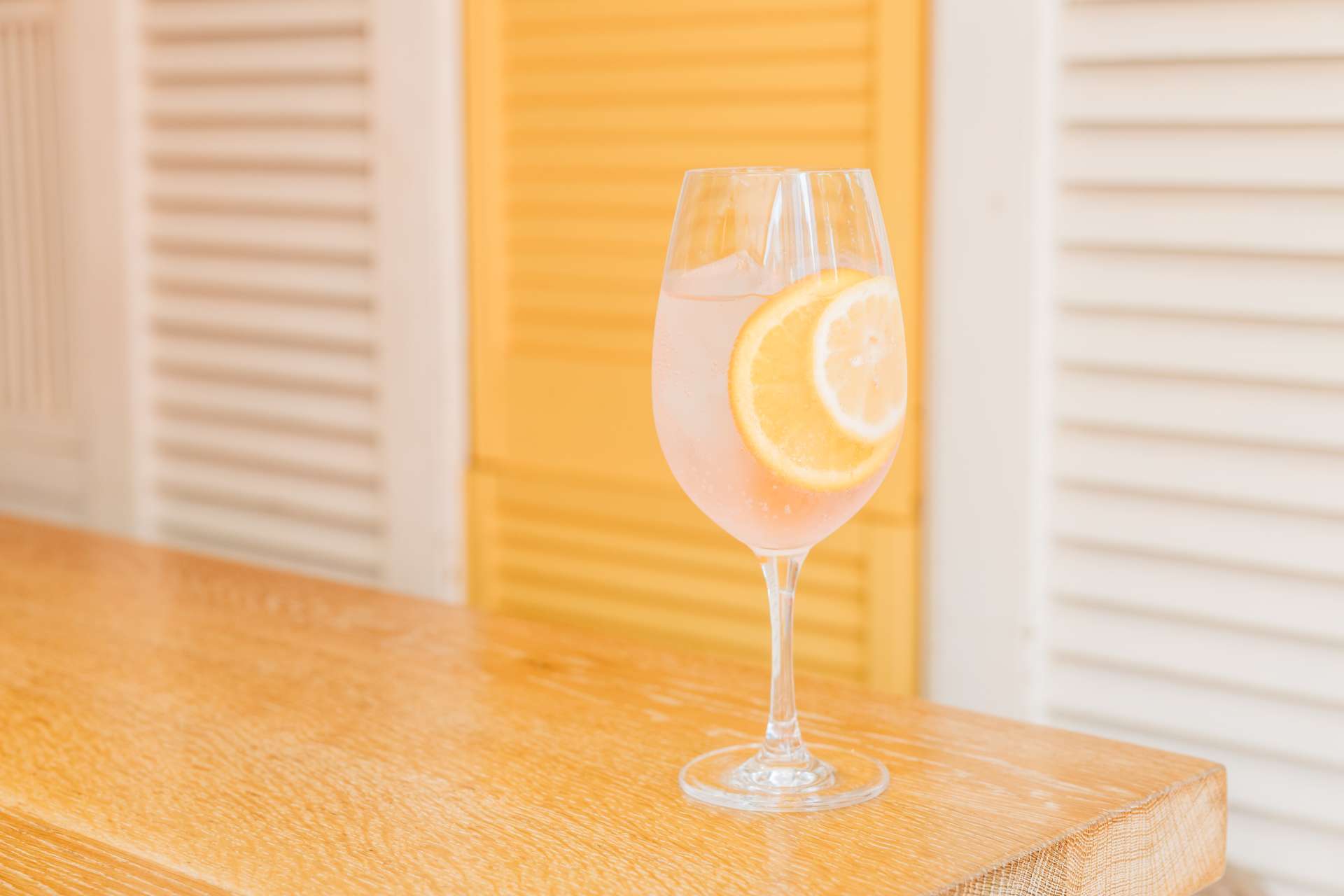 317 N Clark St, Chicago, IL 60654
Come sip and dine! Pizzeria Portofino, one of our favorite pizza spots, now offers the Seaside Spritz with yuzu and the Waitlist with elderflower, rose and lemon. The Seaside Spritz is also available at RPM Seafood and RPM Italian!
1962 N Halsted St, Chicago, IL 60614
Enjoy a refreshing Ginger's Island, made with fresh pineapple, ginger, lime, mint and angostura. Or Cape May (virgin Cape Cod) made with housemade cranberry juice, sage syrup and fresh lemon. Want something simple? Try the Cider Sangria!
1954 N Halsted St, Chicago, IL 60614
Your favorite spot is serving a variety of Zero-Proof Cocktails at lunch, dinner, and weekend brunch. Refreshing options include Post Water-melone with watermelon, lemon, and mint and a zesty Pineapple Kick. Throughout January, $1 from every mocktail sold at Summer House in Lincoln Park will be donated to the Bobby Joe's Road to Recovery fund, raising funds for the restaurant's dear friend and former Beverage Director.
1709 W Chicago Ave, Chicago, IL 60622
Funkenhausen, located in Chicago's West Town neighborhood, has been known for their extensive and unique wine and beer program from German-speaking regions around the world, but now zero-proof cocktails are taking over and Funkenhausen has crafted a superior menu such as:
Sweet but Feisty: A citrusy explosion with some spicy surprises in every sip made with lemonade, cinnamon syrup, spicy arbol bitters, a splash of soda water and topped with Tonic.

Gimme the Tea: A relaxing beverage for tea lovers made with mint tea, lemon juice, honey syrup and finished with equal parts soda water and tonic

Money Bags: A drink that looks like money without breaking the bank made with cucumber basil syrup, lemon juice, a splash of demerara, followed by a splash of soda and topped with Tonic.

All the Magic: A drink surely to make you believe in magic with Ghia non-alcoholic aperitif, cinnamon syrup, lime juice, 3 dashes of angostura bitters finished with equal parts sprite and Ghia brand soda water.
676 N St Clair St, Chicago, IL 60611
Every day is a good day for tacos. But it's even better if we can enjoy some delicious drinks that go with said tacos without breaking our Dry January rules! Tallboy Taco's selection of Agua Frescas is a must-try when it comes to zero-proof cocktails. These are available in various classic flavors, including Hibiscus Lemonade and Horchata.
854 W Randolph St, Chicago, IL 60607
Experience traditional Japanese fine dining while sipping on delicious zero-proof cocktails this Dry January, both being great additions to various fish selections.
Sip on the Yuzu Strawberry Calpico made with strawberry calpico, yuzu, lime, and mint offering unique refreshment with every sip. Those looking for a little spice, try the Spicy Lemonade with lemon, ferrarelle sparkling, honey syrup, demerara, and serrano.
2075 N Lincoln Ave, Chicago, IL 60614
Located in Chicago's Lincoln Park neighborhood, this American bistro offers a variety of zero-proof cocktails. Available during brunch and dinner service, diners can sip on the "FGK" featuring cranberry, mint, lime, soda, and housemade ginger syrup. Gemini also offers the "Danny-O" featuring 5-alive, ginger ale, and club soda.
4229 N Lincoln Ave, Chicago, IL 60618
At this tiny-French dining restaurant in Chicago's North Center neighborhood, Beverage Director David Mor is taking the idea of "beverage pairing" one step further, by offering a spirit-free beverage pairing that guests can add-on to their experience in addition to their wine/cocktail pairing. These cocktails are also available a la carte.
565 W Randolph St, Chicago, IL 60661
A Bib Gourmand Award recipient, PROXI in Chicago's West Loop offers up five different drinks to keep Dry January resolutions alive in 2022. PROXI's Argyle Socks blends Black Currant, Mint, Lime, and Tonic. Or, try the Flower Boy featuring Lychee, Ginger and Lemon. PROXI also offers no-ABV drinks like the Athletic Brewing Co.'s Upside Dawn (Golden Ale), Chicago's Lagunitas Hop Water with Hoppy Refresher and Topo Chico fresh from Mexico.
500 N Clark St, Chicago, IL 60654
Pigtail, the first speakeasy-style concept from José Andrés and ThinkFoodGroup, serves up two different non-alcoholic cocktails at the speakeasy. Ticket to Nowhere comes with Seedlip Garden, Ginger, Vanilla, Lime, Grapefruit, Thai Chili, Thai Basil, Cilantro and Mint and Pigtail's La Placita (frozen with LN2) comes with Seedlip Spice 94, Pineapple, Roasted Coconut Cream, Citrus, Cinnamon, Vanilla and Nutmeg.
Pigtail is located in the lower level of Jaleo Chicago in River North and is the perfect start to the evening or end cap on your night in the city.
122 W Monroe St, Chicago, IL 60603
Boleo brings the dramatic flavors of South America to the best rooftop in the Loop for Chicagoans to enjoy year-round. This Dry January, enjoy three non-alcoholic cocktails from the 15th floor of the Kimpton Gray Hotel:
Chicha Morada made with Purple Corn, Apples, Pears, Pineapple, Cloves, Cinnamon, and Lime
Behind the Clouds featuring Pina and Cilantro Shrub
Topo Chico or the Lasalle Arnold Palmer created with Blueberry Green Tea Lemonade.
Savor the delicious Peruvian and Argentinian inspired non-alcoholic cocktails under the glass retractable roof and watch the night sky come alive while listening to the sultry beats spun by resident DJs all year round.
DIY Mocktail Recipes for Dry January
Not in the mood of going out for a zero-proof cocktail? How about you make your own at home? Our favorite bartenders generously shared some of their favorite recipes. Just remember: the key to a good drink is about keeping it simple. And since your drink is "lacking" the alcohol aspect of it, make sure your garnishment stands out even more than regular cocktails!
Also, you can add a dash of non-alcoholic bitters (easily found online) or use a shrub base for more vibrant and complex flavors.
Pure Bliss
224 N Michigan Ave, Chicago, IL 60601
Ingredients
Fresh mint leaves
Fresh grated ginger
.75 oz lime juice
Ginger Beer
Splash of grapefruit juice
Muddle mint and ginger in the bottom of a rocks glass. Add lime juice, top with ice then fill the glass with ginger beer and give it a quick stir. Top with a splash of grapefruit juice for color.
Rose Tea Lemonade
81 E Wacker Pl, Chicago, IL 60601
Ingredients
1.5 oz. rosehip tea simple syrup: Brew 10 oz. of rosehip tea and combine with 10 oz. of granulated sugar. Stir until sugar is dissolved.
1.5 oz. fresh-squeezed lemon juice
Fever-Tree sparkling pink grapefruit
Combine tea simple and lemon juice in a shaker with two ice cubes, shake for 10 seconds. Pour directly into a Collins glass, fill glass with ice, top off glass with grapefruit soda. Garnish with a heap of fresh mint and a gorgeous strawberry.
Computer Blue
2421 N Milwaukee Ave, Chicago, IL 60647
Ingredients
1 oz lime
1 oz pineapple Juice
1 oz maid syrup — Combine a ratio of 3:1 Coco Lopez cream of coconut to simple syrup.
dash of butterfly pea flower tincture.
Alta Amaro Club Soda (N/A)
Shake lime, pineapple, Maid Syrup, and butterfly pea flower tincture with ice, strain into a rocks glass over ice. Top with Alta Amaro Club Soda. Garnish with edible flowers.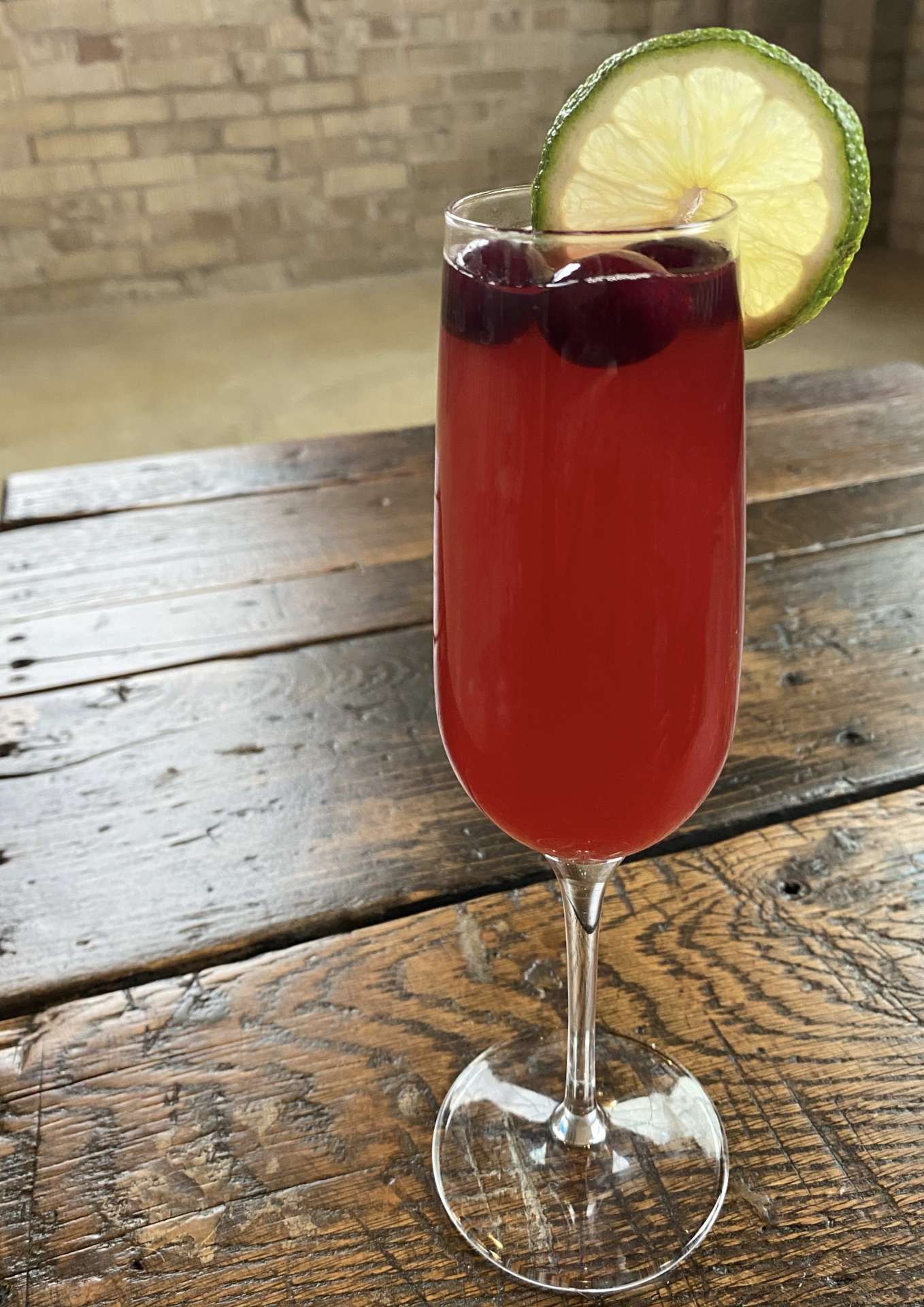 Vermillion Spritz
809 N 2199th Rd, Tonica, IL 61370
Ingredients
Bar spoon of fresh ginger, peeled and chopped
1.5 oz Apple Cider Cranberry Shrub — Combine 1 cup sugar, 1/2 cup water, 1/2 cup apple cider and 2 cups fresh cranberries in a saucepan over low heat. Cook about 20 minutes at a simmer, stirring frequently. Strain and let cool.
.5 oz lime juice
1 oz cranberry juice
Ginger beer
In a shaker with ice, combine syrup, ginger, lime juice, and cranberry juice. Shake vigorously for 10 seconds. Strain over ice into a wine glass. Top with ginger beer.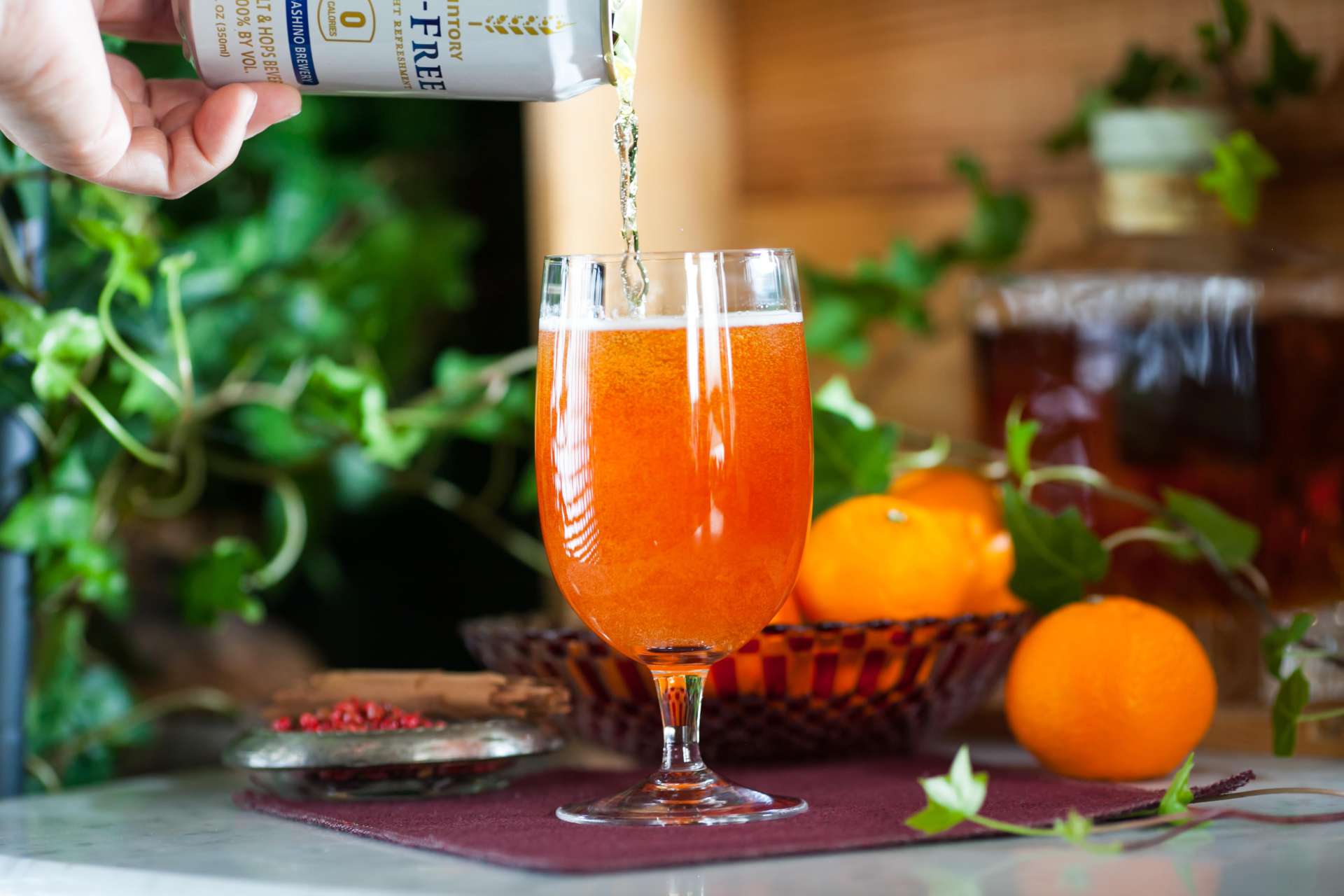 Garnet Shandy by Julia Momosé
Ingredients
1 Cinnamon stick, whole
0.5 teaspoon Pink Peppercorns, whole
1 teaspoon Green Cardamom, decorticated (separated from the pod)
1 satsuma orange (or any winter citrus)
Cranberry Juice
*can also use other baking spices as desired*
Directions
Measure 8 oz cranberry juice and set aside. Lightly crack spices and toast in a dry saucepan over medium heat until aromatic. Pour the cranberry juice over the toasted spices and cook over medium heat until it simmers. Turn heat down to medium low. Slice your winter citrus and add wheels to the pot and simmer for five minutes. Strain and sweeten with honey (or other preferred sweetener). Cool and keep refrigerated.
Select your favorite tulip glass or flute. Fill most of the way with Suntory ALL-FREE, and measure 1 oz to 1.5 ounces of spiced cranberry base into the glass. Pour slowly so that it layers for a fun two-tone effect.
Featured Image Credit: Cafe Ba Ba Reeba!