Although Game of Thrones came to a bitter end in 2019, Winter in Chicago hasn't announced its finale. In short, Winter is coming for you, Chicago. As such, prepare for the expected: crowded CTA heat-lamps, salted sidewalks, and negative wind-chill temperatures. To brighten up your day, we've gathered a list of the best outdoor bars near you in Chicago with heated, outdoor seating options.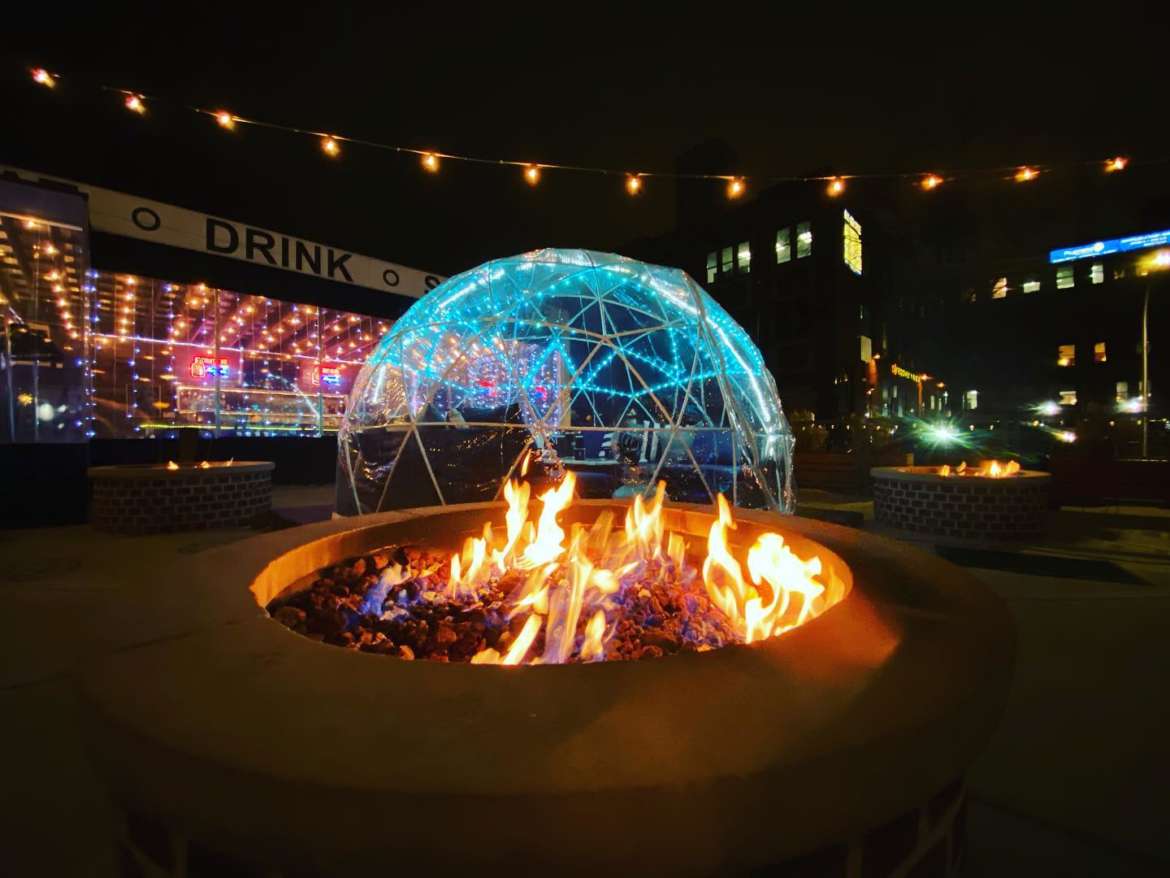 Barcocina |

2901 N Sheffield Ave
Have you ever enjoyed a traditional chicken tinga taco … but in an igloo? Great news! Now you can! Welcome to Barcocina off the Wellington Brown Line L stop in Chicago's Lakeview neighborhood. Adjacent to the L-tracks, you'll discover that the usually temperate side-patio at this outdoor bar has been converted into an igloo wonderland. Huddle inside a clear, ice-like, twinkly-lit igloo and you'll feel like you've been transported to Disney's Frozen but it's even better… because there are tacos!
Note: you will have to book this in advance by emailing Barcocina directly: desi@barcocinachicago.com.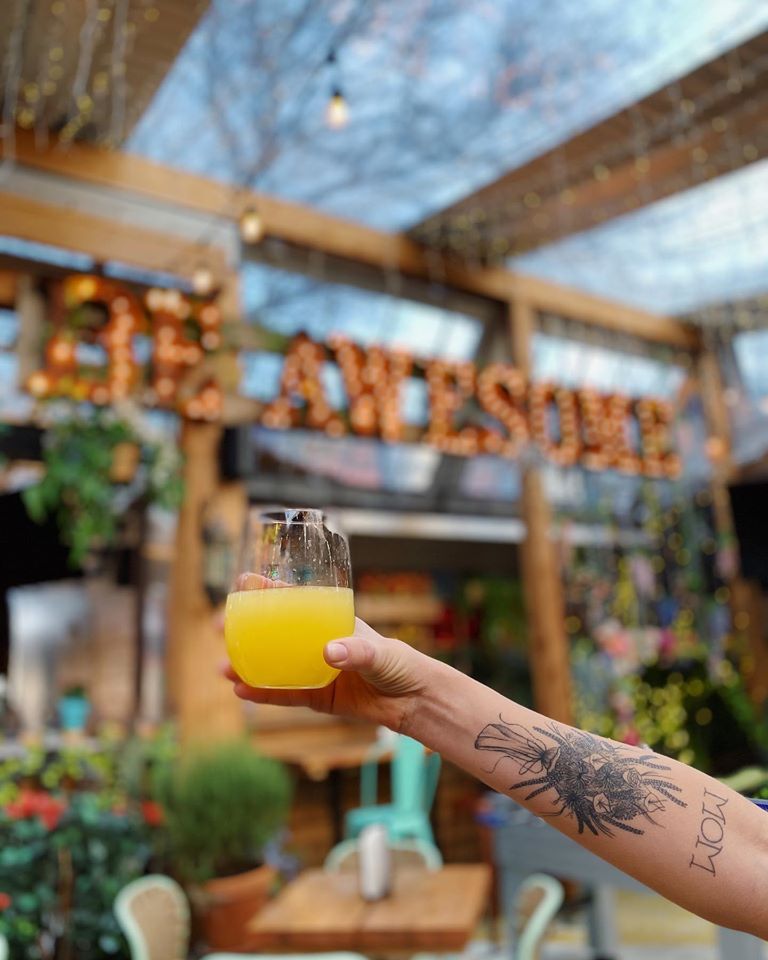 Homeslice |

938 W Webster Ave
Sure, deep dish pizza is iconoclastic to Chicago but Homeslice is where the heart is. With elements of the outdoors inside this hearty establishment (Oregon timber makes up the tables, booths, and ceiling!), you're instantly transported to the whimsical depths of an Oregon forest. And this forest enclave just so happens to craft some of the finest Brooklyn-style pizza in the Second City. Adventure outside and you'll find a pleasant outdoor beer garden, complete with a pizza-mural (made out of flowers!). It may be winter in Chicago but the cabanas, picnic tables, and the airstream trailer will make you feel like it's summer in the Chi! The patio is heated all throughout winter and is ready for you!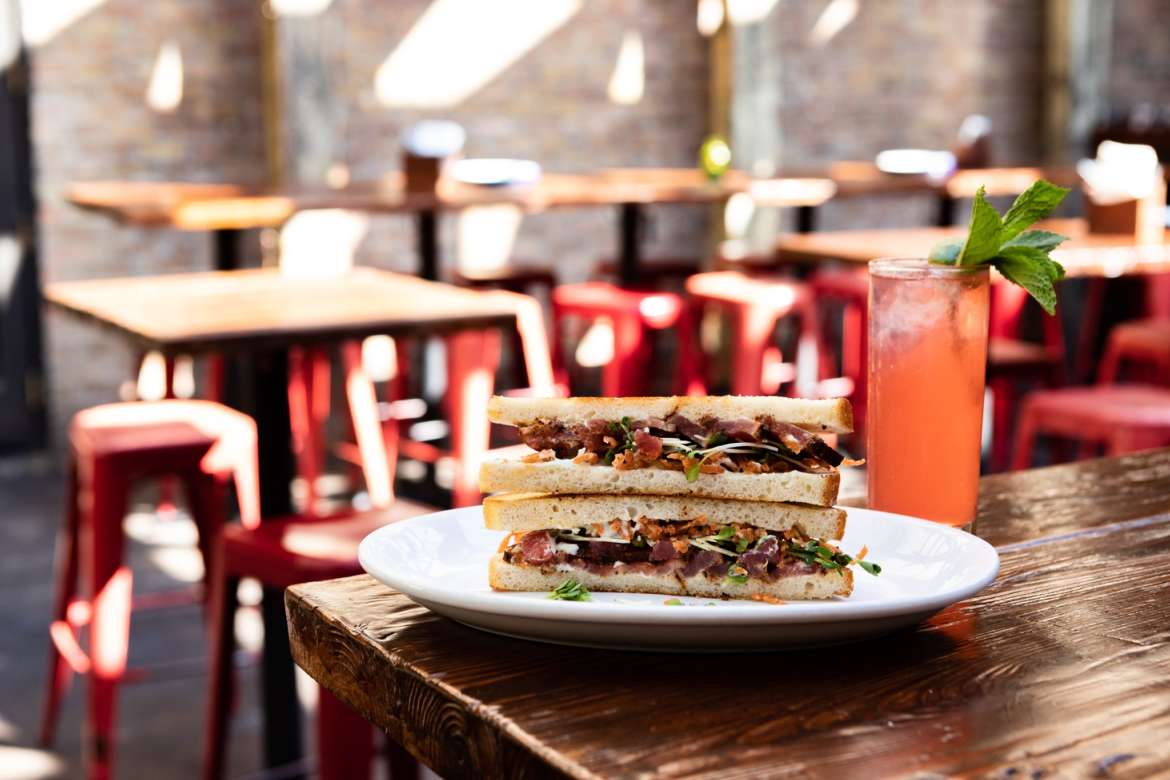 Frontier |

1072 N Milwaukee Ave
Welcome to the new frontier of Chicago: the taste of the rugged wilderness that just so happens to be in the city. You'll find comfort in the wilderness in an outdoor, enclosed and heated outdoor seating in the beer garden at Frontier. This outdoor bar offers a really dynamic ambiance: a calm, welcoming environment with a fierce, stacked menu full of plenty carnivorous offerings. The spacious, warm, and cozy beer garden is perfect for any size party (and even available for private bookings).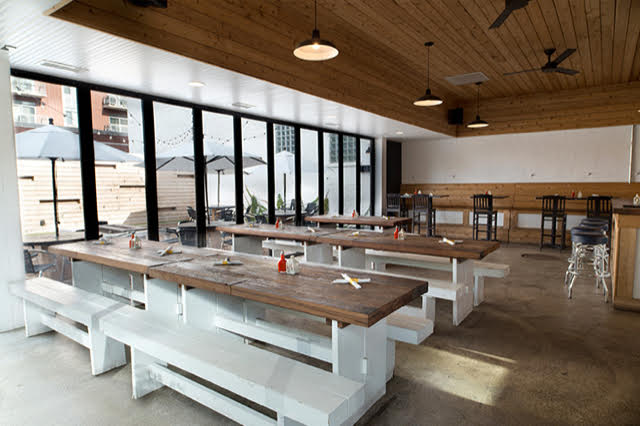 Saint Lou's Assembly | 664 W Lake St
Summer may be over but the party's still going strong on the patio at Saint Lou's Assembly. Thanks to the Lake Street hotspot's enclosed, all-weather "out back" space, it's easy to forget there's snow on the ground as you keep cozy while enjoying selections from the menu of elevated American cuisine and inventive craft cocktails. Simply snag a spot at one of the indoor picnic tables, grab a hot toddy, and get your fill of winter-time patio vibes.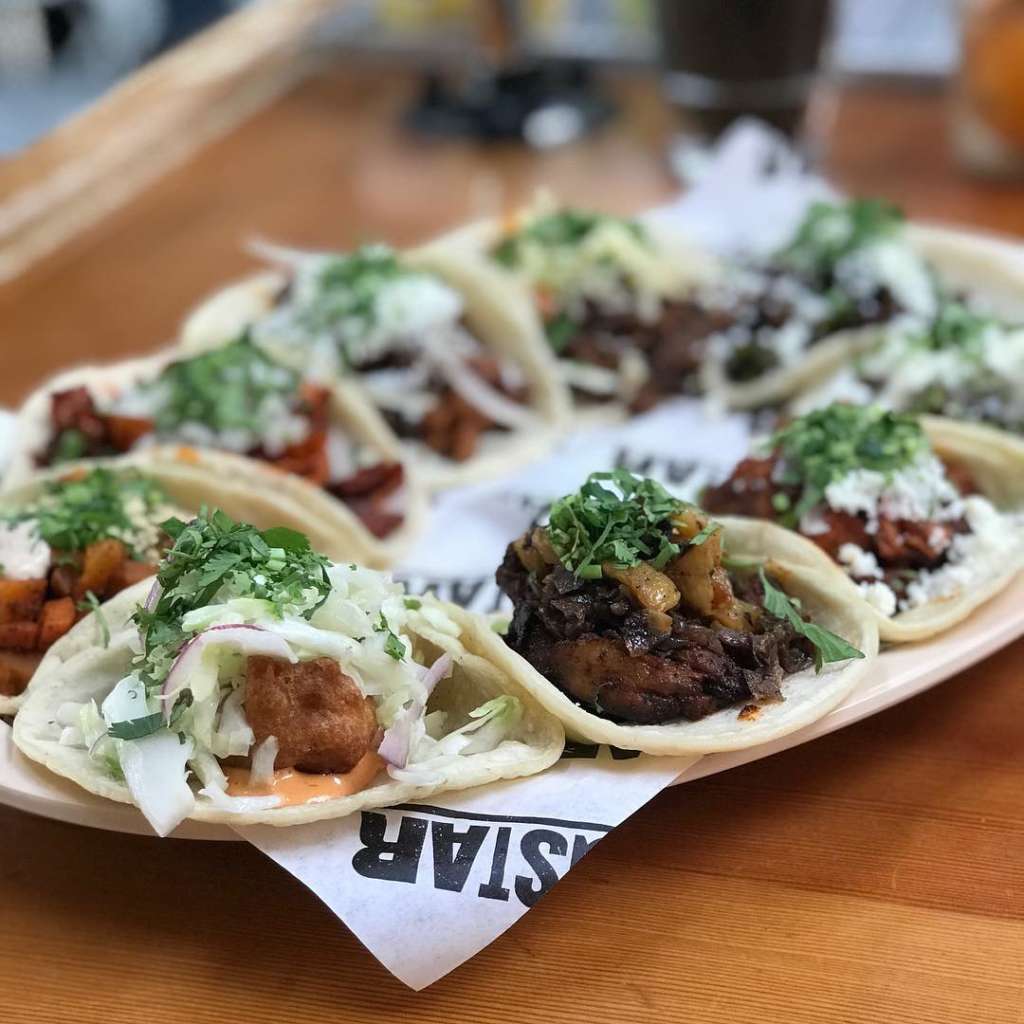 Big Star | 1531 N Damen Ave
It's Taco Tuesday … somewhere! Whichever day it is, Big Star offers an engaging yet relaxed environment in the middle of Wicker Park's buzzing nightlife with insulated outdoor seating. Explore their menu (did someone say queso?) while diving into a pitcher of your Big Star's twist on a classic Paloma!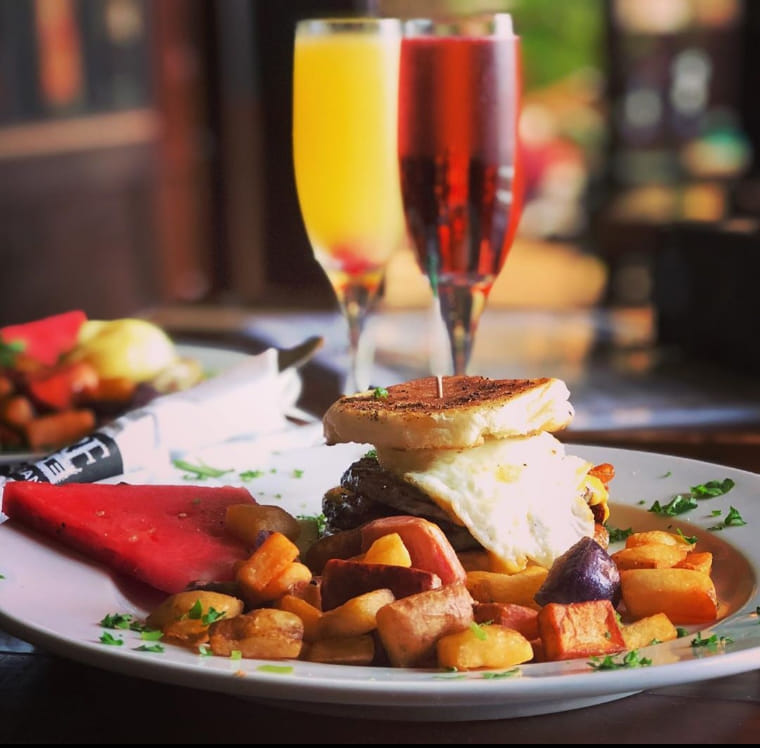 Fireside Restaurant Lounge |

5739 N Ravenswood Ave
You know what makes campfires even better? Gouda Mac and Cheese. It's a game-changer. You know what makes your average Tuesday better? Not trekking to the wilderness but, rather, ordering a late-night feast at Fireside Restaurant and Lounge. Head to this outdoor bar in Ravenswood and take your Easy Mac to the next level or enjoy a local draft, craft beer. With plenty of dining options, libation offerings, and cozy seating you're sure to find the cheese to your macaroni at Fireside.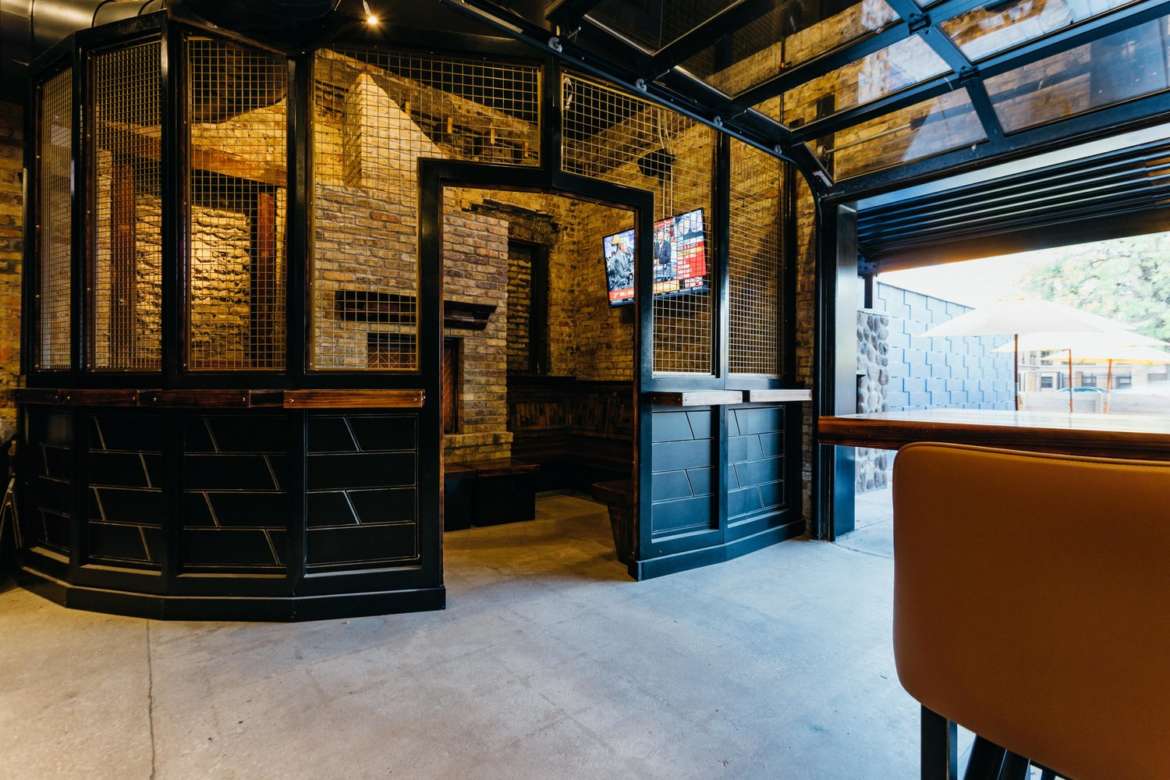 Moonlighter |

3204 W Armitage Ave
Sports bar? Dog-Friendly Patio? Vegan? Yes to all of the above. We might not be in Kansas anymore but we are home, friend. The Moonlighter has an extremely relaxed vibe and a place that takes its food and drink creations seriously. Bask in the moonlight and enjoy your moment of solace with your choice of libation. Come for the vegan eats and stay for the home-like atmosphere.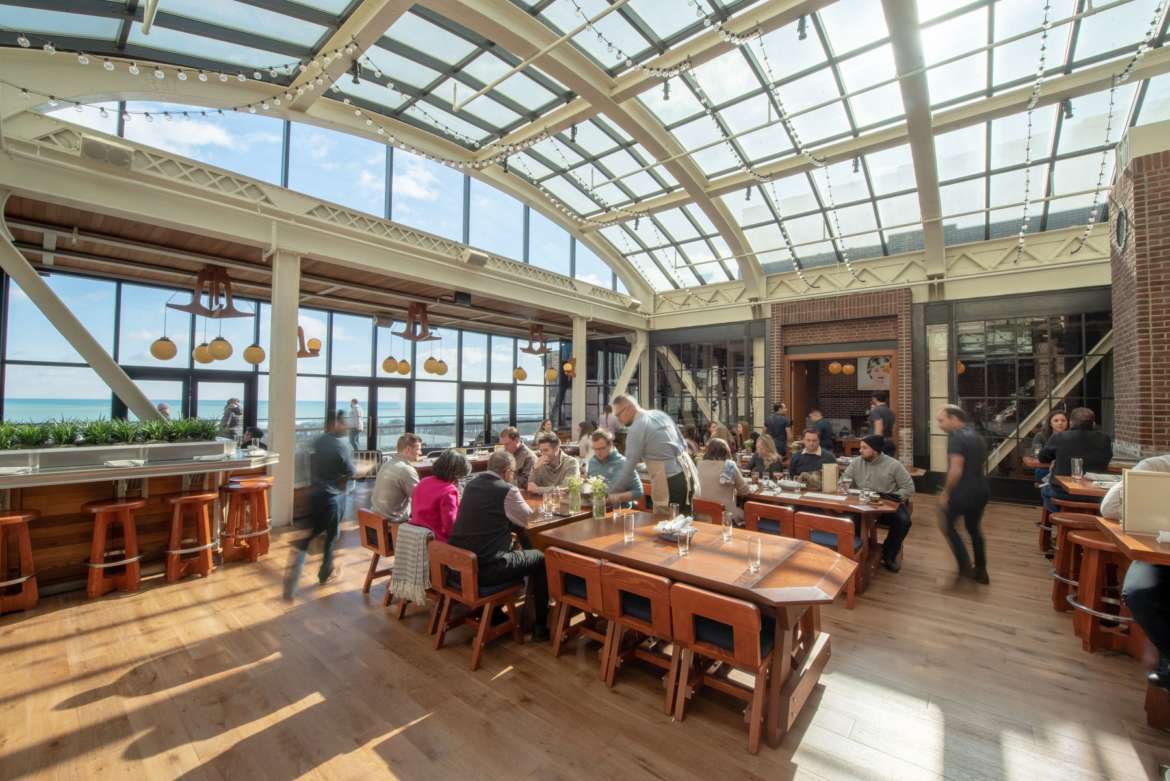 Cindy's Rooftop | 12 S. Michigan Ave
Cindy's Rooftop ("Cindy's") is a quintessential splurge for locals and tourists alike; once you exit the vintage elevator to the 13th floor, the art-deco glamor and high vaulted ceilings will whisk you away into an evening of enchantment. As you make your way outdoors to the perfectly-perched, heated patio overlooking Michigan Avenue, you can't help but succumb to the grandeur of Chicago's spectacular view. Best of all: you'll have a front-row seat (regardless of where you find yourself on the patio!). Cindy's crafts elegant cocktails while simultaneously creating an approachable, elevated ambiance for Chicagoans and visitors alike. 
*Note: Cindy's is on a brief hiatus for the first of January; don't worry, Cindy's will return in full swing on January 9th.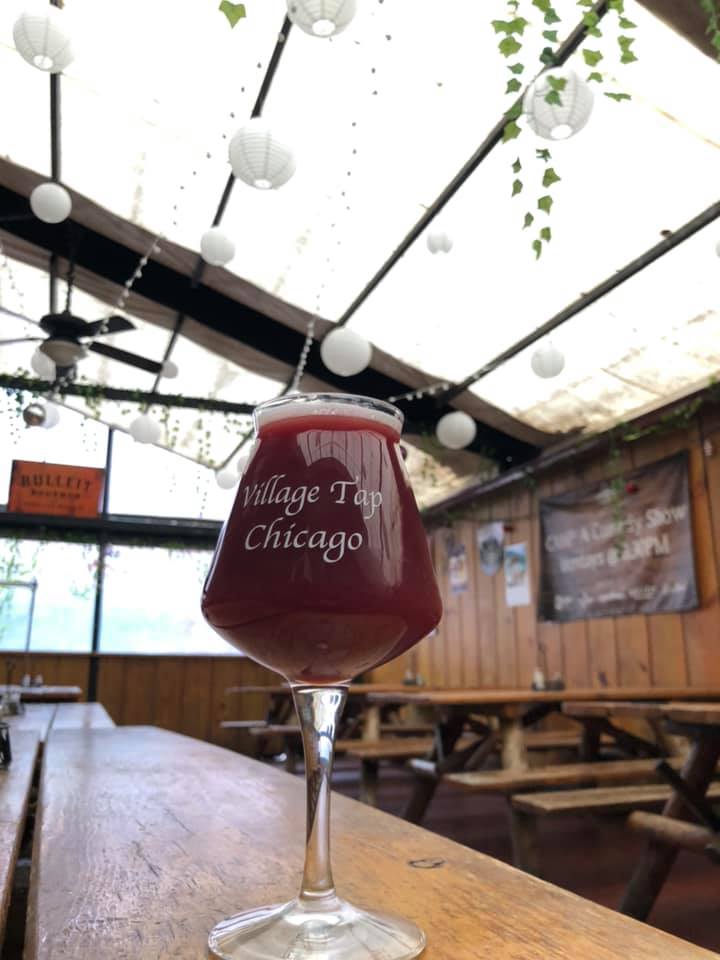 Village Tap |

2055 W Roscoe St
Fried-cheese curds should be included on the Chicago flag. Sounds crazy, right? Well, maybe not after you've sampled the cheese curds with chipotle ranch from Village Tap. Truly, these delightful puffs of fried goodness from your local establishment in Roscoe Village (complete with a heated beer garden!) may just become a Chicago tradition for you. Bring a pal or two and get ready to chow down on classic American-fare items while enjoying the extensive list of tap beers. This neighborhood establishment is open until 2 am on weekdays and 3 am on weekends (starting on Fridays), so feel free to eat, drink, and be merry in the heated-outdoors!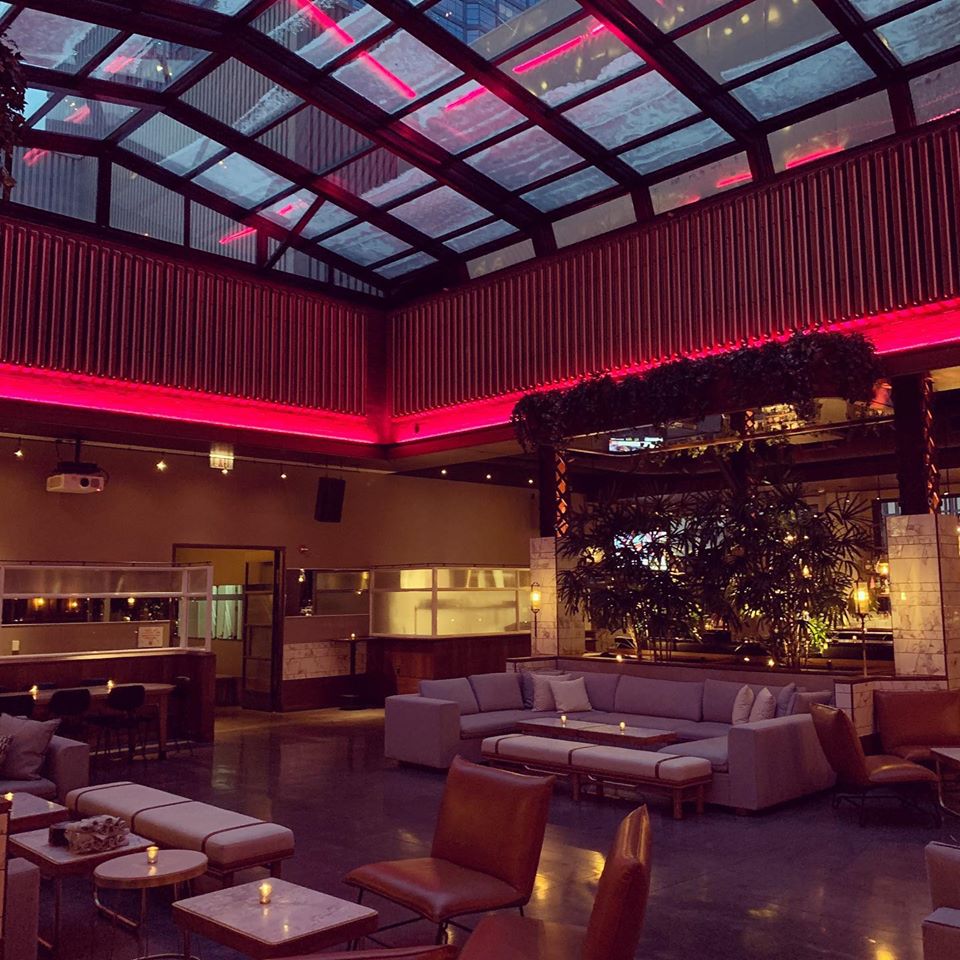 Boleo Chicago | 122 W Monroe St
Boleo brings its Peruvian-A-Game to The Loop. Traditional Latin American inspired-cocktails with fresh-Chicago interpretations complete a comprehensive tapas menu. The rooftop-patio has a retractable-roof that allows you to figuratively be outdoors. You can be transported to the great outdoors while never really having to encounter its bitter elements. Enjoy an intimate dining (or drinking) experience any time of year or liven up your evening with their weekday happy-hour special: disco punch!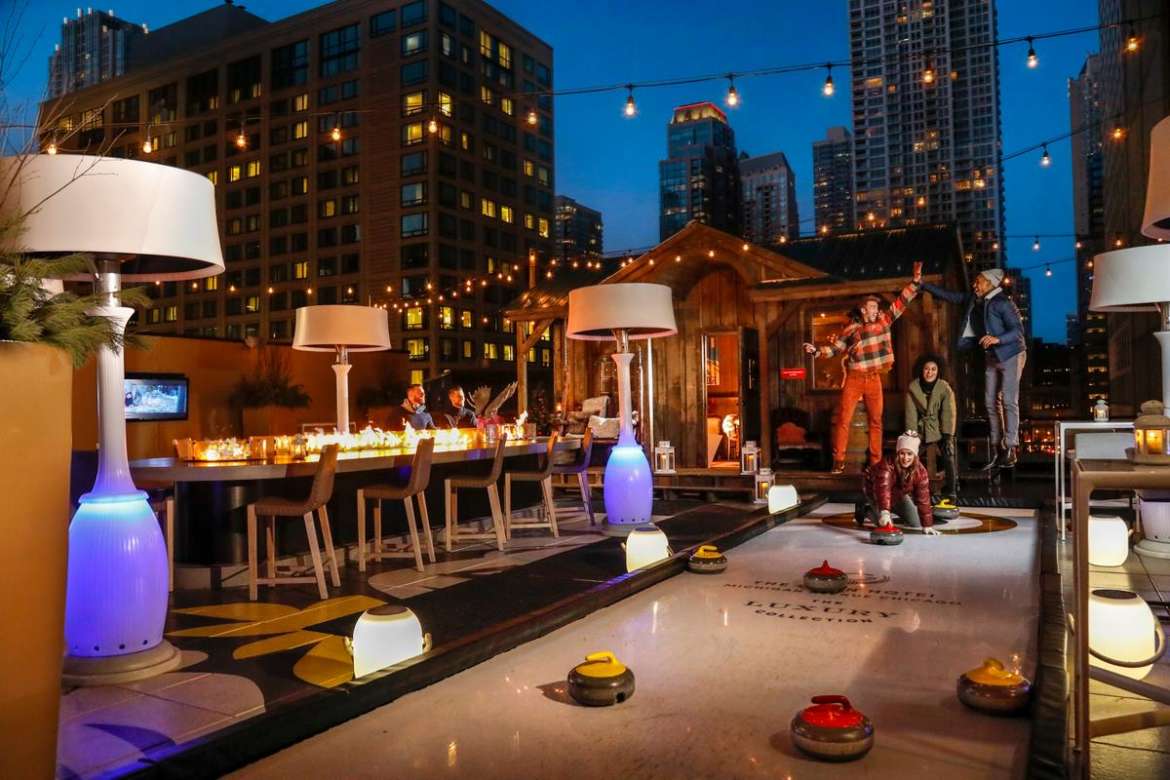 Upstairs at the Gwen |

521 North Rush St
All year, you can escape to the luxurious Gwen rooftop, where there is a communal fire and plenty of cocktails to go around. But, have you ever wanted to curl (i.e. the Olympic sport) and savor a hand-crafted cocktail? Now you can. Enter the curling extravaganza that is now taking over The Gwen rooftop terrace! You will have to make a reservation in advance; however, if you've ever wanted to boast your skills and toast your team, now's your chance! 
With a list like this, you're sure to find a cozy place in the outdoors. Winter may be coming but you're prepared for anything with your trusted puffy coat. Bring it on, Winter. We're ready for you.
At UrbanMatter, U Matter. And we think this matters.
Tell us what you think matters in your neighborhood and what we should write about next in the comments below!
READ MORE LIKE THIS
DOWNLOAD THE URBANMATTER APP
FIND PARKING