Opened in October 2016, Bar Lupo, self-proclaimed "punk rock" Italian pub is a new hotspot in the River North Gallery District. Owner Brian O'Connor and former partner at Maple & Ash opened Bar Lupo in hopes of creating a friendly, neighborhood establishment that guests can frequent on a regular basis. Bar Lupo is an edgy yet comfortable bar and restaurant that offers traditional family-style recipes, an innovative cocktail menu, and an ambiance that keeps you coming back for more.

The Layout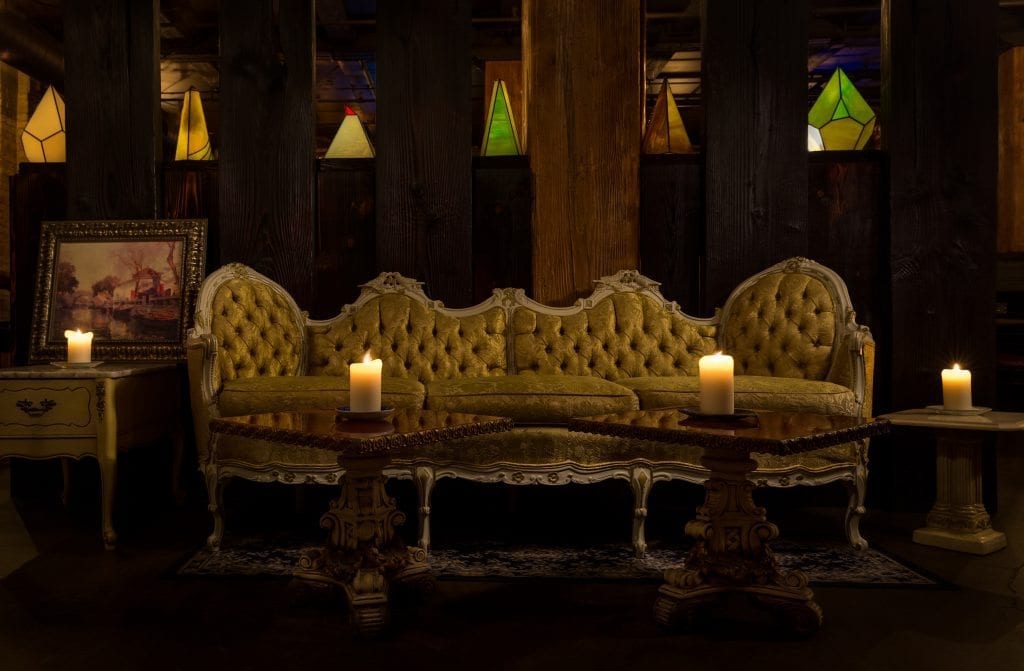 Bar Lupo's 5,700 square foot location has a dining room, bar area, and lounge in the space that was formerly Oak + Char. There is also private event space and in the summer, outdoor seating. The atmosphere is open with table and booth options, adorned with candles and trendy geometric lighting, and rock music playing in the background (hence "punk rock" Italian). The opulence of Italian baroque-inspired furniture is juxtaposed with gritty brick walls featuring modern artwork from local galleries, which will be changed out every so often to feature different artists over time.
The Food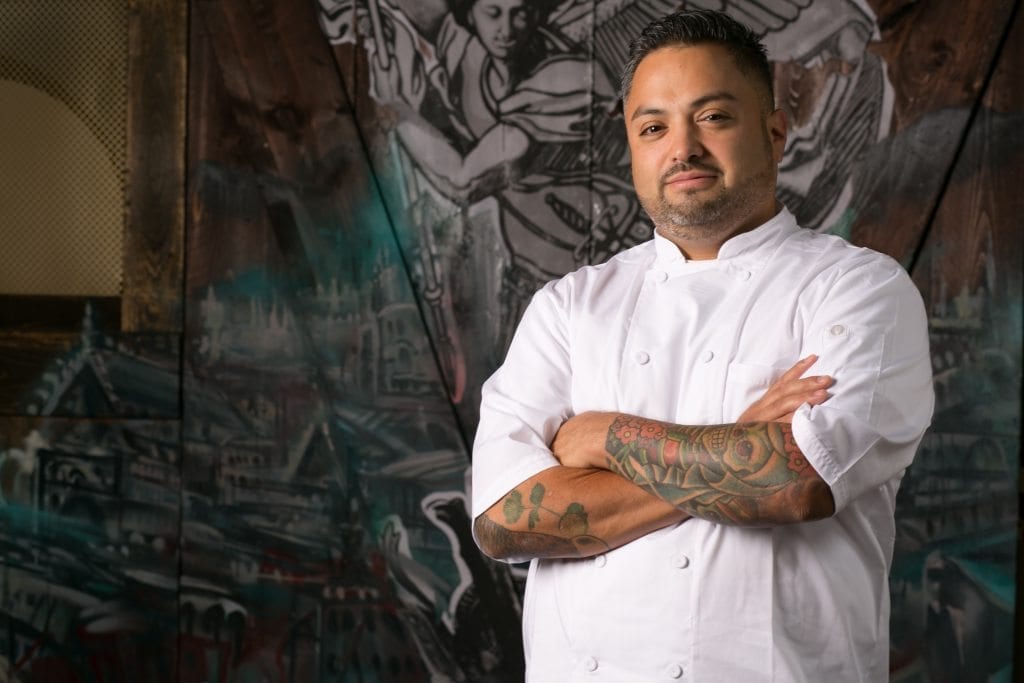 The menu features classic Italian plates, affordable and perfect for sharing.  The dinner menu is divided into snacks, pasta, entrees, and sides, but there is also a lunch and late-night menu featuring on the go and small-plate options. Be sure to look out for their food cart set up with ready-to-eat hoagies during the lunch rush! The pasta, sausages, and sauces are all made in-house, as well as their giardiniera. They are even working on canning certain items so that guests can take a little bit of Bar Lupo home with them. Considerable time and effort go into choosing ingredients at Bar Lupo and this is something they take pride in. We sat down with Chef Marcos Ascencio who explained the taste testing process. "Our staff will blind test everything, even if it's over a dozen times until the recipe is perfect," says the Chef. And after trying out the menu for ourselves, we certainly believe them.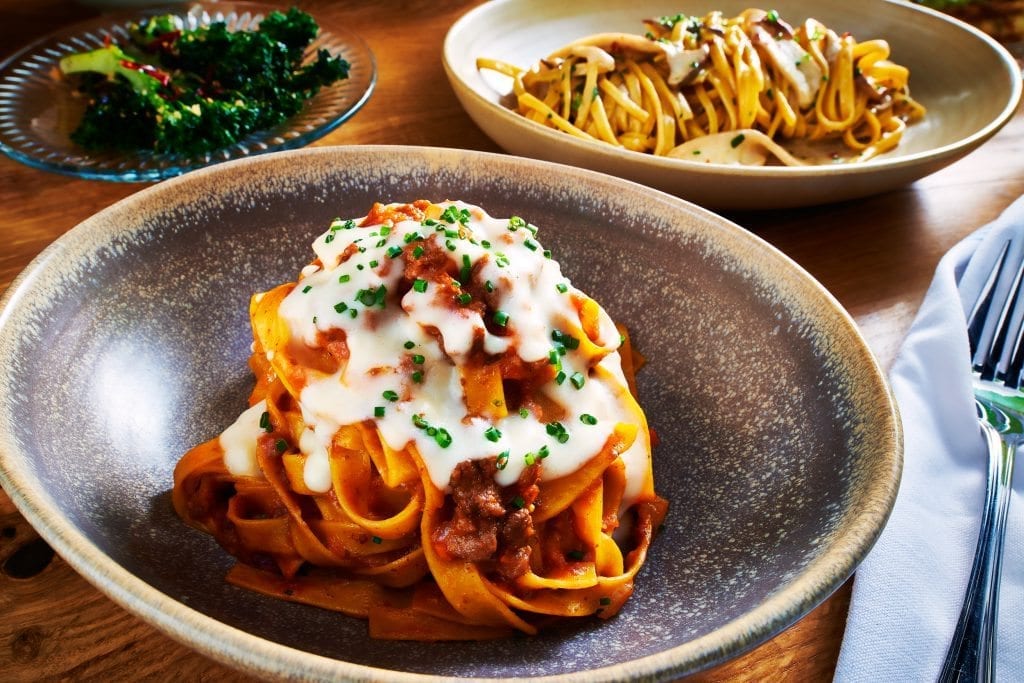 Our favorite menu items include Dip in the Pot (garlic knots in a fresh tomato sauce), Our Ricotta Toast made with homemade ricotta, Stuffed Crispy Meatballs with melted fonduta on the inside, as well as the homemade Fettuccine noodles covered in veal Bolognese sauce (pictured above).
The Drinks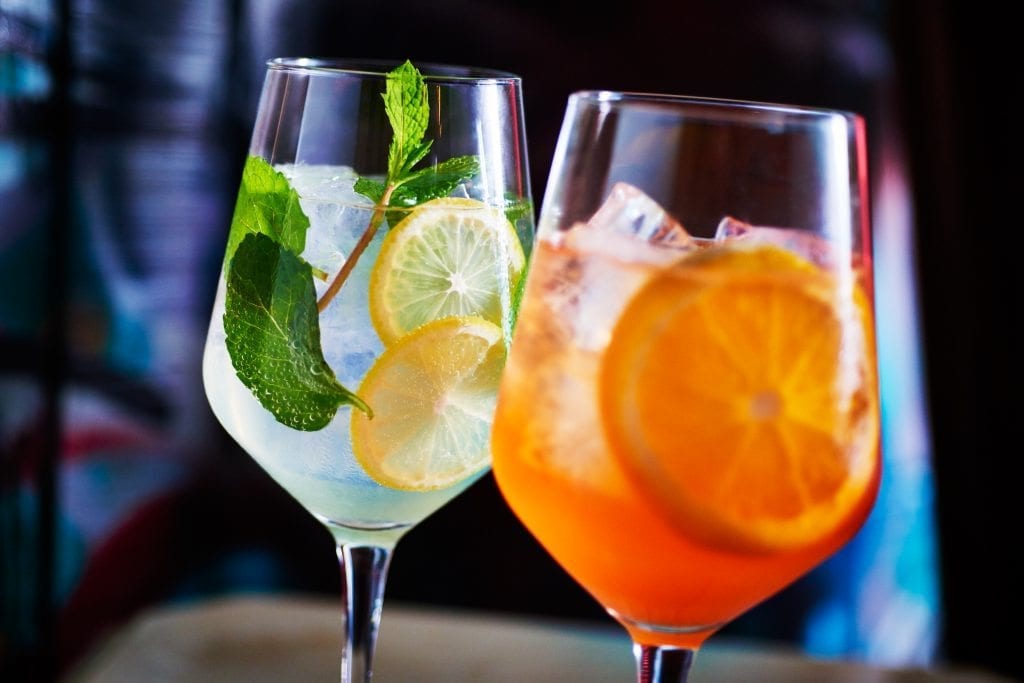 The drink menu at Bar Lupo offers wine, beer, and cocktails inspired by Italian classics. Bar Lupo collaborated with celebrated Chicago mixologist Liz Pearce (The Drifter, The Drawing Room, The Aviary), to take classic Italian cocktails and give them a modern, unique twist. Bitter amaros and vermouths tie many of the cocktails together, but there are also sweeter options like our favorite, the Fragola Rock featuring a combination of gin, celery juice, and wild strawberry. Another noteworthy beverage is the Hugo Spritz which is a refreshing blend of elderflower, mint, and prosecco (pictured above). There are also desserts featuring boozy toppings and after dinner espresso-and-shot options to top everything off. 

Bar Lupo is not your typical River North bar and visiting is a must. See additional photos below and if you haven't already been, check out Bar Lupo for your next family dinner, date night, or get together.

Have you tried Bar Lupo yet? Give us your review!
Featured image and additional photos below courtesy of Eric Kleinberg for Bar Lupo