Expect to see some new pieces in the near future.
The Art Institute has received its largest cash donation ever, and it's come from the estate of longtime supporter, Dorothy Braude Edinburg. The 94-year-old, who passed away early last year, left the donation in her will with instructions that it be used for the acquisition of new art. The money will be used specifically for prints and drawings from the Renaissance to 1960 and Asian art.
The total amount is still being determined, but the gift is already known to be in excess of $35 million. While it doesn't quite stack up to the $400 million value of 40-plus works the museum received as a donation last year, the money will certainly be enough to nab some prized pieces.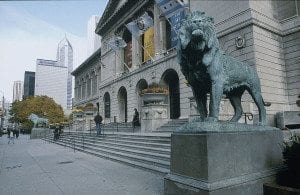 "Thirty-five million dollars-plus can go a very long way," said Douglas Druick, President and Director of the Art Institute. "It dramatically adds to our acquisition funds. This is of course terribly important because we're all about works of art and acquiring them."
The new donation is far from the first for Edinburg. Since 1991, the art collector donated more than 1,500 works to the museum. She was especially interested in Chinese ceramics, and drawings & prints from the 15th through 20th centuries. Edinburg also donated works by Pablo Picasso, Vincent Van Gogh, Henri Matisse, and Paul Gauguin.
"We will use this incredible funding to carry Dorothy's vision forward — to inspire, educate, and delight future generations through the collection and presentation of exceptional art," Druick said in a statement.
Before it's all over, the gift could end up totaling $38 million. The Art Institute will likely use the money to fill in the gaps in various collections they already have. Even without the substantial gift, the museum was already named the Best in the World according to TripAdvisor.