Let's be honest, it doesn't get much better than free. We figured it couldn't hurt to give you a few more reasons to get out this summer, so we've compiled a list of all the free events we could muster. There are so many small, free events in the city to cover, so if we missed one of your favorites, don't freak out! Just let us know and we'll gladly add it to the list. It's constantly being updated, so don't be afraid to check back every now and then to see what new things have popped up!
Here are Chicago's upcoming free summer events in chronological order: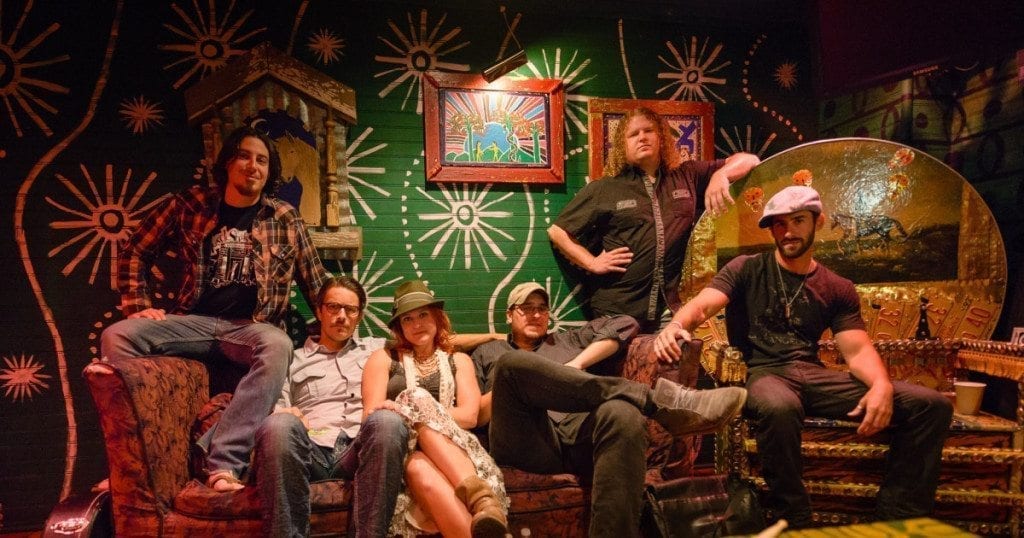 Sweetwater Sessions with JJ & Dre, Walsher Clemons, Draft Week, and Captain Coopersmith
May 15th at 8:00 pm
Sponsored by Sweetwater Brewing Company, this one takes place at Reggie's Rock Club in the South Loop. Free music is always a plus, especially when it comes with samples of beer. Check in beforehand here to take advantage of the free offer. You'll also be entered into a drawing for a chance to win a free VIP Trip for two to 420 Fest 2016!
The name says it all. This event is comprised of groundbreaking science mixed with all the beer you can handle. Pint of Science all began with two London scientists who allowed people to come into their labs for a meet and greet. If people liked coming to the scientists, why not bring the scientists to them on their own turf? This event takes place over a period of three days at three different bars. Each bar holds a different themed discussion each day, so identify what interests you most and make the trip! You can see the events and get tickets here.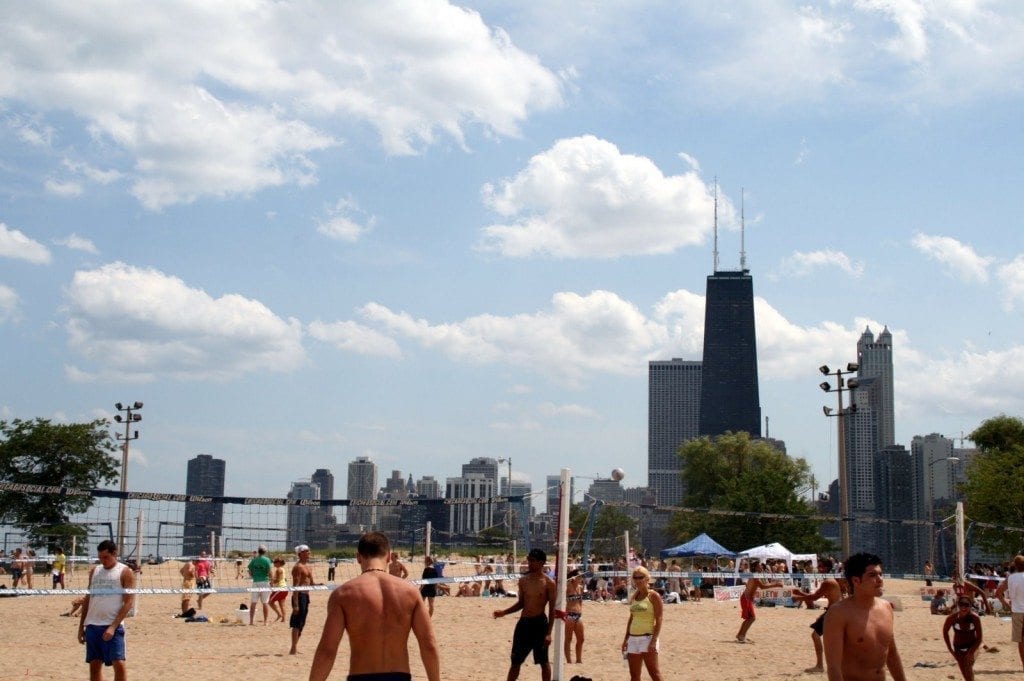 Chicago's Beaches
May 22- September 7th
After the winter we had here, I'm sure most of you are ready for a fun-filled, sunny day at the beach (I know I am). Be aware that the water will still be pretty cold towards the beginning of beach season, but don't let that stop you from laying out, playing beach volleyball, building sand castles, or taking a walk. Beach rules and more info available here.
Side note: This one is a favorite here at ChicagoGenie, so if you happen to see any genie-looking beings floating around your beach this summer, come say hi!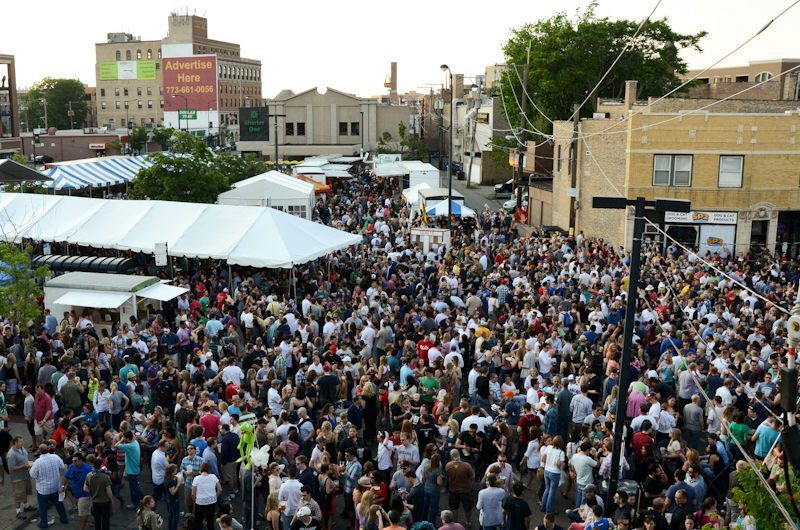 Mayfest
May 28th-31st in Lincoln Square
Mayfest is a festival that celebrates German heritage over a three-day period and offers food, beer, live music, entertainment, and dancing! The first day offers an event I'd personally love to attend, the traditional keg tapping. Ah, to relive the ol' college days… Anyway, the fest is huge and features live music and entertainment throughout all days of the event. You can even see maypole dancing and other traditional German performances. Click here for more info.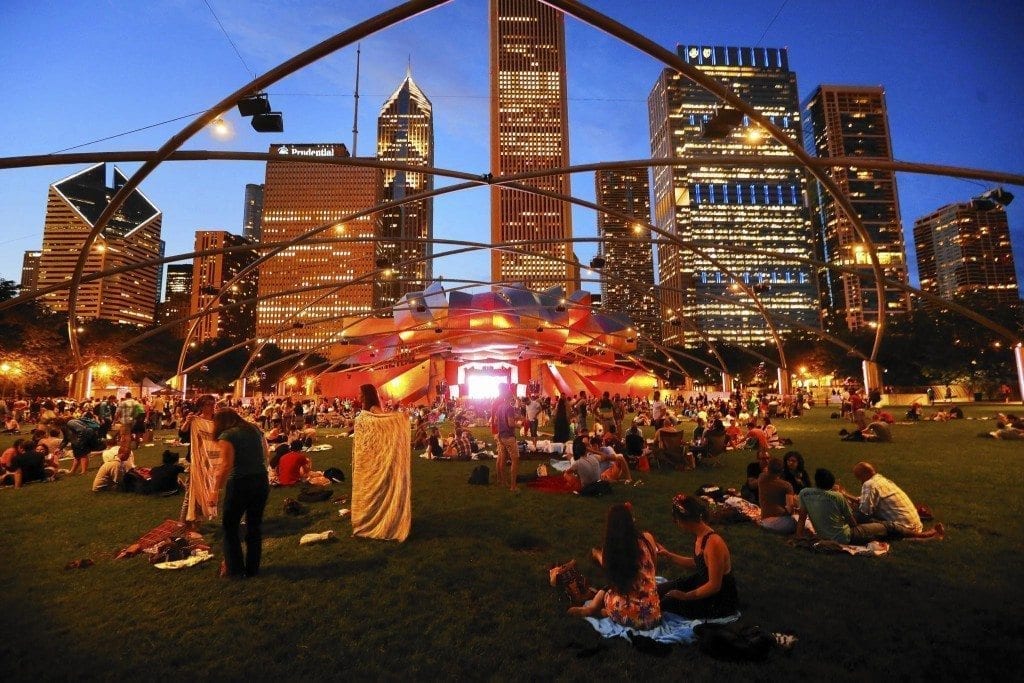 Downtown Sound
June 1 thru July 23rd (Mondays & Thursdays at 6:30 pm)
Downtown Sound is Millennium Park's popular Monday & Thursday night music series. The music tends to lean towards the more eclectic, progressive rock genre, but this year they're expanding to include more modern electronic and world music artists as well. It all takes place at the Jay Pritzker Pavillion, the main stage for Lollapalooza. If nothing else, this is a great excuse to go to Millennium Park, an area that even most Chicagoans don't get to visit enough. And like I said before, it doesn't get much better than free music! Here are the details.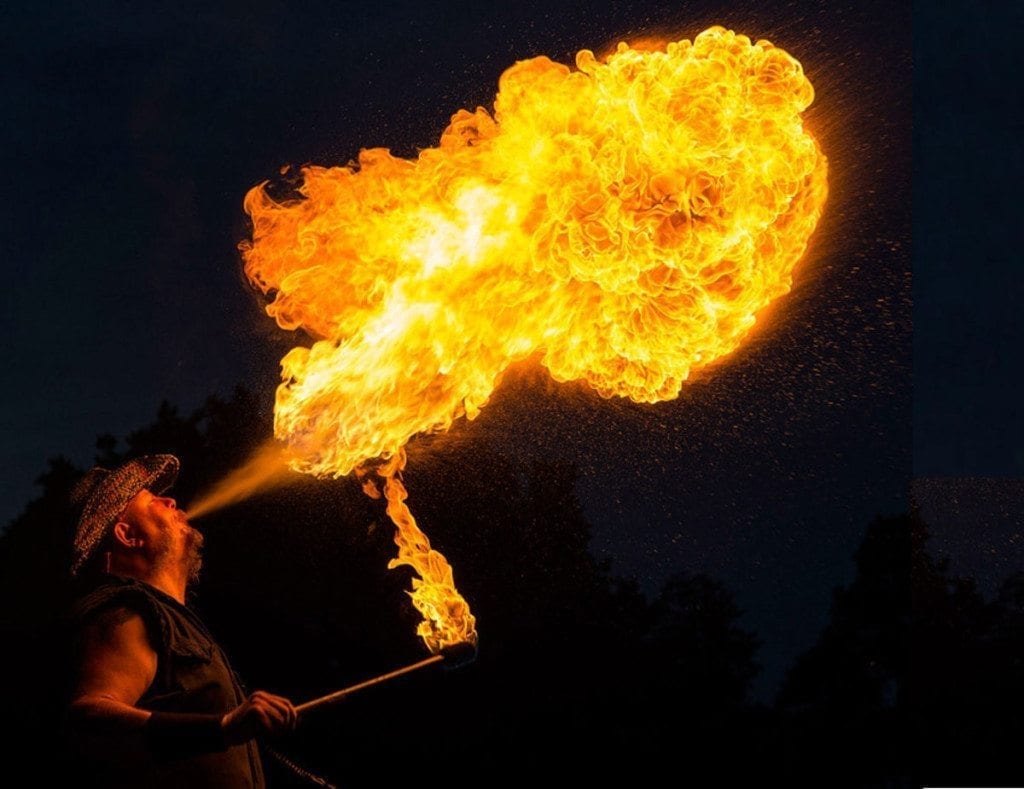 Full Moon Jams
June 2, July 1st & 30th, August 31st 
Full Moon Jams take place on (you guessed it) nights of the full moon. This event is incredibly unique and noteworthy because you get to witness actual fire dancers performing to live music. These acts are executed brilliantly using staffs, hula-hoops, fans, and poi. It's completely run by volunteers, and you can even perform as a fire spinner if you want to (after you go through safety training of course). All spectators are welcome, but the organizers ask that you refrain from using flash-photography, as this could mess up the performance. Full Moon Jams are located at south of Foster Ave Beach, at approximately 5100N & Lake Shore Drive, 60640. Find more info here.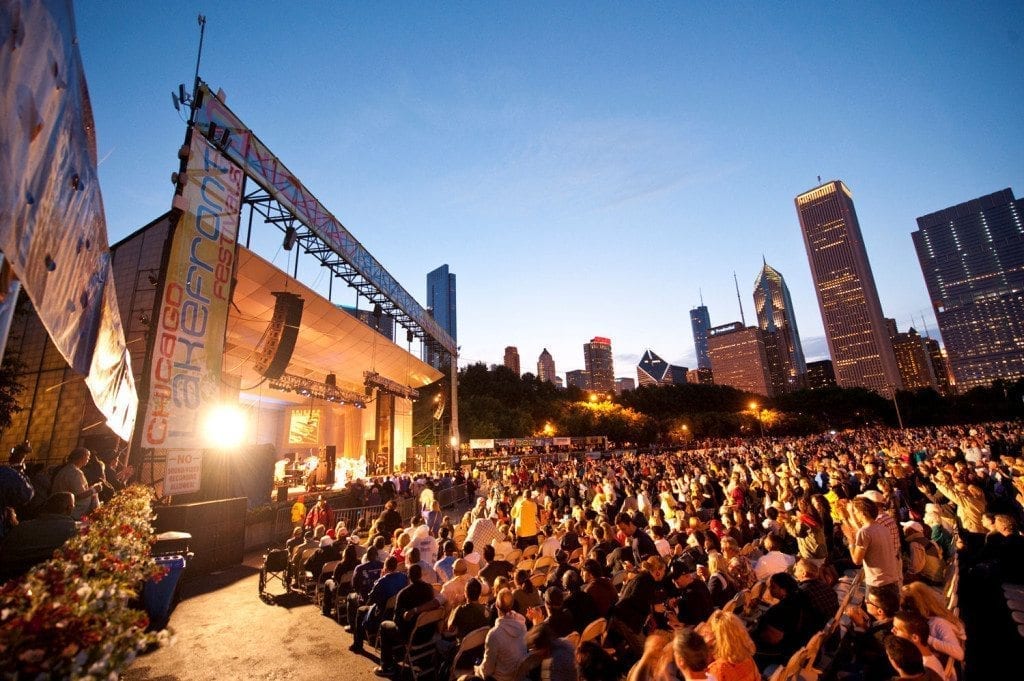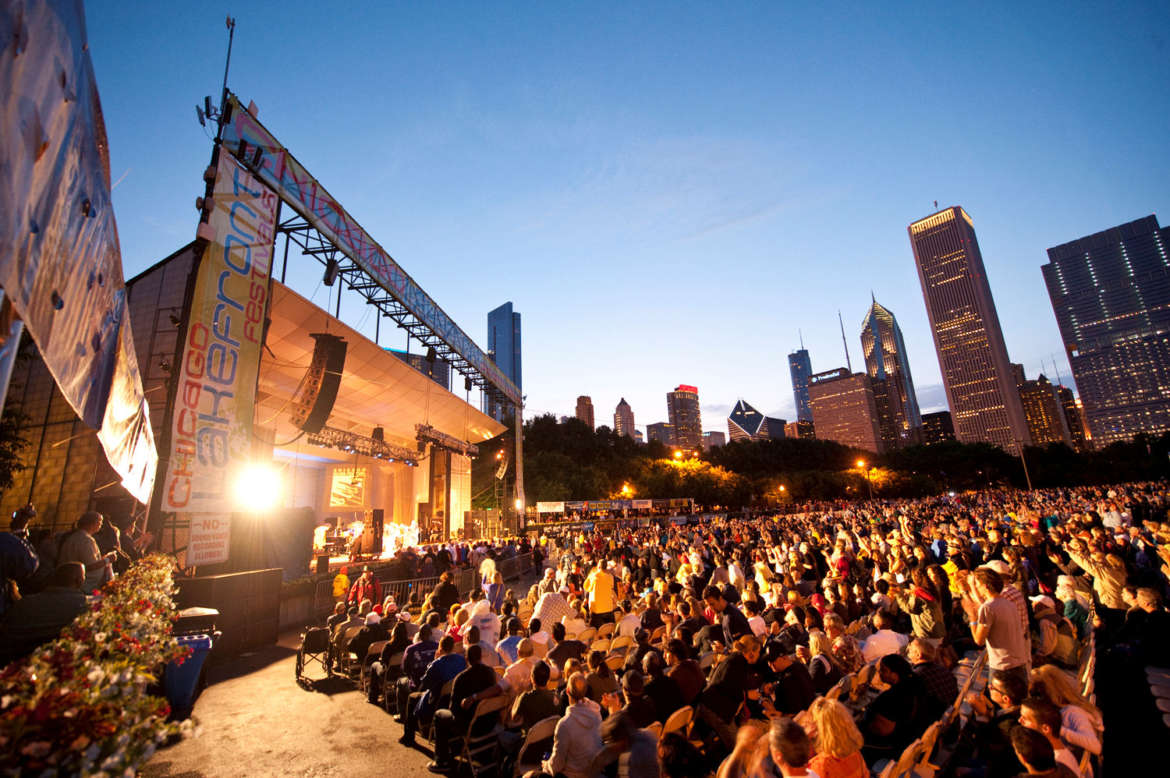 Chicago Blues Fest
June 12-14th at Grant Park
Chicago Blues Fest takes place over the same three-day period as Spring Awakening, and it's one of the most fun events out there. This year's headliner is Buddy Guy, and there's sure to be a tribute or two to the late B.B. King, who passed away recently. This fest also ranked as number one out of our musical fests for June because not only is it extremely entertaining, it's free.
Not to mention it's located at Grant Park. Who doesn't love Grant Park?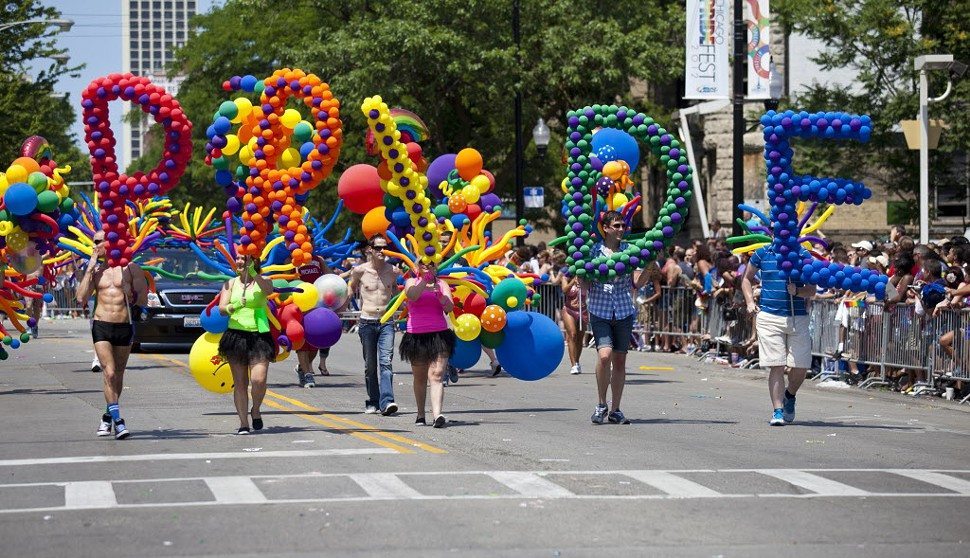 Chicago Pride Festival & Parade
Festival: June 21, 22nd
Parade: June 29th
This is by far the largest event for Chicago's vibrant LGBT community. The festival isn't quite as popular as the parade, but with its substantial offering of events, performances, parties, barbeques, and markets—it's definitely worth checking out. You can view the entire calendar here. The parade itself has developed over time to become one of the most well known Pride events in the world. It has come to symbolize the freedom of all people to meaningfully and proudly express their identities. If you're looking for a less crowded area to watch the parade, Broadway between Montrose Ave. and Sheridan Road is the way to go. Here's the link to the Pride site.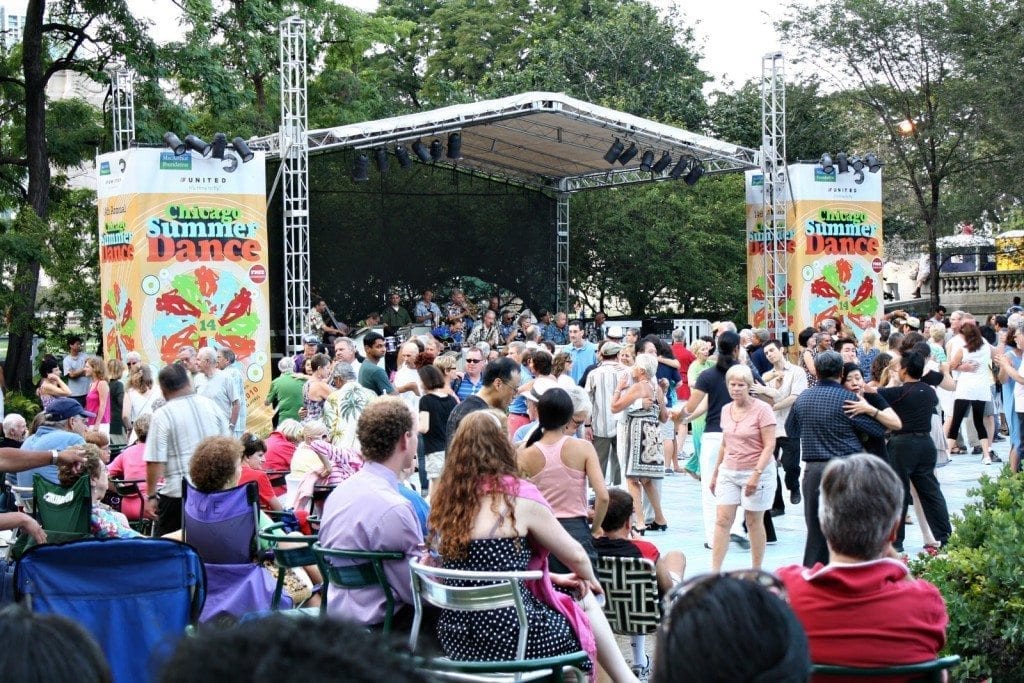 Chicago SummerDance
June 26 thru September 13th
Are you great at dancing? Good, this is for you.
Do you regularly crush the feet of innocent bystanders when you attempt to dance? Good (kind of), this is for you too!
Located at the Spirit of Music Garden, this open-air dance floor in Grant Park offers free admission and 44 live bands playing music Friday-Sunday. Here you'll find swing, waltz, cha-cha, you name it. The best part? Dance lessons each day before the actual live dancing starts! You don't even have to dance if you don't want to though. Just head over and enjoy the music. More info here. 
The Taste is one of the most popular events in Chicago, period. After all, who doesn't like walking around and eating things? There are always some exotic dishes to try, (and naturally I try them all), but the overlooked feature of the event is always the free music. This year's headliners are Weezer, Spoon, Erykah Badu, the Chieftains, and Maze featuring Frankie Beverly. One band you don't want to overlook, American English, a freakin' awesome Beatles cover band that will be there on Sunday. Here's the link for this one.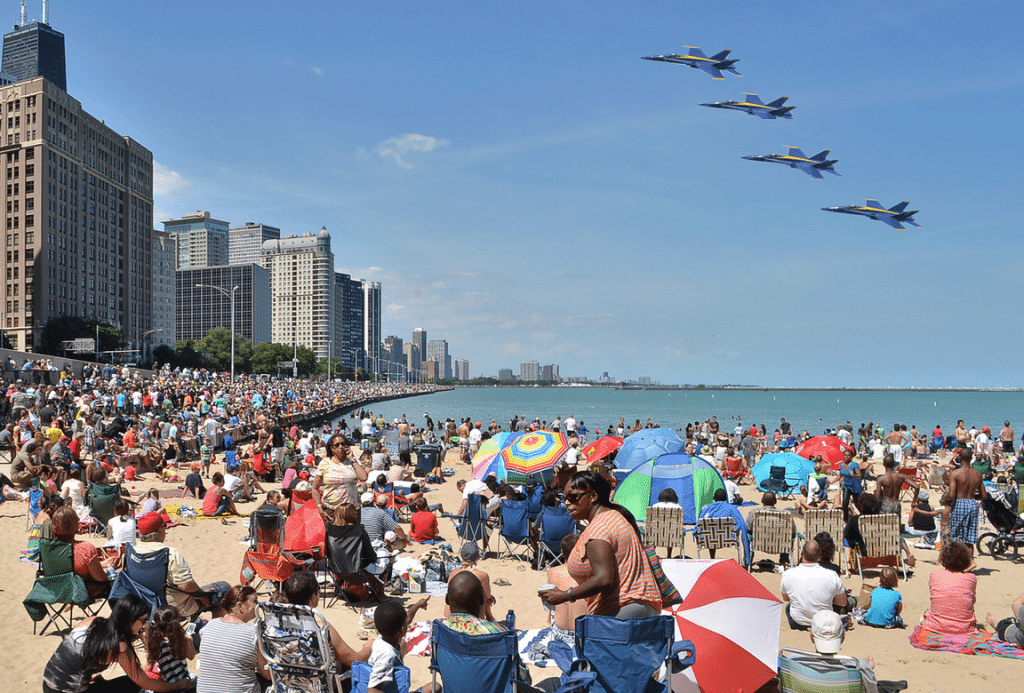 Chicago Air and Water Show
August 15-16th 
The Air & Water show is comprised of some of the best pilots the military has to offer. These aviators take to the skies from acrobatic shows, free falls, marine & airy rescues, etc. Parts of the show can be seen from pretty much everywhere in the Loop, but the event itself takes place on North Avenue Beach. This is easily one of the most popular free events in the city, so if you're coming to see the Air & Water show, make sure you have all of your plans for parking, hotels, and everything else set out well in advance. Check it out.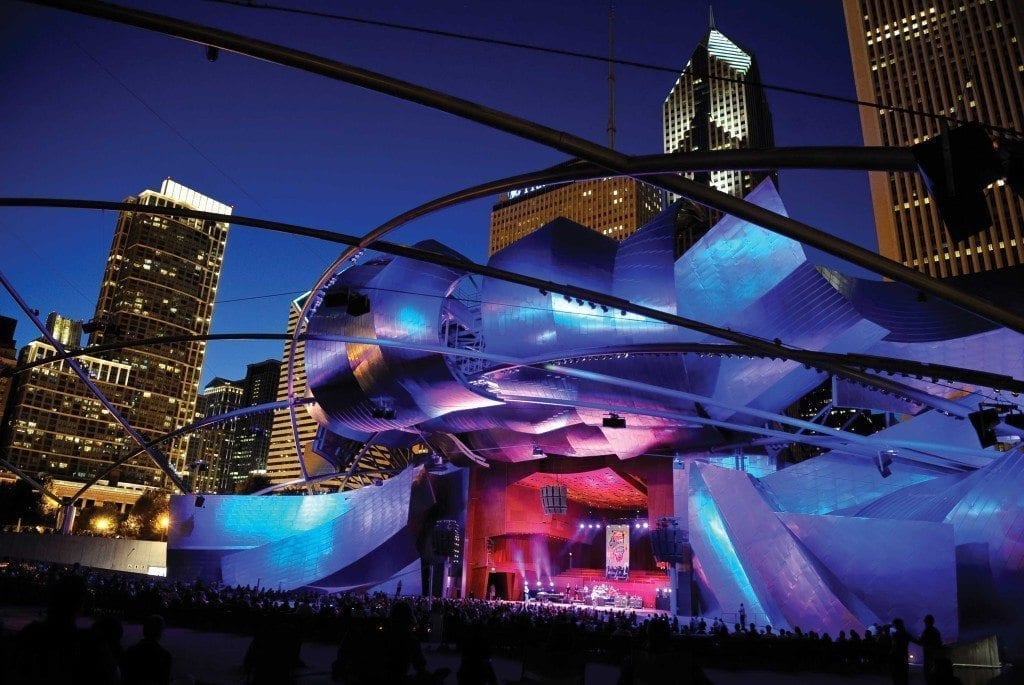 Millennium Park Events
Now – September 16th
We talked about Downtown Sound, and that's a big one, but there are way more events to check out at Millennium Park this summer. The Lurie Garden has ongoing programs for all ages, Millennium Park presents begins at the end of May, there are group workout sessions from June-September, The Chicago Jazz Festival, and way way more. You can check them all out on this upcoming events page.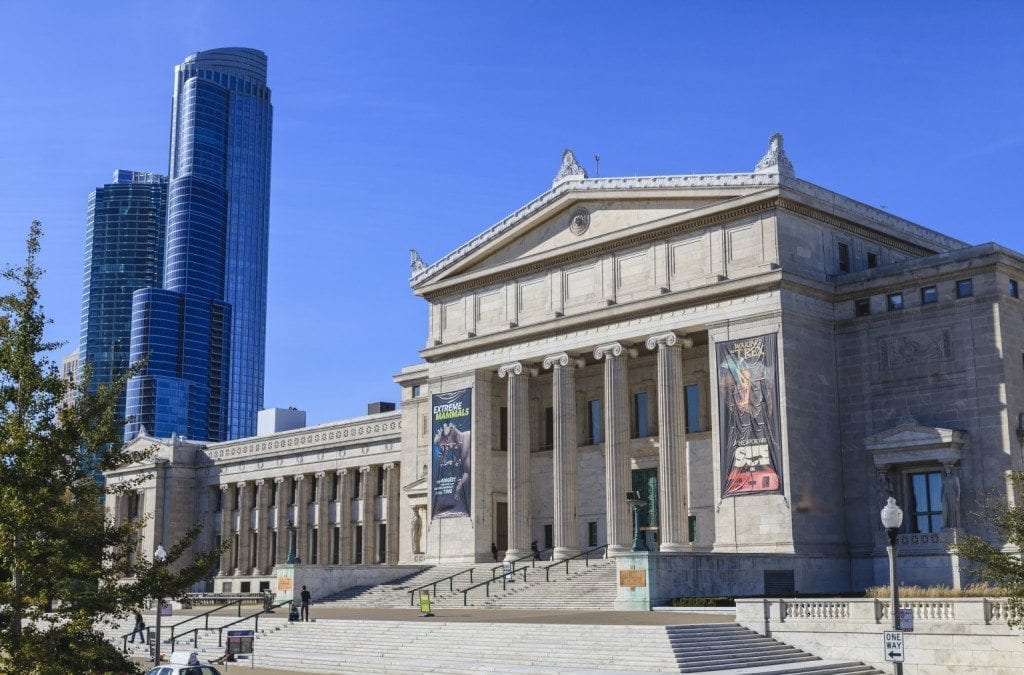 Museum Free Days
These actually go on all year long, so don't think they're just limited to the summer months. Here are the days at the respective museums:
Shedd Aquarium:
June 1, 2, 8, 9, 15, 16
Adler Planetarium
June 3-5, 10-12
Museum of Science & Industry
May 21
June 1-5, 8
September 8-11, 14-18, 21-25, 28-30
The Art Institute is free to Illinois residents every Thursday from 5:00 pm to 8:00 pm. And don't forget that Lincoln Park Zoo is free every single day of the year!