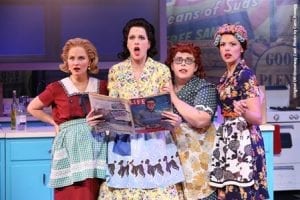 Life back in the 1950's in Winnetka was very different than today, especially when it came to women's roles and expectations. A Taste of Things to Come showcases just a small slice of that life and contrasts it ten years later to a very different scenario. Written by Debra Barsha and Hollye Levin, A Taste of Things to Come is a musical comedy following four friends whose Betty Crocker cooking club becomes a turning point in their lives. Singing actual commercials from Betty Crocker and Folger's Coffee aimed at suburbanite homemakers, the play pokes fun at the way we were.
Every Wednesday is "Cooking Club," where best friends Joan, Connie, Dottie, and Agnes enter a Betty Crocker contest, dreaming of how the prizes might change their mundane lives. On one particular Wednesday, Joan replaces the cookbook with the Kinsey Report on female sexuality and life begins to get very interesting!
With new music that reflects the "doo wap" beat to the rock n' roll, "Taste" captures the sensibilities of a generation when women's lib was just beginning to take root. This homage to prior generations of women who blazed new trails features a rollicking original score of '50s and '60s music with great harmonies, all backed by an all-female rock n' roll band.
The cast is an amazing, talented group of actors who sing their way into your heart. Broadway's Linedy Genao (On Your Feet! Original Broadway Cast) is Agnes Crookshank, Marissa Rosen (Off-Broadway's The Marvelous Wonderettes) is Dottie O'Farrell, Libby Servais (Wicked, Chicago, Legally Blonde) is Connie Olsen and Cortney Wolfson (Broadway: The Addams Family, Les Miserables) is Joan Smith.
This hilarious show is playing now through April 29 at the Broadway Playhouse at Water Tower Place, 175 East Chestnut Street in Chicago. For tickets, go to broadwayinchicago.
Find what really matters in Chicago with the UrbanMatter app!
To download or see reviews from our users, head here.