Soft serve or gourmet popcorn!? It's so hard to decide! Around Chicago, you can find popcorns sold by the bucket full, and coated with sweet, salty, and savory toppings ready to satisfy your craving any day, any time. Whether you're looking for classic puffed kernels, dessert-style popcorn, or anything in between, here are the places for a bucket of legendary gourmet popcorn in Chicago.
600 E Grand Ave, Chicago, IL 60611
Garrett Popcorn Shops, now known worldwide, is probably one of the most popular places for gourmet popcorn in Chicago. Originating in 1949, Garrett Popcorn started out with just four flavors: Caramel Crisp, Cheese Corn, Buttery, and Plain. Now you can find nine flavors across the shop's options, and luckily for us, the Chicago mix, or Garrett Mix, is still sold in all stores for those who look to enjoy the combination of both sweet and savory. Whether you're looking to stop into a shop or send a tin of the crunchy snack to your friends via the online store, Garrett Popcorn remains one of Chicago's favorites when it comes to popcorn. 
Double Good, a Chicago-based company is on a mission to raise joy through the sale of its award-winning popcorn. To celebrate the company's 25th anniversary, Double Good will be debuting a brand new flavor of popcorn this year! Founded in 1998, every bag of Double Good popcorn is made to order using premium sourced, quality ingredients. Its 12 core flavors range from sweet Caramel-Diem to spicy Holla-Peño.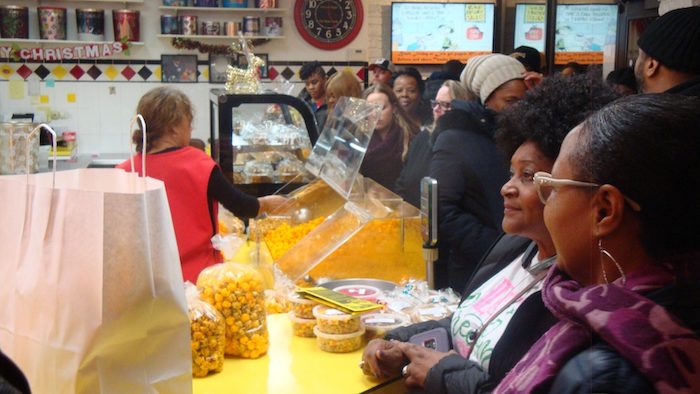 11758 S Western Ave, Chicago, IL 60643
Located in the Beverly/Morgan Park neighborhood, you'll find Let's Get Poppin. Since 1995, this popcorn shop has been serving the community with the best, fresh popcorn with unique flavors like pecan caramel, salt and vinegar, and jalapeno red pepper. Along with mouthwatering popcorn, Let's Get Poppin also offers cakes, cookies, and brownies to satisfy your sweet tooth. Let's Get Poppin also allows you to sell tins for fundraisers, so whether you just wanna snack with some Netflix, or raise money for your cause, Let's Get Poppin is definitely a place to check out for all your popcorn needs. 
3830 N Clark St, Chicago, IL 60613
Let me set the scene for you. You step off the Metra, take the first escalator upstairs, and then it hits you. Buttery, sweet, and warm, you can smell the popcorn in Union Station no matter where you're walking, and it all stems from one little shop: Nuts on Clark. Around Chicago, you can find a handful of Nuts on Clark locations, with the original on, you guessed, Clark Street in Wrigleyville. The Kenney family has been whipping up popcorn-centric concoctions since 1979, and we can guess they'll be continuing to serve Chicago for decades to come.
2804 N Clark St, Chicago, IL 60657
Just in case you thought Wells Street Popcorn was on Wells — It's actually a bit further north at the corner of Clark and Diversey. And goodness, doesn't this place have it all? History, dedication to their craft, and of course great popcorn.
This shop is a family affair and has been passed down through generations since the 1930s. These perfected recipes have stood the test of time, with traditional but delicious flavors like caramel, kettle corn, and the classic Chicago mix, we can guarantee that no trip to Wells Street Popcorn will leave you dissatisfied.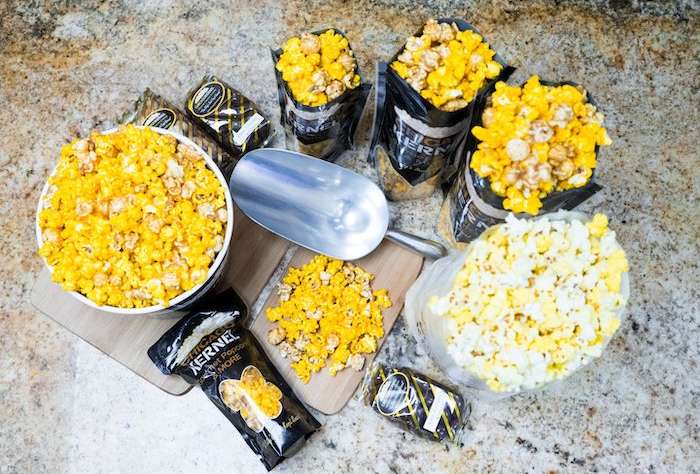 100 W Randolph St Unit 115, Chicago, IL 60601
Proclaimed as "The City's Best Kept Secret", Chicago Kernel in the Loop is tucked inside the Atrium Mall. While it may be hard to spot from the outside, a trip to Chicago Kernel is totally warranted to satisfy all your popcorn needs. With tons of flavors to choose from, you can step outside your usual "Movie Theater Butter" bag of Pop Secret and try something new like pizza, Smokin' Chicago, and bacon cheddar. If you're looking to add a secondary snack to your order, try something crunchy and sweet like caramel pecans, cashews, or decadent chocolate drizzled caramel. 
7248 W 90th St, Bridgeview, IL 60455
If you're up for a little trip southwest of the city, make sure the endeavor includes a stop into Mother Butter's Popcorn Shop. Since 2009, Mother Butter's has been serving bulk bags of popcorn, popcorn by the tin, and flavor packets to enhance your already delicious snack.
They also offer kosher cheese for the products that need it, and pride themselves on using premium ingredients including herbs, real creamery butter, and real sugar. Mother Butter's also uses non-GMO and locally sourced corn for all their popcorn, so you can enjoy knowing that you're getting the freshest popcorn around!
Featured Image: Wells Street Popcorn