Stargazing in Texas is already as otherworldly as it gets, but throw in a bubble tent made specifically for sleeping under the stars and be prepared to have the glamping experience of a lifetime. Oh, and did we mention you'll be camping out in a West Texas ghost town? Basecamp Terlingua is an out-of-this-world adventure you have to see to believe, but we'll try our best to entice you.
Located just outside Big Bend National Park is Terlingua, a famous West Texas ghost town that's been transformed from an old mining village into a tourist attraction. The views are unparalleled; between the Santa Elena Canyon Overlook and the eerie desert expanse of Study Butte, you have so much to explore when you take a trip out this way. Better yet is what happens when the sun falls behind the mountains, and the stars come alive with fervor.
Widely considered one of the best stargazing spots in the nation, Basecamp Terlingua puts you at the foot of the cosmos, so close you feel like you can reach out and touch the stars. The onsite bubbles are your best bet for Texas stargazing; you'll be utterly surrounded by the heavens in the panoramic encasing, without laying yourself at the mercy of nature. Each glamping bubble is outfitted with one or two beds, air conditioning and heat, WiFi, indoor plumbing and shower, coffee machine, mini fridge, and even a private outdoor fire pit if you want some fresh air. Bubbles X2, X3, and X4 include an additional outdoor shower and hot tub for a totally deluxe experience.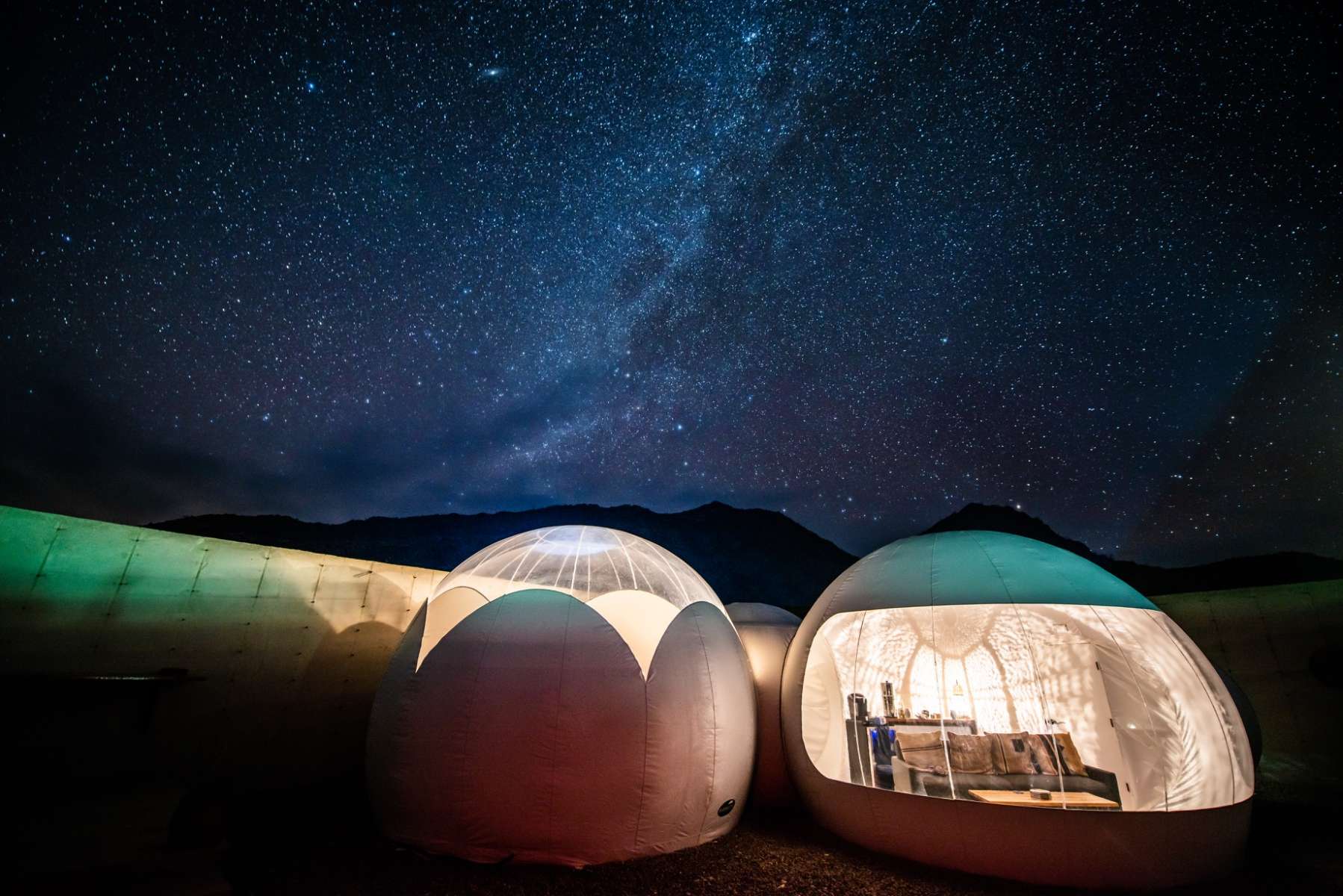 If you're not into the bubbles, that's totally cool. You can still have an ethereal night in one of several other camping options: casitas (or little abodes), retro trailers, lotus tents, tipis, and just straight campsite chillin'. Fair warning that the tipis are pretty nomadic, and it's as close to a natural camping experience as you'll get—risk of critters and all. Prices range from $45 to pitch a tent on the campgrounds to $599 a night for the most opulent casita rentals. But the coveted stargazing bubbles are everyone's favorite, starting at $249, and are often booked months in advance! Make sure to secure your stay ahead of time to enjoy a romantic, adventurous, cosmic evening under the heavens.