It's no secret, Austin has some great skyline views, and what better way to enjoy them than at a rooftop bar? Not to mention they all give off that cool, elevated vibe (see what we did there). If you're looking for things to do this weekend, we have compiled a list of the best rooftop bars in Austin, Texas.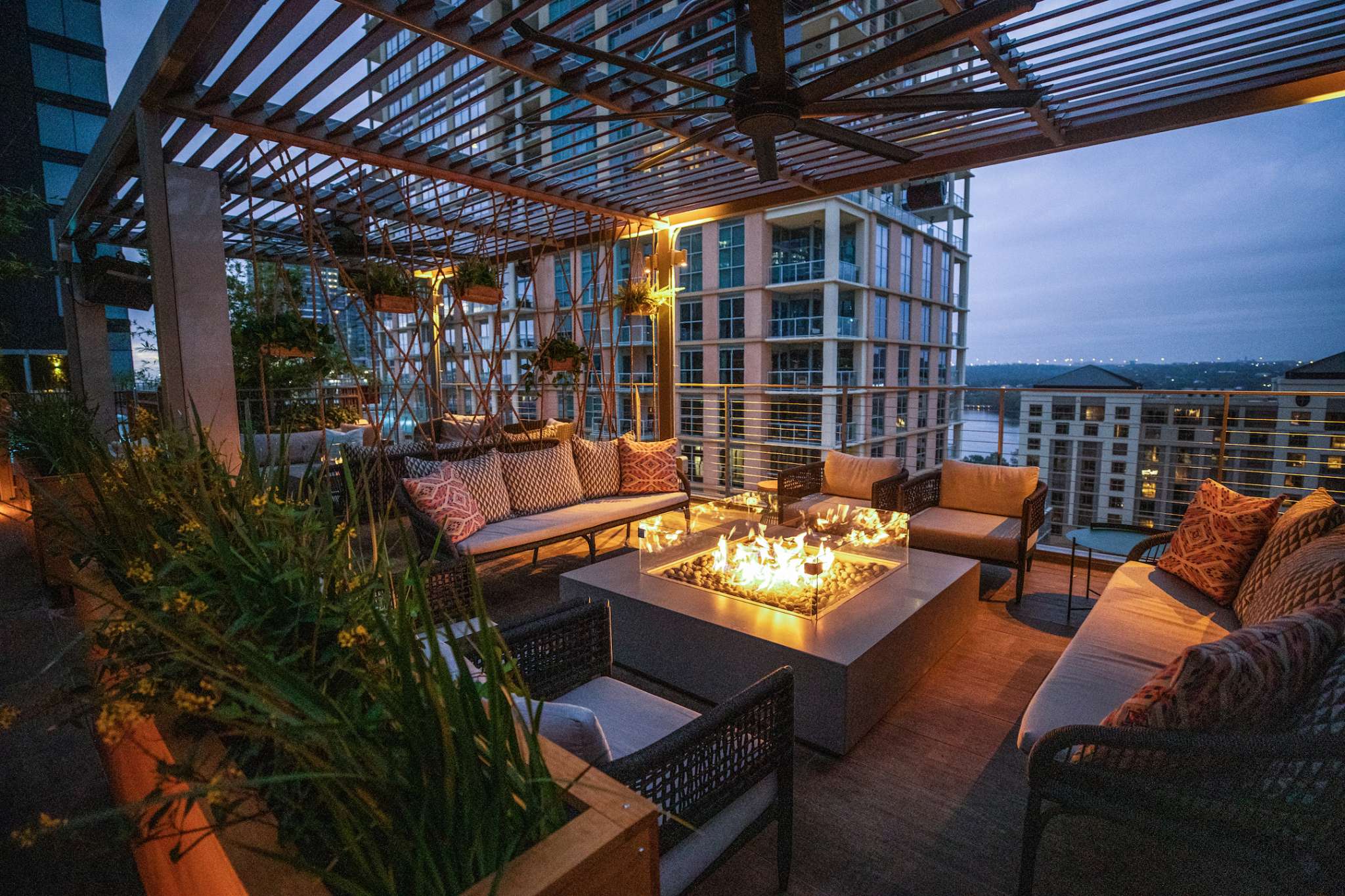 304 E Cesar Chavez St Unit 700, Austin, TX 78701
Seven stories up and a world away, Austin locals and travelers alike can escape to Zanzibar, which is a lush, tropical rooftop terrace and pool oasis with stunning views of downtown Austin. Zanzibar quickly became a popular spot accessible by stepping into their street-level elevator located on San Jacinto Boulevard where guests are transported to a rooftop terrace with an assortment of modern tiki cocktails and island-inspired small plates.
Specialty drinks are influenced by exotic spices grown right in Zanzibar, including cinnamon, nutmeg, vanilla, and clove. Zanzibar is known as 'Spice Island' and was once the largest exporter of spices in the world so the drink and food menus reflect Zanzibar's unique sense of place and flavors. House-made specialty cocktails that keep guests coming back include their frozen Zanzibar Swizzle made with rum, hibiscus, ginger, allspice, and lime as well as their Feels Like Summer cocktail made with tequila, pineapple, and guava. When hunger strikes, choose from flavorful plates of island-inspired fare, including Sushi Burritos, Duck Egg Rolls, and Spicy Tuna Poke.
For those looking for a weekday spot, Zanzibar now offers a weekly "Tiki & Chill" happy hour which takes place Monday-Wednesday from 4-6 pm. In addition, their weekly sensational "Sunday Staycation" featuring tropical mimosas and $7 small bites are the perfect reason to head up to the alfresco rooftop terrace.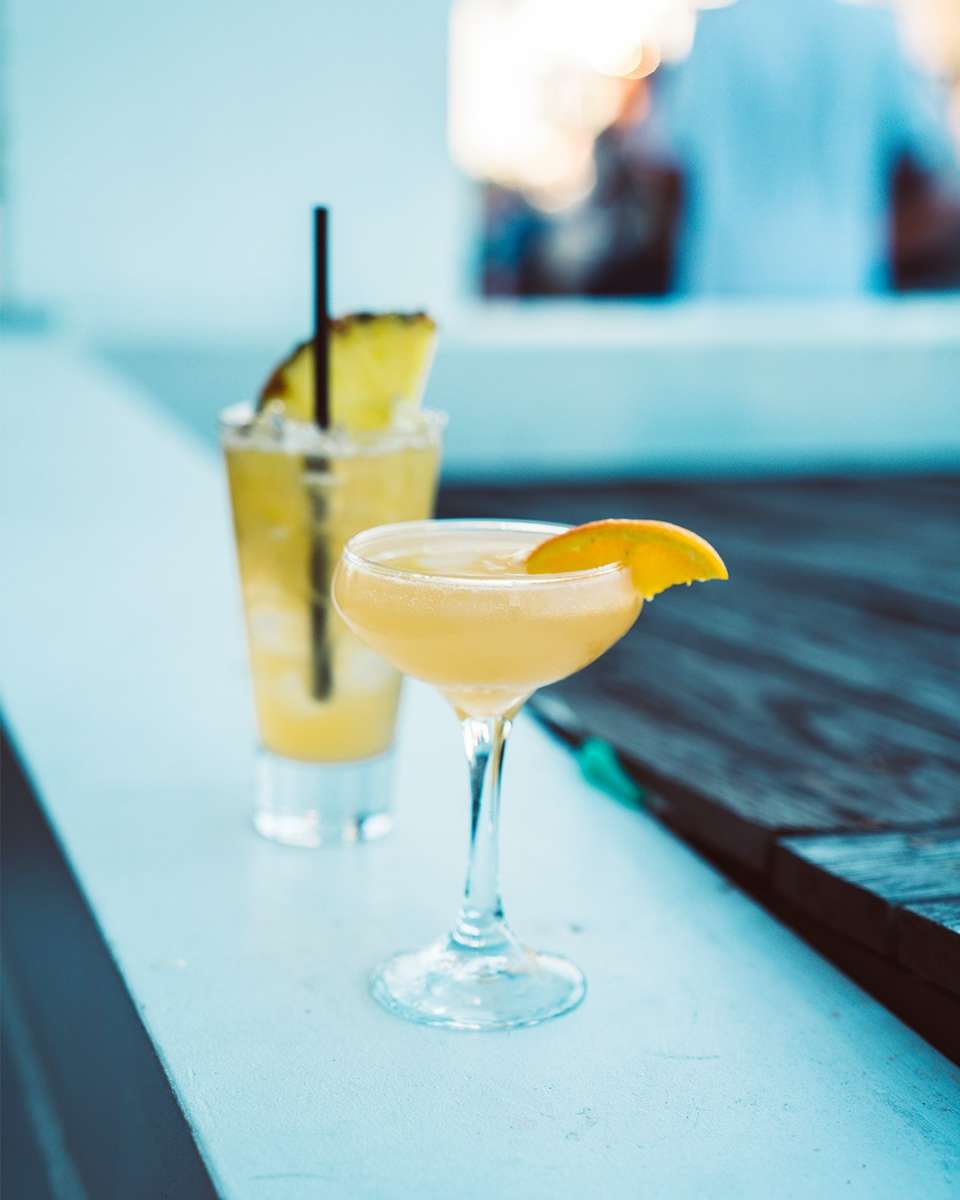 11500 Rock Rose Ave, Austin, TX 78758
77 Degrees is a gorgeous rooftop cocktail bar located in the Domain. The vibe is so beachy and carefree, you'll never want to leave. They've got delicious fruity cocktails and a great choice of Mexican-inspired snacks. And let's not forget the views, though they may not be views of downtown, at night the whole of the Domain sparkles and if you look out you can see the Austin skyline in the distance.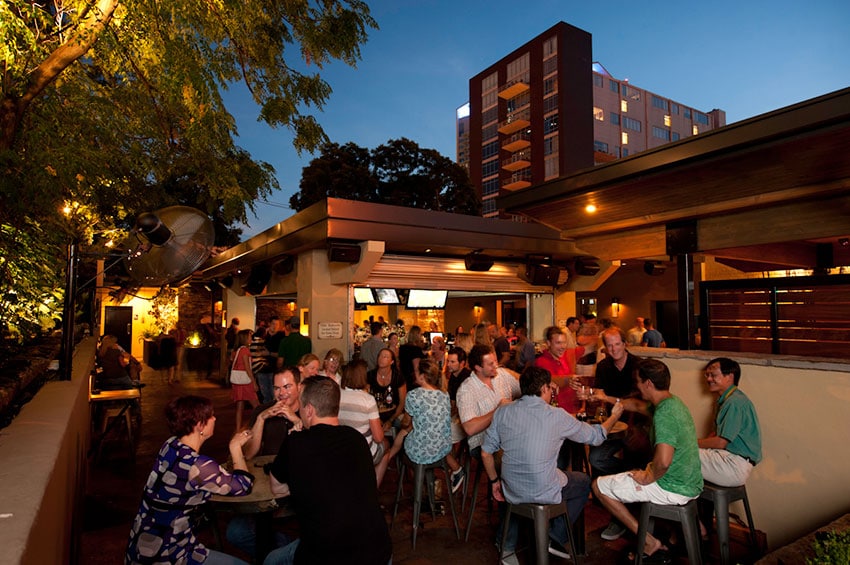 715 W 6th St, Austin, TX 78701
The Dogwood is a rooftop bar right on 6th Street in Austin, TX, but with a very different feel to it. Much more homey and cozy than the usual more party-centric bar on 6th. It's a perfect place to gather with friends and enjoy drinks, live music, and some comfort foods. And you'll still get to enjoy beautiful views on the rooftop.
1025 Barton Springs Rd, Austin, TX 78704
El Alma has lots to offer – both in terms of their food options and their drinks menu. Here you'll find innovative and delicious Mexican dishes, no less than 9 different Margaritas, and of course a variety of Sangrias and Mimosas. Head up to their huge rooftop patio to see the whole Austin skyline or take a look around inside at the local art.
Read More: What Are the Pros and Cons of Living in Austin, Texas?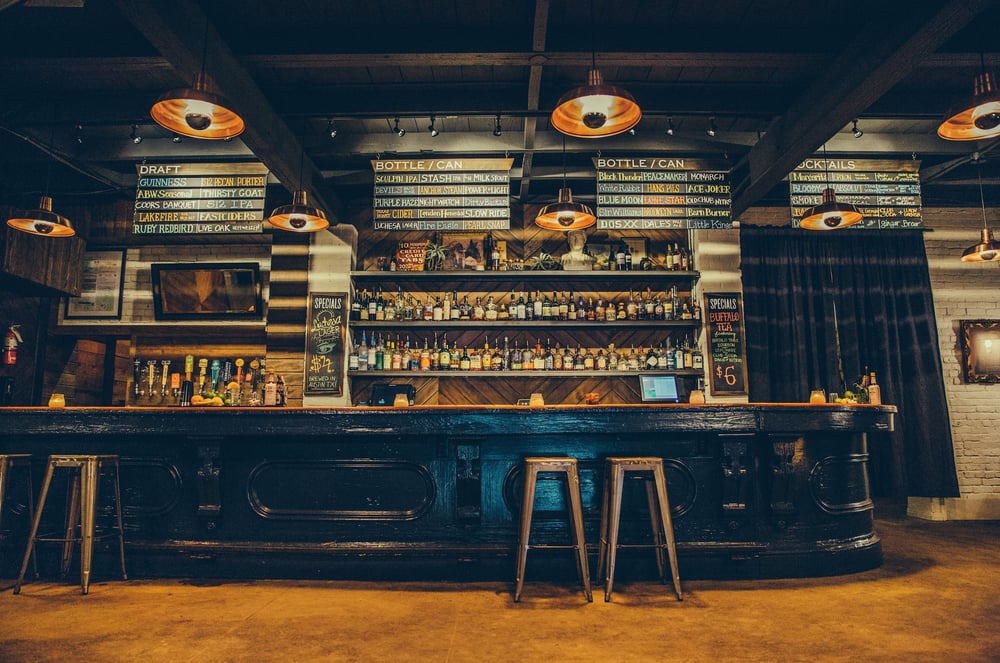 912 Red River St, Austin, TX 78701
If you're looking for the best rooftop bar in Austin with concerts, the staff at Mohawk specializes in hosting bands from all over that play a variety of kinds of music. There is a rooftop deck here which will give you some great views of the city, but even better ones of the concerts on stage. Overall a great rooftop bar and a great place to catch some music in Austin.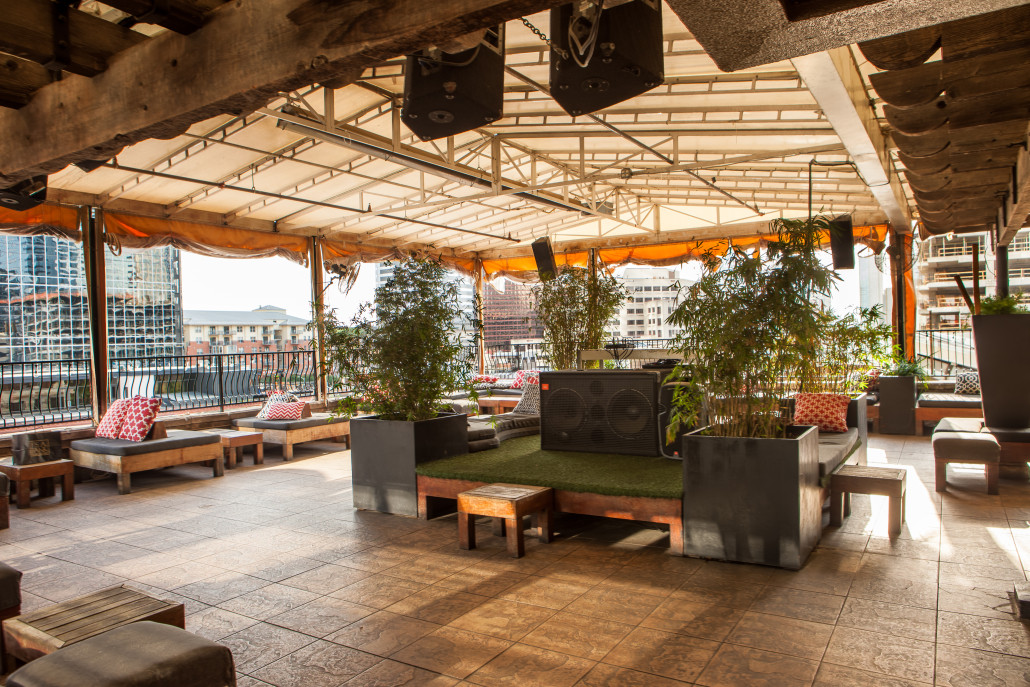 Kreisle Building, 412 Congress Ave, Austin, TX 78701
Speakeasy is actually comprised of 3 levels, a music lounge, an upstairs bowling area and lounge, and the pièce de résistance – the rooftop. You'll get to enjoy some amazing views of the Austin skyline and some delicious cocktails. Each area of this place has its own bar, so you won't have to go too far for your drinks. Even better, the rooftop has a cover so you can relax in rain or shine with gorgeous views, beautiful interior and exterior design accents like cast iron downpipes, and cozy stools and tables.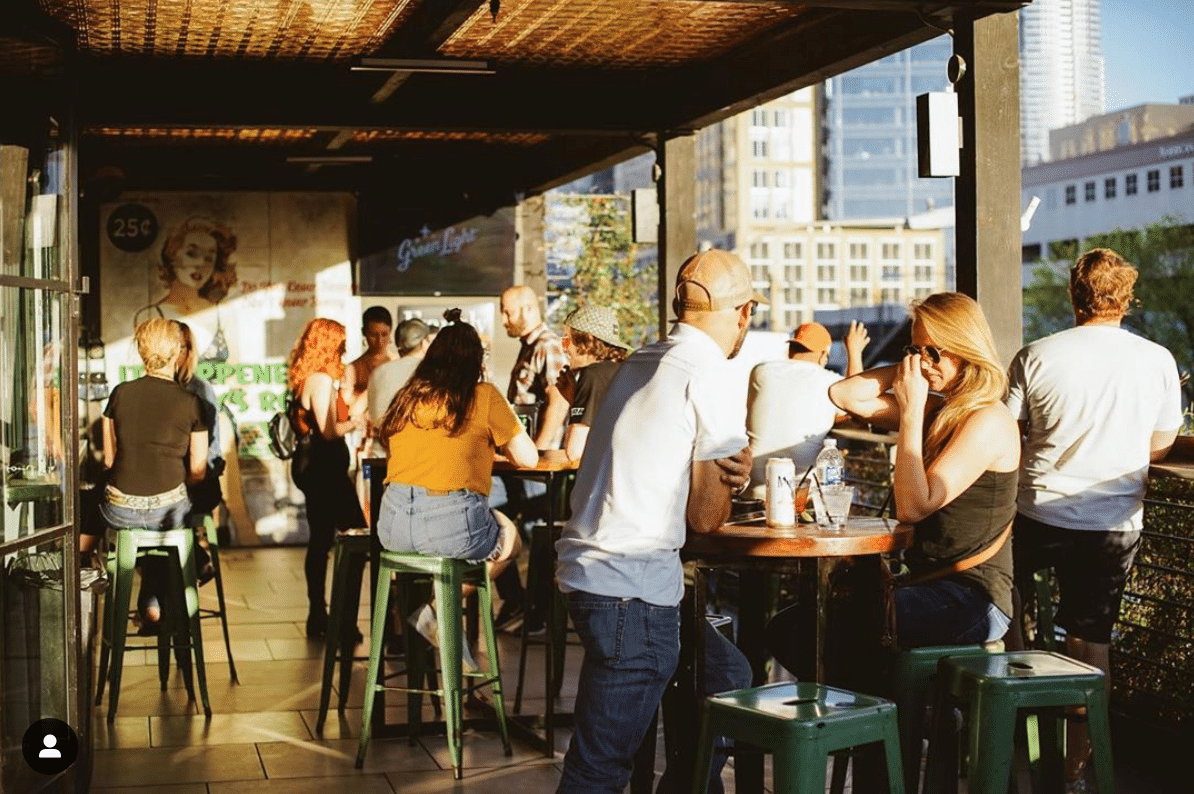 720 W 6th St, Austin, TX 78701
Right in the heart of what we fondly call "Dirty 6th," Green Light Social is the place to party. The rooftop bar in Austin overlooks downtown and the music will have you on the dance floor all night long. Here you can enjoy craft cocktails and party all night long!
Read More: The Best Places to Buy a Breakfast Sandwich in Austin, TX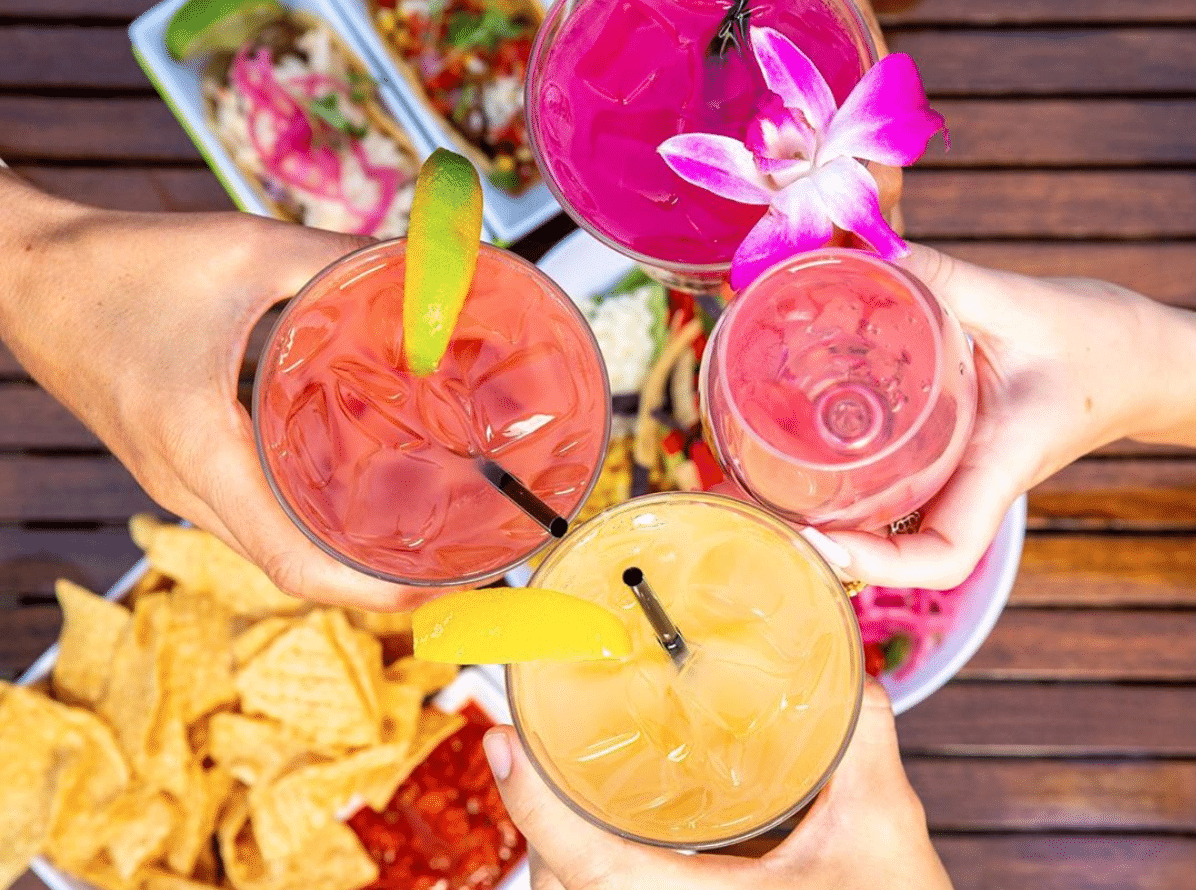 110 E 2nd St, Austin, TX 78701
Edge is located on the rooftop of the Marriott Hotel, and we love it. Open to both guests and the public, here you'll find unique craft cocktails and some gorgeous views of both Lady Bird Lake and South Congress Ave. Luxurious and unforgettable, you're sure to have a great time at one of the best rooftop bars in Austin.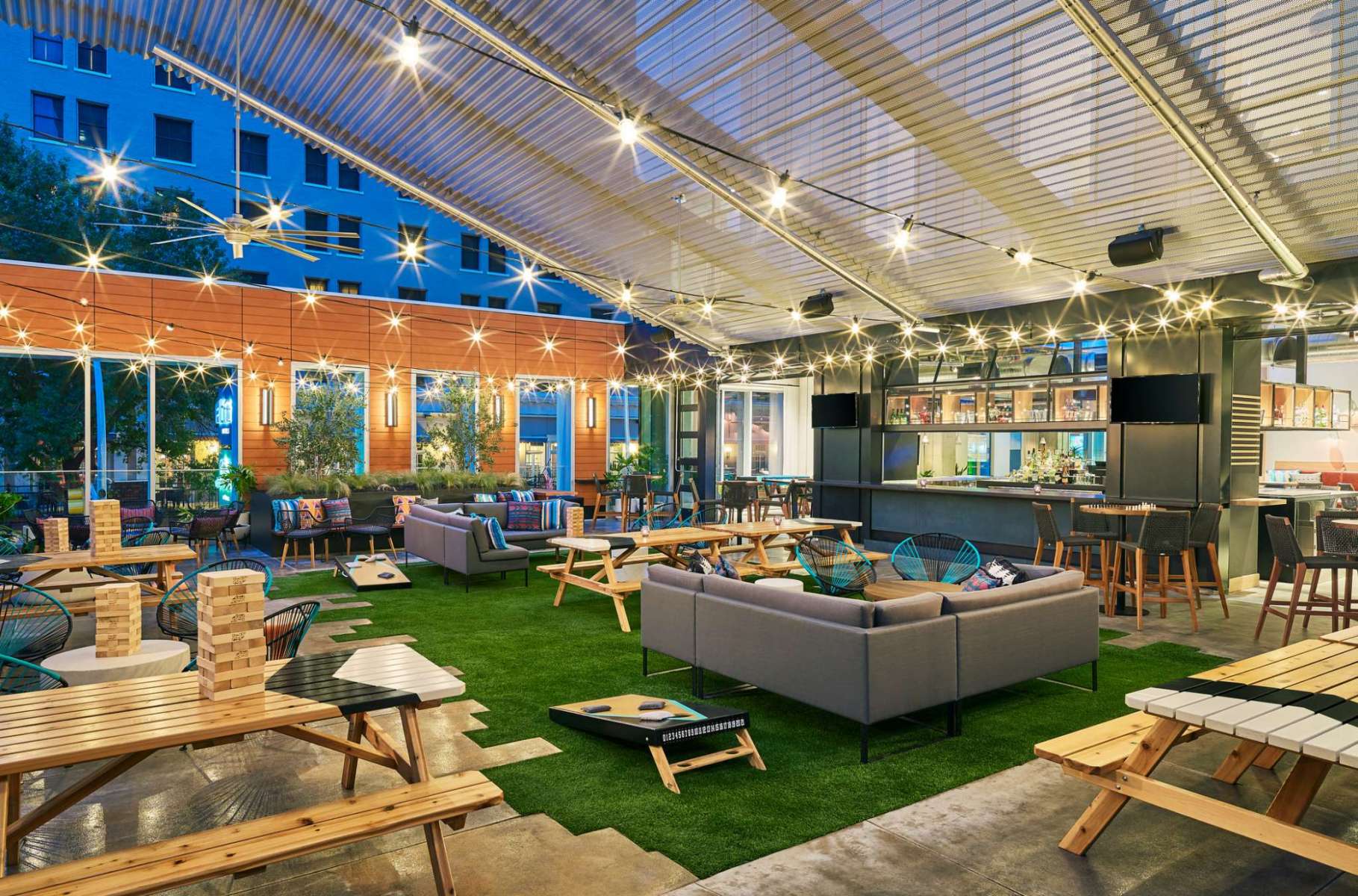 621 Congress Ave STE 201, Austin, TX 78701
Upstairs at Caroline is super modern and super fun. Also located in a hotel but with such a different vibe. It's like the best backyard party, except on a rooftop with lovely city views. There's a full bar, fabulous cocktails, and tons of games like Giant Jenga, Shuffleboard, Foosball, and Cornhole. It's the perfect place to spend an afternoon with friends!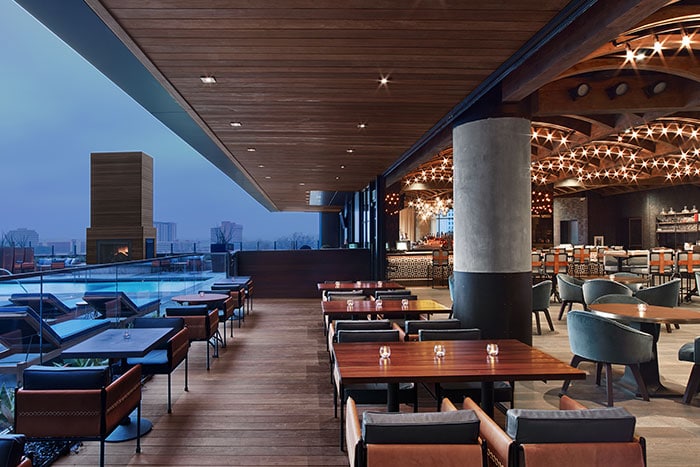 605 Davis St, Austin, TX 78701
Geraldine's has it all, a beautiful dining interior and fantastic views of the downtown skyline and Lady Bird Lake. Their dishes are made with local ingredients and their cocktails are the true classics. One of the best rooftop bars in Austin even has private cabanas making it the perfect place to relax in the summer months, or really any time of year.
Read More: The 8 Best Buffalo Wild Wings Flavors & Sauces to Try on the Menu