Barton Springs Municipal Pool reopens today, June 11th, after it was forced into a short hiatus due to flooding from heavy rains. And, in an exciting turn of events, we won't need reservations to swim at Barton Springs Pool, starting in July.
There are currently no reservations required for free swim at your own risk from 5 – 8 am on Mondays, Wednesdays, and Thursdays, but reservations for guarded swim from 8 am – 10 pm on Tuesdays, Fridays, Saturdays, and Sundays are still in effect through the end of June. Available reservations have been expanded through June, after which ticketed entry at the door will resume for the rest of the summer.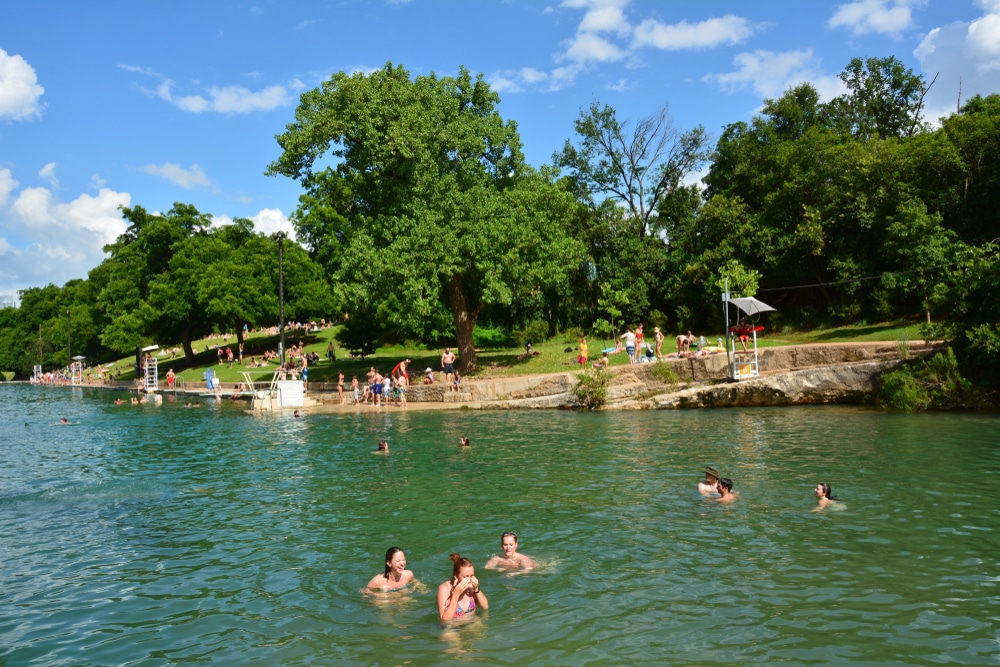 The hot season hit us pretty hard pretty early, and people were already so ready for swim weather after that winter storm and the pool being closed last summer. Lines stretched into the parking lot and down the street for entrance to Barton Springs Pool early this season, which is why the city implemented reservations for swim in an effort to control capacity levels. Since then, Barton Springs Pool has hired additional staff and trained new lifeguards to make sure they are extra prepared for the influx of eager swimmers.
Grabbing a $5 reservation to Barton Springs Pool right now guarantees you a two-hour stay on Tuesdays, Fridays, Saturdays, and Sundays from 8 am – 10 pm. The pool is only open for morning swims on Mondays, Wednesdays, and Thursdays from 5 – 8 am.
Currently, season pass holders, anyone who is 80 and older, veterans, and active duty military members are allowed entry into Barton Springs Pool without a reservation, but if anyone else in their party is not, they must have a reservation.
Barton Springs Municipal Pool is a recreational outdoor swimming pool that sources water from nearby natural springs, which makes swimming here as Texan as you could possibly get. Located adjacent to the enormous Zilker Park, Barton Springs Pool does have a free and much more natural side for swimming and boating, if you don't want to wait until July for reservations to end.
Featured Image Credit: AustinTexas.gov