Barton Springs Municipal Pool is open for the summer season. Thank goodness, too, because this May has been the hottest on record in a long time.
The hot season hit us pretty hard this May as lines stretched into the parking lot and down the street for entrance to Barton Springs early this season. Since then, Barton Springs has hired additional staff and trained new lifeguards to make sure they are extra prepared for the influx of eager swimmers.
Unfortunately, there is still a lifeguard deficit, which have lead to semiweekly pool closures this summer. According to a press release from March 10, 2022, "Due to a lack of available certified Open Water Lifeguards, Barton Springs Pool will close two days a week – Mondays and Wednesdays – beginning Monday, March 21, along with the regular Thursday cleaning closure from 8:00 a.m. to 7:00 p.m."
You can swim at your own risk without a lifeguard from 5 – 9 am on Monday, Wednesday, Thursday, and 5 – 8 am on Tuesday, Friday, Saturday, Sunday, per usual. Swimmers can purchase a pool entry fee at the door for guarded swim from 8 am – 10 pm on Tuesday, Friday, Saturday, and Sunday, but note again that Barton Springs will be closed on Mondays and Wednesdays, and some Thursdays this season.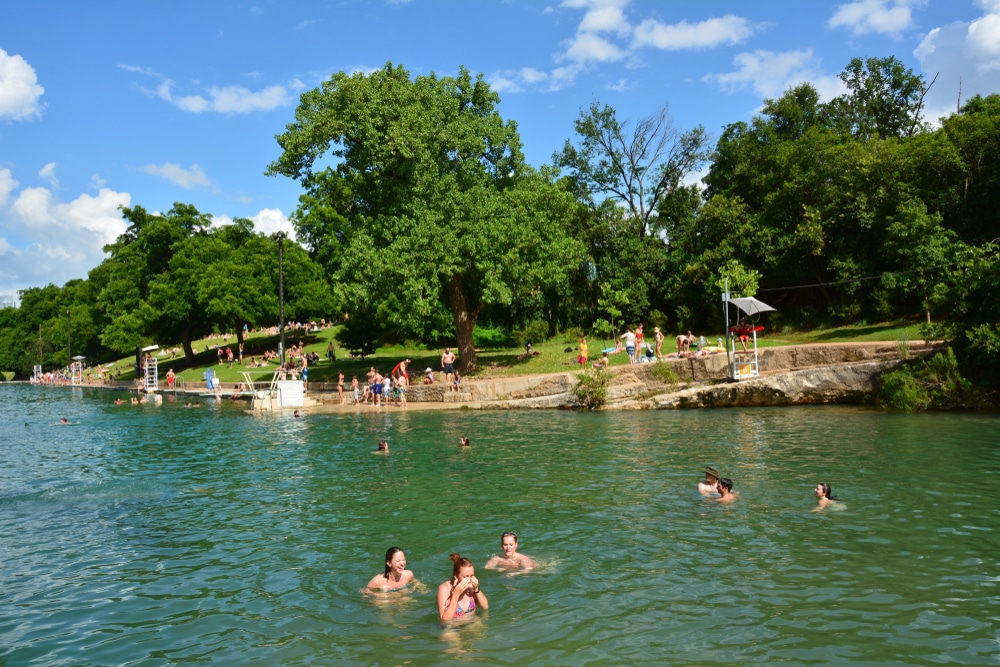 If you plan to be in the water all summer long, take advantage of a Season Swim Pass, which includes parking at Zilker Park! Seniors 80+ and veterans get theirs free, while season passes are $190 for adult residents, $125 for teens, $65 for kids, and $65 for seniors aged 62-79.
Barton Springs Municipal Pool is a recreational outdoor swimming pool that sources water from nearby natural springs, which makes swimming here as Texan as you could possibly get. Located adjacent to the enormous Zilker Park, Barton Springs Pool also has a free and much more natural side for swimming and boating.
Featured Image Credit: AustinTexas.gov