When people think about Arizona, they normally think about the Wild West, Cowboys and Indians, Tombstone, and barren landscapes littered with tumbleweeds. In truth, Arizona is much more than cattle and cactus, with Phoenix possibly being one of the largest examples of how much the state has changed. And there are plenty of top things to do 'round these parts. 
Home to ASU and nearly 5 million residents, Phoenix has become the fastest-growing city in America. This draws in a lot of people from out-of-state, and whether you live here or are visiting, it can be overwhelming trying to come up with something to do in your spare time. 
Thankfully, there is no shortage of activities and venues to explore. While it may only exacerbate your efforts to decide on how to spend your time, it helps to ask the natives. Here are 10 of the top things to do in Phoenix this weekend from the people who know the city best!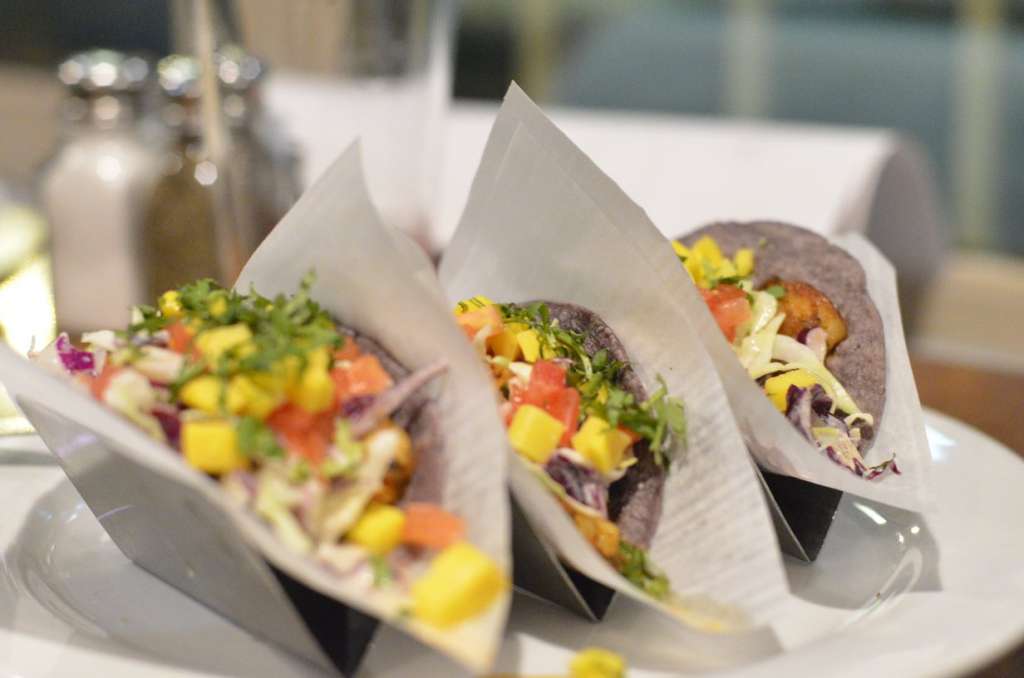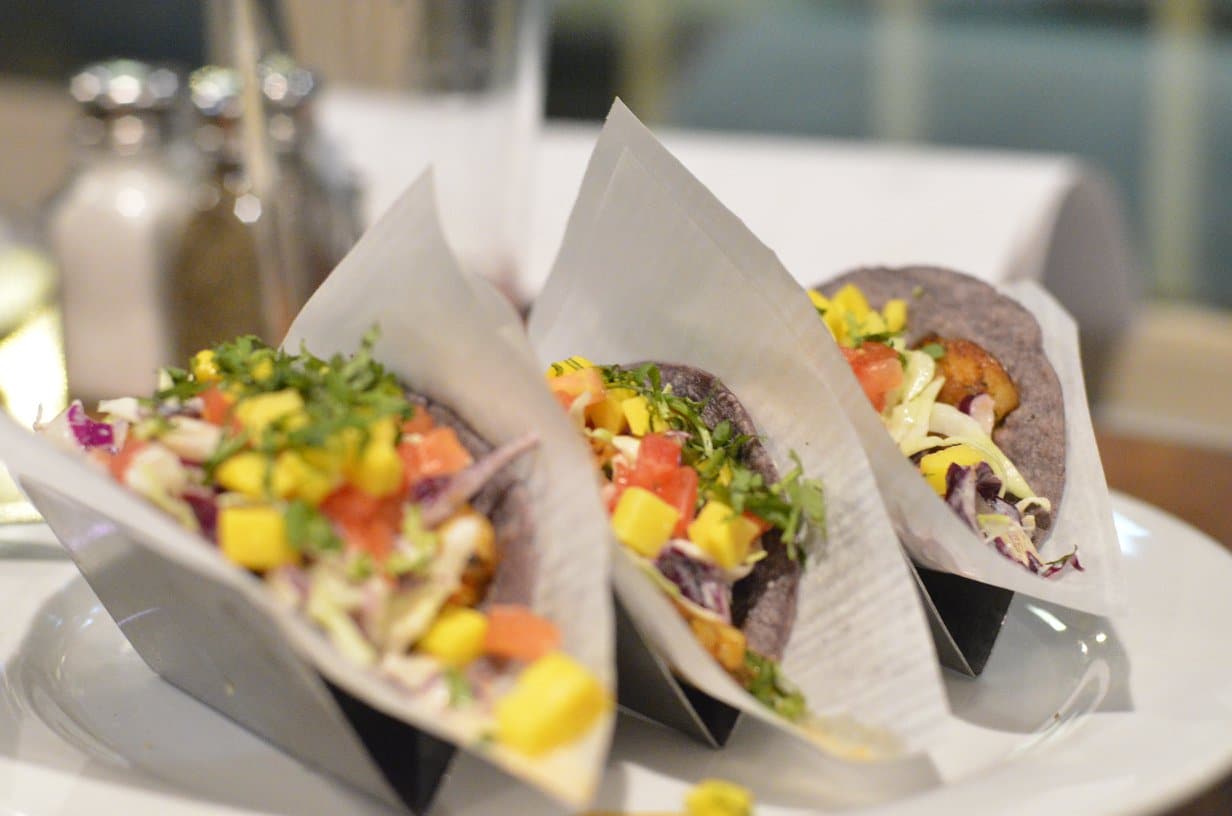 Savor the Food
Arizona is close to Mexico and California Beaches; this alone makes Phoenix a tasteful destination for any foody. The locals are truly spoiled on the weekend by the delicious and authentic Mexican cuisine that can be found on almost every corner. Chains like Filiberto's, Macayo's, and Chipotle are never too far away, but the best things to do in Phoenix can be found in smaller restaurants that aren't easily seen from the road.
These dive-bar style kitchens are affordable, and some of the locals' favorite places to grab a bite with Los Favorito's being a frequently mentioned top-choice. Phoenix is also home to several finger-licking good BBQ joints, Sushi and Seafood restaurants, sports bars with surprisingly good meals and themed venues that are as delicious as they are fun to visit. Chinese food delivery is another popular option among Phoenicians, and you'll have plenty to choose from no matter where you are in the Valley of The Sun.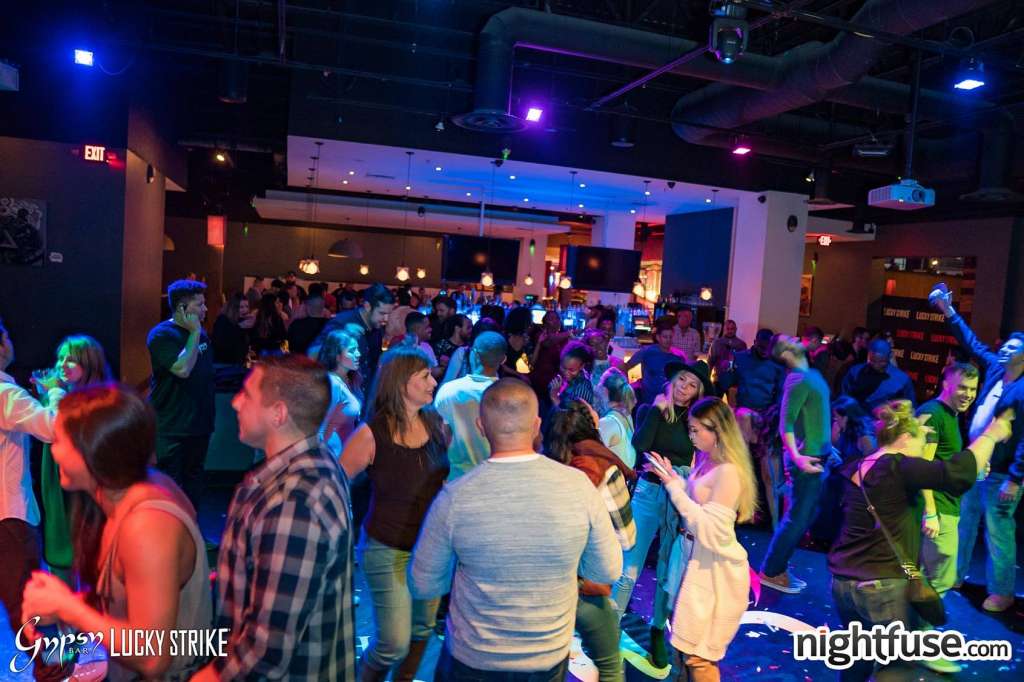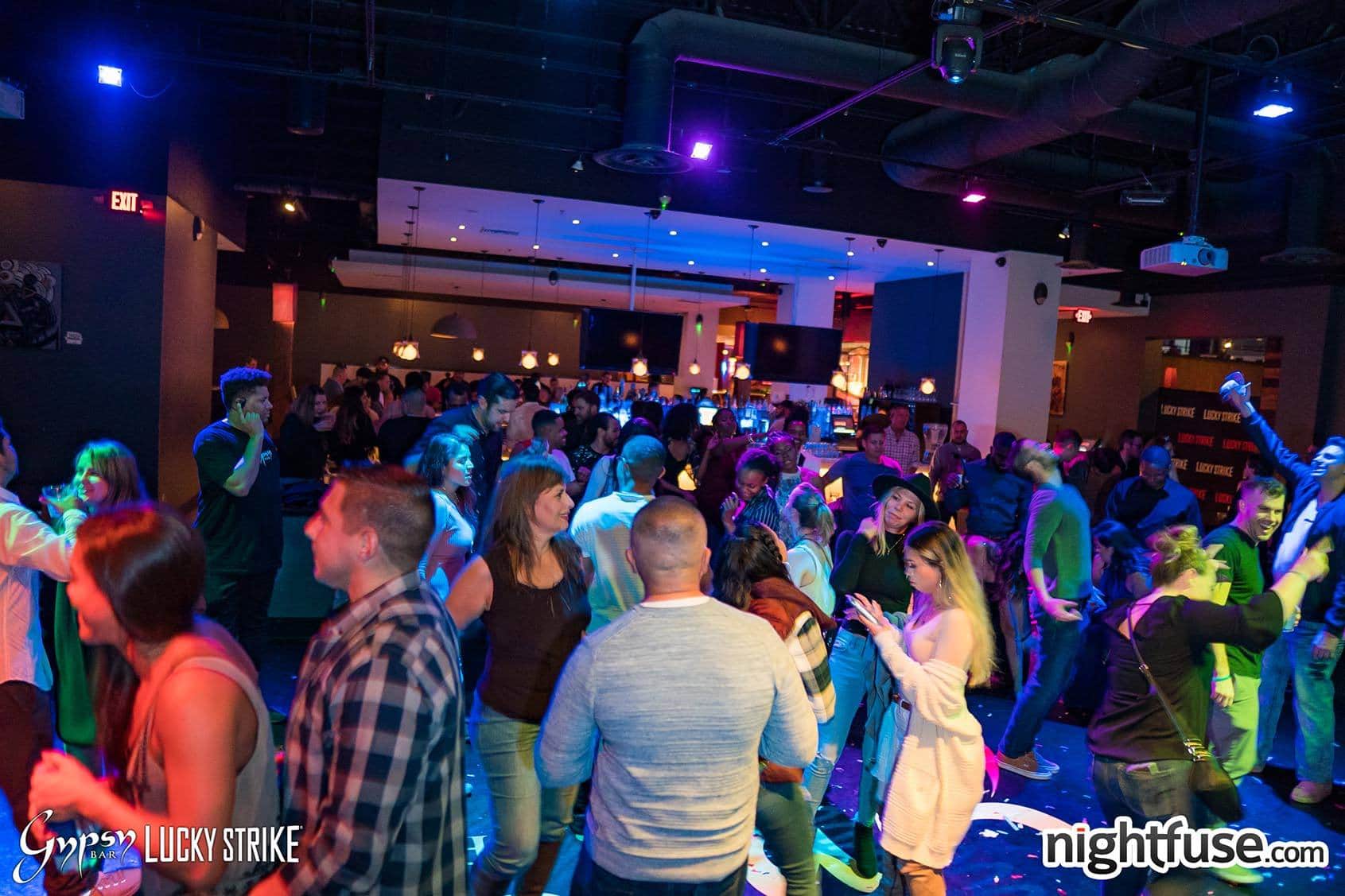 Enjoy the Nightlife
We've mentioned ASU earlier, so it should come as no surprise that college life is an integral part of Phoenix. Mill Avenue is one of the liveliest destinations you can visit while in Phoenix. Located in Tempe, Mill Avenue is home to more than a dozen bars and nightclubs that are always a good time! Oldtown Scottsdale and Downtown Phoenix are also home to several clubs and venues welcoming anyone looking for a fun night.
If you're looking for a different type of entertainment, Phoenix is home to some of the most modern scenes in the country, one of the top things to do here. The top fun things to do in Phoenix on the weekend include visiting Modern Round, Top Golf, and K1 Racing.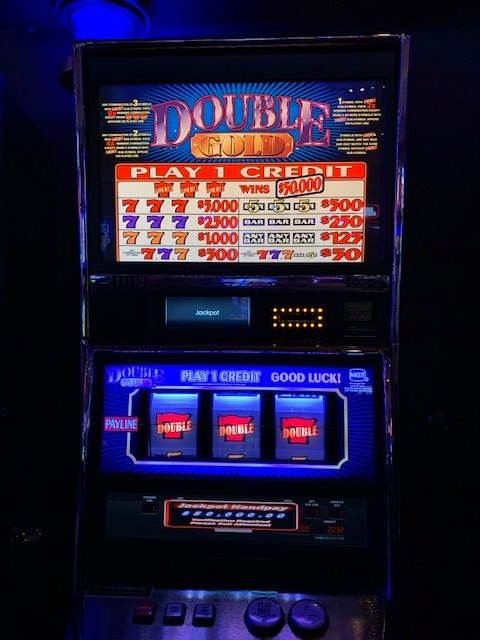 Test Your Luck
If you enjoy slots or poker, locals will always be happy to point you to the nearest, or their favorite, local casino. If you're searching for things to do in Phoenix this weekend, there are more than six casinos to choose from, each having their own flair and attractions. Talking Stick Casino is a luxurious Hotel & Casino that is equipped with a day spa and nightclub. It hosts pool parties during the summer, and has several fun places to visit nearby. Just a short distance from Talking Stick you can find Top Golf, Indoor Skydiving, a wide range of shopping options and dozens of options to satisfy your hunger.
Wild Horse Pass is another locally preferred casino. You can pop-in to watch the game in one of the bars or grills inside, pig-out at the buffet, stay for the weekend in their beautiful rooms or suites, take a break from the slots to watch a concert or MMA event in their arena, as well as go next door for an incredible selection of outlet shopping. Wild Horse also has a venue that hosts a wide array of events, called Rawhide, that each deliver a one-of-a-kind experience for all their shows. Player club memberships and rewards are available at all the local casinos, some even offer free-play credits upon signing up. Most are also home to High-Stakes tables.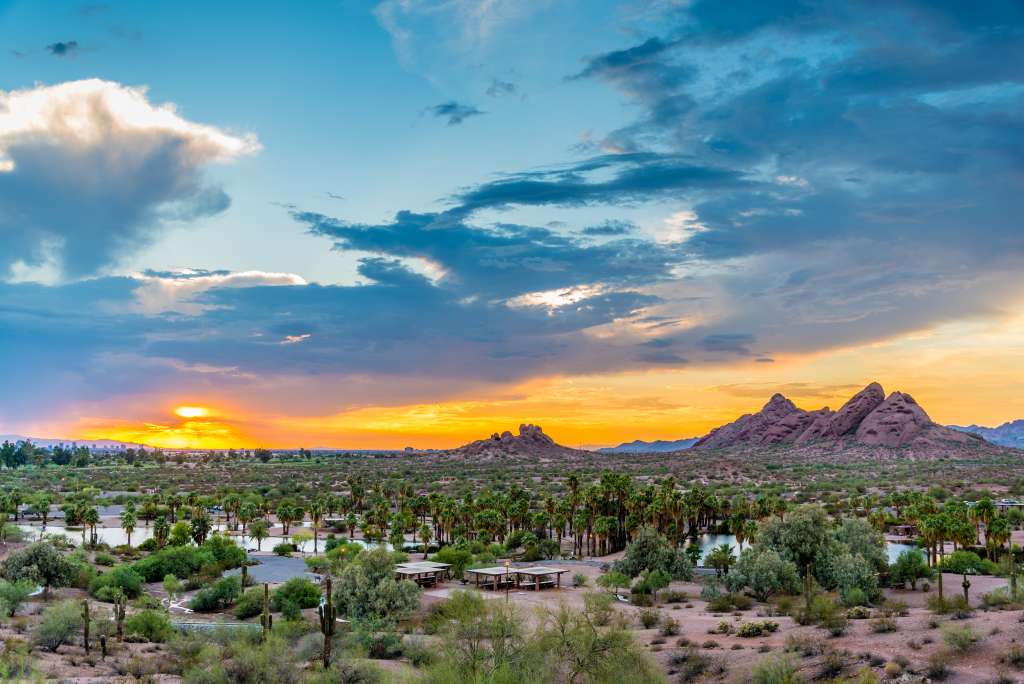 Go for a Walk in the Park
There are some incredible parks in the Phoenix area. Tempe Town Lake, located just off Mill Avenue is a wonderful park to spend some time in. If you're researching entertaining things to do with kids or friends in Phoenix this weekend, there is a water park for kids to enjoy, breathtaking views (especially at night with their lighted bridge), paddleboat rentals, Bird Scooters, and bicycle or tandem rentals available that will ensure your visit is one you'll always remember.
Papago Park is another spacious park with a fun (and safe) playground for children that includes some smaller rock formations that make for a fun climb with an amazing view. It is home to a golf course and basketball courts, and additionally, Papago Park is conveniently located near the Phoenix Zoo. While it isn't the last park locals rave about, Kiwanis Park is not one to forget mentioning here. Kiwanis offers the full park experience.
There are multiple walking paths, fishing spots throughout Kiwanis Lake, public tennis and basketball courts, jungle gyms, and even offers a wide variety of classes in their recreational center. In addition to the classrooms used for their many lessons and programs available, such as dancing, self-defense, art, and many others, the Kiwanis Recreational Center is equipped with a full-service gym and an indoor swimming pool with individual lanes and water slides.
El Dorado Park is another highlight in the Phoenix park scene. El Dorado stands out from the rest with its full frisbee golf course and skate park! Like other parks, you can also go fishing, get some fresh air on the trail, play on one of the multiple jungle gyms, play basketball or enjoy the children's water park. Near the north end of El Dorado is also a public pool.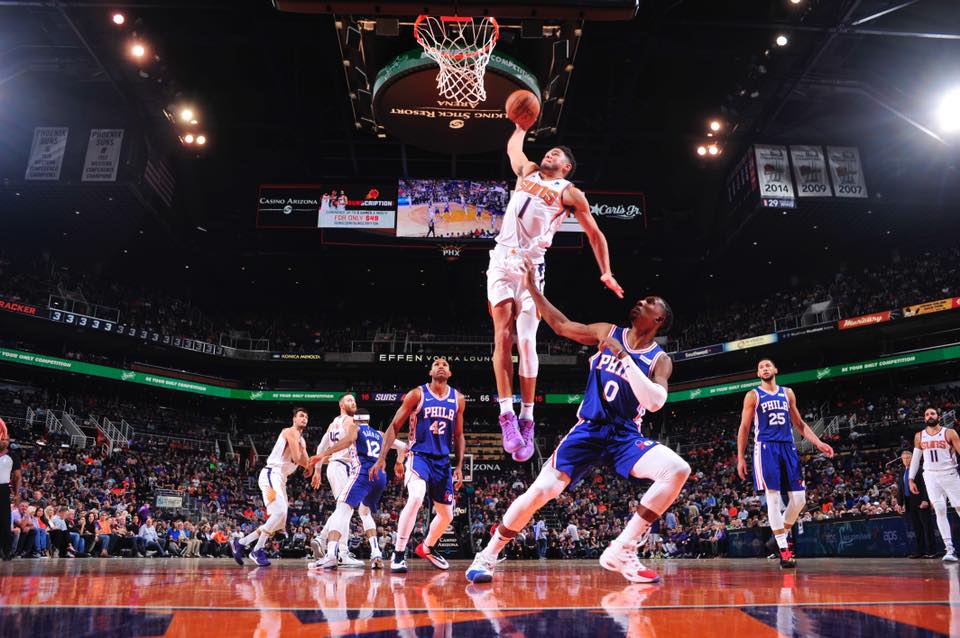 Check Out a Game
Phoenix is the proud home of major league teams in every sport, as well as has some incredible stadiums that every sports lover will enjoy. Chase Fields is right next door to Talking Stick Arena in downtown Phoenix if you're in the market to watch a professional Baseball or NBA game. Parking can be a difficult task during big games, but thankfully the Phoenix Light Rail easily alleviates all that stress and cost. Riding the Light Rail is easy and affordable, plus with several Park and Ride locations available along the rail, you can drive to the ideal parking spot for you and ride the rail the rest of the way.
To make it even easier for you to catch the game, the Light Rail has a stop directly in front of these two stadiums. If you miss Baseball Season but still want to experience Chase Fields for yourself, TGI Friday's is located near the top of the stadium and is open to the public year-round. Some stadium seating is accessible from the restaurant too! Gila River Arena is home to the Arizona Coyotes and is located in the Westgate Entertainment Plaza.
Here you can watch a game live and in-person, or while enjoying yourself at any of the neighboring eateries. Lastly, if you want to catch an NFL game, the University of Phoenix Stadium hosts the Arizona Cardinals. All these arenas are up-to-date and do not leave anything left to be wanted. While the professional teams in Phoenix are fun to watch, we have some of the BEST teams in semi-professional and women's leagues. The Phoenix Mercury and Rattlers are multi-time champions in WNBA and Arena Football, making them especially exciting teams to watch and one of the top things to do in Phoenix.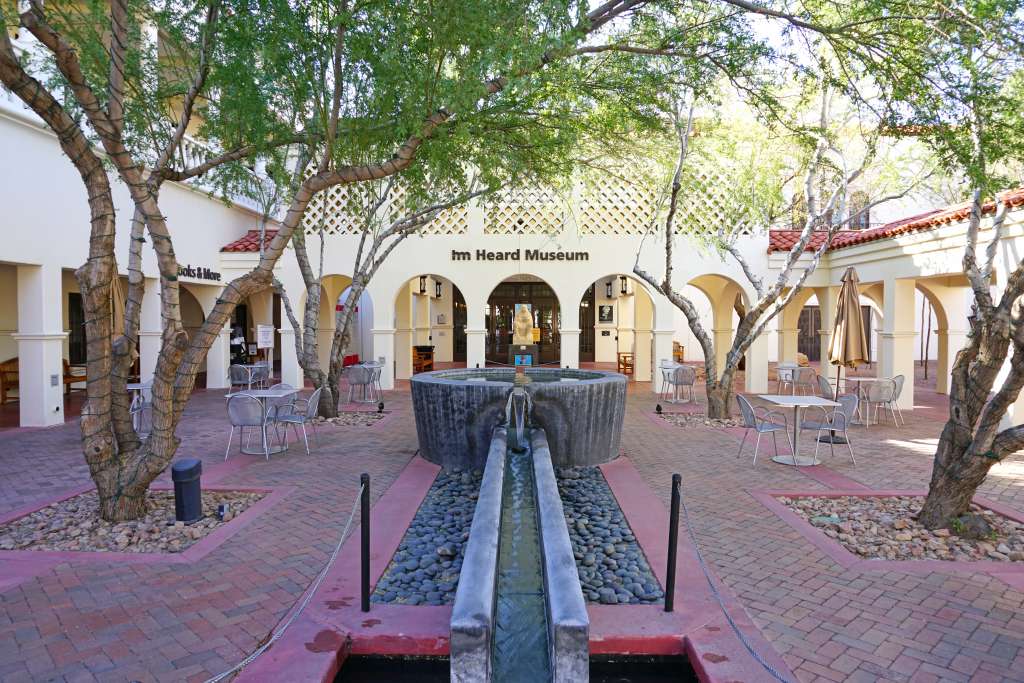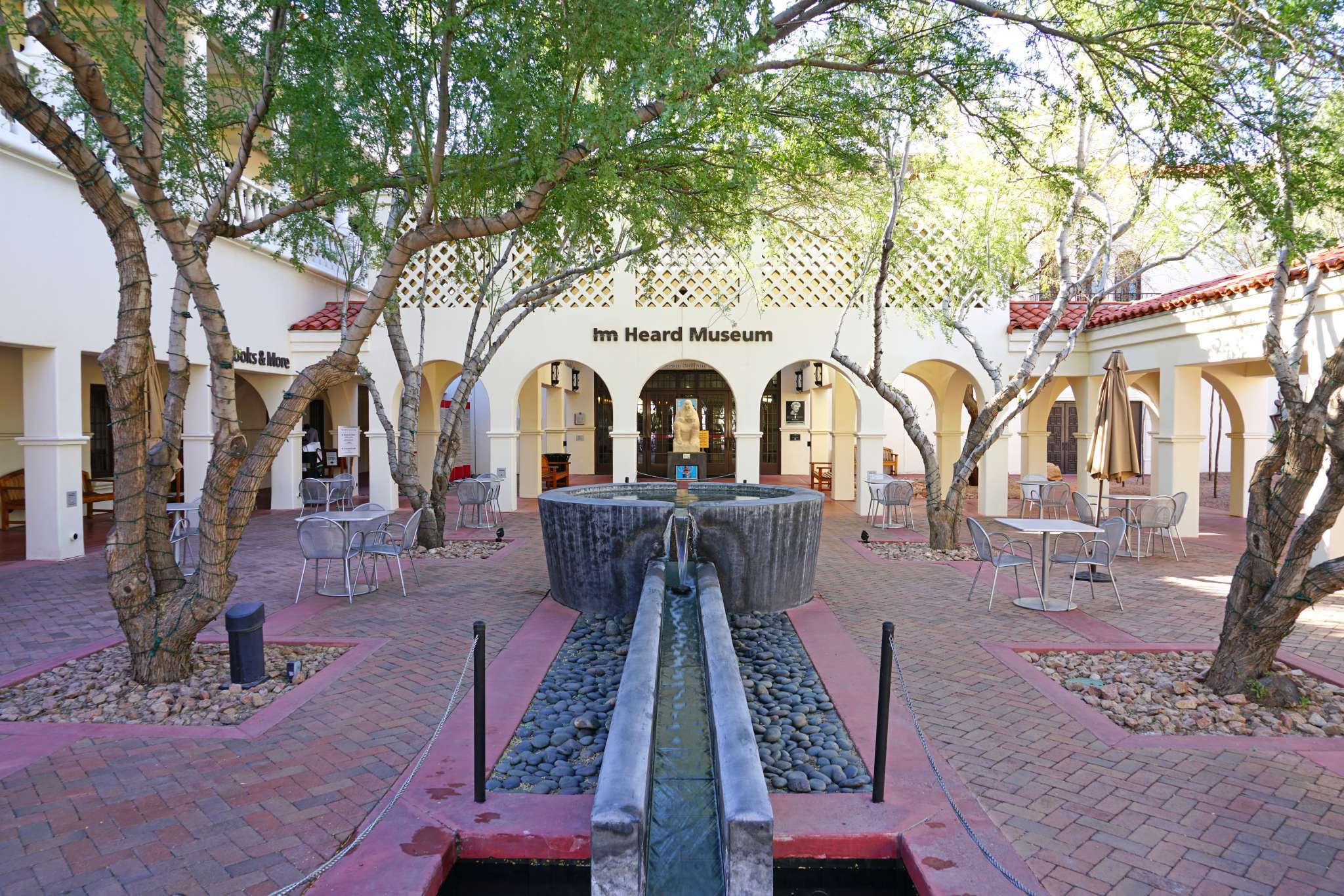 Experience History and Arizona Culture
If you would like to experience all Phoenix has to offer, we encourage you to explore any of the Museums found throughout The Valley. If you're searching for artistic things to do this weekend, visit an artistic or historical museum in Phoenix. These are easily accessible by driving or riding the Light Rail. The Heard Museum is internationally recognized for its collection of Native American art and artifacts. As a private non-profit museum, all proceeds are used to operate the facility or for the advancement of American Indian artwork.
The Arizona Science Center, also located in Downtown Phoenix, showcases a huge selection of hands-on exhibits that allow you to discover and conduct experiments that will blow you away! They also regularly host adult nights, where you can enjoy a couple of drinks and enjoy the exhibits with your friends in a freer, more fun environment. Looking for something a little different? The Historical Instrument Museum may be exactly what you've been wanting. Here you can see the progression of today's modern instruments, explore the evolution of music and enjoy the presence of instruments that directly made an impact on the songs and live music events we all know and love.
This last recommendation may not be a museum, but it is a fantastic way to spend an evening and discover some artistic talents from Phoenix. First Friday is a monthly event, taking place on the first Friday of every month, that transforms the typically normal blocks of downtown Phoenix into a lively exhibition of artistic expression. You'll find several art exhibits from local artists ranging from sculptures and paintings to wireworks and live entertainment. This free event is a must-visit if you have the chance and one of the top things to do near Phoenix!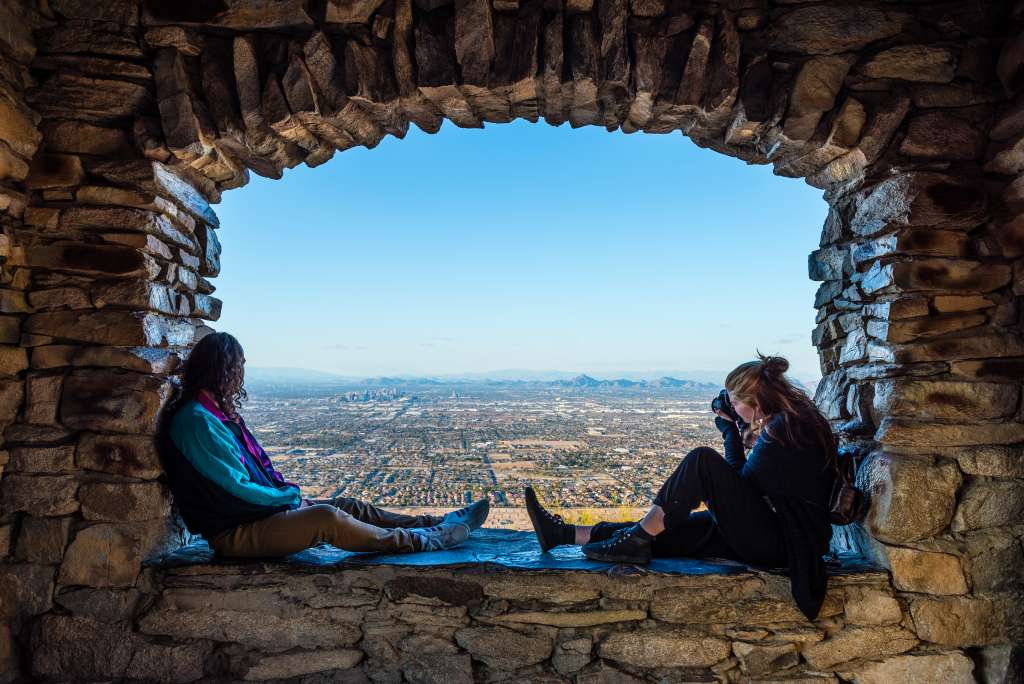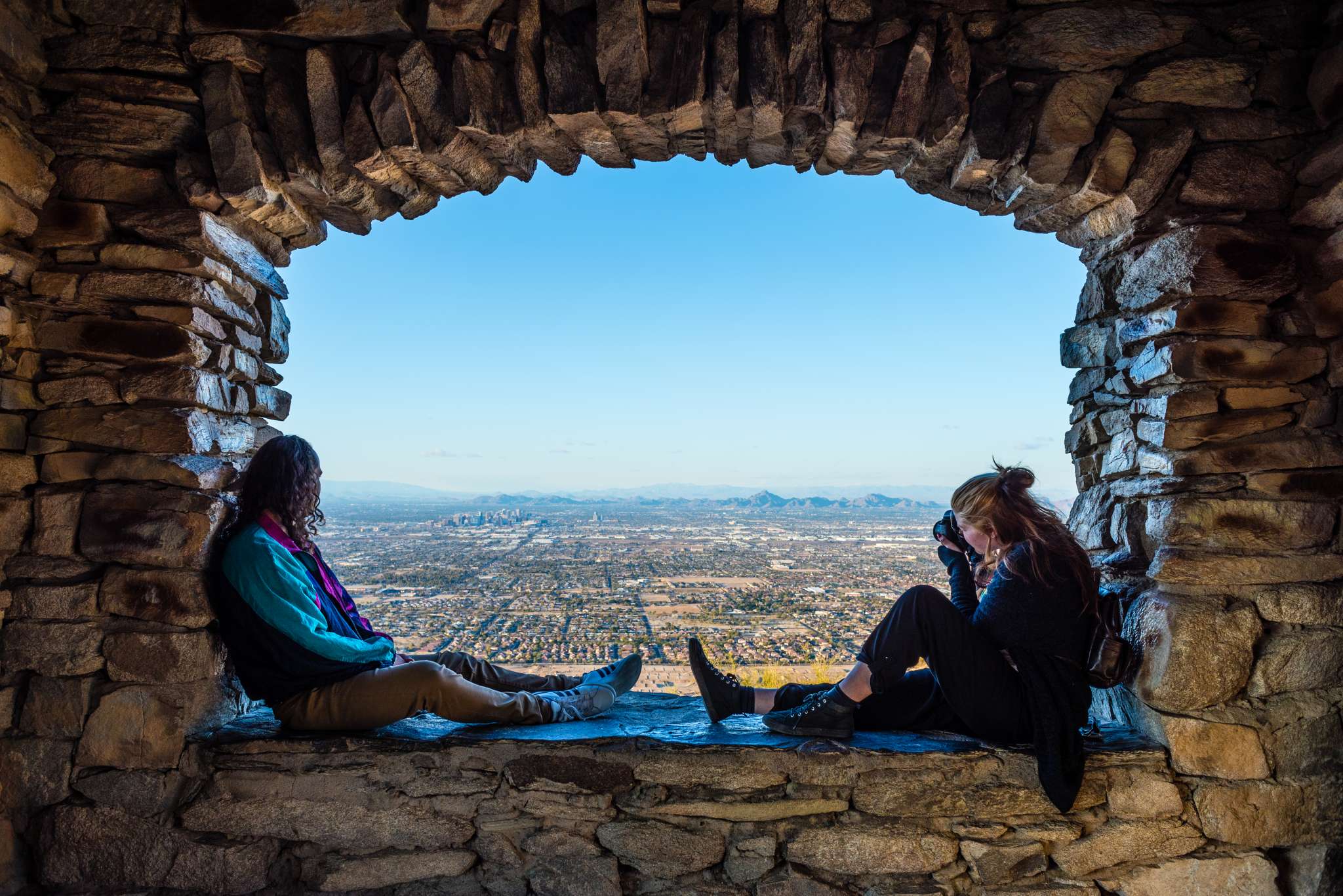 Take a Hike
As soon as you come into Arizona, you'll see mountain ranges as far as the eye can see. Phoenix is home to dozens of mountainous peaks you can explore regardless of your experience level. Now, it should be noted that wearing the appropriate attire and packing plenty of water is essential for anyone considering hiking in the Phoenix area. If you have your climbing bag all packed and hiking shoes on already, here are some of the best hiking trails and mountains to explore:
Camelback Mountain is located almost in the center of Phoenix, and it is easy to see how it was named after taking a quick look at its design. There are two trails you can take up the mountain depending on the level of difficulty you're looking for in your climb.

Papago Mountain is potentially the easiest hike on the list. Located on the East side of Phoenix, Papago gives you a view that can rival what you'll see atop Camelback but takes half the time and effort to reach. It is also centrally located, making it easy to approach, prepare for and recuperate from after your trip.

An intermediate trail option is the Superstition Mountains. This range has a lot of lore and mystery surrounding it, with rumors of gold being found in them hills. Being located on the outskirts of the city, it is removed from the urban civilization found near most of the other Phoenix hiking spots. This makes coming prepared particularly important. This trail is significantly rockier than the other trails we've mentioned too.
Camelback is the steepest of these trails with the Superstitions being more manageable and Papago being a walk in the park by comparison.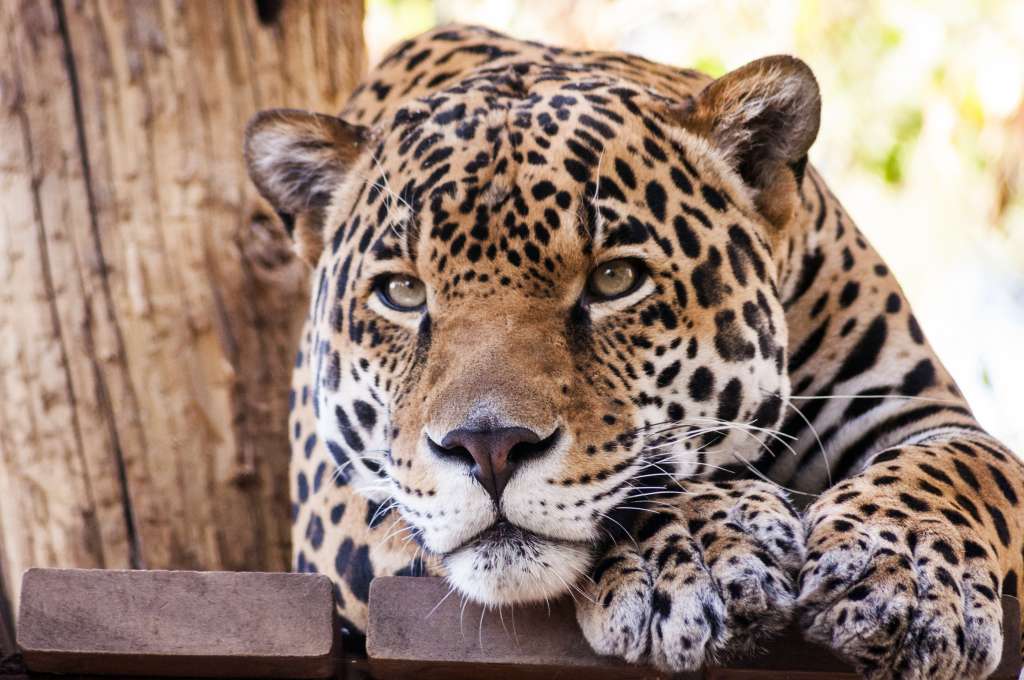 Visit the Zoo
Fun for the whole family, the Phoenix Zoo is an affordable, fun and educational way to spend the day. Originally opened in 1962, the Phoenix Zoo is the largest privately-owned animal park in the United States. Being a private park, all entrance fees and revenue is used to maintain the zoo, care for the animals and make sure visitors enjoy their experience. Some of the most popular exhibits found here include the Monkey Village, Stingray Bay, Isle of the Tiger and many more.
The zoo does not leave much left to be desired; among the four unique trails, you'll visit everything from the Reptile Room and Desert Animals to African Wildlife and Birds of the World, just to name a few. Located on 125 acres, you may have to move quickly to catch all of the sights they have to offer. Not that you'll have to run through the park to see everything, but keep in mind their hours are limited and it is a big park. Visit their website to learn about any special events or news announcements there may be when you're ready to go.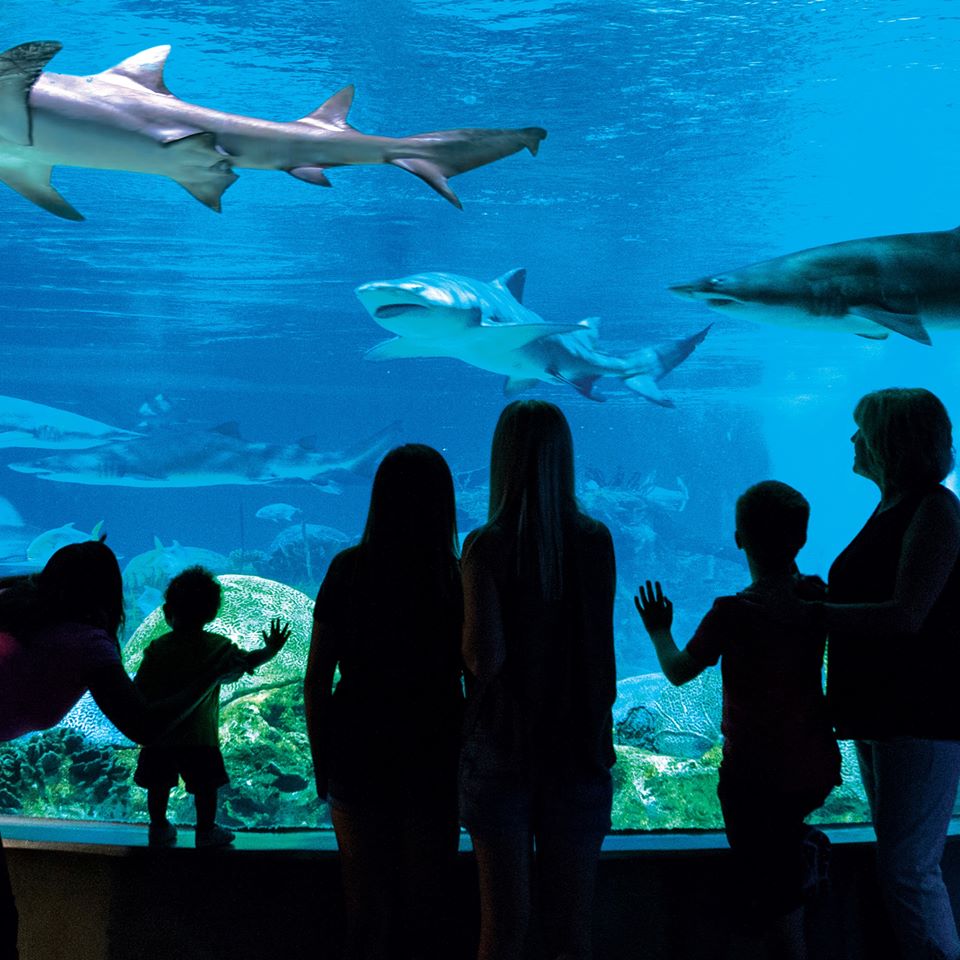 Explore the Aquarium
Are you looking for a slightly more exotic thing to do in Phoenix this weekend? OdySea Aquarium is a new addition to the long list of Phoenix activities you'll have to check out. They're open seven days a week and have more than 30,000 animals on display throughout the aquarium. This newly constructed exhibit is entirely modern and designed to take your breath away at every turn with their beautiful selection of animals and aquatic tank designs that are truly magical.
There's more you can do than just explore the aquarium too. OdySea hosts unique exhibits regularly; for example, in 2018 the Human Body Exhibit was on display. Additionally, you can also visit the Butterfly Wonderland, a specialized garden with countless species of flowers and butterflies to enjoy. It is genuinely a remarkable experience.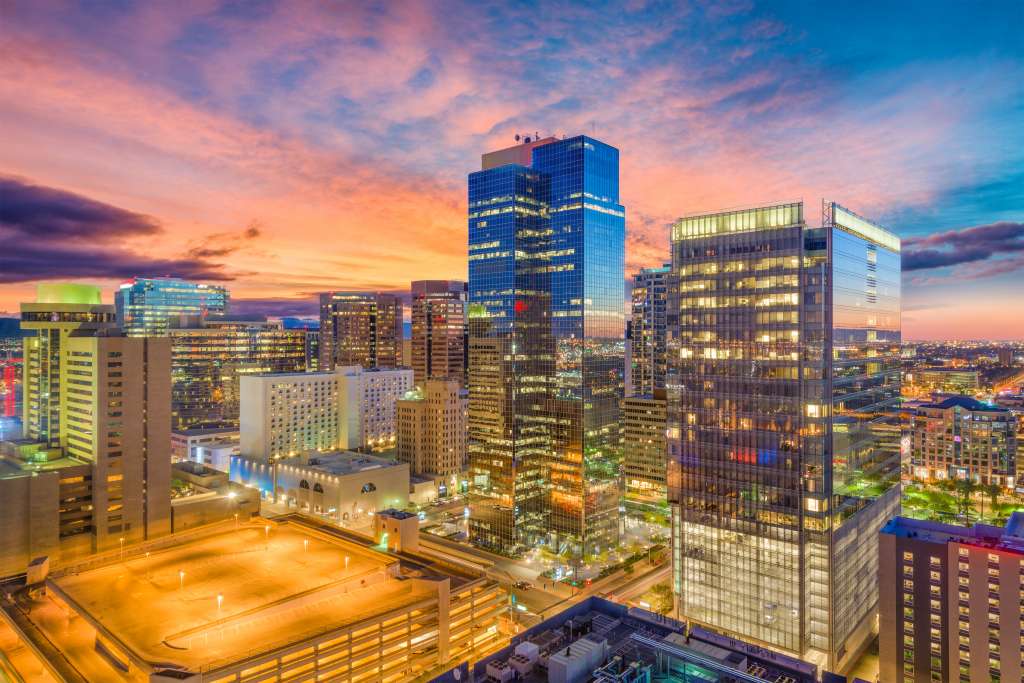 Shop 'Til You Drop
Like to shop? Phoenix is a premier shopping destination for anyone looking to buy any of the latest fashion, jewelry, tech, accessories or anything else. We've mentioned the Wild Horse Pass Outlet Mall, but that is just one of the many shopping centers in Phoenix. If you are looking for designer fashion, the Biltmore Fashion Park and Scottsdale Fashion Square are possibly the most high-end shopping hotspots.
You'll be able to find all the latest releases from your favorite luxury brands for designer fashion or upscale amenities. To avoid dropping while you shop the over 200 boutiques, take a break and enjoy exclusive entertainment, take in a movie or grab a bite to eat at one of the prestigious dining venues available onsite. That isn't all Phoenix shopping has to offer though.
The Chandler Mall, Arizona Mills Mall, and Tempe Marketplace are all comprehensive shopping centers with stores that range from outlets and department stores to popular mall brands such as Hot Topic, PacSun, Zumiez, Lids, and countless others. There is no limit to the kinds of stores you can find for everything you're in the market for. Hanging out at malls may not be as popular as it was back in the '90s, but Phoenix locals continue to find themselves pacing the halls of these shopping centers when they're looking to shop or just kill some time.