The state of Arizona is known for its beautiful scenery and one-of-a-kind landscapes. Being the heart of the state, Phoenix has some of the most breathtaking spots you should experience at least once in your life. Here are the most beautiful scenic views you can find near Phoenix.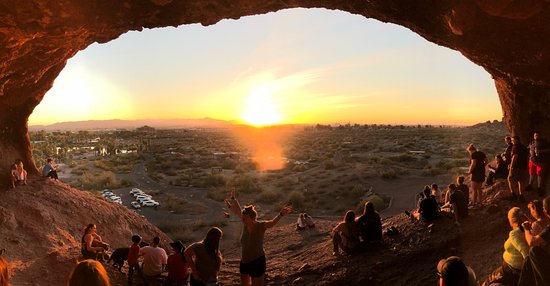 625 N Galvin Pkwy, Phoenix, AZ 85008
In general, Papago Park is a gorgeous place to spend a long afternoon. Its desert landscape and colorful wildflowers create one of the most romantic open-air spaces in Phoenix. However, one of the best things to do is climbing into the famous Hole in the Rock and watching the sunset with your loved one.
5994 E Squaw Peak Dr, Phoenix, AZ 85016
The higher you go, the grander the view. Being the 2nd highest point in the Phoenix mountains at 2,610 feet tall, Piestewa Peak features breathtaking beautiful scenery. It is also close enough to the Piestewa Peak Recreation Area in case you need to replenish your energy.
6131 E Cholla Ln, Phoenix, AZ 85018
Echo Canyon in Phoenix is no beginner's trail, but it also makes your hard work worthwhile with the beautiful scenery it offers. With a 1,280-foot ascension, you bet Echo Canyon Trail will give you plenty of photo-worthy visionaries. After all, nothing beats the birds-eye view over the endless mountains.
Related Article: 6 Entertaining Things to Do at Night in Phoenix
8383 S 48th St, Phoenix, AZ 85044
In case all the hiking and climbing got you hungry and exhausted, Rustler's Rooste has a different type of scenic view. Come enjoy the world-famous steak at this high-end (pun intended) restaurant and the reputational view at the same time. Pamper you and your loved one with a romantic escape.
Related Article: 4 Popular Used Bicycle Shops in Phoenix, AZ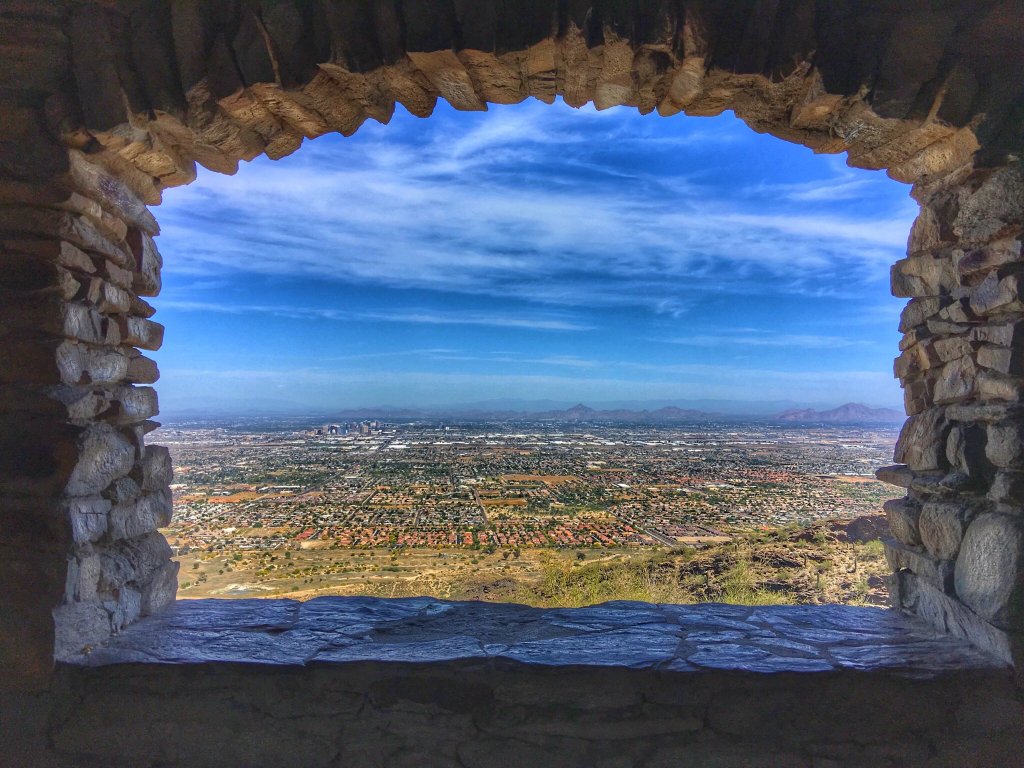 10919 S Central Ave, Phoenix, AZ 85042
When you want to feel that old-school ranger vibe, you should go to Dobbins Lookout. You can drive up this old Lookout post, as long as it is not Silent Sunday, or you can choose to hike the entire trail and enjoy the scenic view you get at the end when you walk into the abandoned post.
11111 N 7th St, Phoenix, AZ 85020
Different Pointe of View is another laid-back, comfortable relaxation spot with amazing views. As part of the Pointe Hilton, this location will give you the best sunset surrounded by the desert and cactuses while pampering you with luxurious food and drinks at this fine dining restaurant.
Related Article: Phoenix Restaurants Featured on Diners, Drive-Ins, & Dives
26802 N 102nd Way, Scottsdale, AZ 85262
Pinnacle Peak Trail is a beginner-friendly loop with a unique display of various wildflowers. If you are into botanical nature and don't mind a decent 3-mile walk, then the Pinnacle Peak Trail needs to be your next destination.
2501 E Telawa Trail, Phoenix, AZ 85016
Wrigley Mansion was built by William Wrigley Jr. in 1920. This breathtaking landmark will take you back in time and immerse you in the intricate, elegant interiors and scenic views of Phoenix mountains.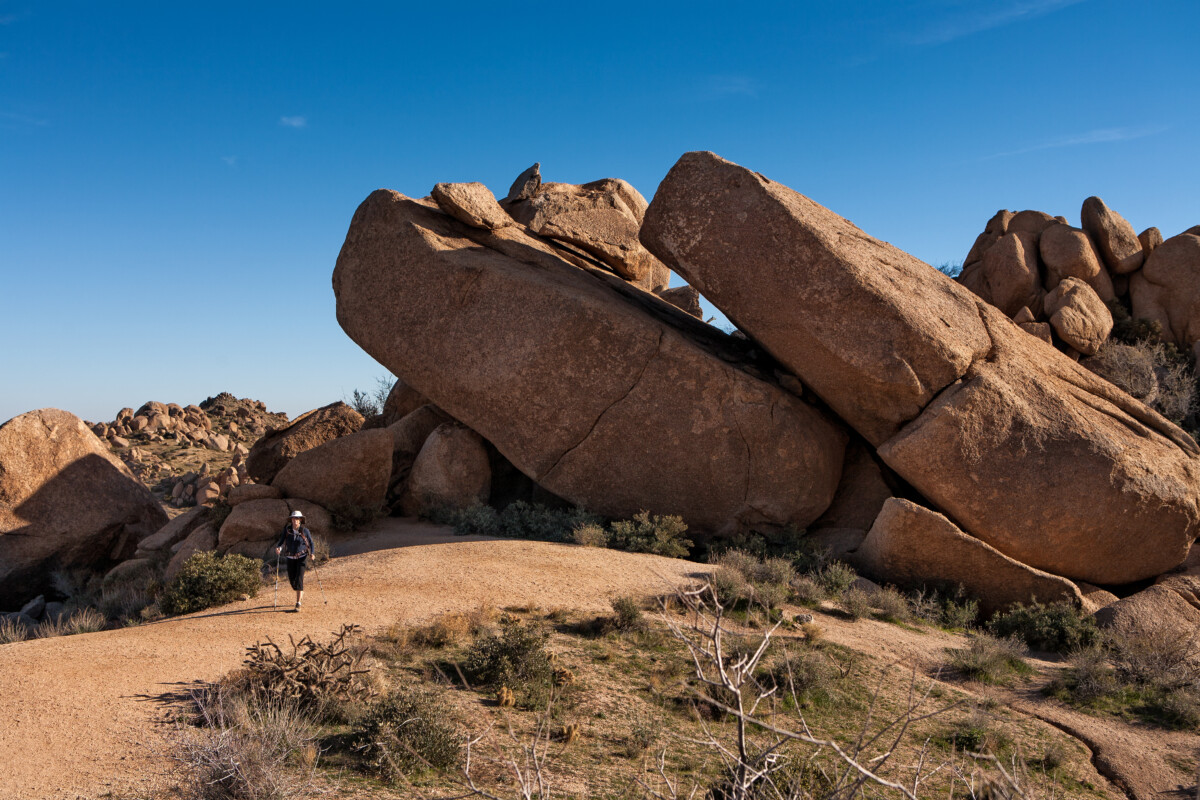 23015 N 128th St, Scottsdale, AZ 85255
Tom's Thumb Trailhead is your gateway to a brand new world. Embark on the adventure and enjoy the spectacular views of gigantic rocks, mountain lines, desert botanics, and the brilliant open view.
Deem Hills is another perfect place for casual hiking and appreciating the flowers. The best time to visit is in the spring when flowers are blooming. If you are looking for a comfy, steady route filled with unique desert plants and sunbathing lizards, this is your spot!
10919 S Central Ave, Phoenix, AZ 85042
South Mountain is the biggest municipal park in the United States, and that alone should speak for itself. Considered the Phoenix Point of Pride, South Mountain Park provides beautiful sceneries, historic sites, and large entertainment spots — yes, you can have them all!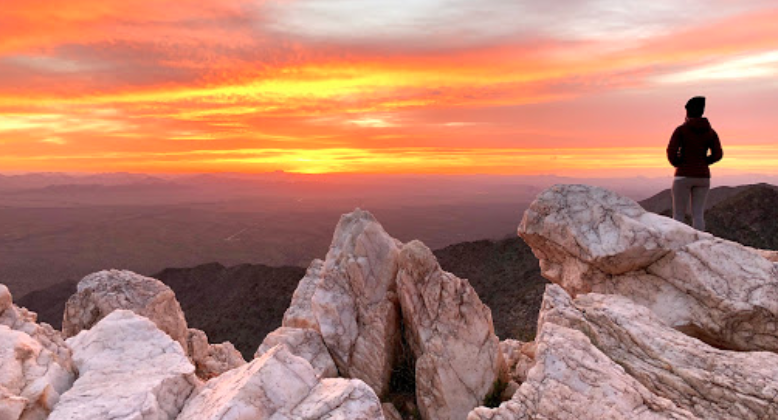 Laveen Village, AZ 85339
Quartz Peak Trail will lead you straight into the endless wilderness outside Phoenix. This trail has a beautiful rocky mountain landscape with a birds-eye view of the surroundings. It also has one of the most brilliant sunsets in and near Phoenix.
Related Article: Popular Horseback Riding Tails in Phoenix
Wind Cave Dr, Mesa, AZ 85207
This 3.2-mile trail is moderate and beginner-friendly, without sacrificing any view. There is even a small cave along the trail where you can experience a different type of natural beauty.
Brown's Ranch Road, Scottsdale, AZ 85262
If you are going to the Pinnacle Peak anyway, you might as well add Brown's Ranch to your travel route. Located on a historic ranch, this trail is smooth and easy-to-tackle. You will see plenty of animal activities, wildflowers and cactus along the way.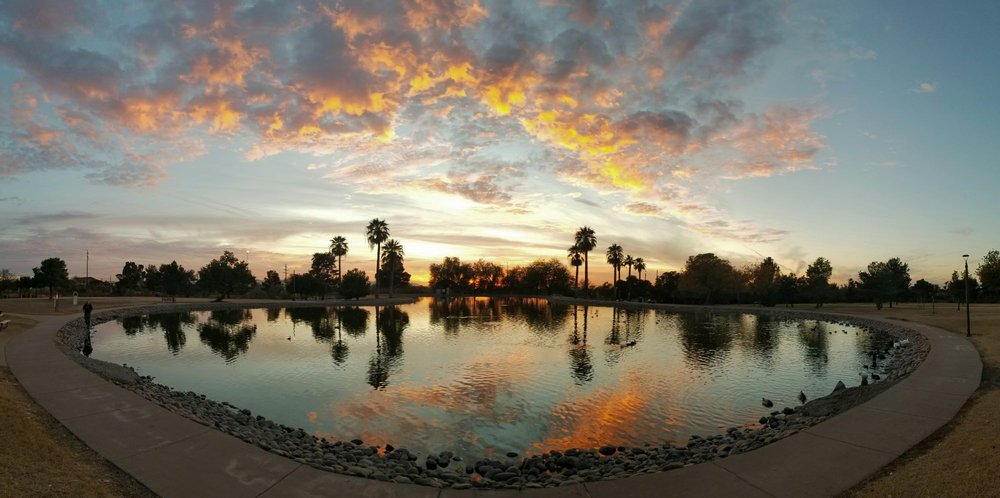 6505 N 20th St, Phoenix, AZ 85016
Granada Park is the perfect place for a morning stroll or an evening walk, whether it's by yourself or with your families. You can enjoy the beautiful scenery near the lake while walking the trail, or simply lose yourself in the ample green spaces in the surroundings.