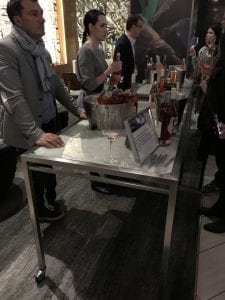 Rosé season is upon us and we couldn't think of a better way to kick it off than with Staytion Market & Bar's World Tour of Rosé event. We stopped to smell the rosé (15 to be exact) from different parts of the globe including Spain, South America, Australia, South Africa, France, Greece, and Italy.
Staytion Market & Bar, located in the Renaissance Chicago Downtown Hotel at 1 West Wacker Drive, is a chic downtown restaurant and bar, loaded with seasonal eats and creative craft cocktails.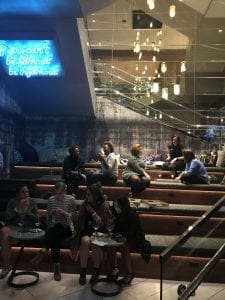 We checked in and helped ourselves to samplings of the 15 different rosés set up at three different tables, with wine experts to pour and describe each varietal. We received background information about each and every wine and all of our questions were kindly answered.
And these wine experts really knew their rosés! We wanted a refill and forgot the name of the wine… one of the experts asked what region, sniffed it out and knew exactly which wine it was in a matter of seconds.
Our favorite rosé was the Zoe from Greece. It was a pleasant surprise and had a nice dryness to it.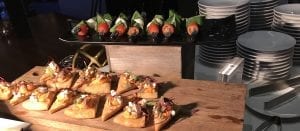 Guests came to mingle, sip, and relax. There's plenty of seating at Staytion, including the bar, the library, mixology station, stadium seating, and artist studio. There was even live music playing, featuring easygoing acoustic hits. People walking through the lobby even came to join in on the World Tour of Rosé.
Light food pairings were provided and were absolutely perfect for the tasting, with options like pequillo pepper hummus crostini and caprese skewers, a perfect snack but not overly filling. We definitely went back for seconds because they were so tasty (and many others did too!) This was an ideal spring event and a great way to kick off rosé season!
Have you ever been to Staytion Market & Bar? If not, pay this chic downtown destination a visit.