Oh yes. It's back.
Everyone's favorite time of year.
No, it's not Christmas, but I guess basically.
THE WORLD NAKED BIKE RIDE. Where you will definitely see more ding dongs and tiny thongs than you would at a college frat party as humans of all shapes and sizes strip down and bike for miles through the streets of Chicago.
Celebrating green transportation and body positivity, and raising awareness for biker safety, these nude riders are doing some good in the world for the 16th year in a row. Dismissing the assumptions that everyone riding just wants an excuse to bare it all, heathen style, and party in the streets like it's Mardis Gras, the World Naked Bike Ride website makes it clear that their message is deserving of attention, and that the event itself is a major political statement. Organizers encourage you to clean up your trash and indulge in basic, common human decency by practicing respect and restraint.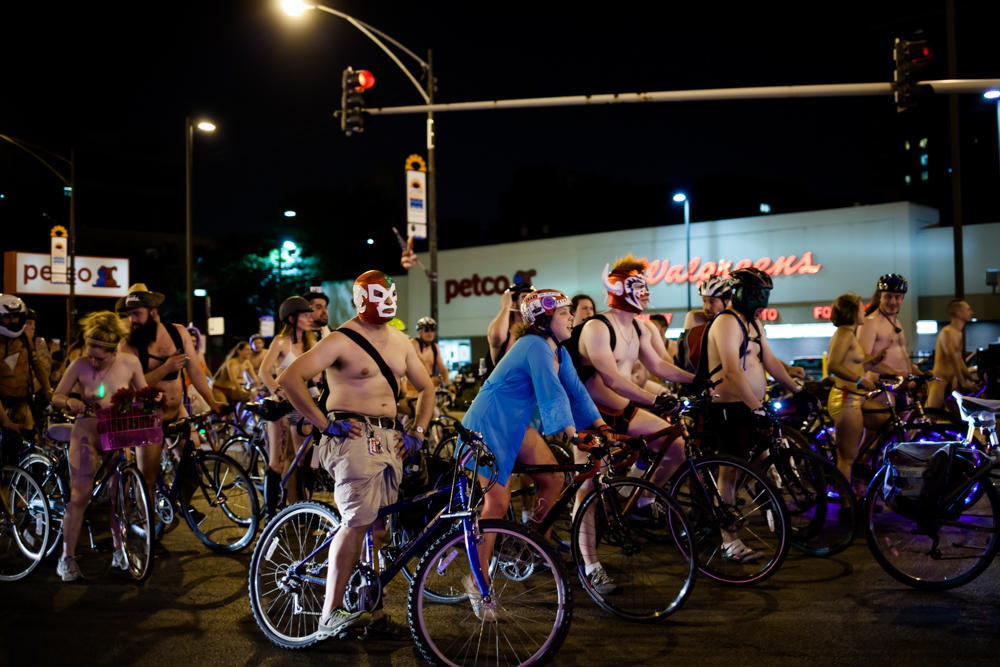 Check-in starts at 6 p.m. on June 8, and the location will be announced just a few days before the event. The ride begins just after sunset around 8:30 p.m. and typically ends around midnight, leaving participants to bike anywhere between 12 and 22 miles, depending on where you join in along the route. Skaters are also welcome to come, though runners might not be able to keep up (don't get all offended on me, you ain't as fast as a bike. Come at me). Oh, and DON'T FORGET A SET OF WHEELS. Kind of important. 
If you're considering participating in this event, you should know that public nudity is still illegal in Chicago, so there's a small possibility you could get fined by local police. But huge numbers like this help conceal and protect individuals like yourself, so I wouldn't be too worried about it. Plus, you alone can control how much you wear, so if you feel more comfortable with some duct tape on your boobs, by all means.
In short, we're more than excited to let our freak flags fly this year, and we're looking forward to seeing all of you, and all of you, at the World Naked Bike Ride. Less gas, more ass!
Featured Image Credit: Rachel Cromidas