A musical on a Chicago stage shows life in the Big Apple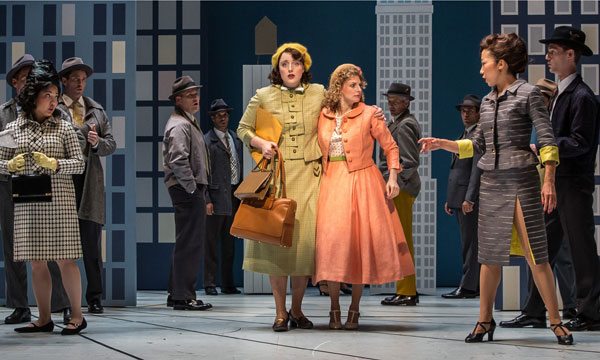 When you leave the theatre singing, you know that's a sign of a good show. Combining the glorious music of Leonard Bernstein with lyrics by Betty Comden and Adolph Green, the result is an upbeat, high-energy musical that continues to delight audiences night after night. This is Wonderful Town, a classic Broadway song and dance show that's not often (enough) revived. It's now playing at the Goodman Theatre on a downtown Chicago stage bringing plenty of laughter, lightness and love.
The musical is based upon the hit Broadway play My Sister Eileen, which is based on the autobiographical short stories by Ruth McKenney. It tells the adventures of two young girls from Ohio, Eileen and Ruth, who come to New York City in the 1950s seeking fame and fortune. Lauren Molina as Eileen, is a head-turning beauty who's hoping for a big break in the theatre, all while having men eating out of her hand, even the police. Molina is excellent with a great singing voice, enhanced with her innocence and spirit as a hopeless romantic. Bri Sudia (Far From Heaven, Porchlight Music Theater) makes her Goodman debut as Ruth, the aspiring writer and romantically-challenged big sister who steals the show. She is simply sensational with comedic chops and pun-filled lines that make us cheer her on. Living in a slum-of-a-studio apartment in Greenwich Village, the girls meet up with all kinds of creative, Bohemian artists who show them the best of the Big Apple.
Wonderful Town opened on Broadway in February 1953 to rave reviews, winning five Tony Awards including Best Musical. Song highlights include "Ohio," "It's Love," "A Little Bit in Love," and dynamic "Conga." Directed by Tony Award winner and Manilow Resident Director, Mary Zimmerman, Wonderful Town is all hers, filled with her comedic direction and antics. "I hope audiences will recall that moment in their lives when they're on their own for the first time, wondering if life will become the thing they hope it will be," said Zimmerman.
With a full 18-piece orchestra under the musical direction of Doug Peck and Associate Music Director/Conductor Ben Johnson, Bernstein's music never sounded more gorgeous. Chicago native and choreographer Alex Sanchez makes his Goodman debut with an outstanding rendition of "Swing" that really captures the beat of the times as well as an Irish jig with kicks like Riverdance that brought the house down.  The creative team also includes Todd Rosenthal (sets), Ana Kuzmanic (costumes), T.J. Gerckens (lights) and Ray Nardelli (sound). The sets are marvelous, including planes, trains and a larger-than-life ship that gracefully sails across the stage. Mention must also be made of the beautiful, color coordinated yellow costumes.
The play has been extended until Sunday, October 23 at 2pm and 7:30pm. For Wonderful Town tickets starting at $25, call 312.443.3800, visit GoodmanTheatre.org/WonderfulTown or the box office at 170 North Dearborn.