Back for its ninth year, Windy City Smokeout remains one of the biggest parties of the summer. Taking place in the main parking lot of the United Center, not only does this festival bring some of the biggest names in country music to Chicago, but packed within festival limits are mouthwatering BBQ stands and refreshing drinks. At Windy City Smokeout, it almost feels like you're at one big block-party where you can find some Chicago favorites like Happy Camper and Green Street Smoked Meats. Along with our neighborhood eats, global brands like Aperol Spritz and Ice Mountain also offered refreshing beverages and fun booths. 
Country legend Willie Nelson put the "smoke" in Smokeout by headlining the event on Thursday night. Playing hits like "On the Road Again" and "Georgia (On My Mind)", festival goers were transported back to the late 70's/early 80's of Nelson's golden years. Friday night was headlined by popular artist Tim McGraw, Saturday had Sam Hunt, and the fest wrapped up with Miranda Lambert on Sunday night. Not often can you find this many country superstars in one place, but Windy City Smokeout was planned perfectly to make sure that the variety of artists met the unique taste of each Chicago country music fan.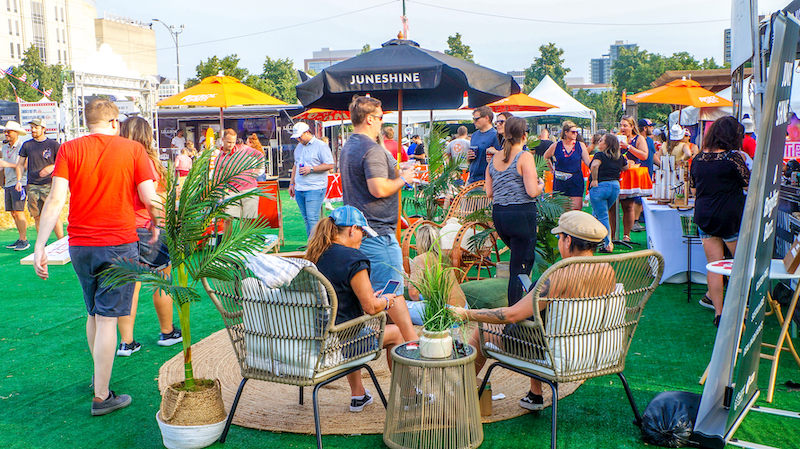 While the music was loud and entertaining, the highlight of the weekend was definitely the food. With each passing step closer to the United Center, the deliciously overwhelming scent of barbeque and smoked meats took full control of your senses. Split up into two different sections, patrons could decide whether they wanted to stand in the crowd near the stage or dawdle around the vendor booths, looking for their next meal. Barbecue masters like Udons were serving up pulled-pork sandwiches and turkey wings, while other vendors supplied the fest with saucy ribs and smoked chicken sandwiches. No matter where you stopped for your favorite dish, the food was fresh, served hot, and messy, in the best way. 
Saturday was especially hot, with temps reaching the mid-90's and heat indexes reaching the low 100's so luckily, drinks were flowing. At Windy City Smokeout, not only could you find national brands, but also craft beers and breweries that are donned Chicago favorites (cheers, Goose Island). For non-beer drinkers, options like the wildly popular Mamitas tequila seltzers, Happy Camper's big-ass lemonade, and rosé from Summer House Santa Monica were all available to cleanse the palette. 
While country music isn't everyone's cup of whiskey, Smokeout does a great job at providing a weekend that can be enjoyed by everyone no matter their music preference. From the food to the atmosphere, Windy City Smokeout is going to be a staple festival in Chicago for many years to come. If you're already planning your itinerary for next year, save the date! Windy City Smokeout will be back July 13-16, 2023! 
Photo Credits: UrbanMatter Chicago