Seeing the city from the highest heights
Chicago is a beautiful city to gaze upon from just about any vantage point. But if you're one of those people who only settles for the best, it doesn't get any better than seeing the city from a skydeck at the Willis Tower or John Hancock.
We're fortunate enough to have not just one – but two awesome skydecks. Not to mention, they're in two of the most iconic buildings of all.
It can be a little disorienting at first, being that elevated with the illusion of being suspended in the air. But once you're settled in, all you have to do is enjoy the view.
Here's a comparison between Willis Tower's Skydeck and the John Hancock Center's 360º Observatory.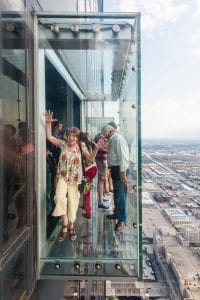 Floor: 103
Fun Fact: Willis Tower is the tallest building in the Western Hemisphere and the eighth tallest in the world.
Amenities: Factual video presentations, museum-quality exhibits
Special Programming: Dining that includes exclusive "Breakfast in the Sky," "Lunch in the Sky," and "Pie in the Sky" dinner hosted by Giordano's (limited seating)
Open-Air Feature: The Ledge
Open-Air Feature Stats: 1,353 feet above street level, extended 4.3 feet into open air
Sightline: Can see up to 50 miles and four states out on a clear day
Hours of Operation: 365 days a year, March through September 9am – 10pm, October through February 10am – 8pm
Tickets: Adults 12+ – $23; Youth 3-11 – $15; Kids 3 and under – Free
Fast Pass Available? Yes
Group Packages and Field Trips? Yes
Quick Tip: The best times to visit the skydeck at the Willis Tower is just after opening or after 5pm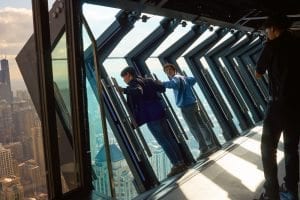 Floor: 94
Fun Fact: The John Hancock Center has the fastest elevators in North America
Amenities: Café, bar, interactive touch screens
Special Programming: Monday Photography Nights, Thursday "Music in the Sky" Nights, and Wednesday "Art in the Sky" Nights
Open-Air Feature: TILT
Open-Air Feature Stats: Over 1,000 feet about street level, 30º tilt over Michigan Avenue, holds up to eight people at a time
Sightline: Can see up to 80 miles and four states out on the skydeck
Hours of Operation: 365 days a year from 9am – 11pm
Tickets: Adults 12+ – $20.50; Youth 3-11 – $13.50; Kids 3 and under – Free
Fast Pass Available? Yes
Group Packages and Field Trips? Yes
Quick Tip: Use a CityPASS or Go Chicago card for entry discounts