Festival Goers Bravely Endured Downpours and Sweltering Temperatures

Chicago was hit with wild thunderstorms and unbearable heat this weekend, but they were no match for the love that was seen all around Wicker Park at the neighborhood's thriving annual festival.
This Saturday, hundreds descended upon Milwaukee Avenue near the 'hood's famous six corners. Music and smells of fresh food filled the air, while art and apparel vendors lined the street. Known for its trendiness, it was no surprise that attendees came sporting their best summer fashion. Even though most were eventually drenched in either rain or sweat by the end of the evening, Chicagoan beauty still shone through as everyone stayed fabulous, holding their Lagunitas cups while strolling and eye-shopping the corridor.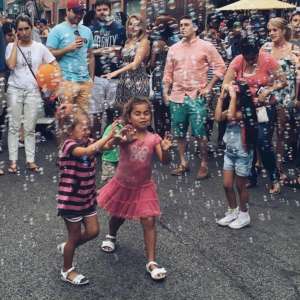 Eats from city favorites like Billy Goat Tavern, Pork & Mindy's, and Enso Sushi drew tons of hungry people in, along with an IKEA truck that handed out free samples of their famous meatballs. Centering the street was a giant, three-dimensional octagon housing hula hoopers, moms and dads, and happy children dancing to fast beats. Watching from rooftops and balconies were neighborhood residents who were happy that they could enjoy the party right at their front door.
Music acts like Mother Nature, Jimmy Whispers, and Hawley played during the sunny daytime, until ominous clouds rolled in, leaving everyone wondering when the storm would hit. Then came the torrential downpour of rain and everyone scattered. Bars along Milwaukee Avenue like The Flat Iron, Double Door, and Swig were flooded with people seeking shelter. After about an hour of nonstop rain, the skies cleared and everyone re-emerged to carry on with the festival. Even though plenty were bummed that certain headliners like Com Truise were rained out, others luckily played on. The Mountain Goats played a joyful, crooning set, while Antibalas finished the night with rhythmic, ethnic fusion beats.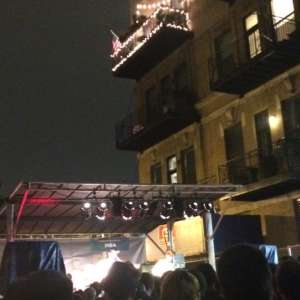 Day two of Wicker Park Fest felt muggier heat and saw harsher storms, but it still drew an impressive crowd. Local band Options rocked out during the day while the sky was still clear, then once again, lightning and thunder took over at around 6pm, so much so that it was raining sideways. The avenue's bars and restaurants again provided a dry place to stay until the storm passed, and a moment for some air-conditioned comfort.
People walked back onto the street around 8pm to blown-over tents and tables and even stricken trees on nearby residential streets. Everyone was determined to have fun, and indeed, fun was had. The night ended with a great performance from Ought, who braved an equally tumultuous trip to Chicago to attend the festival and play anthem-worthy songs that left viewers in high spirits.
We can't wait for Wicker Park Fest to return next summer. What was your experience like at the fest? Tell us about it below!