"Go west, young man" until you reach Wichita, the largest city in Kansas. An iconic sculpture, wildlife parks, fascinating architecture, and an emerging foodie scene await you. Here in the "Aviation Capital of the World," you'll be impressed by the strong sense of city pride. They don't just fly the Wichita flag; they fly it high!
The iconic image in Wichita is the Keeper of the Plains sculpture that stands at the confluence of the Big and Little Arkansas rivers. Created by Native American artist Blackbear Bosin, this 44-foot, 5-ton steel sculpture overlooks the city. Each night firepots are lit, creating a spectacular Ring of Fire showcasing the relationships between earth, water, air, and fire.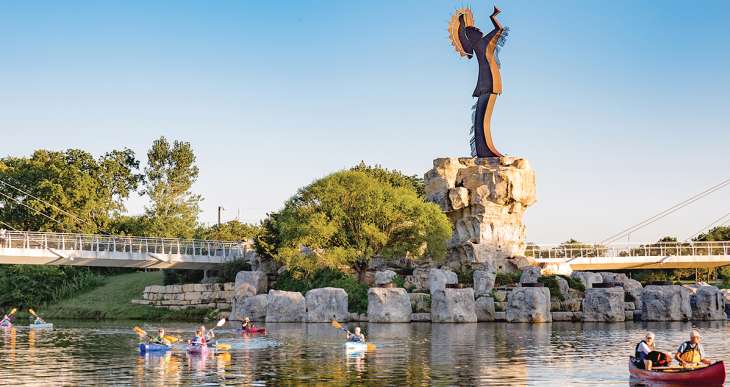 Jump with the 'Roos
At Tanganyika Wildlife Park, have a great time making new animal friends as you feed lemurs, giraffes, African tortoises, and pygmy hippos. Cross their "Behind the Scenes Tours" off your bucket list as you pet the kangaroos and joeys basking in the sun or get up close and personal with Chewy, their chill sloth. Let the Lorikeets drink nectar from a cup…in your hand!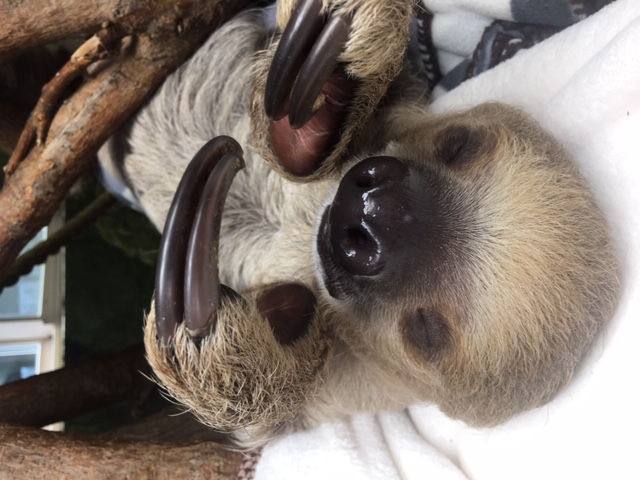 Art and Architecture all over town
Murals, museums and more are everywhere in Wichita, reflecting the creative spirit of the city. Check out the Allen House, the prairie-style house designed in 1918 by Frank Lloyd Wright, considered of the "10 great Frank Lloyd Wright home" in the country. Built for newspaper publisher, later governor, and U.S. Senator Henry Allen and the wife, Elsie, the house brings nature inside with horizontal lines, earth tones and interior furnishings.
Add the Ulrich Museum to your list of must-dos so you can enjoy modern and contemporary art from the 20th to 21st century, highlighted by Personnages Oiseaux (Bird People) by Spanish artist Joan Miró. This world masterpiece of Venetian-glass-and-marble mosaic stands at the entry. Be sure to see Milli the Millipede, right behind you. While you're on campus, visit the Pizza Hut Museum and learn more about how the popular restaurant chain got started.
The Wichita Art Museum, one of the museums on the river, features an outstanding collection of American art featuring Edward Hopper, Dale Chihuly, and Thomas Eakins. A Georgia O'Keeffe retrospective, Art, Style, Image is currently on display through June 23. Admission is free on Saturdays.
The Cuisine Scene
Start your day off right at HomeGrown Wichita with their fresh coffee cake, topped with warm caramel sauce. Or, try Pop-Tarts like you've never had before in two flavors. Omelets are supersized, stuffed with your favorite ingredients. Great salads and sammies, too. Open for breakfast and lunch.
For a casual lunch, hang out at the food trucks at the ICT Pop-Up Urban Park. Check their Facebook page to see which trucks are there for the week. You'll also find games, activities like drawing on the chalk wall, and a chance to meet the locals.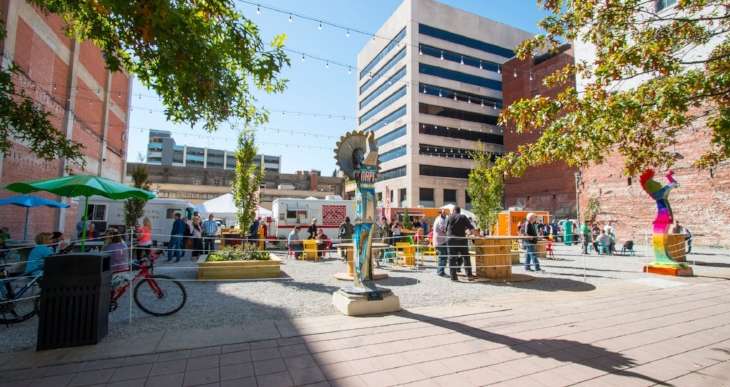 Or, try Piatto Neapolitan Pizzeria with its wood-burning oven from Italy, flatbread pizza varieties like Fresca or Holy Kale and local brews. You'll taste the passion in every bite.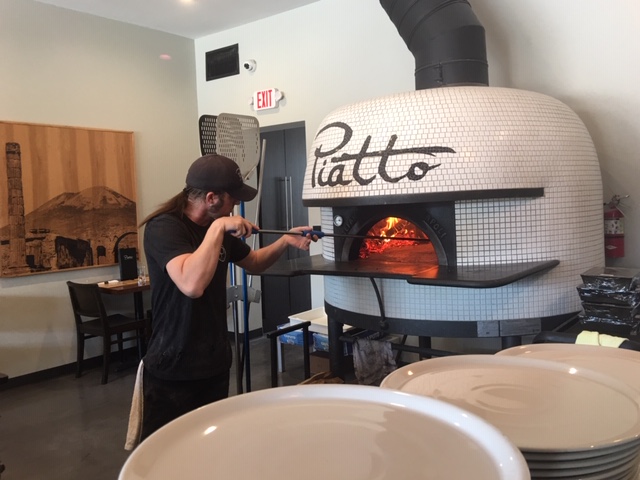 Formally a food truck, Prost is now a full-service, sit-down restaurant, reflecting Wichita's German population. Located in the new shipping container park, Prost features an Urban Bier Garden with authentic German cuisine. Try the pretzels or flammkuchen as appetizers and schnitzel, bratwurst and bierock as entrees.
For a sophisticated dinner, George's French Bistro is like a taste of Paris, right in the plains. You'll know you've come to someplace special with an exterior that looks like a French café. The inside décor is a totally French design, and the cuisine is creative and superb. Start with the Charcuterie Board or savory French Onion Soup. I recommend the potato-encrusted salmon, haricot verts, and a garnish arugula salad as an entrée. Save room for a Nutella and banana crepe.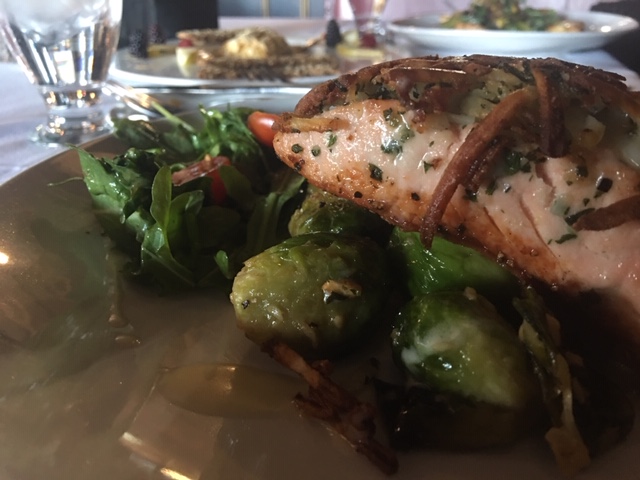 Hotel Recommendation – Hyatt Regency Wichita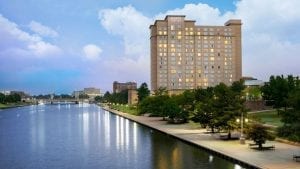 With more than 300 luxury guestrooms, the Hyatt Regency has an ideal location with beautiful views overlooking the city or Arkansas River. Stay right on the water, where you can run or walk on the expanded River Walk. Enjoy a range of luxury amenities such as 24-hour StayFit gym, pool, whirlpools, free wi-fi, business center and more for a totally comfortable stay. Start your day with a wholesome breakfast at Harvest Kitchen, where you're sure to meet a local or two who also enjoy the fresh fare. Or grab a quick bite on the run from their lobby coffee bar, Perks Market. If you have time, cozy up in the comfy seating or chill for lunch with salads, sandwiches and fab desserts.
Hang out in Wichita and have a really cool time!