It might have taken two months of straight rain and chilly temps, but we have finally arrived at Summertime Chi! Finally, the heat is back, and so is our willingness to venture outdoors for a day spent soaking up the sun, breathing in the fresh air, and indulging in our favorite munchies. However, if you struggle to pack a picnic box, then might as well order some takeout from the best local joints across Chicago? 
1732 N Milwaukee Ave, Chicago, IL 60647
1345 N Wells St, Chicago, IL 60610
When you're thinking about grabbing takeout, we can bet you're thinking about the all-time classic combo: a burger and fries. However, at Small Cheval, freshly made burgers and hand-cut fries are their specialties. Here, you get the ease and quickness of takeout without sacrificing quality ingredients and flavor. With two locations to grab food from, Small Cheval is the ideal spot to pick up a mouthwatering meal and head to the park to enjoy it!
 825 W Fulton Market, Chicago, IL 60607
There's nothing quite like a freshly sliced deli sandwich, and it's even better when you can grab it and go. At Publican Quality Meats in Fulton Market, you'll find endless possibilities for the perfect picnic sandwich. Porchetta, smoked turkey, creamy cheddar cheese, and endless toppings… a stop at PQM is sure to start your picnic day with a delicious meal. Bonus? There are small parks around the West Loop to enjoy your order in the summer sun! 
1931 W North Ave, Chicago, IL 60622
If you're an early bird and your picnic day starts with breakfast, check out Brobagel in Wicker Park. With an expansive menu and a location only a few blocks from Charles Joel (Wicker) Park, Brobagel is the perfect place to start your sunny day adventure. Brobagel has been in business since 1983 and is run by three brothers who take their bagel making seriously, using traditional baking styles like boiling the dough in water and baking them on redwood planks. So if your perfect picnic day combines fresh, warm bagels and a walk in the park, Brobagel is the place for you.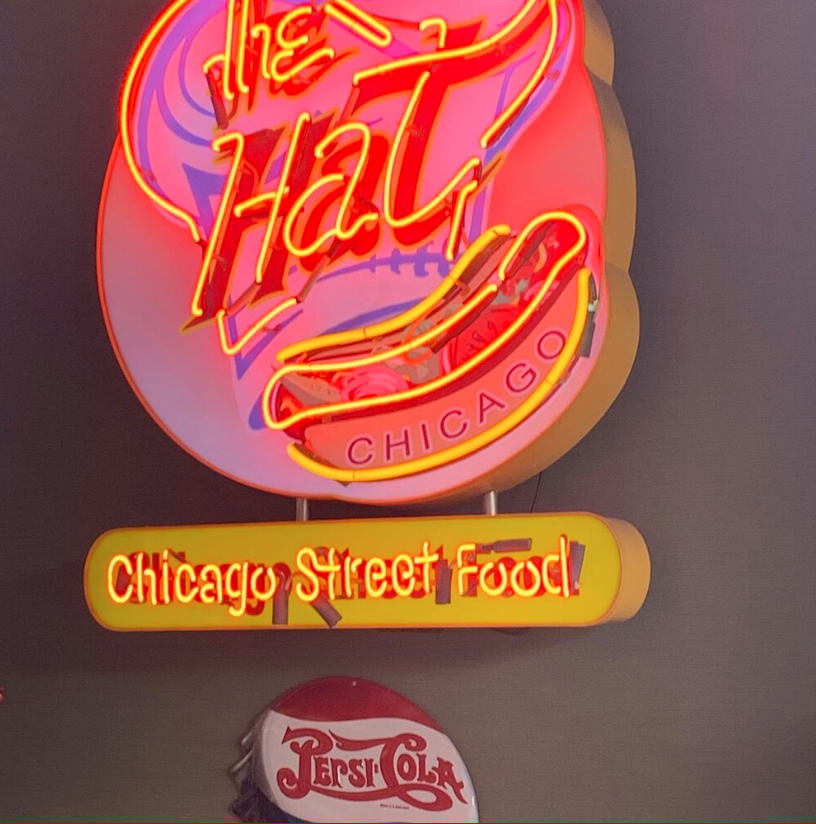 1604 W North Ave, Chicago, IL 60622
There's nothing more classic Chicago than enjoying a Chicago-style dog in one of our gorgeous parks. So if you're craving a steaming hot dog, Italian sausage sandwich, or dripping beef sandwich, check out The Hat just west of I-94. With all the Chicago classics, you know you'll find something to sink your teeth into without dealing with the hassle of forks and knives. As we dive headfirst into the summer heat, you can also stop at The Hat to cool off with a homemade, fresh milkshake. You can't go wrong with flavors like fresh banana, peanut butter, and cherry.
400 N LaSalle Dr, Chicago, IL 60654
Love a good light sub? Then check out Hannah's Bretzel — where classic subs meet pretzel buns. Compared to regular sandwiches, these Bretzels are far tastier, in our opinion. The little joint also uses the freshest ingredients sourced locally and dedicates itself to sustainable practices. You'll also find a ton of chocolates, chips, and other condiments to add to your picnic basket.
PS: all proceeds made on Friday, May 20th, will be donated to support Ukraine.
3970 N Elston Ave, Chicago, IL 60618
Sandwiches piled high, crispy, crunchy fries, and refreshing salads. These are just a few things you'll find on the JT's Genuine Sandwich Shop menu. While the list seems classic for a sandwich shop, every dish has a JT's take. With Coney fries with their signature coney sauce, melty grilled cheeses, and creamy, fresh chicken salad sandwiches, no matter what you're craving for a picnic day, you'll find it at JT's. This family-run business features home-style recipes that taste as they came from your own kitchen. JT's also offers vegetarian options so everyone's appetite is satisfied!
535 N McClurg Ct, Chicago, IL 60611
Foxtrot Markets are popping up all over the city, but have you checked out what they offer? Featuring grab-and-go foods, a cafe and dining menu, and everyone's favorite, a curated spirit selection, a quick trip to Foxtrot is the perfect place to start your picnic day. Also, you have to check out the charcuterie selection. With crafted meats and cheeses, a day in the sun will be spent picking at your favorites, savoring every bite. Wine, cheese, and some beautiful summer weather, what could be better?
1512 N LaSalle Dr, Chicago, IL 60610
You can't say you know Chicago pizzas unless you've tried Bob's. Bob's pizza, ran by Chef Matt Wilde, offers classics like pepperoni and Margherita, but also a ton of innovative signature pizzas, like the pickle pizza. Trust us. You'd be surprised how the fresh Italian mortadella, garlic, pickles, and dill create the perfect flavor. So, step outside your comfort zone for your next picnic in Chicago, and impress your crowd with Bob's pizza!
Featured Image Credit: Hannah's Bretzel