Is healthy eating part of your New Year's resolution? Well, then. Check out where you can get the best signature vegetarian dish in Chicago from your favorite chefs and restaurants. Also, don't forget to check out the best vegan restaurants in Chicago as well!
500 W Madison St, Chicago, IL 60661
Typically known for their award-winning Southern fried chicken sandwiches, Boxcar Betty's offers guests the chance to swap the fried chicken breast for a pimiento cheese-stuffed, fried portobello mushroom cap on any of their signature sandwiches.
With sandwich options like the Boxcar, Chicken Not So Waffle, Buffalo, and The Betty guests can go sans meat and still enjoy signature ingredients like housemade peach slaw, house pickles, blue cheese sauce, and more while satisfying their comfort food cravings. Plus, Boxcar Betty's is available for delivery via Grubhub, DoorDash, Postmates, and UberEats from their Bucktown or Ogilvie Station locations.
1300 W Wellington Ave, Chicago, IL 60657
Honest food from the heartland makes its home at Farm Bar in Lakeview. Known for its fresh, hearty fare, the menu is filled with heavenly eats and the Cauliflower Steak does not disappoint. Made with harissa and garlic roasted cauliflower, mushrooms and roasted mini heirloom tomatoes, and kale pesto, this entree is the perfect dish to warm up with while escaping the chilly Chicago winter.
703 Church St, Evanston, IL 60201
A popular hotspot with families in Chicago's North Shore, Farm House Evanston is known for its made from scratch midwestern fare and fresh ingredients from owner TJ Callahan's Brown Dog Farm.
The Farro Risotto is a creamy vegetarian dish sure to satisfy any palate and is home cooking at its finest. Featuring produce like asparagus and spring peas alongside garlic, butter, parmesan, goat cheese, and toasted seeds the flavorful dish is not only filling, but decadent.
177 N Ada St #001, Chicago, IL 60607
Inspired by the fanciful brasseries of France, The Loyalist feature casual French fare and every dish is prepared with the same steadfast attention to detail as its sister restaurant, Smyth, located upstairs. A truly divine vegetarian dish comes in the form of the Gnocchi À La Parisienne À La Crème Du Fromage. This luxurious pasta is made with pleasant ridge, pumpkin seed, swiss chard and lemon and makes for a perfect winter dish to indulge in on a night out on the town.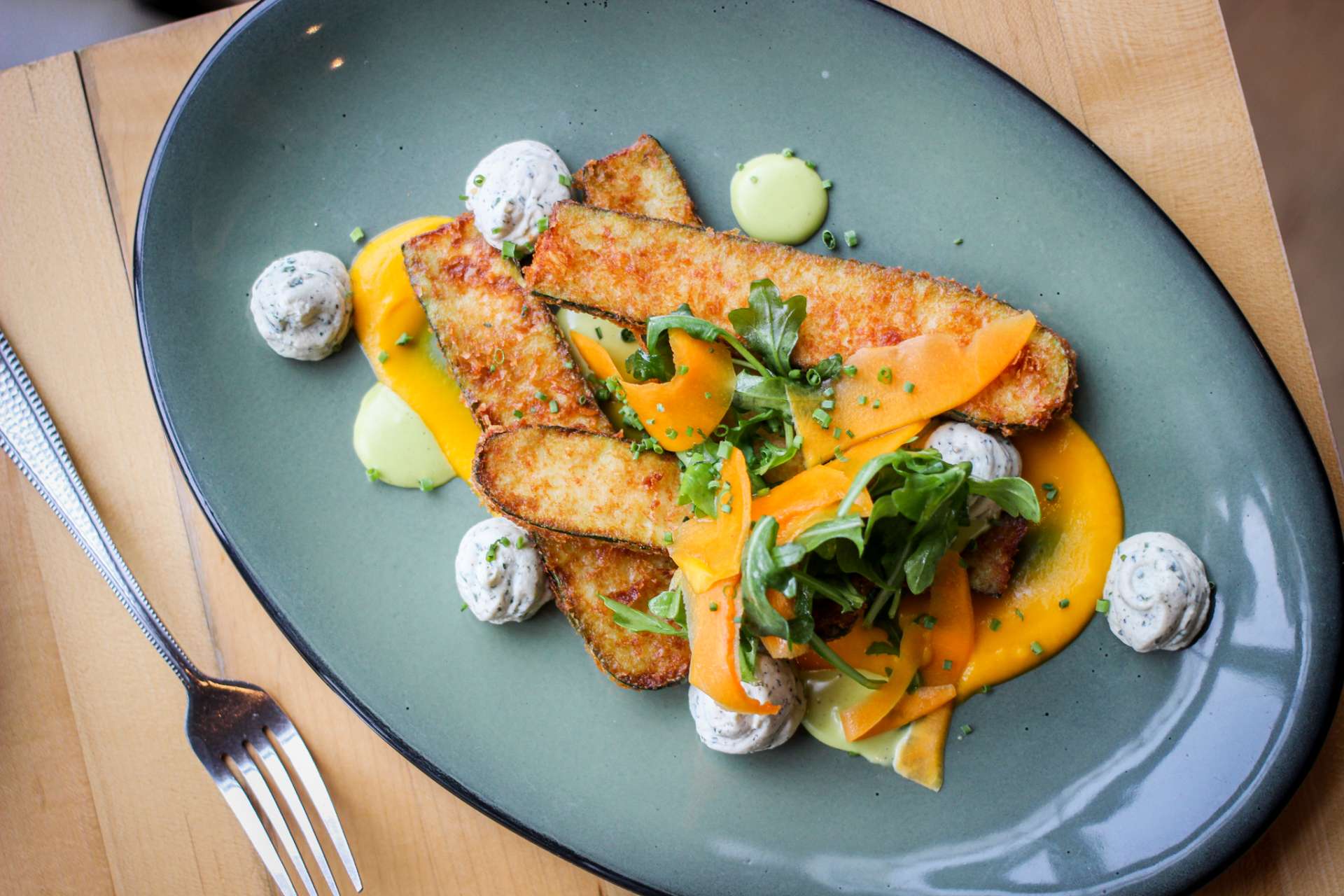 1709 W Chicago Ave, Chicago, IL 60622
At Funkenhausen, Chef Mark Steuer draws on his German heritage and Charleston, South Carolina upbringing to create a menu that re-imagines his fondest meals and memories from childhood. Schnitzel is one of Germany's most popular dishes and while commonly made with meat, at Funkenhausen they offer a vegetarian take on this classic dish with fresh ingredients and an emphasis on squash.
Vegetarian guests can order the Zucchini "Schnitzel" made with potato crust, smokey squash puree, pickled squash, herbed ricotta with a basil aioli for a fresh take on this traditional dish.
110 N Upper Wacker Dr, Chicago, IL 60606
Contrary to what its name suggests, José Andrés's reimagined steakhouse places an extreme amount of care not just on steak and meat, but also on other products from the land: vegetables. Vegetarians will find themselves with a variety of options to create a full menu, in the unique tapas-style steakhouse experience that Bazaar Meat encourages.
Start with the seasonal Chilled Beet Gazpacho or Not Your Everyday Caprese Salad before moving along to the "Beefsteak" Tomato Tartare and King Trumpet Mushroom Carpaccio. A variety of vegetables and potato dishes include: Catalan Spinach 2.0, Cauliflower Couscous and Roasted Leeks with Salsa Negra.
854 W Randolph St, Chicago, IL 60607
Vegetarians looking for exquisite Japanese cuisine should dine at Nobu Restaurant Chicago where guests can choose from a menu of a wide variety of hand-crafted vegetarian dishes that are equally as delicious as they are unique. With an extensive sushi menu, vegetarian guests can enjoy the Kappa, or cucumber roll, and the Vegetable sushi roll.
Meanwhile, those not looking for sushi can enjoy menu items such as Nobu's vegetable tacos, Japanese eggplant tempura, and the Miso Soup with Tofu to warm you up on a chilly, Chicago evening.
122 W Monroe St, Chicago, IL 60603
Named for a move from Argentine tango, Boleo brings the dramatic flavors and sultry beats of South America to the best rooftop in the Loop for Chicagoans to enjoy year-round. Inspired by Peruvian and Argentinian street food, the menu of snackable dishes and other small plates include delicious vegetarian options as well. Stop by and enjoy Empanada Vegetariana made with kale, provolone, crimini mushrooms, and romesco.
221 N Columbus Dr, Chicago, IL 60601
Experience farm-to-table dining in the heart of Downtown Chicago at FireLake Grill House & Cocktail Bar. The acclaimed American grill concept, known for its wood-fired cooking, offers a menu featuring delicious vegetarian dishes. Begin the meal with rotisserie baby cauliflower and house marinate or a fresh beet salad with goat cheese, micro-greens, watermelon radish, and granola.
For the main dish, try a Field Burger made with black bean, sweet corn, chickpea burger, crisp onion, ginger avocado mayo, wild mushroom, lettuce, tomato and pickled vegetables on a multi-grain bun. Steps from Lake Michigan and Millennium Park, FireLake is an inviting showcase for the excellent food and welcoming spirit that define the city.
1134 W Washington Blvd, Chicago, IL 60607
The Press Room is a small, subterranean restaurant with an oversized heart, serving sophisticated but familiar food, friendly wines and classic cocktails in Chicago's West Loop. The Press Room runs on attentive service and affable vibes by offering guests the ultimate speakeasy experience.
Growing up, Chef Noah Zamler and his family were Vegetarian. To accommodate those who are vegetarian, diners can indulge in a variety of large and small plates including the King Oyster Mushroom dish, served with wheat berries, 63 egg, spinach, and soy vinaigrette.
400 N Clark St, Chicago, IL 60654
Located in the heart of River North, The Smith offers diners a variety of American-fare featuring an expansive selection of salads, sandwiches, entrees, burgers, pastas, and more. On the menu, diners can indulge in the Veggie Burger Royale, featuring a slow roasted veg + quinoa patty, cheddar, pickled beets, shredded lettuce, red onion, secret sauce, on a sesame brioche bun or unless.
Featured Image Credit: Boleo