This Valentine's Day, book a romantic dinner, or actually, how about just eat your heart out? well, sort of. Whether you have a Valentine's boo or it's just you, pizza's a deliciously cheesy way to celebrate the holiday. Remember, pizza's always there for you and so are we! From national chains to local hotspots, here are our picks for where to get heart-shaped pizzas in Chicago for a cheesy, delicious, and hearty Valentine's Day.
Multiple Locations
Show how deep your love is with heart-shaped deep dish pizzas. Giordano's is a no brainer when it comes to a tried and true deep dish and they always come through on Valentine's Day. Available in restaurants February 11-14 and shipping nationwide through the online store, you can enjoy cheese, pepperoni, sausage, or spinach heart-shaped pizzas with your loved ones.
Each 10-inch frozen pizza serves two to three people. If you're doing long distance, heart-shaped pizzas make an awesome and unique gift––you can Facetime and share some pizza together! Choose from two, four, or six-pizza packs with your choice of toppings for each pizza.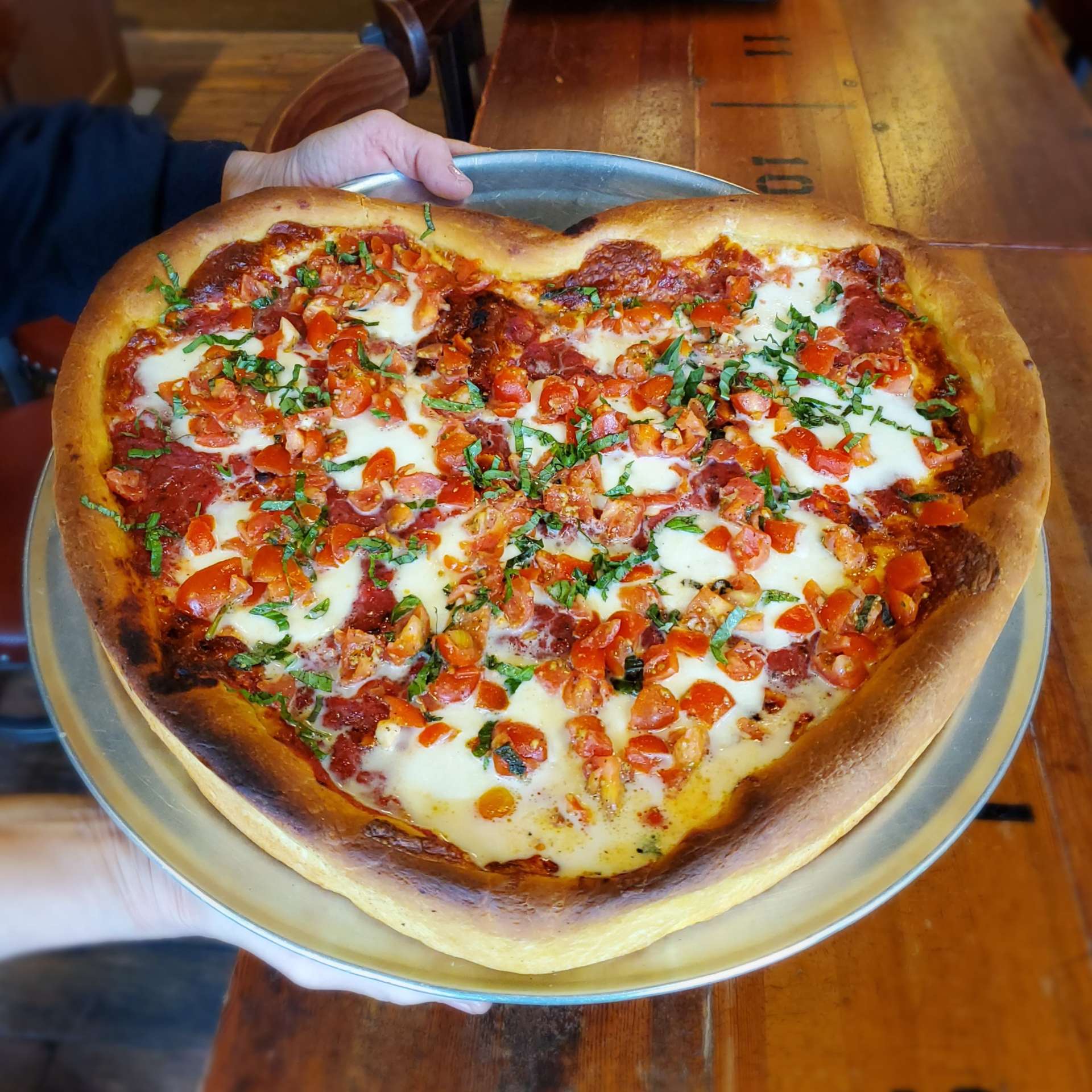 1955 W. Addison St. Chicago, IL 60613
658 N. Ashland Ave. Chicago, IL 60622
Chicagoans can treat their sweetie to pizza this Valentine's Day with heart-shaped pizza from Bartoli's Pizzeria available all day on Monday, February 14. Bartoli's in Roscoe Village and West Town will feature made-to-order heart-shaped pizzas available in tavern-style or their award-winning original deep dish. Available for pick-up or delivery, guests can call to order or visit www.bartolispizzeria.com.
3463 N Clark St, Chicago, IL 60657
1615 N Damen Ave, Chicago, IL 60647
Dimo's is a popular local late-night pizzeria known for their specialty pies, like s'mores, mac 'n cheese, chicken 'n waffles, and even one that has a Malört mole and shredded mozzarella base. Enjoy three different 12-inch heart-shaped pies this Valentine's Day: the Vegan Mac, the Margherita, or the Banh Mi Baby One More Time.
The Vegan Mac has mac noodles with vegan mozzarella and cheddar on a vegan ranch base, topped with green onions. The Margherita is your classic––creamy burrata cheese and fresh basil on a marinara base, topped with olive oil. The specialty is the Banh Mi Baby One More Time, which has char siu-style bacon, pickled vegetables, sesame aioli, mint, cilantro, and sesame seeds all on a mozzarella and pâté cream base. 
Whichever pie you choose, pair it with Dimo's sparkling rosé, Villa Zappi by Tenuta Casali.
1100 W. Thorndale Ave. Chicago, IL 60660
Rewired will offer seating in their "Love Shack", an outdoor heated patio that is also dog and kid-friendly. For the month of February, the patio will be decked out with hearts, glitter, and other Valentine's Day decor. Heart-shaped pizzas for take-out and delivery are subject to availability. Preorders are highly recommended and can be made through www.rewiredcafe.com beginning Tuesday, February 1.
1326 W Madison St, Chicago, IL 60607
1925 N Lincoln Ave, Chicago, IL 60614
Come enjoy a thin crust heart-shaped pizza at Ranalli's Lincoln Park and West Loop! Did we mention that even the pepperoni are heart-shaped too!? Pizzas are $12 each and you can pair it with skillet cookies for an extra $6. They're also running a BOGO deal for National Pizza Day on February 9th.
Multiple Locations
Lou Malnati's is another Chicago staple, famous for their saucy, cheesy, and loaded deep dish pizza. Heart-shaped pizzas are returning to Lou's this Valentine's Day for shipping or takeout from your local restaurant. If you've been dreaming of that dense cheesy goodness and buttery-crisp crust, but have no Lou's in your area, get them shipped or send some to your Valentines. 
Choose from 9-inch heart-shaped sausage or cheese pizzas. You can order a 2-pack (one heart-shaped and one round) or a 4-pack (two heart-shaped and two round). Don't forget about dessert c/o a 9-inch heart-shaped chocolate chip cookie! Order the pack that includes the pizza and cookie for a delicious meal. 
There's also a Spreading Hearts pack, which includes one heart-shaped pizza, one heart-shaped cookie, and two tiny pewter hearts. Each purchase of the Spreading Hearts package means a pizza donated to a local Chicago-area food pantry!
800 N Dearborn St, Chicago, IL, 60610
864 N. State St, Chicago, IL, 60610
61 E. Madison St, Chicago, IL, 60603
2106 S. Indiana Ave, Chicago, IL, 60616
Pizano's is a small local chain with Malnati roots, popular for its deep dish and thin crust pies and other Italian classics. Oprah once deemed Pizano's as having the "best thin crust pizza in Chicago" and USA Today has also listed it as a top 10 in the nation. Pizano's was founded by Rudy Malnati Jr., son of Rudy Malnati Sr., who opened Pizzeria Uno in 1942 and first brought deep dish pizza into the world and our bellies.
Order Pizano's heart-shaped pizza in the comfort of your home and PJs. Available to ship is a Valentine's Day Special 4-Pack, which includes four round pizzas and one free heart-shaped pizza. There's also a 2-Pack that has one round and one heart-shaped.
938 W Webster Ave, Chicago, IL 60614
Enjoy a Galentine's Day event at Homeslice February 13, 11 a.m.-2 p.m. Heart-shaped pizzas, themed cocktails, and bottomless mimosas with your besties seem like the perfect way to spend a Sunday. Beadnik will also be there for permanent zap bracelets, which means they're weld directly onto your wrist––no more clasps! Reservations are required to snag your spot for Galentine's.
Featured Image Credit: Bartoli's