Korean BBQ always impresses with its spicy and sweet flavors, high-quality selection of meats, and playful array of sides (banchan) — all grilled up right in front of you! While the city contains several notable joints for good Korean BBQ, you can also find some of the best Korean BBQ restaurants in the Northwest suburbs (which many call New Koreatown). From traditional Korean dishes to Asian fusion to all-you-can-eat establishments, keep reading to discover where to get authentic Korean BBQ in Chicago.
PS: don't forget to check out the best Asian foods in Chicago if you're down to explore!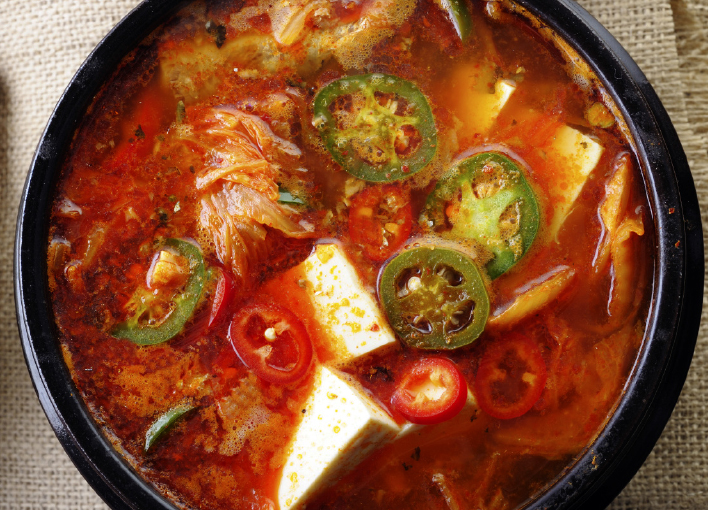 4200 N Lincoln Ave, Chicago, IL 60618
If you're looking for a dependable spot for some Korean BBQ, Cho Sun Ok is the place to go. A staple of the Lincoln Square neighborhood since 1980, Cho Sun Ok offers a wide selection of prime meats and signature sauces to grill up on their tabletop burners. The classic, wood-paneled interior emulates a traditional Korean establishment with a focus on food. Before you go, just know that the popular restaurant is BYOB only and does not accept reservations.
3333 N Kimball Ave., Chicago, IL 60618
Tucked behind the aisles of Joong Boo Market in Avondale is a hidden gem counter-service restaurant called the Snack Corner. At this simple eatery, you'll find delicious, authentic Korean BBQ specialties to pick up and take home during your weekly shopping trip. 
2568 N Clark St, Chicago, IL 60614
This Lincoln Park restaurant brings a fresh West coast sensibility to Chicago. Their Asian fusion dishes blend a variety of flavors and styles into a delectable array of street food options. Step up to the counter and order Korean BBQ tacos, stuffed with seafood and meats such as sesame-chili shrimp and kalbi. For the perfect pairing, grab a side of kimchi fries with colorful toppings and tasty seasonings.
1747 W Golf Rd, Mt Prospect, IL 60056
Mr. Kimchi is one of the few remaining all-you-can-eat Korean BBQ spots left in the Chicagoland area. Although the drive out to the Mt. Prospect suburb may be lengthy, their brisket and bulgogi meats marinated in soy sauce, sugar, and garlic make the drive worth every minute.
6240 N California Ave., Chicago, IL 60659
Distinguished by its quality meats and service, Gogi provides a delightful culinary experience for Korean BBQ lovers across Chicago. The Uptown restaurant gained the respect of Chicagoans from their famous kalbi, its flavor magnified by the charcoal grills they're cooked upon. If you're new to Korean BBQ, Gogi is a great place to start, as the servers are happy to help you prepare and grill the meat every step of the way.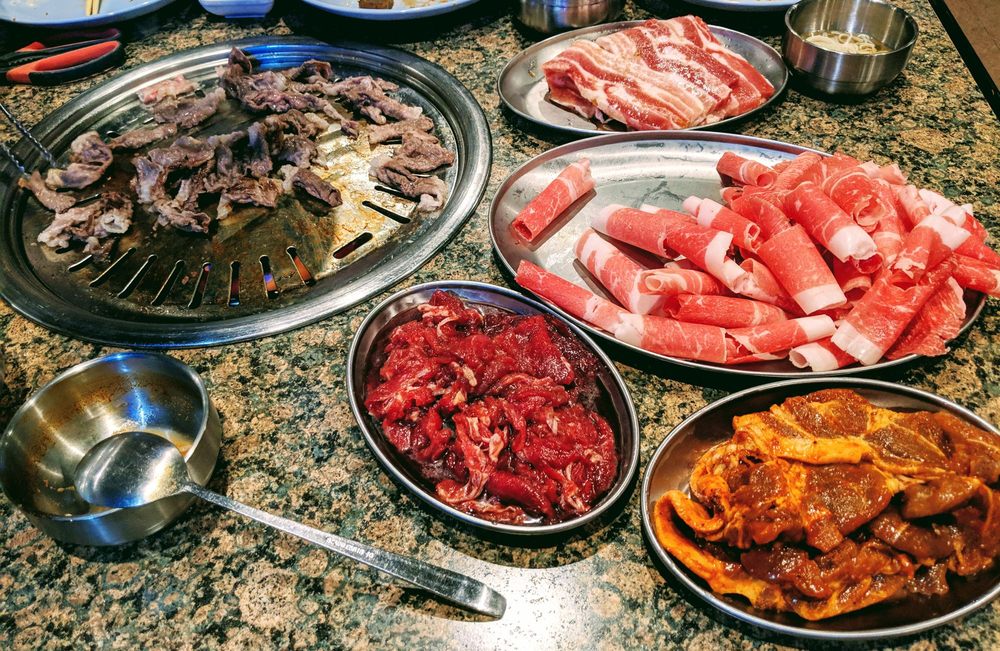 9020 W Golf Rd, Niles, IL 60714
Another all-you-can-eat establishment, BBQ Garden is known for its fresh meat, like bulgogi and miso pork belly, and their large banchan buffet, featuring sides like pickled vegetables and potato salad. Take a road trip out to this northern suburb for a family dinner – their spacious tables and buffet options make it a great option for large groups.
5247 N Western Ave, Chicago, IL 60625
This unassuming Korean BBQ joint might be tucked away in a strip mall, but for what it lacks in location, it makes up for with an extensive menu and powerful flavors. With an abundant array of banchan and special deals for groups of 5 people or more, San Soo Gab San is sure to be a crowd-pleaser. Visit San Soo Gab San at one of their locations in Lincoln Square or Morton Grove.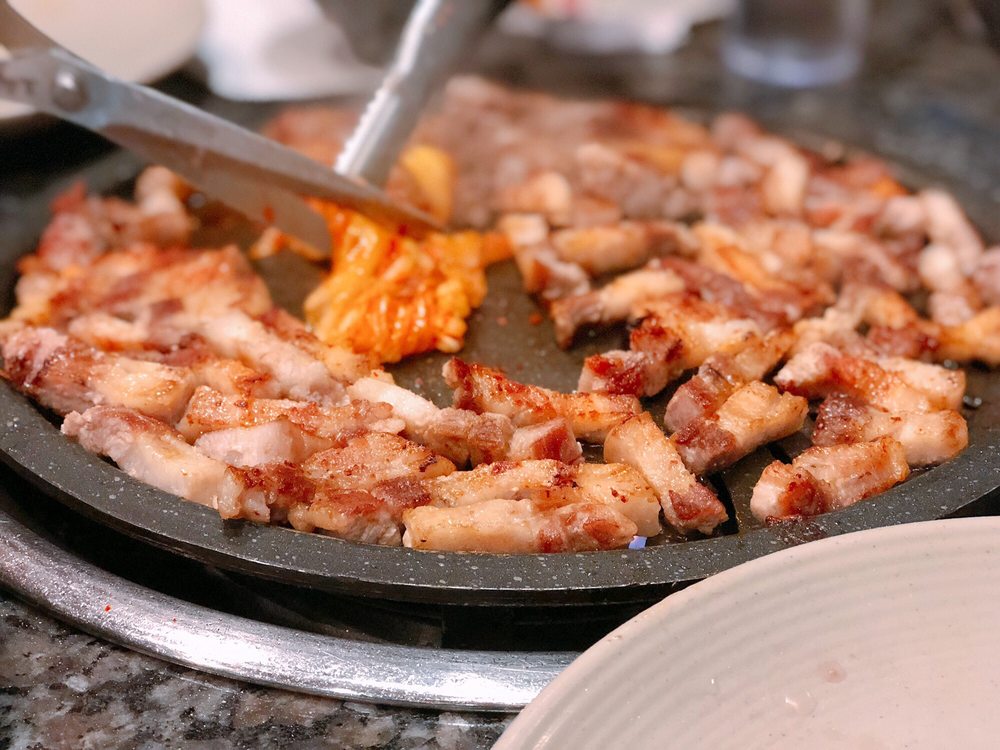 3420 Milwaukee Ave, Northbrook, IL 60062
This Korean BBQ in Glenview keeps it simple with a focus on high-quality meats. Try their famous thinly sliced pork belly (the meaning of samgyubsal in their name), which the servers help to grill at your table. Dip the meat in sesame oil or jang sauce and place it into a lettuce wrap with scallions or a different topping. Grab a soup or noodle dish to compliment your grilled meat – the true star of the show.
Featured Image Credit: Gogi