Now that the weather has finally dipped below 98 degrees with 99% humidity, it's time for fresh, Chicago-summer air outside, especially at night, to relax and melt the day's stress off your shoulders. And what's a more peaceful evening activity than the outdoor movies in Chicago? Combine the comfort of kicking your feet up with a classic flick and a unique viewing atmosphere, and you've got the perfect summer evening. Let's go!
201 E Randolph St, Chicago, IL 60602
In the center of the city, there's always something going on in Millennium Park. With the skating rink in the winter, outdoor art pieces, fountains, and the Bean, Millennium Park isn't short of things to see. In the summer, though, they offer one more activity that might suit your needs: FREE outdoor movies at the Jay Pritzker Pavilion. This year, they are showing movies like Dirty Dancing, Encanto, and Shang-Chi, and The Legend of the Ten Rings. Check out the full movie lineup here!
3635 N Clark St, Chicago, IL 60613
Hey Chicago, whaddya say? You wanna go to a movie at Gallagher Way? Okay, yes, the rhyme was annoying, but it's true! This summer at Gallagher Way, right outside Wrigley Field, movies will be projected on the big screen. You no longer have to spend your time wishing you were constantly inside the walls of the Friendly Confines because the perfect summer nights are taking place right outside.
Grab some popcorn from Nuts on Clark a few blocks North, lay out your favorite plush blanket, and kick back for movies like Grease, Pitch Perfect, and Bohemian Rhapsody. Movies at Gallagher way go through the end of September, so while we might not be enjoying playoff baseball in Wrigleyville, movies at Gallagher Way are sure to keep us entertained.
311 N Morgan St, Chicago, IL 60607
At Rooftop Cinema Club on the corner of Fulton and Morgan, you can quite literally elevate your movie-watching experience. Since this "theater" is located on the fifth-floor terrace of The Emily Hotel, you'll find that the views of the city are immaculate, and the vibes at the club are even better. Here, to beat the noise of someone whispering, munching popcorn too loudly, or just the general traffic in Chicago, each patron is given a pair of Bluetooth headphones, so you definitely won't be distracted.
Also, Rooftop Cinema Club has a full food menu and bar along with classic theater snacks. We'll have two margs and a viewing of Step Brothers, please!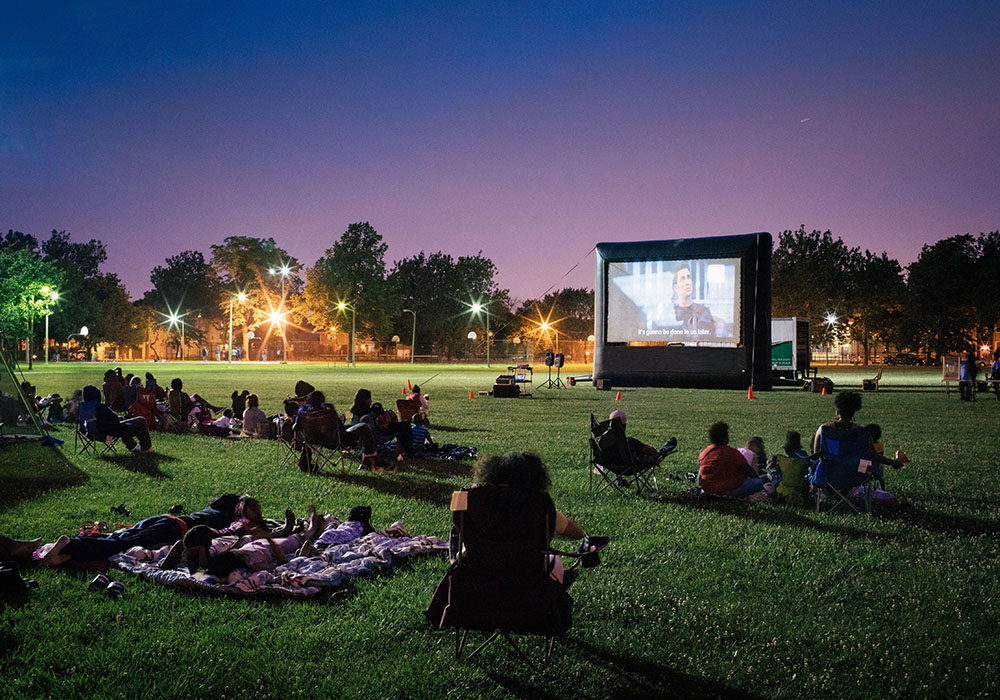 3600 N Recreation Dr, Chicago, IL 60613
6855 S. Oglesby Ave. Chicago, IL 60649
3501 N Kilbourn Ave, Chicago, IL 60641
We already know that Chicago is full of amazing outdoor spaces, but sometimes it takes a little bit of motivation, or in this case, already scheduled entertainment, to get out to them. Lucky for us, the Chicago Park District has a series of movies showing in parks across the city.
From Lincoln Park to Hansan Park to Tilton Park, movies from G to PG-13 will be screened all summer, making the entertainment fun for the whole family. The last thing you want to deal with is bored kids on Summer Break, so ditch the usual movie night on the couch, and head outdoors to enjoy your favorite flicks like The Wiz, Sing 2, The Wizard of Oz, and HIdden Figures.
2343 S Throop St, Chicago, IL 60608
How long has it been since you've been to a drive-in movie? The smell of popcorn wafting through the air, packing your backseat or trunk with fluffy pillow and cozy blankets, and experiencing movies in a spot that you don't normally watch: the car. At ChiTown movies in Pilsen, movies typically run Tuesday through Sunday, ranging from singalongs to horror flicks.
Inside ChiTown Movies is ChiTown Grille, where delicious movie snacks like popcorn, pizza, tacos, and kid's meals can be delivered directly to your car so you don't miss any of the action. 
Featured Image: City of Chicago