Taste of Chicago: The Ultimate Food Fest
Behold the Taste of Chicago, the city's single greatest annual event according to the entire contiguous United States. Or, y'know… just me.
Either way, it's that time again boys and girls. Even though each year is relatively similar to the last, we wouldn't leave you hanging on all the new happenings now would we?
This year's food fest goes from July 8th to 12th and it features free admission, as always.
Let's start with the basics; the Taste of Chicago is crowded. So crowded that you might end up accidentally covered in some dude's half-melted ice cream as he attempts to squeeze past you. And if you come during peak hours, you should probably just expect some sweaty armpits to the face.

Now I don't want to deter you because, like I said, the Taste of Chicago is the bee's knees, but you're going to want to plan ahead. There are a few things you'll want to take into consideration.
First off, where are you going?
Hell, you might just want to roam around and check things out as you go along. Nothing wrong with that, and to be honest that's usually my strategy. But crowds don't bother me. If you want to get in, get your food, get into a safe corner under a shady tree to eat, and get out—you'll want to check out this list of vendors. (For info on food trucks, click here).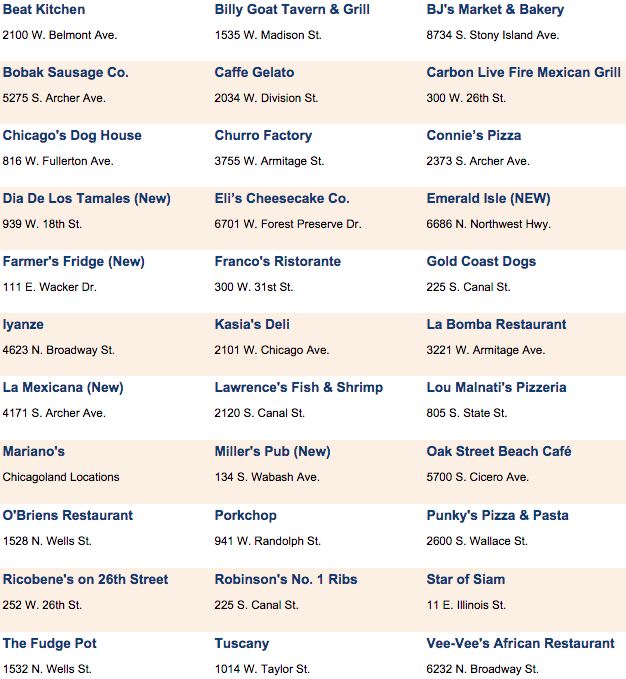 Cool, so you know what places to hit. But wait… how will you get there? I'm assuming you're not going to walk or bike since it's going to be really hot and not all that many people live very close. You can park at the Millennium Park garages for $33, but you'll get a way better deal if you park at the garages on Wabash and Randolph or Van Buren and Dearborn. Both of these offer $25 All-Day specials for the food fest. You can reserve and pay for a spot online by clicking either of the garage names.
Now for your featured presentation, the entertainment! There are two different stages, the Bud Light Stage and the Petrillo Music Shell. The Bud Light Stage is where you'll find a majority of the acts, and they're all free. You can see a schedule of all the entertainers on this stage here. One band you don't want to overlook, American English, a freakin' awesome Beatles cover band that will be there on Sunday.
All of the headliners will be playing at the Petrillo Music Shell though. The top acts include Weezer, Erykah Badu, The Chieftains, Spoon, and Maze featuring Frankie Beverly. Take note that the shows at the Petrillo Music Shell are not free, but you can buy tickets for them here.
Some protips:
Only get ice cream if you're prepared to devour it in just a few minutes. Anything longer than that and it's going to be goopy and melted.
Beer is expensive, but what else is new?
You'll be able to find shade and less crowded places just out of the way if you look hard enough. Alternatively, bring a blanket to throw down on the grass somewhere if you want a portable place to sit.