Now that Maggie Daley Park has been formally recognized and dedicated, it's about time that someone actually explains all of the features that comprise the city's newest common area.
The beautifully constructed 20-acre expanse is located just to the east of Millennium Park. The park boasts the largest outdoor climbing wall in the entire world, a year-round ice/roller skating ribbon, numerous green areas to let off some steam, and expertly assembled play areas for children.
Here are some of the more notable features:
Playgrounds

This place is paradise for a child. The playgrounds are state-of-the-art, and you'd be extremely hard-pressed to find anything better. It encompasses 3 acres of land, meaning it can accommodate up to 600 kids at once. There's a Slide Crater (a climbing and sliding bonanza), a splash pad, a ship with nets and ladders, a suspension bridge handing from two large towers, a harbor area, and a lagoon zone. Each section is labeled by age, but most equipment is geared for ages 5-12. The only downside, there's no place to sit down and watch your kids play since everything around you is a piece of playground equipment.
Ice Skating Ribbon
Unlike most ice skating surfaces, this one stays open all year long. Of course, you can't skate on ice in the summer for obvious reasons, but you'll be able to roller skate to make up for it! The quarter-mile long skating ribbon is able to hold up to 700 skaters at a time as it winds around the climbing walls.
Mini Golf & Rock Climbing Walls
A large portion of the activities at the park is catered to families and children, and the mini golf is no different. You can find the course inside of the skating ribbon, right next to the rock climbing walls. As for the walls themselves, this is where the adults can have some fun… for a price. Before climbing, you'll need to get certified, which will cost either $15 or $29 depending on if you're looking for bouldering or top rope climbing, respectively. The prices include helmet and shoe rentals and they last for one year. Returning visitors only need to pay $7/day.
Regardless, the walls are 40 feet tall and cover 19,000 square feet, with 25 to 100 people (we think that's a really broad range too, but whatever) able to climb around at one time.
Three Open Lawn Areas
The grassy, open areas are home to many of the 1,000 newly planted trees. Since they're fairly young as far as trees go, they don't provide all that much shade just yet. Either way, this is a beautiful, tranquil place to get away from the commotion of the city. One area to check out, the Alice in Wonderland inspired Enchanted Forest complete with upside-down trees, an area for tea parties, and a Kaleidoscope mirror maze. And not that I've seen any, but I'd stay far away from any Mad Hatter look alikes.
Picnic Groves
There are multiple picnic groves are located on both the west side and the center area of the park. You can always bring blankets and picnic baskets to the green areas, but better seating is available here.
Cancer Survivors Garden
Another beautiful area to relax and take in the greenery, the garden is extremely well thought out and put together. You can find it in the middle of the north end of the park, east of the skating ribbon.
Tennis Courts
Not much to say about these other than they exist and you can play tennis on them! The courts are located near the northeast side of the park.
Maggie Daley Park by the Numbers:
20 acres in size
$60 million cost
1,000 new trees
290,000 cubic yards of dirt removed to create the new park
18,400 cubic yards of Geofoam used to create the hills
Map of the Area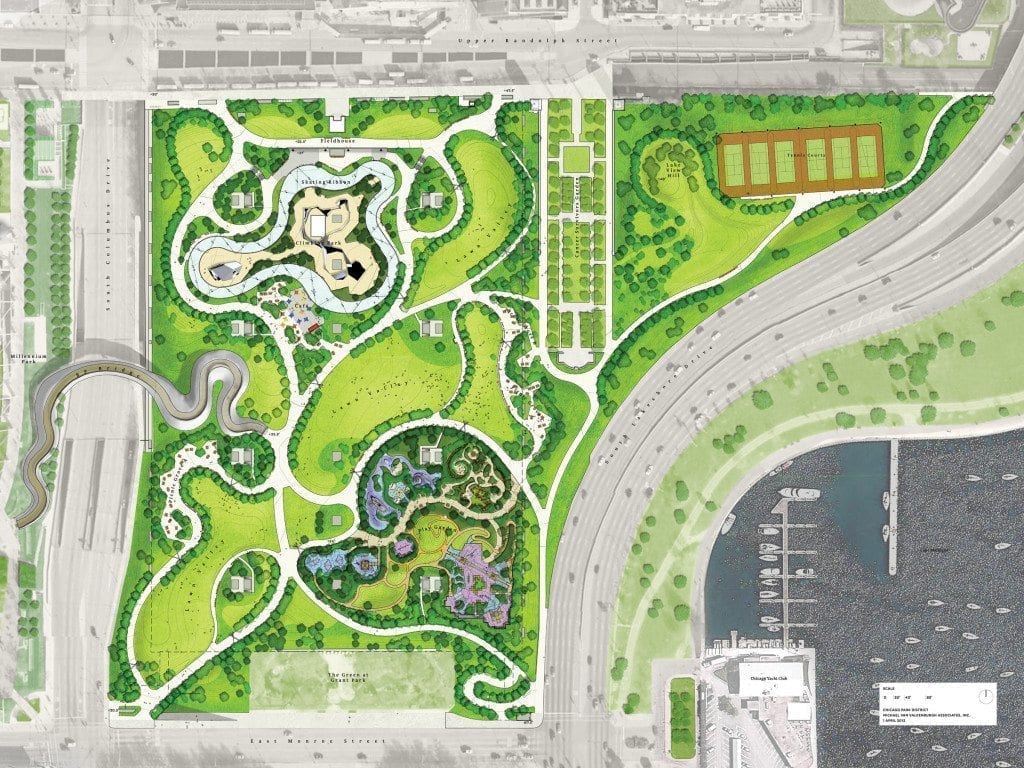 Additional Pics