On August 5, the iconic Webster Hall will have its final club night and officially close its doors for an undisclosed amount of time to undergo renovation starting August 9. The performance hall/nightclub was recently purchased by AEG and Brooklyn Sports & Entertainment, the company who also owns Barclays Center where the Brooklyn Nets play. Once the venue re-opens, the booking will be handled by last years AEG's acquisition, Bowery Presents.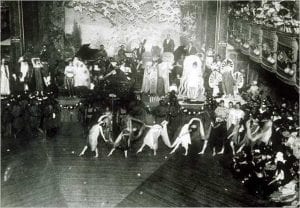 The venue has stood on East 11th Street in the East Village section of Manhattan since it was originally constructed in 1886 by architect Charles Rentz Jr., for Polish cigar maker Charles Goldstein. After a magazine called The Masses had a fundraiser in 1913, Webster Hall became popular during the 1910s and 20s for its masquerade balls. In addition to these balls attracting the lesbian and gay community of the early 20s, who would come to sponsor their own events, it was also nicknamed the "Devil's Playhouse" by the Bohemian population living in the Village due to its wild party scene. It's rumored that French painter/sculptor Marcel Duchamp once swung from the hall's chandelier.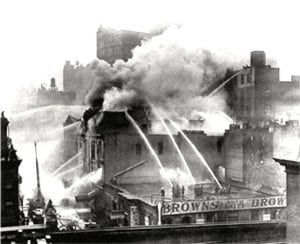 Over the past 131 years, the venue has survived its fair share of issues. In the years 1911, 1930, 1938, and 1949, the venue was damaged by fires. The most significant of them came in 1938, which led to the death of two people. In spite of these fires, most of Webster Hall has remained original, except for its mansard roof, which would be lost in its last fire in 1949. Because Webster Hall had to be reassessed after the fires, it was purchased by RCA records studio, who would own it from 1953-1968. This would lead to the hit record "Hound Dog" by Elvis Presley to be recorded here on a 1956 July summer day, one in which Presley took 31 takes in order to make sure it sounded right.
The 600-capacity Marlin Room is expected to be used as an additional waiting space and bar for people attending events in the Grand Ballroom, according to a document the new owners filed with the local community board. Under renovations/improvements on the document, it's stated that "using the Marlin Room as a pre-gathering space and waiting area for Grand Ballroom events will help to bring patrons into the venue sooner."
Gerard McNamee, the halls current operator, urged people to come out and support its final events via a Facebook post. "I highly recommend that you all stop by before the end of this era to pay your respects to the Ballingers and the building for providing us with a lifetime's worth of memories," wrote McNamee. "Please come celebrate our rich 25-year history of being the biggest, baddest and longest running nightclub in the history of New York City."
Gotham, an every Saturday nightlife party Webster Hall introduced last July, will close the show on the hall's final night. Doors open at 10pm. Additional info below:
Webster Hall
125 East 11th Street
New York, NY 10003
August 5, 2017
Gotham: Join The Human Race
Dance/Electronic
Must be 19 years or older
Admission is $20
VIP inquiries: (917) 302-0847 or email vip@websterhall.com
Featured Image Credit: Webster Hall
Follow UrbanMatter New York on Facebook and Twitter for daily updates on local events and news.