CALLING ALL VEGANS: Your summer festival is less than two weeks away!
Due to the success the Vegan Drink and Food Festival had in Toronto last summer, lucky vegans can now enjoy the festival in Chicago. With craft beer, wine and spirits to accommodate the great food and music you'll experience, all you'll need to bring is a blanket, backpack, camera, and your ID.
Get excited for the full list of vendors and performers below:
The Vegan Food and Drink Festival Chicago Details
Food Vendors
Doomie's (Comfort Fare)
Upton's Breakroom (Cafe – Light Vegan Fare)
Sizzle Pie (Pizza)
Chicago Diner (Comfort Fare)
The Vegan Nom (Tacos)
Soul Vegan (Southern & Soul Food)
Holcomb Hollow (Baked Goods & Jams)
Pie, Pie My Darling (Pies)
Kitchen 17 (Cafe – Middle Eastern & American Fare)
Arya Bhavan (Indian)
Southern Fried Vegan BBQ (BBQ)
Kim and Carlo's Chicago Style Hot Dogs (Hot Dogs)
The Tiny Vegan (Gourmet Cuisine)
Mindful Baking (Bakery)
Vegani Gourmet (Gourmet Cuisine)
Phyter Food (Energy Bar)
The Amazing Kale Burger (Burgers)
Vegan Plate (Thai Dishes)
The Cultured Vegan (Personal Vegan Chef Services) 
Shimmy Shack (Burgers)
The Chunky Scones (Baked Goods)
Frog Juice (Juice)
Bot Bakery (Bakery)
Original Soul Vegetarian (Southern & Soul Food)
Urban Tea (Tea)
Chutney Devis (South Indian)
Gandhi The Juice Guru (Juice)
Some vendors are still pending, but they also plan to add:
Pasta
Ice Cream
Fried Pickles
Crab Cakes
Frozen Chocolate Bananas
Smoothie Bowls
Waffles
Cheezcake Pops
Performers
They've also described these performers as vegan. The lineup includes:
Arcadia

Mic. The Vegan

Gaia's Eye

Rai

Oshwa The Band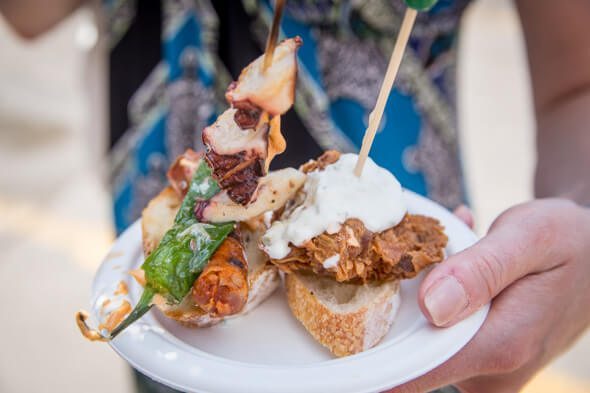 General Details
Date: Saturday, June 25
Time: 11 a.m. to 7 p.m.
Location: 100 S. Lake Shore Drive (Butler Field)
Prices: $15 General Admission | $25 VIP (Includes 3 Drink Tokens)
This outdoor festival guarantees to happen, rain or shine. Visit their website for tickets.

Which vendors are you going to visit at the festival? Let us know below!