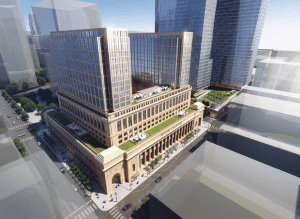 Early this year, we shared news that Mayor Rahm Emanuel proposed a $1 billion plan to the Trump Administration to revamp Union Station. Focusing on attracting private developments, the plans included the construction of a tower and remodeling in the Great Hall.
It was recently announced that this plan is, in fact, moving forward and that Mayor Rahm Emanuel and the CEO of Amtrak selected Riverside Investment and Development to lead the overhaul. Viewing Union Station as an often overlooked opportunity, John O'Donnell, CEO of Riverside, plans to expand Union Station to over 3 million additional square feet to make it more pedestrian-friendly and to invite more businesses to operate within the space.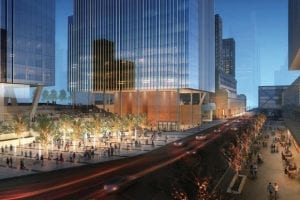 Riverside will be working with Convexity Properties, DRW Holdings, and Goettsch Partners to create more open and inviting spaces for commuters and tenants, improve street entrances, and add commercial and residential elements to the building. Scheduled in three phases over the next six years, the plan includes the construction of high-rise towers atop Union Station's headhouse that holds 780 apartments and a 350-room hotel, rooftop terraces, and a high-end food hall. With some construction to be done near the rail lines, commuters can expect to run into deterrents.
The $1 billion redevelopment plan is slated to kick off mid next year, resulting in the upcoming addition of 7,500 construction jobs and up to 8,000 full-time jobs upon its completion.
Although it's one of the busiest rail station in the United States, many would agree that it is simply a place to pass through rather than one to enjoy. The city and Riverside hope to change that with modern renovations that will bring the historic building to the forefront of its place in the Loop.