Sure, world-famous buildings like Willis Tower, the John Hancock Center, Lake Point Tower, the Aon Center, Water Tower, and Marina City might come to mind when you think of the city's most famous buildings. But there are many that, unless you're on an architecture tour, you might overlook in your day-to-day life. These picks are ones that should never be an afterthought.
The Elysian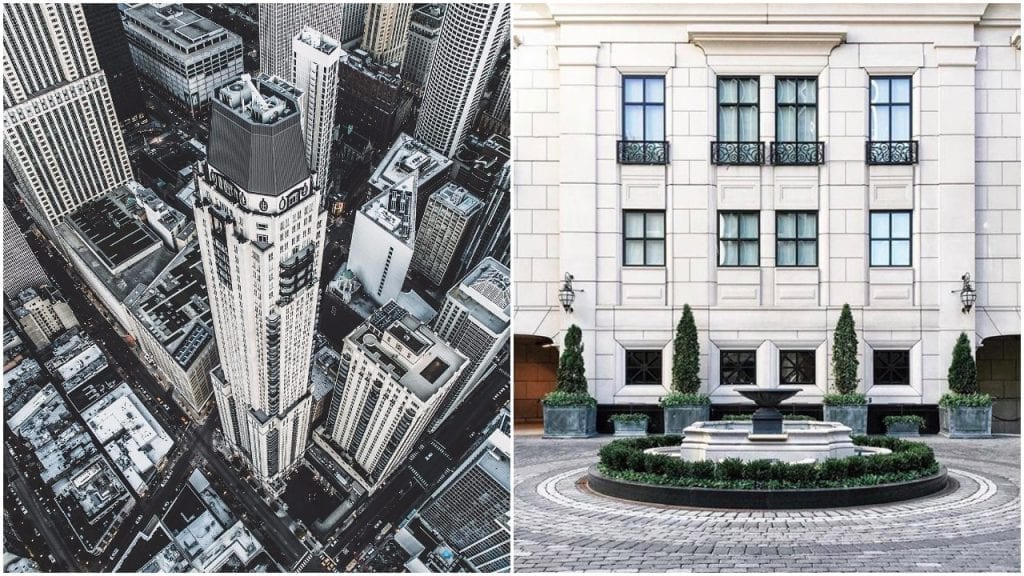 11 East Walton Street
Formerly home to the Elysian Hotel and now the Waldorf Astoria, this gorgeous, French-inspired ivory building with black trimmings was completed in 2010. With an immaculate cobblestone courtyard and designer retailers on the ground floor such as Marc Jacobs and Yves Saint Laurent, this skyscraper screams Gold Coast luxury.
Chicago Place Building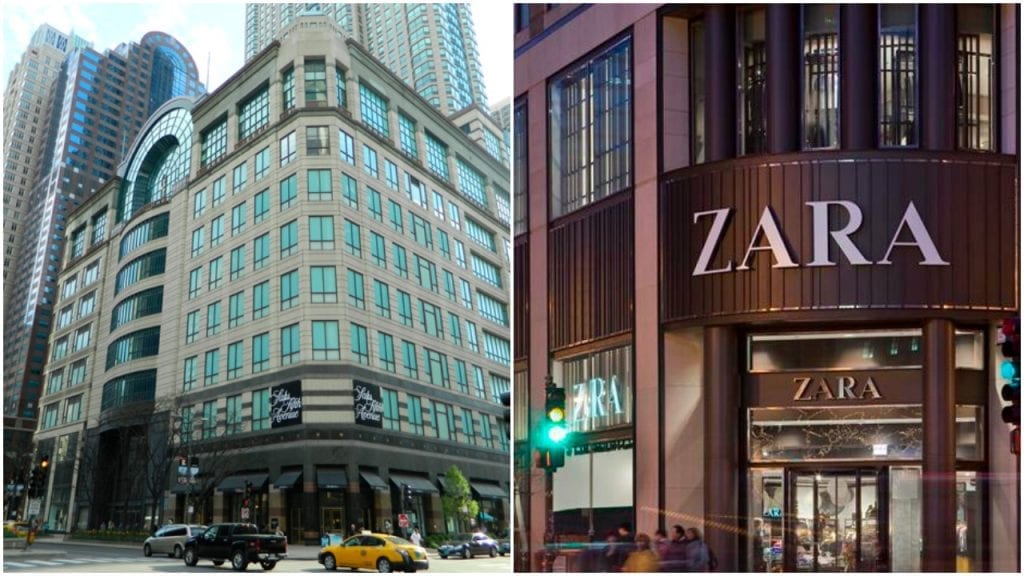 700 North Michigan Avenue
This expansive, city-block building with tall, eye-catching windows is a sure place to stop when you're shopping on the Mag Mile, since Zara and Saks Fifth Avenue occupy each corner. The building was once a mall, and although many of the stores are now defunct, there are plans in place to convert it to office space.
Pittsfield Building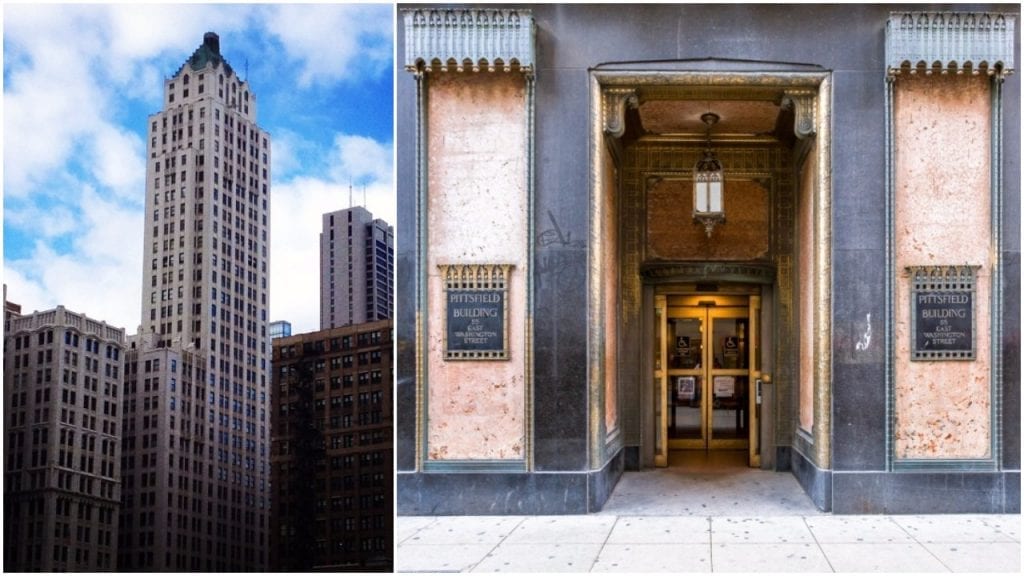 55 East Washington Street
Developed by members of the Marshall Field dynasty, this landmark in the Loop with its familiar, triangular top combines an art deco and Gothic style. Completed in 1929, it was the city's tallest at the time.
Chicago Temple Building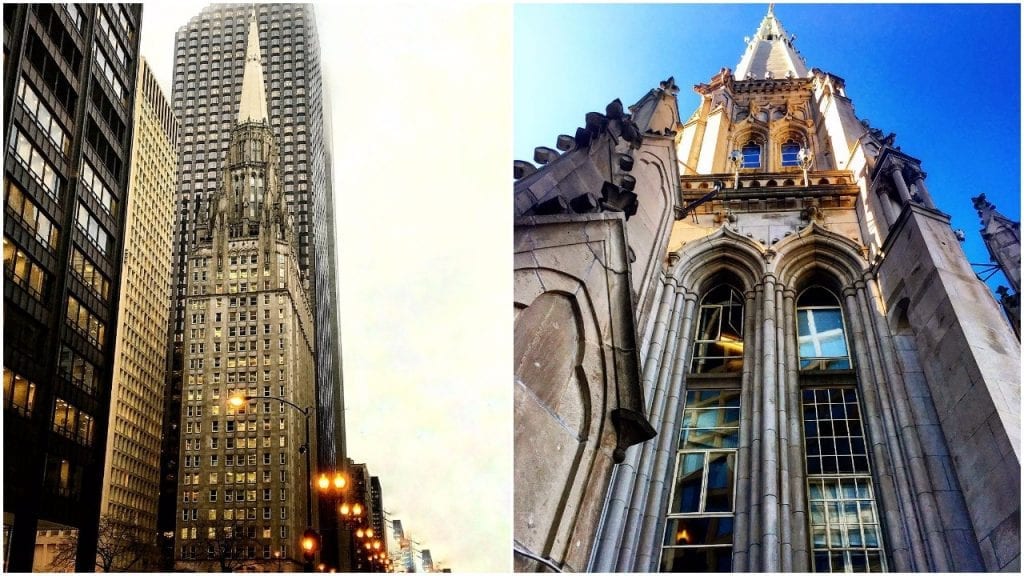 77 West Washington Street
This awe-inspiring structure with a magnificent spire is the tallest church building in the world. Completed in 1924, the Sky Chapel is a popular wedding spot, with its ornate stained glass and altar. Also, historic attorney Clarence Darrow once had an office here.
The Columbian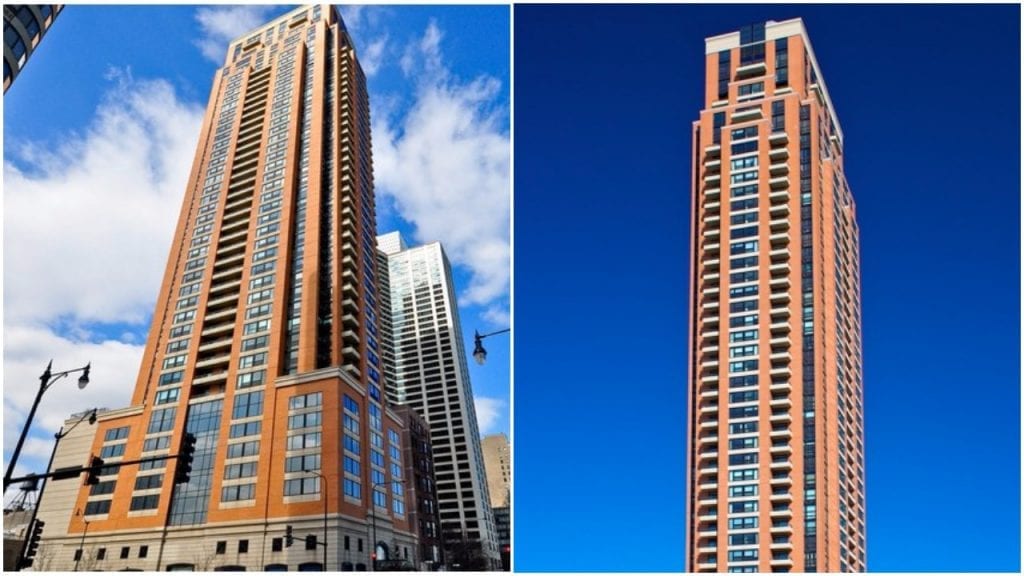 1160 South Michigan Avenue
This modern South Loop condo building is actually tallest brick building in Chicago. Completed in 2008, it boasts stunning views of Grant Park and the Museum Campus.
Roanoke Building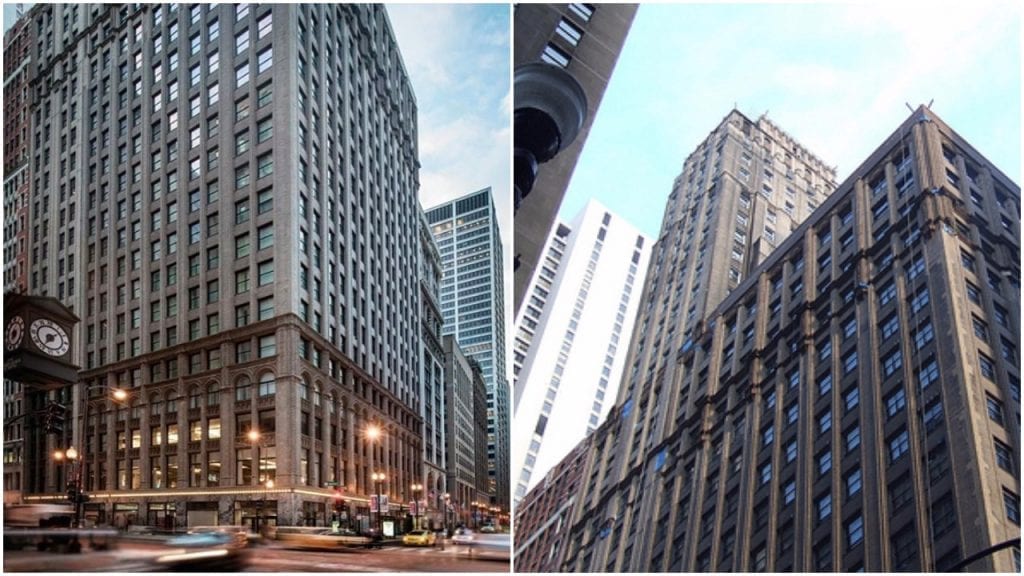 11 South LaSalle Street
The Roanoke Building that stands today was built as replacement to a four-story structure lost in the Great Chicago Fire. Its Portuguese Gothic Revival-style architecture incorporates a dark terra cotta facade, bronze bells on the tower, and marble trimmings in the lobby. Completed in 1915, this Chicago landmark is also on the National Register of Historic Places.
London Guarantee Building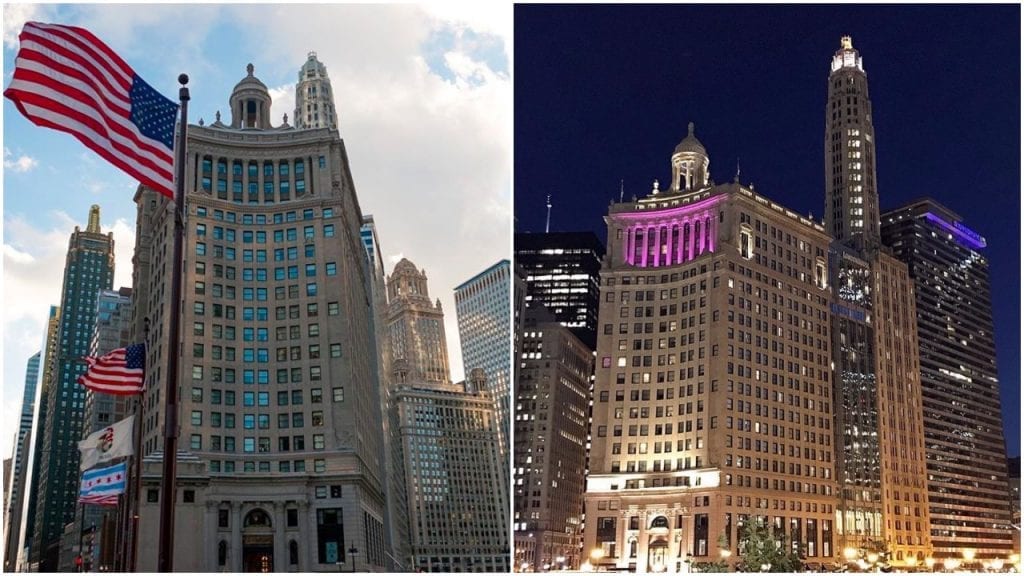 85 East Wacker Drive
With its unique, concave side that follows the curvature of Wacker Drive, this city landmark overlooks the Michigan Avenue Bridge and the Chicago River. Completed in 1923 and considered part of the Michigan-Wacker Historic Direct, it is currently home to the LondonHouse Chicago Hotel.
Palmolive Building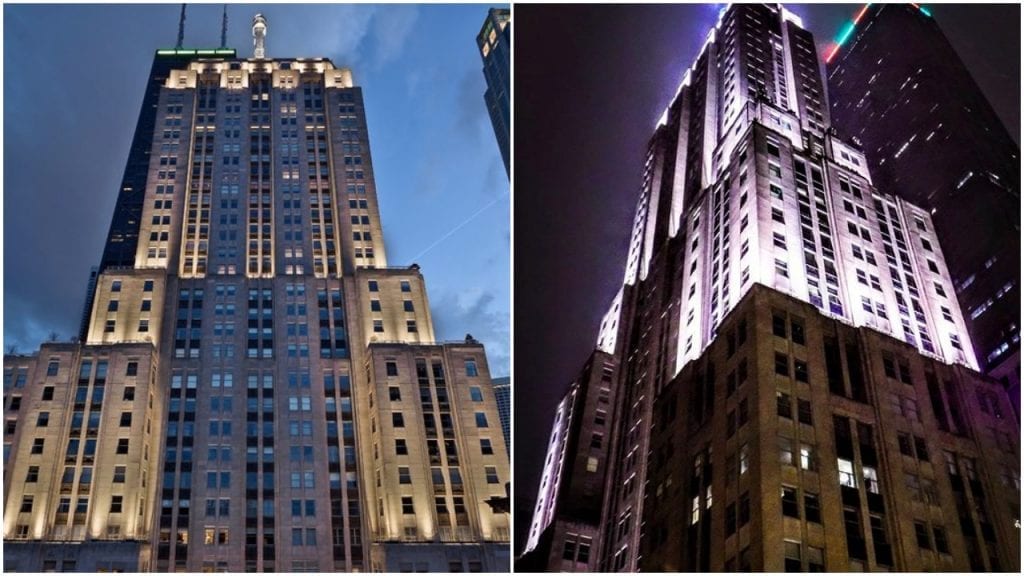 159 East Walton Place
Coming south down Lake Shore Drive, the former Playboy building is sure to grab your attention. Completed in 1929 and exemplifying art deco through-and-through, this landmark is also listed on the National Register of Historic Places.
Carbon & Carbide Building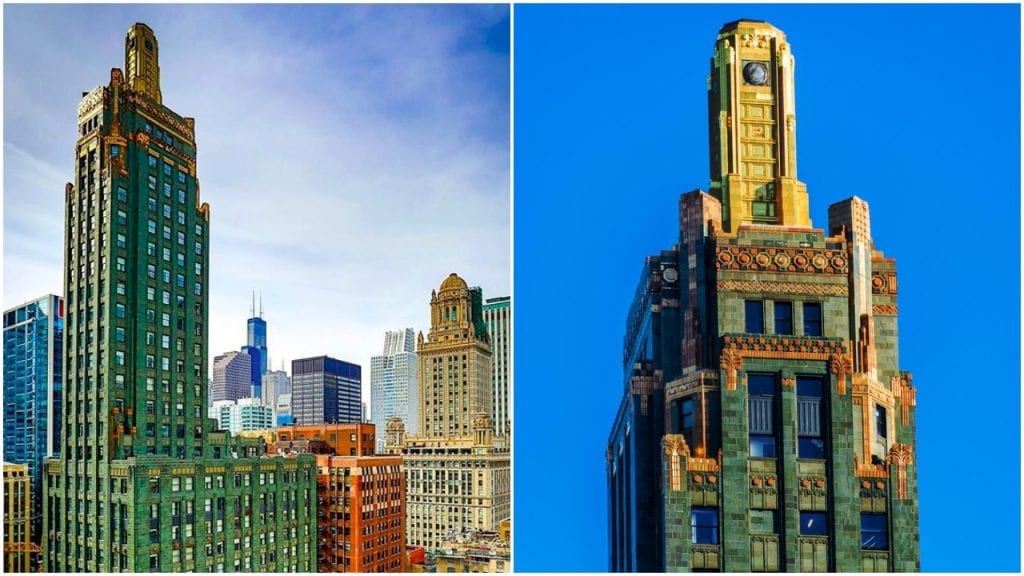 230 North Michigan Avenue
This Burnham Brothers structure is a real stand-out, as there isn't another in the city that looks quite like it. With its dark green terra cotta and black granite exterior and striking gold accents, it displays the more glamorous side of art deco. Completed in 1929, this landmark is mostly known for housing the Hard Rock Hotel.
Jewelers Building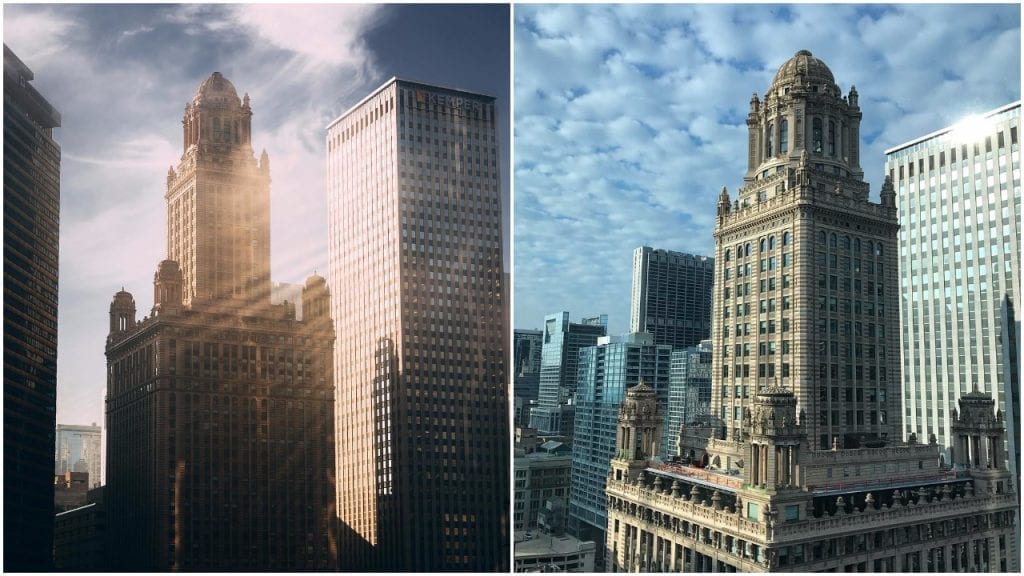 35 East Wacker Drive
With its name driving from its former use by jewelry merchants, this regal building with its iconic dome is the perfect example of Chicago strength and beauty. You can even catch the landmark in TV shows and blockbuster film franchises like Transformers and Christopher Nolan's Batman.