Tzuco (720 N State St, Chicago, IL 60654) has sat high on our want-to-try list for quite a while ever since we learned about how the chef is using culinary arts to take diners on a cultural journey back to his roots. As an upscale Mexican restaurant focusing on regional cuisine, Tzuco provides a completely different experience than you'd have at other Mexican restaurants in Chicago. Overall, we had an impeccable time dining at Tzuco, to the point we are happy to give them our first full rating:
Ambiance: ★★★★★
Food: ★★★★★
Beverage: ★★★★★
Service: ★★★★★
Overall: ★★★★★
Now, let's break down the experience and give you all the reasons you need to dine at Tzuco.
Ambiance
Let's be honest: there are too many cookie-cutter restaurants in Chicago that anywhere with an interior that leaves a strong impression is a gem. In a city that prides itself on its rich and diverse architecture, we naturally expect a restaurant's interior to not only complement, but elevate the dining experience by reflecting the restaurant and chef's values, heritage, and philosophies.
Walking into Tzuco is like entering a cultural museum. The restaurant boldly chose a display structure as their inside walls, showcasing different symbolisms including bones, trinkets, native plants, and artifacts. Was there any wait for the food and drinks? We honestly can't tell you because our attention was so occupied by the surroundings. If you know how time flies when you binge a cool documentary, Tzuco's interior has a similar effect.
And most importantly, it makes you want to know everything about the restaurant and the menu: we haven't felt this excited just from stepping into a restaurant for a while!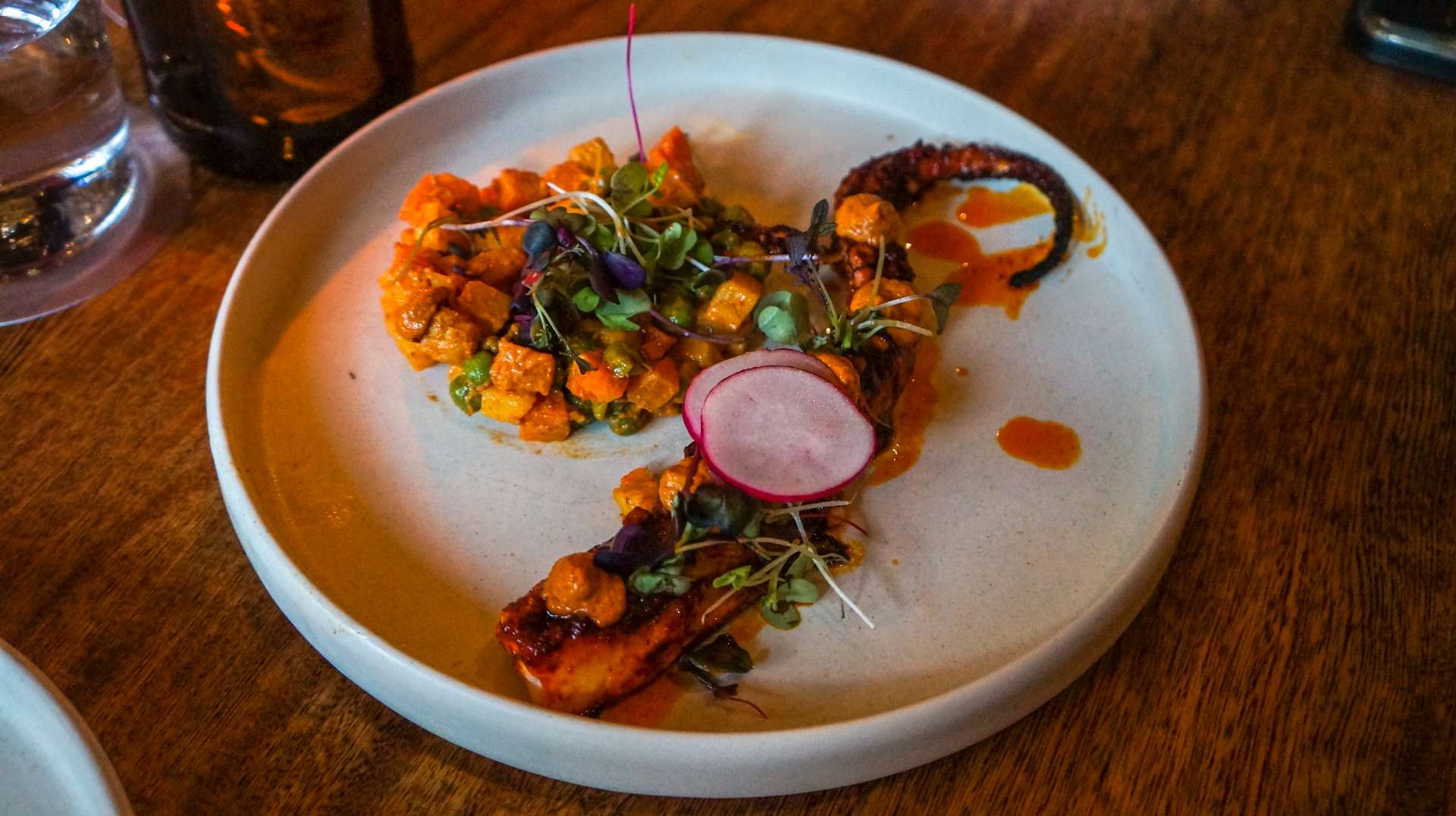 Food
Tzuco's food is as impressive and memorable as the rumors have claimed, if not tastier. Note that not only the flavors are impeccable, but so are the portions. For appetizers, we tried the Pulpo Enamorado with Guajillo roasted octopus, salsa macha, pickled carrot, pea, potato, with tunnato aioli, and Mejillones, which is P.E.I. Mussels in a saffron beurre blanc sauce with dried chorizo and pickled jalapeño, and homemade sourdough bread, which was as large as our face came with the mussels (it turned out to be more than necessary because the sauce was delicious). Both items were perfect from visual presentation to flavor balancing, and the fact they were easy to share was a great bonus.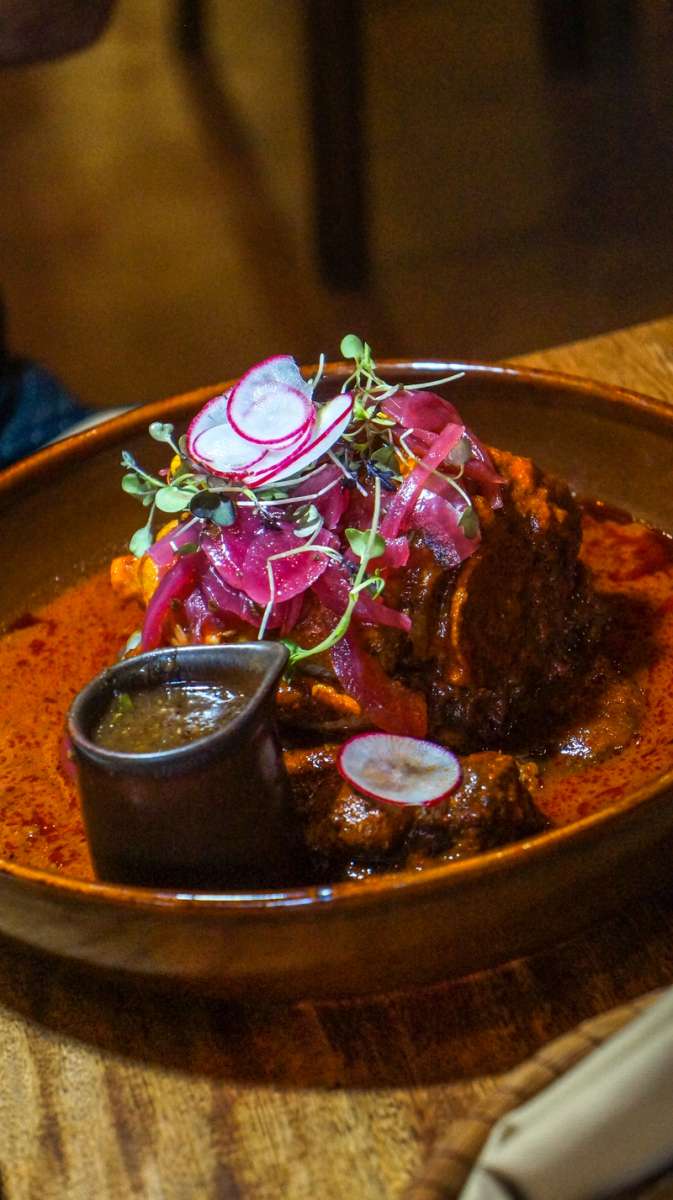 As for the main course, we tried their most classic Cochinita Pibil: a Guerrero-style pork shank with black bean purée, pickled red onion, and habanero salsa. We've gotta admit that we were impressed, especially as someone who wasn't so big into pork shanks. The meat was tender and seasoned to perfection. The black bean purée was a great compliment to the overall flavor. You barely need to use any effort and the meet will fall off the bones automatically. We felt it was great as-is without pouring the salsa (which was left to the side), although the salsa did give the dish some unique flare.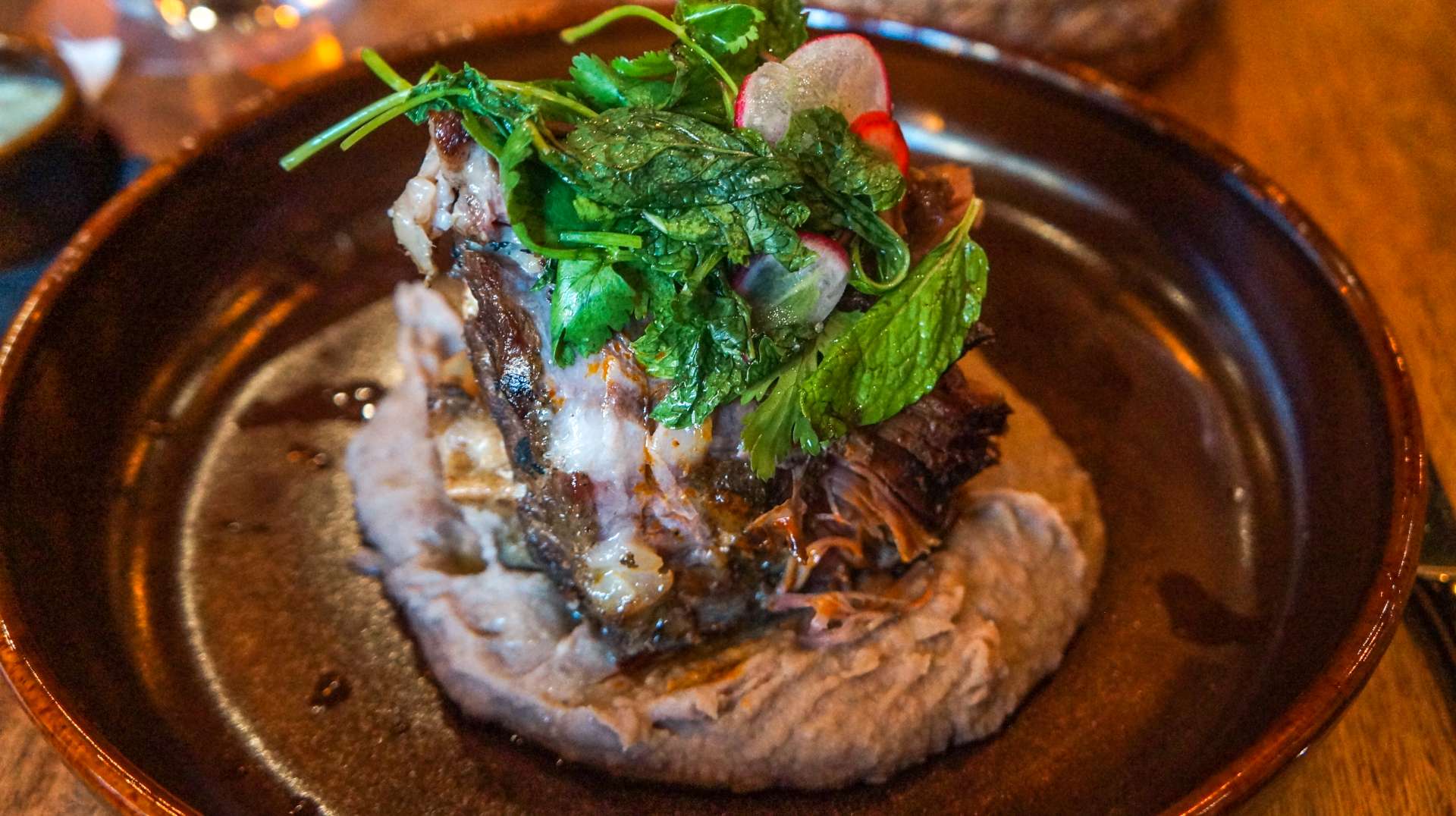 Our second choice was Barbacoa, featuring braised lamb neck barbacoa with mint jocoque, pinto bean purée, and sweet pickled vegetables. Compared to the pork shank, this dish was the opposite in flavor. The mint and pinto bean purée allowed the lamb's natural flavor to shine, and the pickled vegetables were a lovely highlight that tasted like a refreshing breeze and elevated the overall taste of the dish. Plus, this was probably the tenderest lamb we've ever put in our mouths.
PS: Both items were served with tortillas. Although the main dishes tasted so good that we devoured our food so quickly and barely touched the tortillas. Ha!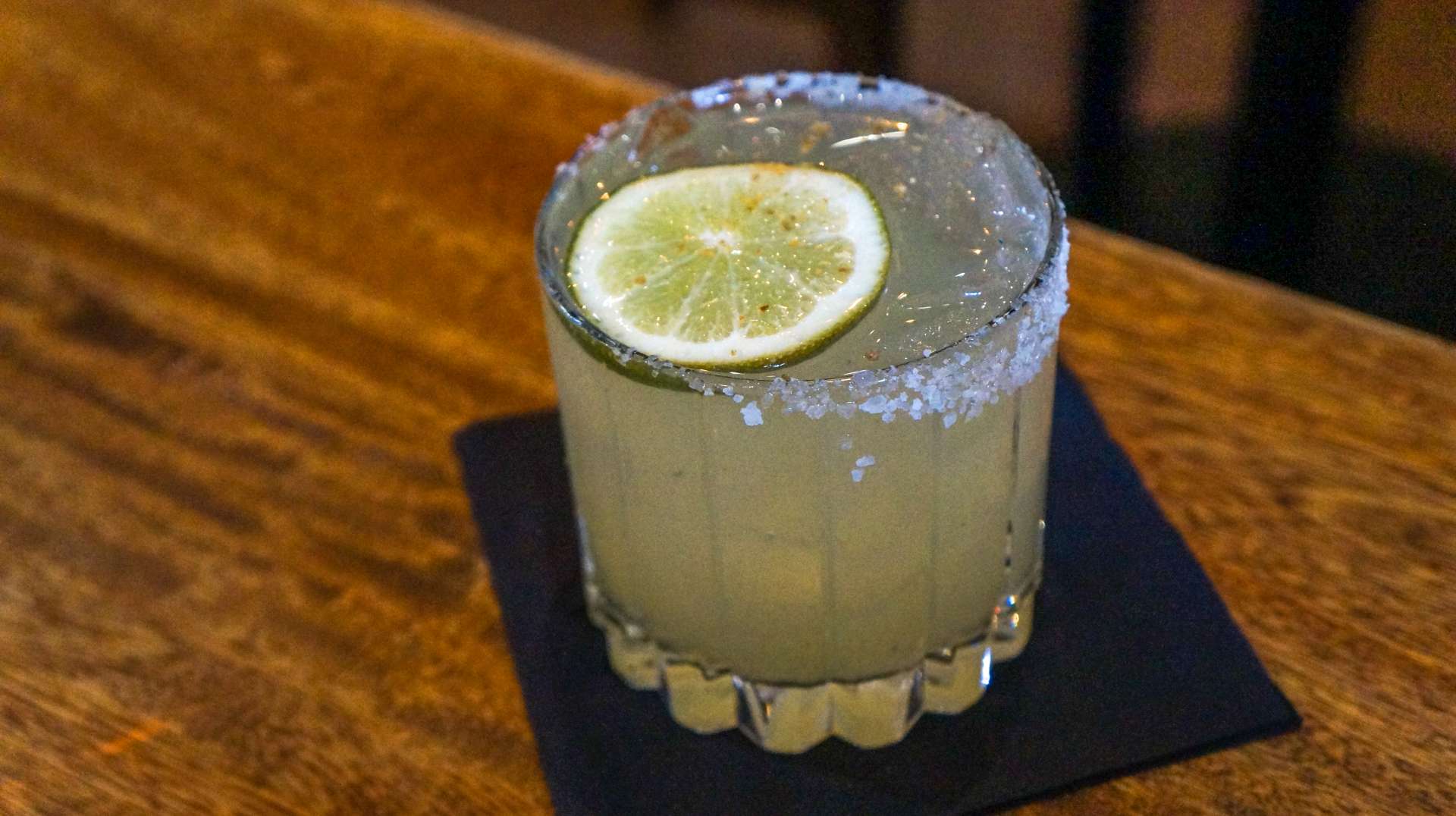 Drinks
Sometimes, when the food is too impressive, we'd raise our expectations for drinks as well. This is why we occasionally find restaurants whose drinks were less memorable, not because they weren't good, but because the food outshone them. Well, that was not the concern at Tzuco as the cocktails were just as impressive.
Since Tzuco is a Mexican restaurant, we felt obliged to try the Tzuco Margarita with Tequila, Cointreau, cucumber, elderflower, and lime juice. If you love a good, classic spicy marg, this should be your go-to drink. But heed our warning: the spice level is pretty intense! If you don't have a high heat tolerance, we recommend you switch to Doña Margarita instead as it leans sweet and citrus and features a bold blood orange flavor.
Also, Tzuco also has a few spirit-free options so your non-drinking friends can still find something to pair with their food. They also have beers and an extensive wine list if you're not in the cocktail mood.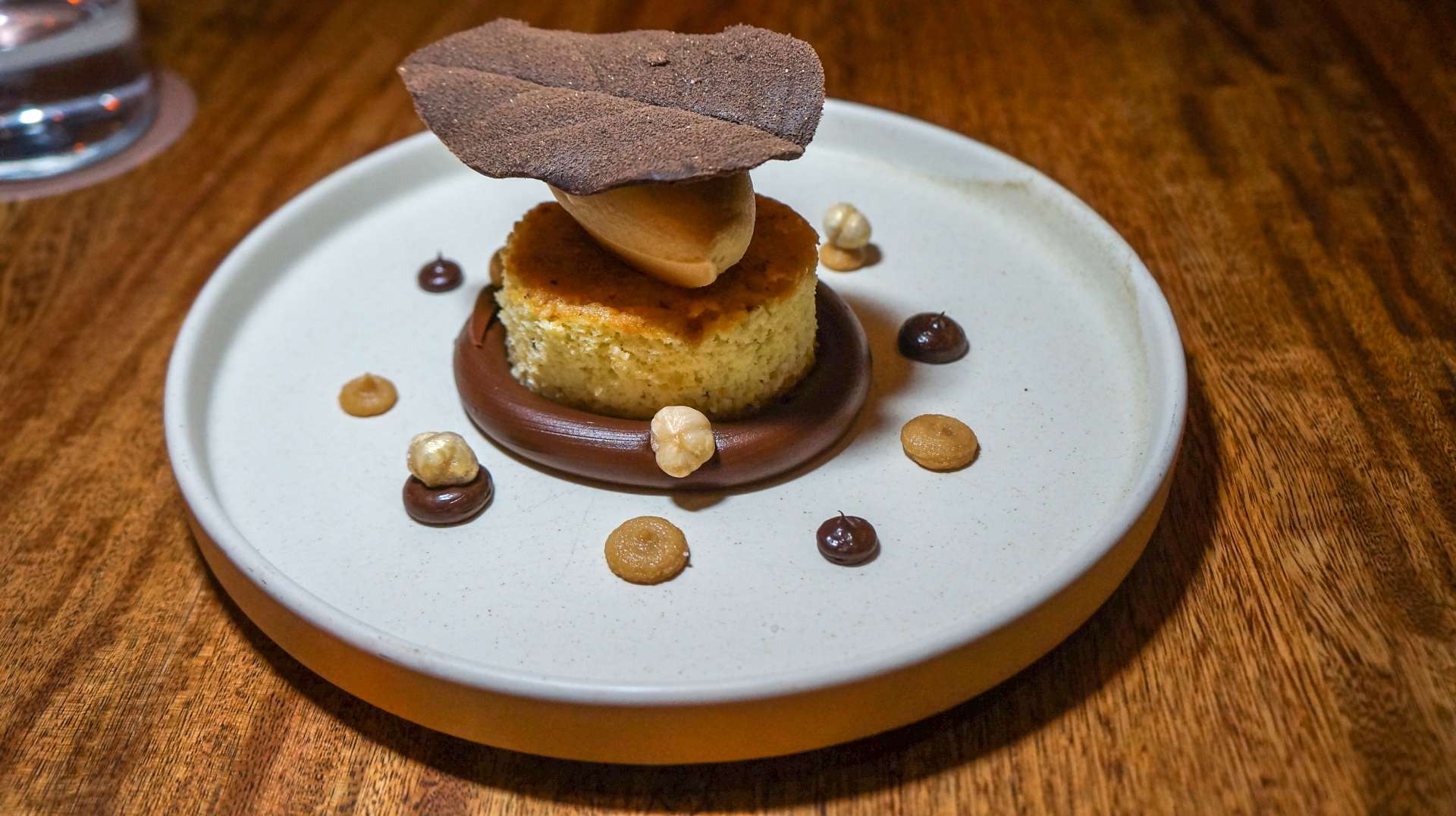 Service
What does good service at a restaurant look like? Let's say this: we would have missed out on one of the best desserts we've ever tried if not for our server's diligent and convincing recommendation. Tzuco's servers definitely know the menu to their hearts. They also knew how to make recommendations based on what you've already ordered. So by the end of the meal, they already had a grasp of your flavor preferences.
Other than that, the timing was always perfect, and our utensils and plates were swapped out throughout the meal so we always have a fresh start at each course. Our waters were always full, and empty glass never stayed in our way. As for the vibes: we certainly felt welcomed. More than that, we felt that the servers were excited that we were about to try their chef's creation: and that positivity made a huge difference in our dining experience.
Featured Image: Urban Matter