Looking for a new hotspot where you can just be yourself? What if it was a cafe, eatery, brewery and tap room in Chicago all combined into one amazing place? Twisted Hippo Taproom and Eatery does all of this and more, and it just opened in Albany Park early this year.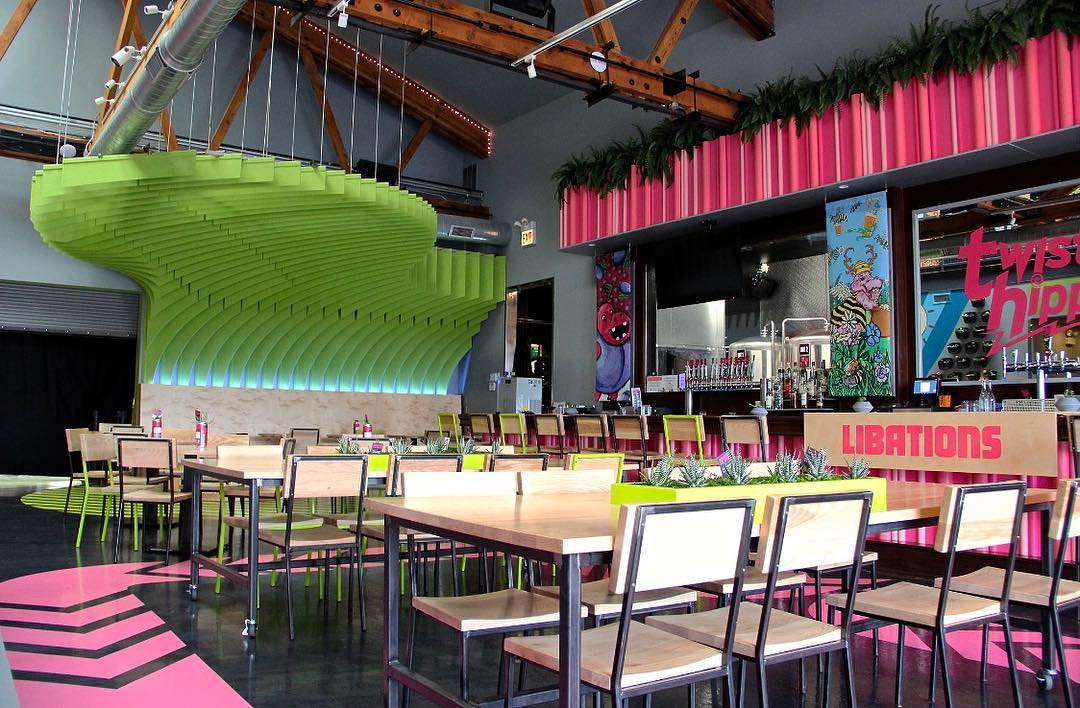 "Embrace Your Strange" the exterior of this tap room in Chicago announces, and if you can do that, well, you belong here.
Twisted Hippo is a Chicago brewery that keeps the focus on community gatherings, providing a hub for local neighborhoods to come together and make new connections. Twisted Hippo puts the 'funky' and 'fresh' in funky fresh by sporting an unusual fuschia and lime green color scheme and putting an emphasis on renewable energy and sustainable resources in the greenery planted throughout.
This tap room in Chicago makes an effort to replace wasteful ingredients with spent grains—leftover malt and adjuncts from the brewing process—resulting in delicious spent grain cookies, bread, and granola. Twisted Hippo also coats their cheese curds with wort syrup, made from wort during the brewing process, as well as offer vegetarian and vegan options for many of their dishes, to constantly reduce their carbon footprint.
Pinky the Hippo, Twisted Hippo's gloriously fanciful mascot, flaunts antlers and a killer wingspan to accentuate the entire concept behind this unusual tap room in Chicago. Everything at this brewery has a twist, be it the cocktails, the food, to the fictitious creature associated with the brand. Even the people who work at this Chicago brewery seem to have a little glint in their eyes, like they know exactly what they're doing to revolutionize the beer world.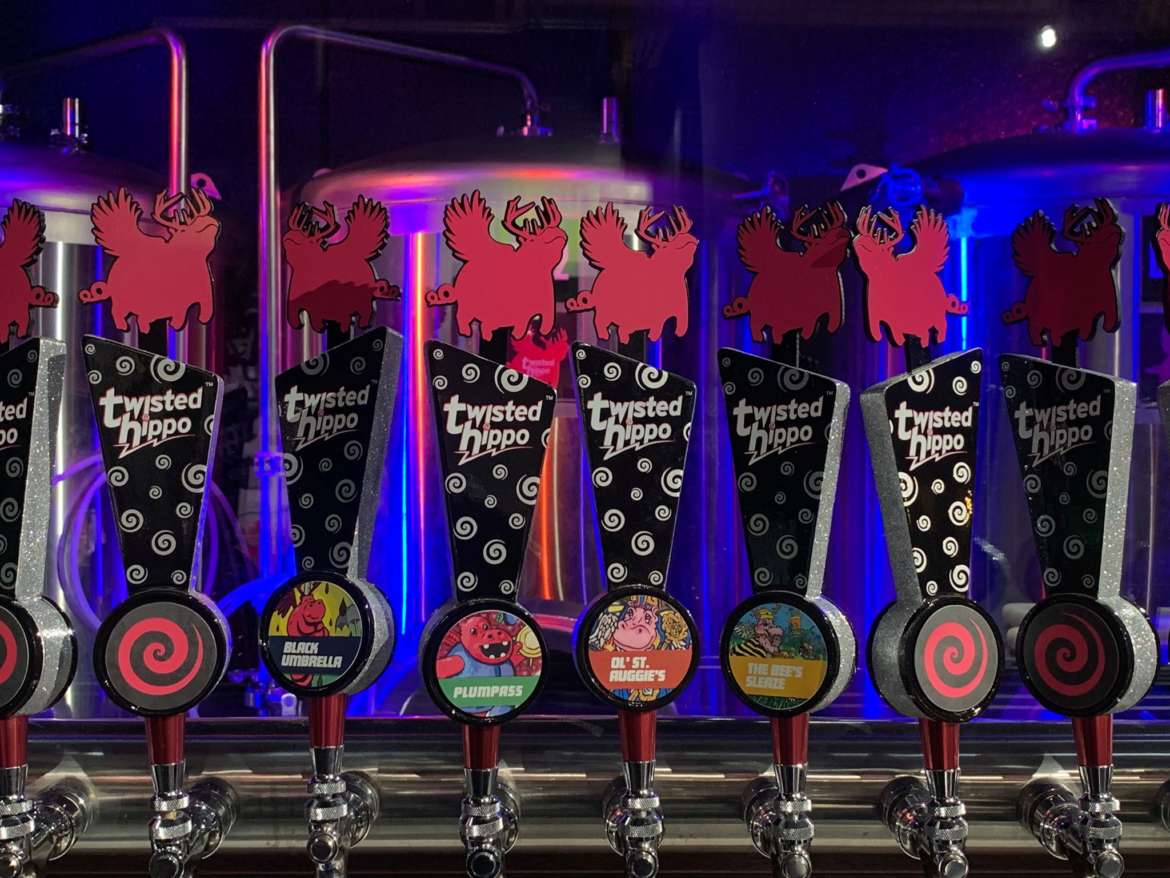 Although this tap room in Chicago offers a lot of classic styles, you won't just find your typical IPA at this place. Whatever they concoct, it comes with a unique twist on the original concept, so trying the A.P.B. (A Passion Brut) will be much different than you might expect thanks to the added Passionfruit. Any questions to your bartender will quickly settle the dust though, and you'll order with confidence, knowing that first sip will win you over anyway.
In tandem with their efforts to be as transparent as possible, Twisted Hippo also has inclusive pricing on their menu. What you see is what you get; tax fees and tip are already included in the price, so all there's left to do is enjoy yourself. That means no more awkward tension while splitting the bill amongst friends, and we know you can all breathe a sigh of relief about that.
Twisted Hippo is a tap room in Chicago that releases new beers every Tuesday, and has even dabbled in some collaboractions with local breweries (collaborACTION, because the proceeds go toward helping an organization of their choice). These efforts are extremely important to the Twisted Hippo team, as they are always thinking of new ways to give back to charity. The most recent collab conducted by this Chicago brewery with Maplewood Brewing is Finger Biscuits, a Tiramisu White Stout with 6.6% ABV, still available on draft with the proceeds going toward One Tail at a Time.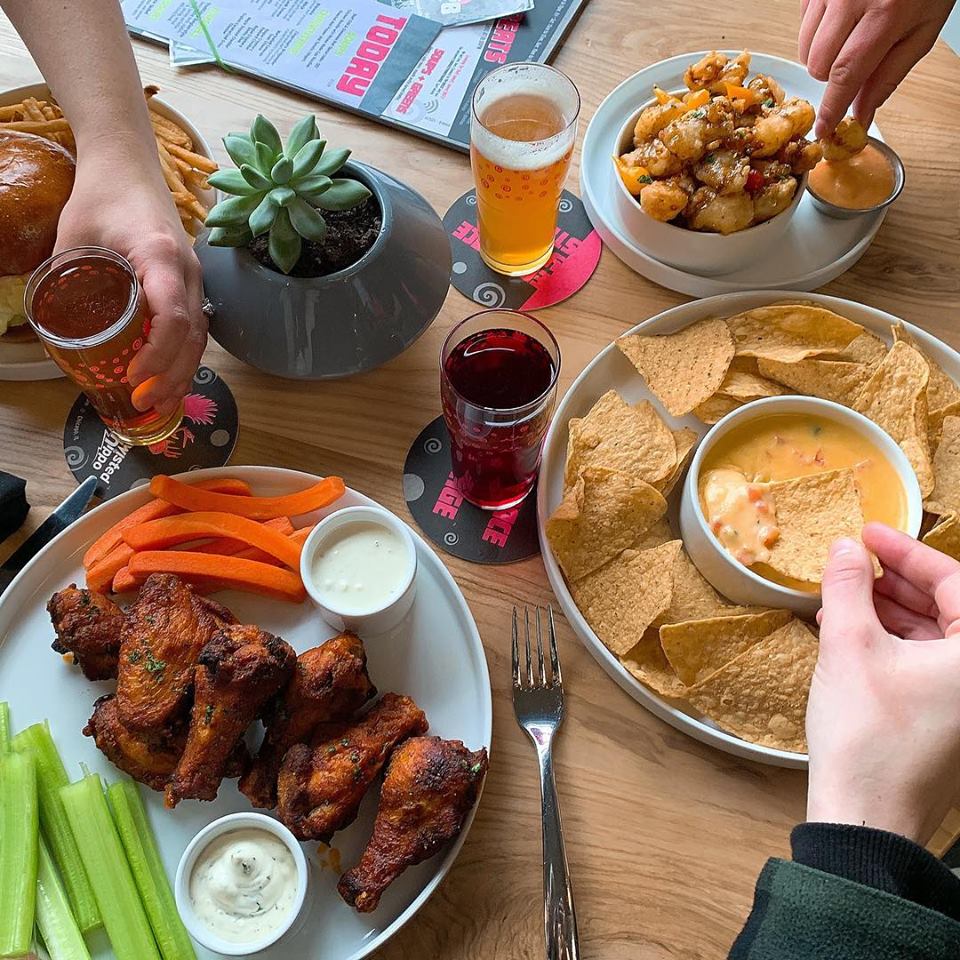 There's something going down at this tap room in Chicago every night of the week.
Monday – Industry and Educator Night for folks in the hospitality industry and for teachers, just to show their appreciation.
Tuesday – Trivia Night, hosted at this tap room in Chicago by Geeks Who Drink. Bring out your inner nerd and test your fandom knowledge.
Wednesday – Drink and Draw happens bimonthly at this Chicago brewery, where you'll be encouraged to create your own art while a little bit intoxicated.
Thursday – Game Night. Between all the board games upstairs and whatever you bring along, everyone is allowed to tap into their competitive side for one special evening at this Chicago brewery.
Friday – WORK FROM ROAM Happy Hour. Thanks to this unusually early happy hour, you can get your weekend started ahead of time with $12 flights and $3 tasters from 11 am – 3 pm.
Thought they were done? Nah, just getting started.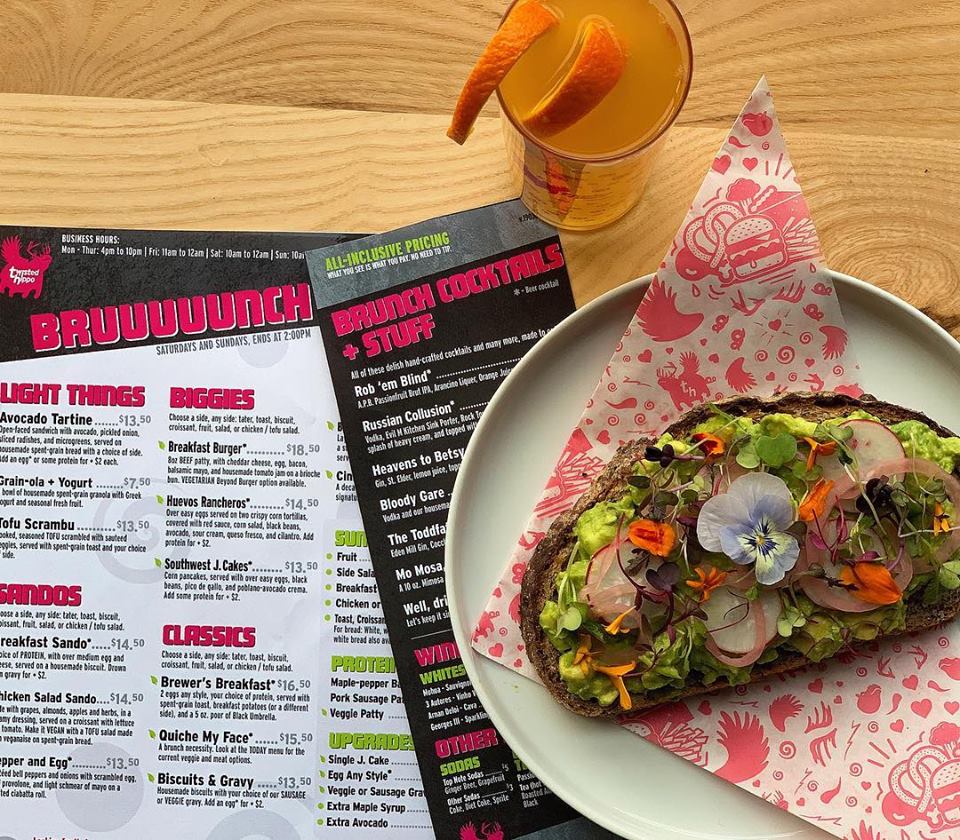 Weekends at Twisted Hippo are just as lit as the weekdays, but with even better offerings. This tap room in Chicago offers an excellent brunch menu on Satruday and Sunday. Let the kiddos tag along to Twisted Hippo and enjoy a family-focused day of bingo and breakfast food. Twisted Hippo plays animated short films for the kids from 4 – 8 pm that evening in an effort to promote Family Night, where parents can kick back with a beer while their young ones are fully entertained.
Coming soon is a Killer Queen League Night, where the geeks of Chicago can band together and take each other on in weekly tournaments. This tap room in Chicago also plans to work with rising Chicago artists to host live music nights, which would only amplify their already quirky tap room experience.
TWISTED HIPPO HOURS:
Monday – Thursday: 4 pm to 10 pm
Friday: 11 am to 12 am
Saturday: 10 am to 12 am
Sunday: 10 am to 10 pm
You can find Twisted Hippo at 2925 W Montrose Ave in Albany Park.
So, what are you waiting for? Embrace Your Strange. 
At UrbanMatter, U Matter. And we think this matters.
Tell us what you think matters in the Ravenswood neighborhood and what we should write about next in the comments below!
Featured Image Credit: Lexi Genge