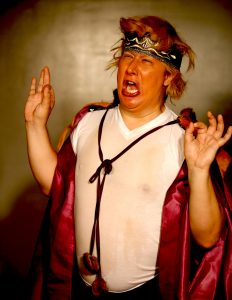 Amidst the tension that has stemmed from the current American presidency, sometimes you just need to laugh until your sides hurt. Trump Lear is definitely something that will make you laugh, but if you're looking for it to take your mind off the state of the Administration, it won't.
David Carl is known for his improv and one-man-shows in and around New York. This year, he is traveling throughout the States to present his latest one-man-show, Trump Lear. Currently is playing at the small performance space known as Under St Marks in the East Village.
This stage play is an eclectic mix of Shakespeare's classic King Lear coupled with the slightly abstract and narcissistic behavior of Donald J. Trump. It is all rolled together into a bombastic, 65-minute performance.
David Carl has perfected the voice and mannerisms of Donald Trump. Sitting there in the audience, you can't help but be reminded of some of the strange and un-Presidential statements that have spewed forth from the iconic figure on social media and during various press conferences.
Directed by Michael Biancosino, this is a sarcastic look at the presidency of Donald J. Trump and its striking similarities to the story of King Lear. It is both an interesting take on a Shakespeare classic and a comical perspective on our current political atmosphere.
Written and performed by David Carl, this is a production that's sure to illicit laughs from anyone who hasn't been living under a rock since election season. This isn't a ground breaking performance, but it's one that most will enjoy, regardless of liking or disliking the President. Mention must be made of David Carl's impressive achievements in undertaking the unmistakable Trump persona that we've all come to recognize today.
No matter what your feelings are toward President Trump (or Shakespeare, for that matter), if you want to see a show for entertainment's sake, then consider taking yourself down to Under St Marks to see Trump Lear. We promise, it's gonna be h-yuuge.     
Follow Matt D'Silva on Twitter @MattDSilva
Featured Image Credit: Anthony Velez for Trump Lear