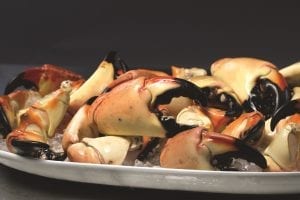 Awash in elegant surroundings, a new upscale seafood and steak restaurant has made its Midwestern debut in the Gold Coast neighborhood.
The Texas-based Truluck's Seafood, Steak & Crab House offers an exceptional dining experience rooted in sustainability and environmental stewardship. Known for its signature fresh-catch seafood and seasonal crab, the restaurant also delivers prime steaks and a world-class wine selection. In the lounge, live entertainment takes the stage nightly.
"We do very timeless, classic stuff with a focus on old-school techniques that people don't do anymore," said Brian Wubbena, Truluck's corporate director of culinary. "As an example, you can get a piece of pan-seared fish anywhere. Ninety-nine percent of the time, it's cooked on a griddle and it's delicious. But it's not as good as taking the time to take a French steel sauté pan, basting the fish in clarified butter with aromatics."
The specialty of the house is fresh crab, the variety being what's in season here. Right now, it's Florida stone crab claws, flown from Truluck's own fisheries to your table within hours. Depending on market conditions, claws can weigh up to eight ounces. That's bigger than some lobster tails!
Cold and hot appetizers include oysters Rockefeller, escargot, Petrossian caviar, prime meatballs and braised boneless short ribs.
Steaks are locally sourced and butchered, broiled at 1600 degrees and served on a sizzling 500-degree plate with a head of roasted garlic. Seafood lovers may be challenged to choose from fried lake perch, almond-crusted walleye pike, Faroe Island salmon and sweet-and-spicy wild striped bass. A gluten-free menu is available as well.
"We just try to take basic ingredients and present them in the best way possible," Wubbena says. "We're not trying to reinvent the wheel or serve stone crab with chocolate. We don't need to do that."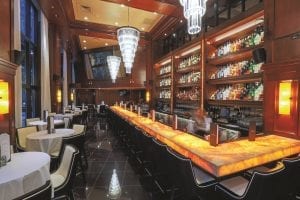 The dessert menu will not disappoint. Selections are made by the in-house pastry chef and may vary, but we can attest to delectable chocolate and super-moist cakes.
After dinner, plan to linger in the Stone Crab Lounge, where Truluck's mixologists have perfected the art of the cocktail with bottle-pours and hand-squeezed citrus. We highly recommend the specialty drink, Voila! Yes, that's the name, exclamation point included. It's a sensory tour de force of vodka, Chambord, fruit juice, cava and fresh raspberries in a sugar-rimmed glass. A pebble of dry ice adds bubbles and smoke. Voila!
Located in the space formerly occupied by McCormick & Schmick's Seafood & Steaks, the two-story venue has been luxuriously renovated with polished black granite floors, backlit onyx bar tops, a glass showcase wine cellar, luxurious mahogany millwork and rich leather booths.
Founded in 1992 and privately-owned, Truluck's operates a dozen restaurants in Texas, California and Florida. Wubbena and the team are thrilled to add Chicago to the portfolio.
"Chicago has so many great restaurants, but we've been allowed to grow because of what we've done," Wubbena says. "We believe in our brand and the strength behind it. I think we're going to knock it out of the park."