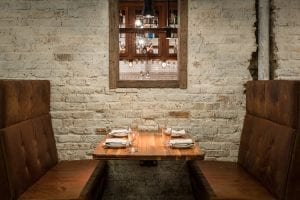 Fairly new to the Chicago streets, Trench delivers a well-refined story across its menu, design and atmosphere. Trench nestles within the multi-storied stones of the former North Avenue Bath House building located on West North Avenue in Wicker Park. While the gastropub atmosphere is no stranger to filling the building's vacancy, Trench allows the history of the building to flow through all corners of the newly conceptualized dining and beverage destination.
Built in 1922, the bathhouse originally offered communal baths, steam rooms and a pool for Turkish, Russian, and Ukrainian immigrants in the surrounding area. The exterior façade of the bathhouse features terra cotta architecture with detailed aquatic-themed additions throughout. Politicians often found confidence discussing private matters within the steam room walls, as it was nearly impossible to be wiretapped. When its original use came to an end, the building found itself in a downward spiral. It was used as a hotel, then a brothel, and it was soon boarded up to sit as a docile eyesore until the early 1990's.
Apartments, as well as a handful of fine-dining establishments, have seen the inside of the renovated structure since its recent redevelopment. However, it wasn't until the developers of Heisler Hospitality recognized that the bathhouse's prominent culmination and eventual blight simply add to its unique tenure. They needed to resurface these aspects in order to redirect traffic through the doors that the building once saw nearly a century ago.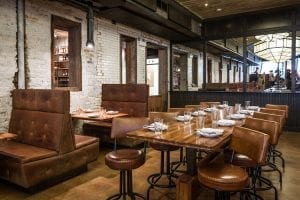 Today, the interior design, logo and menu of Trench reflect that of a traditional bathhouse featuring hints of the original aquatic theme. The interior brick walls are painted white with well-worn leather seating spreading across the dining room. Pipes dub as overhead lighting and iron finishes bring everything together to make the interior look like a recycled steam room. The logo features two millennium-pink fish sandwiching the restaurant's name in a maritime font. To finish, the menu is focused and offers American tavern-like specials with a handful of seafood and Mediterranean selections. Trench often finds itself amidst casual Wicker Park hustle and bustle with packed seating during weekend brunch. Visitors have been taking a liking to the newest addition of a DJ booth.
Get a feel for the Trench trend for yourself and make this historic destination your next dinner reservation.
The dining room is open 5:30pm to 9pm Sunday through Thursday (bar is open until 11pm), until midnight on Friday and Saturday, and weekend brunch is from 10am to 2pm on Saturday and 3pm on Sunday. Located at 2039 West North Avenue.
Photo Credits: Galdones Photography