We all know summer is Chicagoan's favorite wedding season. But a wedding is so much more than just saying your vows. The flowers, invitations, gifts, and emotional stress are enough for the couple-soon-to-be. So, let's avoid any more headaches with these sweet wedding deals from the best Chicago venues and hotels so you can have your dream wedding—properly!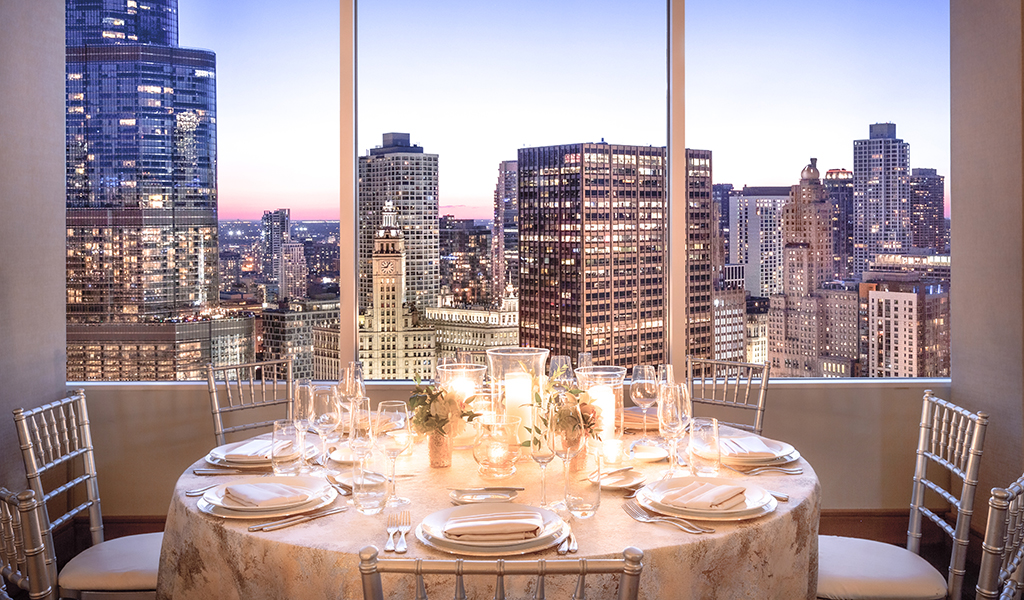 323 E Wacker Dr, Chicago, IL 60601
Swissotel Chicago's Elevated Wedding offer is perfect for those dreaming of a chic city wedding at Swissotel's Élevé Ballroom on the 42nd floor with stunning Lake Michigan and the Chicago skyline views. Couples who book their wedding in Eleve before June 30, 2023, will enjoy special offers, including decorative up lighting, signature cocktails during cocktail hour, complimentary in-room breakfast, and a complimentary 1-year anniversary overnight stay with dinner for two at The Palm restaurant. Guests will receive double ALL Reward points as a bonus, making the wedding weekend even more rewarding.
The hotel also offers a convenient Wedding Block Room Package, allowing guests to enjoy magnificent views of Lake Michigan and the city skyline. Relax and enjoy the company of loved ones with spacious accommodations and a prime location in the heart of downtown Chicago. Let Swissotel Chicago be your host hotel and experience ultimate service, elegance, and breathtaking views.
https://www.instagram.com/p/CsEZAj-p496/
636 S Michigan Ave, Chicago, IL 60605
Does the summer wedding season have you daydreaming about your own special day? Now is the perfect time to book with The Blackstone Hotel's Bubbles & More in the 2024 package. Honestly, this is one of the best wedding deals from Chicago hotels!
Couples who lock in their ideal date for January 1, 2024 – April 15, 2024, and enjoy a 10% Discount off the published 2024 wedding package price, a special on-site Ceremony Fee of $500 (Savings of $1,500), 2 Complimentary Nights in the hotel's Wedding Suite (Value of $1,200), and Sweets and Bubbles delivered to your suite (Value of $250). Or, couples can opt for 100,000 points to use towards their honeymoon at a Marriott property.
https://www.instagram.com/p/CsJgeJDsUxl/
1 W Wacker Dr, Chicago, IL 60601
For couples looking to walk down the aisle soon, Renaissance Chicago Downtown Hotel boasts inspiring venue spaces for intimate and grand celebrations. For happy couples who book their wedding on select dates in 2023 or 2024, the hotel will offer double Marriott Bonvoy points and a night in the Presidential Suite featuring mesmerizing city views.
https://www.instagram.com/p/CrD-XRDrwMv/
301 E North Water St, Chicago, IL 60611
At Sheraton Grand Chicago Riverwalk, couples can bring their dream wedding to life. When couples say yes to having their wedding at Sheraton, they can earn triple Marriott Bonvoy points on every dollar they spend from guest rooms to reception upgrades with the Vow to Get Away promotion. New couples who mention the promotion at the time of their wedding booking or room block can start earning points. The more they spend on the big day, the more points they can earn toward a honeymoon!
https://www.instagram.com/p/CqGOJBTOoCW/
208 S La Salle St, Chicago, IL 60604
Located on the top floors of a historic building designed by architect Danel Burnham, the opulent space features a beautifully appointed ballroom, pre-function spaces with luxurious gold and marble finishes, and a grand staircase for the ultimate entrance. Richly sophisticated and strong on style, The LaSalle Hotel immerses guests in regal Art Deco, setting the mood for romance and love. Opened within the past year, the hotel is perfect for brides who want their venue to be "something new."
This summer, The LaSalle Hotel is running a special wedding deal where all wedding-related events, including rehearsal dinners, welcoming parties, and wedding showers, will receive $150 off with a food and beverage minimum of $900 or more. The special offer is valid until August 31st, 2023.
https://www.instagram.com/p/CsysDKUL8-n/
505 N Michigan Ave, Chicago, IL 60611
Not only is the InterContinental Chicago Magnificent Mile the site of almost 100 years of Chicago history, but it's also a beautifully restored setting for an extravagant 1920s inspired wedding. Gather your dearly beloved for a glitzy reception in one of its ornate foyers, then gaze out over the city lights as you dance the night away in an expansive ballroom. With 45,000 square feet of event space spread over 9 floors, their events team can bring your exquisite wedding to life in an ultra-historic setting.
The hotel offers three tiers of food and beverage minimums with your choice of one to three complimentary amenities, ranging from complimentary late-night snack bars or hors d'oeuvres to overnight packages for you and your parents. This limited time offering is valid on new wedding bookings through April 2024.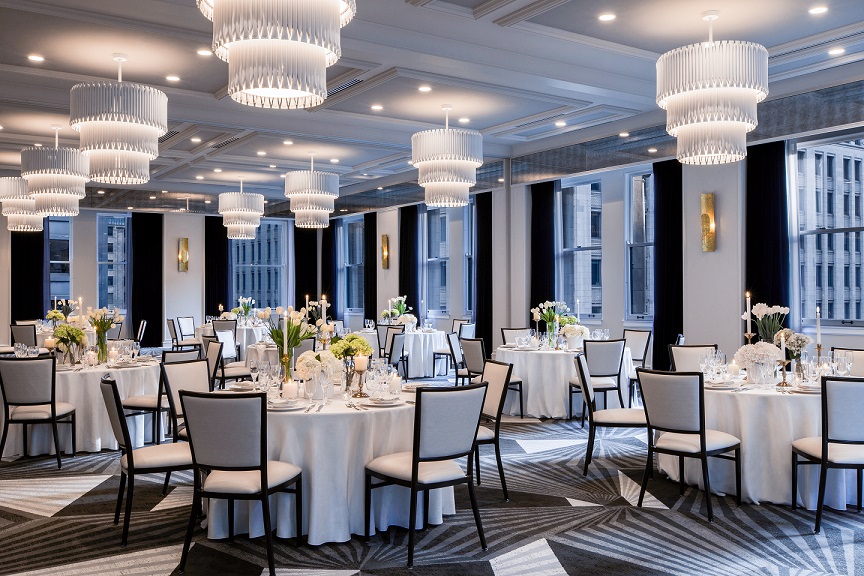 Couples who can't wait to say "I do" should check out The Gray's Vow Now, Party Later package. For couples looking to say "I do" sooner rather than later, The Gray helps couples plan an intimate wedding and reception which will be followed with a full-blown bash once the couple is ready. Each celebration is tailor-made by event specialists to exceed couples' every desire.
The package includes ceremony and reception space, a 3-course wedding menu, including wedding cake for dessert, a 4-hour bar package with a complimentary upgrade to premium bar tier, champagne toast, all tables, chairs, in-house linens, glassware, and votive candles, a complimentary, two-night stay in a One Bedroom Suite, 2 upgrades to suites for family or VIPS at the group rate, reduced guestroom rate, plus $500 off room rental!
Featured Image: Sheraton Grand Chicago Riverwalk