You know what? It's still warm enough for a big plate of sushi! We've done sushi roundups previously, but so many things have changed as we slowly open the city back up, and how can we not have the latest version of the best spots for sushi in Chicago?
This list also contains our editor's personal favorite picks for each restaurant we think you should try. Therefore, you better let us know how you like our recommendations on social media!
Featured Image Credit: Sunda New Asian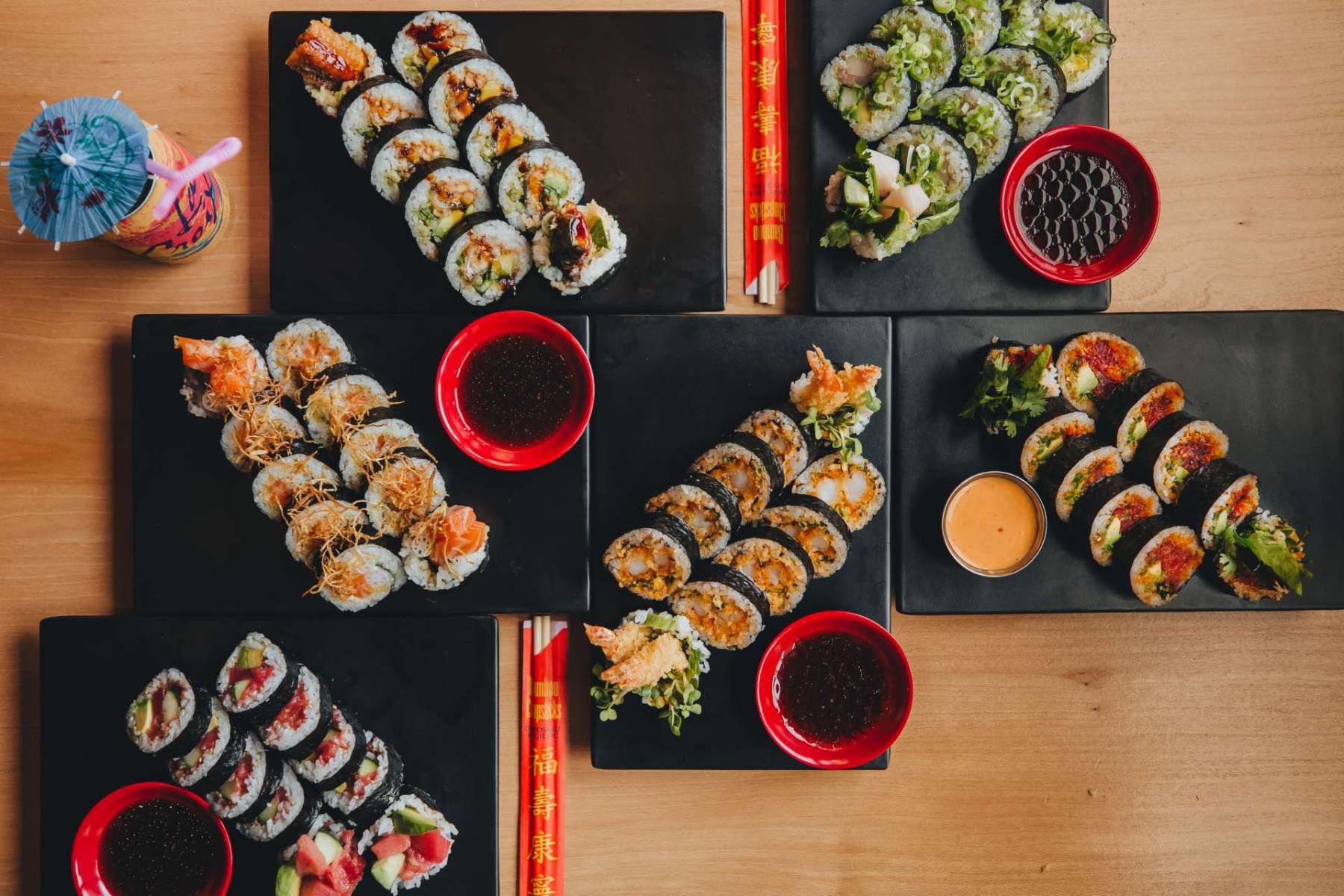 63 W Grand Ave, Chicago, IL 60654
233 S Wacker Dr, Chicago, IL 60606
Sushi-san at Catalog in Willis Tower (233 S. Wacker Dr.) is opening for grab-and-go dining on Monday, August 30. The newest Sushi-san will offer their signature assortment of maki and nigiri, in addition to dishes unique to Willis Tower. 
Led by Master Sushi Chef Kaze Chan, both Sushi-san locations source the best ingredients from across the globe. Through a direct partnership with the Yamasaki family at the Toyosu Fish Market, Sushi-san receives daily deliveries of the freshest fish and seafood available.
Editor's Top Pick:
Lobster Goddess

Spicy Tuna Aburi

Negi Hamachi
1244 N Dearborn Pkwy, Chicago, IL 60610
What is Sushi Boutique? It is the latest addition to the Chicago sushi scene. Sushi Boutique is redefining sushi bistro with its unique, contemporary take on traditional ingredients and flavors. You will also find their cocktails daring and unforgettable. Named after Japanese deities, these beverages bring a twist to your familiar cocktails. Your taste buds will thank you for coming here.
Editor's Top Pick:
12:44 Boutique
Gold Coast Sake
Mushroom Kabayaki
5951 N Broadway, Chicago, IL 60660
Indie Cafe probably has the most beloved sushi in Chicago, alongside their awesome Asian appetizers with a kick of modern taste. They're best known for their innovative specialty rolls and Japanese Moriawase plates.
Editor's Top Pick:
Crocodile Roll

Sex on the Moon

Superwhite Tuna
2958 W Irving Park Rd, Chicago, IL 60618
Are you a sushi snob? Well, be proud! And be happy — because we've found you the best place for those looking for the "real deal" in the sushi world.
Raisu prides itself on its high-end Japanese cuisine, from fresh sashimi to some of the most artistic and delicious rolls in town. The chefs here truly care about the freshness and taste of the fish. So, if you know your fish, go with the simple nigiri and enjoy the melting texture and flavor in your mouth.
Editor's Top Pick:
Bluefin Tuna

Tornado

Snow White
1751 W Chicago Ave, Chicago, IL 60622
Yuzu makes Sushi into art with its breathtaking design and placement, and of course, high-quality material and the freshest fish in town. Therefore, going to Yuzu means a delight to the eye, the palette, and the mind.
Editor's Top Pick:
Sea Smoke

Green Harbor

River Walk
1131 W Bryn Mawr Ave, Chicago, IL 60660
While Blowfish is more famous for its contemporary ramen, the sushi selections are also one of the best in Chicago. If you want something familiar but tasty, go with their classic nigiri and maki. However, the money, in our opinion, is all on the special signature rolls.
Editor's Top Pick:
Spicy Yellowtail

Shitake Roll

Pressed Sushi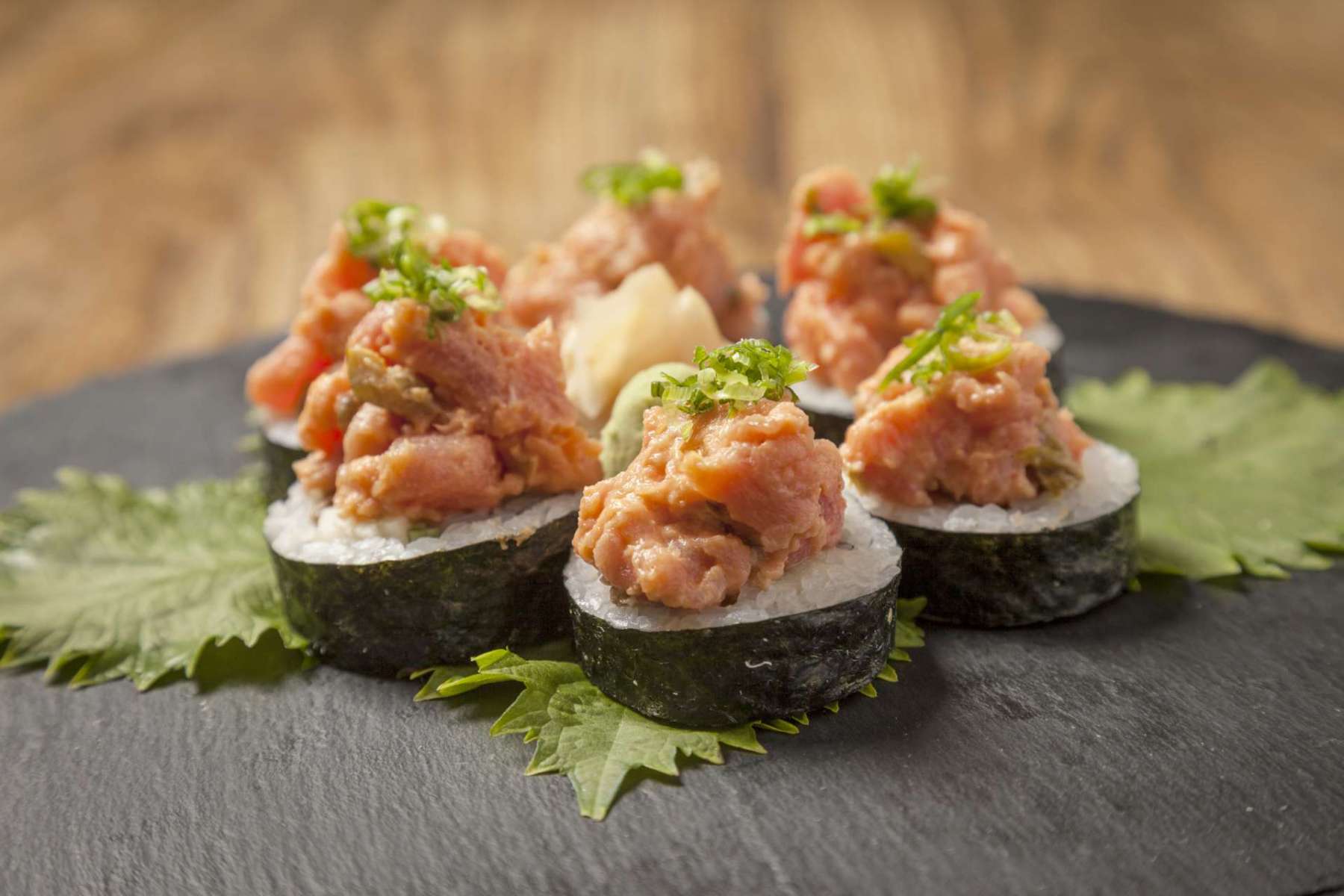 110 W Illinois St, Chicago, IL 60654
Sunda's food and cocktail menus showcase modern interpretations of culturally important classics from all over Southeast Asia and its surrounding islands by drawing inspiration from countries such as Japan, China, Thailand, Vietnam, the Philippines and more.
In addition to Michelin-rated signature dishes, Sunda offers an assortment of sushi, sashimi, and nigari; as well as an extensive list of premium Asian beers, sake, wine and seasonal craft cocktails. A delicious assortment of gluten-free and vegetarian options are also available.
Editor's Top Pick:
Garden Roll

Crunchy Pig, Hidden Lobster

Panda
1751 W Chicago Ave, Chicago, IL 60622
Simple, delicious, and also extremely convenient with their multiple locations across the most popular neighborhoods in Chicago. Kai Sushi has been around for quite some time, and almost every sushi lover in Chicago has been there in the past.
This quaint joint brings you some of the most delicious sushi in Chicago with a homey vibe, thanks to its approachable interiors. They also have a great variety of vegetarian sushi.
Editor's Top Pick:
Zuke Salmon

Oshinko

Shitake Tempura Special
Nori is another well-known Sushi name across town. With their locations in Wicker Park, Lakeview, and Edgewater, you can probably guess how artsy these guys are. And indeed. Going to Nori is more than just getting food. We've always loved their artistic expression as well.
Editor's Top Pick:
King Crab Asparagus

Aloha

Monster
62 E Madison St, Chicago, IL 60602
Ryo is another great spot for open-air dining. Enjoy classic sushi with a contemporary spin, or feast on the authentic Japanese kitchen menu. You'll find fancy ingredients like lobster and snow crab at Ryo Sushi easily. But, you'll also be surprised with their sweet maki combo deals.
Editor's Top Pick:
Beef Negimaki

Uni

Jeweler's Roll
2638 N Lincoln Ave, Chicago, IL 60614
Elegant, high-end, and some of the best ingredients in town. Yes, that's Juno. Enjoy their signature sashimi with a glass of Japanese whiskey, or try one of the hot dishes from the kitchen. Trust us. Juno is at the forefront of artistic, innovative sushi.
Juno is open with limited capacity, so be sure to make a reservation to secure your spot.
Editor's Top Pick:
Crudo

Uni Shooter

Grilled Octopus
230 W Erie St, Chicago, IL 60654
Looking for a casual place to go with friends, but wanting some traditional Japanese sushi? Union offers many traditional sushi options such as the Soft Shelled Crab Roll with Avocado and a Sweet Chili Sauce, or something more unique like the Spicy Mango Maguro Roll with Bluefin Tuna, Crab Tempura and Mango Balsamic. This is a perfect restaurant to grab a bite with friends and try something new to experience the traditional Japanese culture.
4514 N Lincoln Ave, Chicago, IL 60625
Miku is one of everybody's favorites when it comes to creative sushi in Chicago. Their signature makis and small plates will keep you coming back until you've tried everything on the menu. Plus, they have a beautiful patio area which is perfect for the early fall weather Chicago has to offr.
Editor's Top Pick:
Seafood Ceviche

Escolar Togarashi

Hangover Maki
731 W Lake St, Chicago, IL 60661
True sushi lovers appreciate the beauty and intimacy of a properly done omakase experience. And we cannot think of a place more "proper" for the said experience than Mako. Known as one of the country's premier sushi chefs, Chef B.K. Park has more than 20 years of experience working with seafood. He then opened Mako to serve the finest fish at the perfect moment for his diners.
1816 N Clark St, Chicago, IL 60614
Located inside Hotel Lincoln, Sushi Suite 202 is another great spot for an omakase experience. Leave everything to the chef. All you need to do is allowing your taste buds to be pampered to a whole new level.
Make a reservation here: https://www.opentable.com/r/sushi-suite-202-chicago  
651 W Washington Blvd Suite #101, Chicago, IL 60661
Three times a charm, and here comes the best omakase sushi in Chicago per our humble opinion. Besides all your usual goodies, Omakase Yume also created the first Omakase-at-Home experience so you can continue to enjoy the best sushi in town while staying safe amidst this pandemic.
They also have a great list of Sake available.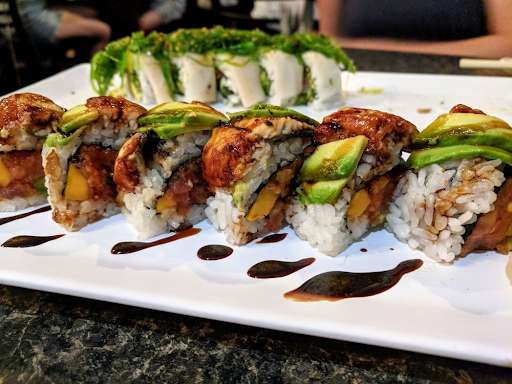 2546 N Clark St, Chicago, IL 60614
Like they always say, an oldie is a goodie. Toro Sushi is a tiny spot hidden on Clark street — super easy to miss if you're not looking. But they focus on the classic makis and nigiri, perfecting the flavor and recipes by sticking to the simple formulas.
Just want some easy, delicious sushi? Toro is your getaway.
Editor's Top Pick:
California Crunch

Cherry Blossom

Hiroshima
1904 W Division St, Chicago, IL 60622
There are so many good things about Sushi Taku. The casual vibes, the modern looks, the classic sashimi and nigiri, and, of course, the innovative rolls. Note that their hours have changed, so double check before you head out!
Editor's Top Pick:
Angel Hair Roll

Sunny Roll

Mango Tango Roll
2801 W Howard St, Chicago, IL 60645
Hamachi Sushi Bar is a quaint neighborhood joint featuring imaginative Koscher and vegetarian rolls. If that's not enough to get you to start an order, they also have a ton of contemporary appetizers blending Asian cuisine and other cultures.
Editor's Top Pick:
Sesame Sliders

Mango Maki

Barcelona Jalapeño Roll
3930 N Pulaski Rd, Chicago, IL 60641
Looking for a casual BYOB spot? Hot Woks is waiting for you with its Pan-Asian fare including Thai noodles, Chinese standards & sushi rolls. Most people come here for the flavorful food and ambient vibe. What about you?
Editor's Top Pick:
Soft Shell Crab

Salmon Bacon Maki

Akira
3006 N Sheffield Ave, Chicago, IL 60657
The best thing about Tanuki Sushi & Grill? One, you get an additional 10% off your online orders plus a free item, which is perfect for those of us who aren't feeling the dining out mood. Second, they are regularly pushing out new rolls. Come back in a month, you might find a new favorite on the menu and fall in love with this place all over again.
Editor's Top Pick:
Three king

Armageddon

Yes Ma'am
1320 Shermer Rd, Northbrook, IL 60062
Kamehachi has multiple locations and our favorite is the Northbrook one. This local standby features sushi, sake, and craft beers. Each location has a slightly different menu, so make sure you double-check before heading out!
Editor's Top Pick:
Sashimi Deluxe

Chicago Crazy

May Flower

Featured Image Credit: Sunda New Asian