It's incredibly hard to describe what it's like when the Hawks win the Stanley Cup, but let's do it anyway.
We're ecstatic! We're freakin' elated!
We're jumping out of our pants for crying out loud. And there's really no place for all the excitement to go as we go back to the real world and have to work, or study, or whatever it is you do.
But guess what? That all changes on Thursday!
All signs point to this year's championship Blackhawks parade being held on Thursday, June 18th.
Breaking: Due to public outcry over the Soldier Field rally, the City has extended the parade route. The parade will now start at Washington Boulevard and Racine Avenue, run east along Washington to Desplaines Street, then run south on Desplaines to Monroe Street, and finally east on Monroe to Michigan Avenue. Coverage begins at 9 am.
Following the parade, a rally will be held at Soldier Field. Tickets will be needed to attend, and they went live on Ticketmaster.com at 12 p.m. Wednesday. They were available on a first come first served basis, and sold out within fifteen minutes. Fans crashed the Tickermaster website trying to get their hands on them before selling out.
If you were one of the lucky fans who got their hands on a ticket, Soldier Field opens at 8 am. If you missed out, don't worry. Screens will be set up in Soldier Field's south parking lot for those who can't get in. This year's parade and rally will be broadcasted live on WGN Channel 9 and WGNTV.com. Mayor Rahm Emanuel has promised a "world class celebration." There's now only a 20% chance of rain on Thursday according to Weather.com (it was previously as high as 60%). Police will be closing all north-south streets two blocks ahead of the parade as it moves down Monroe.
"The City of Chicago is so proud of the Blackhawks, which is why we are going to throw them a celebration that only Chicago can throw – a celebration worthy of a hockey dynasty," said Mayor Emanuel.
You can expect a little something like this at the rally: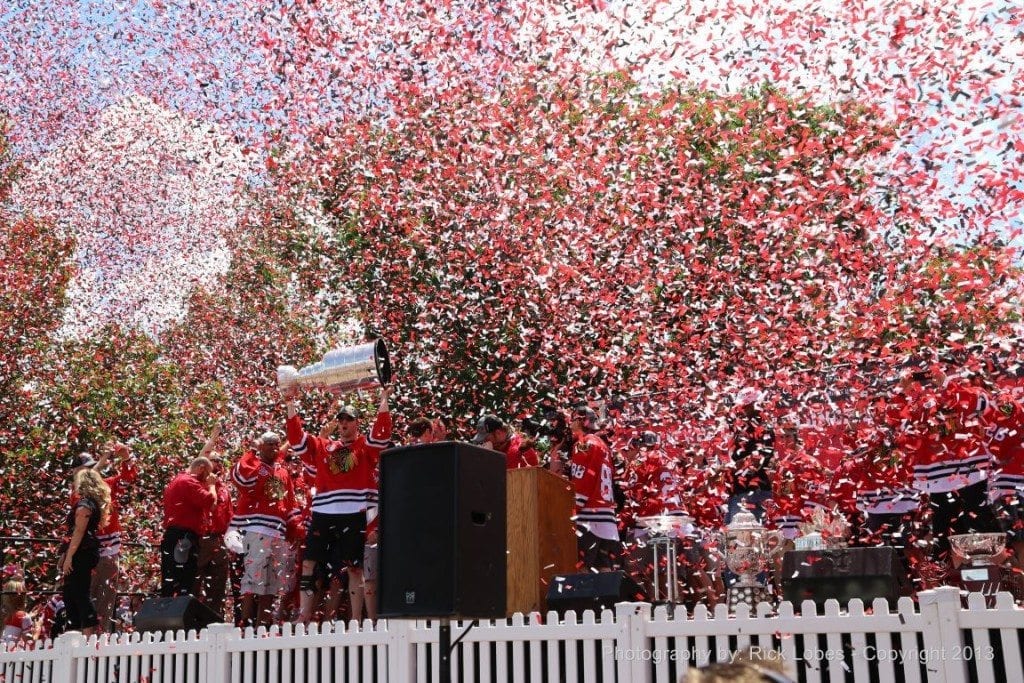 Our first tip: last time fans began arriving as early as 1 am. Yeah, 1 am. If you want to get a good spot for the rally, you'll need to be there as early as you can possibly muster to keep up with the competition.
If you haven't figured out transportation, you'll want to get that out of the way immediately too. The City of Chicago is selling all-day passes for $5 for the CTA. Each adult is allowed to bring three children free of charge. Buses, trains, and streets will be extremely crowded. You'll be crammed like a pack of sardines if you come too late. Outside of leaving extremely early, our advice is to have a plan of attack. You can reserve parking at garages on Wabash and Randolph and Dearborn and Van Buren. Both of these offer some fairly decent specials and $25 rates for all day parking. Probably the cheapest you'll find anywhere. Click on each name to see their deals, reserve your spot, and pay for parking online ahead of time. We've been told that parking garages during the parades generally have plenty of capacity, and it looks like street closures won't affect their availability. You can also visit InterPark Online or Chicago Parking Map to reserve parking at plenty of other garages around the area.
Other Tidbits:
Drinking in public is still illegal. Cops will be hanging out and making you dump those beers out, so plan accordingly.
Don't be the loser wearing non-Hawks gear. If you absolutely have nothing (or your dog ate it or whatever) wear something red at the very least.
Bonus: Here's a video of Grant Park and Jim Cornelison singing the anthem from 2013.
Images by Jonathan Daniel/Getty Images and Rick Lobes