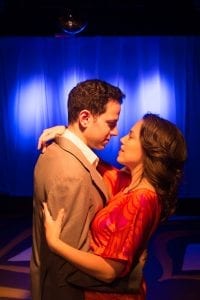 This musical isn't performed here very often, so that makes They're Playing Our Song an even bigger theatrical treat. Produced by the Brown Paper Box Company, this popular Broadway show combines book by Neil Simon music by Marvin Hamlisch and lyrics by Carole Bayer Sager in this 1979 classic. It's funny, warm-hearted and a joy to see. In his directorial debut, Jeff Award nominee Daniel Spagnuolo directs and choreographs the romantic comedy during Brown Paper Box Co.'s fourth summer residency at Rivendell Theatre, 5779 North Ridge Avenue in Chicago.
The play opens with award-winning composer Vernon Gersch (Dan Gold) searching for a new collaborator when he meets the offbeat, yet accomplished Sonia Walsk (Carmen Risi) at his luxury Manhattan apartment. Vernon has already written music to one of Sonia's lyrics. Sonia's not completely taken with the music, and so the banter begins. Besides, Sonia's not ready to give up her long-time lover, Leon, whose lurking presence continues to be a problem throughout the show. Before too long, they start a romantic relationship, move in together, and somehow, well, you'll just have to see it. Complemented by Neil Simon's comedic writing and the songwriting team of Hamlisch and Bayer Sager, They're Playing Our Song is a story about the joy of falling in love and "working it out."
As Sonia Walsk, Carmen Risi is beautiful with a lovely voice and very believable as the confused, befuddled, gifted songwriter. Dan Gold as Vernon Gersch is the nerdy, brilliant composer with great vocals. But it's the chorus of their "Voices" (three girls and three boys) that give the show its hilarity and passion. Special mention must be made of costume designer and Jeff Award winner Kate Setzer Kamphausen for her brilliant design and constant change of wacky, spot-on outfits Sonia wears throughout the show. Director Daniel Spagnuolo maximizes the set, making great use of the space as the scenes change as well as creatively incorporating the "Voices." They're Playing Our Song is performed Thursdays through Sundays until August 20. Don't miss it. For tickets, visit www.BrownPaperBox.org.