The Wonderland Express has returned to the Chicago Botanic Garden!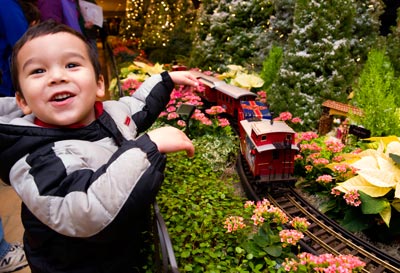 Looking to indulge in a little winter magic? Head to the Chicago Botanic Garden and hop on board the Wonderland Express – well, not literally.
This family-friendly holiday tradition is back in action. Inside the garden's beautiful greenhouse, model trains make their way through a Winter Wonderland. Gingerbread houses, Christmas lights and even miniature Chicago landmarks make up the stunning background for this tiny railroad exhibition. In addition to the holiday locomotives, Chicago Botanic Garden also brings a soft snowfall indoors so you can experience the wintery and the warm at the same time. Kids will love watching the trains zip along the tracks, and might even spot a familiar face –Thomas the Tank Engine.
If that's not enough for you, no need to worry. There's more. Carolers perform holiday favorites live for guests, while professional ice sculptors create works of frozen art right before your eyes. The artists will bring their ice, carving tools and chainsaws and set up outside no matter the weather, so let any more unseasonably warm days stop you from coming to see their work.
And while you're enjoying the magic of the garden, pick up a one-of-a-kind holiday wreath. Chicago Botanic Garden staff members carefully hand-make each one. You'll have something to bring holiday cheer to your home and remind you of your visit!
Tickets are required, but consider planning your visit on a Tuesday. Half-price Tuesdays sponsored by Grainger make seeing the Wonderland Express even easier! You can also catch holidays classics at Movie Night (free with ticket purchase on scheduled dates) and check out the Family Drop-In Activities. Be sure to check the calendar as there are a few days scheduled for early closing and the garden will be closed on Christmas Day.
Don't miss out on this holiday favorite!
Featured Image Credit: Chicago Botanic Garden Facebook