With The White Panda playing at the House of Blues in Chicago on December 12
th
, we caught up with one-half of the Mash-up duo's crew.
You can purchase tickets for the White Panda House of Blues Chicago show on Saturday, December 12th at Songkick.com.
Hey, we're big White Panda fans! Thanks for taking the time to meet with us. Let's kick things off by telling us a little bit about yourself and what you do.
"No problem, thanks to you as well."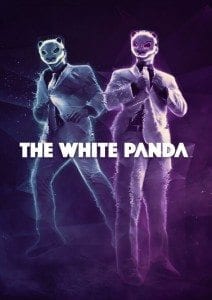 "I grew up playing piano, was classically trained. I've always had an interest in music, and I made an indie-rock album in high school that I mixed and recorded myself. Then in college, I got more into dance music, got more into Girl Talk and the sampling style – just enjoying how they allow you to reminisce in old music and get new takes on classics you used to like. So I kind of married that with my interest in dance music in college and started making my own upbeat funky dance mash-up mixes. Ultimately in 2009, I decided to put a real name and brand to it and distribute it as I could. In my senior year, I had people reaching out seeing if we could come perform live, which we started doing. Ended up signing with an agency the summer after we graduated and hit the road. We've pretty much been touring ever since."
Awesome! Vibe magazine has called White Panda the "Mash-up Kings", and you've also been described as having a "throwback-meets-modern sound," How would you describe your sound to people who haven't heard your music?
"It's sort of a new, funky, dancey, electronic take on some more classic, recognizable samples. So vocals that people have heard and loved, but they've heard a thousand times in their original context. So this is a way for them to hear a fresh take on them and bring them into more of a party atmosphere for some of the samples that weren't necessarily there already."
You played at Lollapalooza in 2012, that had to be a memorable experience. Tell us a little bit about that show and what made it special.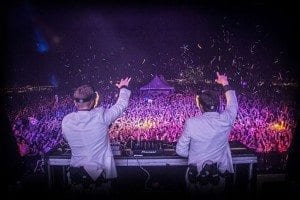 "Without a doubt, it was our most memorable performance. One of the biggest crowds we've ever played for, and you know – Perry's stage faces north from Grant Park so the whole skyline was what we were looking at. The Friday afternoon set – we basically got the nerves right out the way with a performance right on the front end of the weekend. So we had this amazing show followed by two and a half days of just the most VIP treatment by all sorts of venues in the city. It was pretty unforgettable."
The White Panda is playing in Chicago again at the House of Blues on December 12th. Tell us a little bit about the venue and your past experiences there.
"We've played at the House of Blues a number of times before, and I've sort of found that it's the best venue in the city for what we do. It's a big enough room to create the party atmosphere that we like, but not so big that some of our production elements get lost in the scale. And we're actually bringing out a whole new production set in Chicago. It's the first show we're ever using it at, so we're excited to test that out and see how the fans react."
With the show coming up, do you have any other memorable experiences in Chicago that you might want to mention?
"Every time we play in Chicago is just awesome. And being on the road can be tough – going from hotel to venue, to sound check, airports. When we're in Chicago, it's the kind of place where we like to spend a night on the town. So anytime we get to play a show here is special."
Who has been your favorite artist to share the stage with?
"I would probably say Matt & Kim. I think they bring a similar style of energy to the shows that we do but in a very, very different way – which sort of makes them a good combination. We're sort of nonstop, four on the floor, hands up, EDM in our live sets – whereas they're getting up and telling stories on the mic, and Kim's getting up and twerking on her base drum – doing all sorts of crazy stuff to get the crowd hyped up. So we end up producing a similar type of energy but through two very different approaches which kind of makes it a fun combination for a live show."
The White Panda's sixth full-length album, The Pawprint, was released on December 1st, just a day ago. Tell us a little bit about recording the album and what it means to you.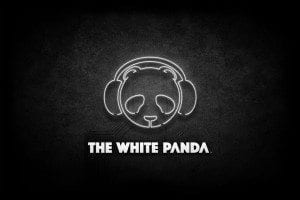 "It's been about a year in the works. My approach generally is – that album has 32 mixes on it – my approach is generally to make as many mixes as possible until I feel like I have an hour's worth of quality content. I've made hundreds and hundreds of mixes over the past year, and then in the months leading up to the release I broke down which were the best 50 and which would go on an album and flow together. In the final six or eight weeks, it's just about making those last selections, threading it together, and making sure it flows well – never losing too much energy. But every single mix in its own right is real quality both rhythmically and tonically – just a fresh take on a song that's going to appeal to some kind of audience. And I think we've gotten better over the years at what we do, so The Pawprint is our most accomplished work to date – just technically – in terms of the audio production. So, I'm really proud of it. I've heard it so much in the past few weeks that I don't even really know objectively what it sounds like, but six months from now I'll go back and listen to it and really be able to tell. We're happy with how it came out."
Do you have a favorite song off the new album?
"I'm partial to the Backstreet Boys/Tupac mix. When I made that one, I sort of laughed to myself. It was one of those that – on paper, this mix kind of looks cheesy – but it just works so well. They're just two such iconic songs: Backstreet Boys I Want it That Way and Tupac & Dr. Dre, California Love. Both of those songs came out when I was a kid and I was jamming to them. The fact that they fuse together so seamlessly to create this mix that makes you bob your head but also makes you kind of chuckle – those are the kind of mixes that I really like when they come out well on an album."
You began your career in 2009, and to be around for 7 years in today's music world is pretty incredible. How have things changed from the beginning, and how have they stayed the same?
"Well, I think a mash-up is the perfect example to answer both of those questions because – in its own right – it's a genre that's always been a sampling genre. You take one style and different elements from different pieces of music and fuse them together to create a fresh sounding take on it. That's what mash-ups have been forever and still are. But the other thing they can be is extremely dynamic in that – as people's tastes in music change – you can change what samples you take. A mash-up that people love today may not have been something that they would have loved in 2008, but you can always adapt to the trends in music with your sampling choices."
"I think back in the day – in 2008 – electronic music has had a lot of trajectories. Progressive house got really big, and then it sort of trended toward electric house – which was a little bit grittier and a little bit harder. Big room house then sort of surface, which is still kind of around in your Martin Garrix, Demitri Vegas & Like Mike guys with these big, big round kick drums that are in your face that are just meant to shake people around at festivals. It's still a big, popular genre, but we've also seen the rise of deep house and tropical house – which is sort of what's taken over lately. Those are the Disclosures, the Kygos & Thomas Jack – those guys are still on the up & up and becoming festival headliner quality. Oliver Heldens, a deep house guy who makes mainstream stuff. So, in electronic music there's been a bunch of that moving around. I would say it's a little bit calmer than it used to be. Electronic music has sort of taken over pop a little bit too recently."
What has been your favorite part of your career thus far?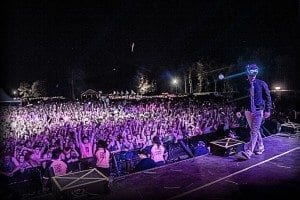 "Probably the first bus tour we ever did, for a couple reasons. It was gratifying to know that we had gotten to the level that we could do a bus tour because a bus tour is not easy to do. To make it worth it, you've got to be able to play four or five days a week with every single show being driving distance from the one before. So you have to have some fairly national popularity. So that was gratifying to do that, and at the same time, it was just a really fun experience: just sleeping on a tour bus and waking up in a different city every night. Travel was easier than fly tours because you don't have to go to the airport every morning and stay in hotels. You just wake up at the venue, you go to sleep, you wake up at the next venue. You can bring friends on the bus at marginal expenses, so I think the realization that we had made it to a point where that was a profitable venture for us felt really good, and it was also just a really good time on the road."
Did you ever have an "I made it" moment?
"I think when my mom – she's a schoolteacher – got interviewed by her school's magazine about what it was like to be the mother of the White Panda. That was my "I made it" moment."
What's on your iPod right now?
"Well nothing, because I use streaming services almost exclusively." *laughing*
"I'm a classic rock guy. I listen to a lot of Rolling Stones, Led Zeppelin, Pink Floyd, The Who, and some slightly more recent guys like James Taylor. I also listen to calming music because I spend so much time through work listening to heavy electronic, which I still enjoy, but when I'm on my leisure time I tend to trend towards the classics and the more calm stuff."
Anything you have an interest in that's not music related?
"Crossword puzzles?" *laughing*
"Nah, I enjoy sports: hockey and football primarily. I really like snowboarding and watersports, wakeboarding, jet skiing. I was a big volleyball player growing up. I'm an avid dog lover. I have two dogs at home, and I just love animals."
What can we expect from The White Panda in the future?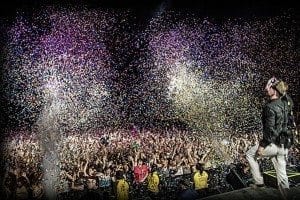 "We've been dabbling in some remixes, which we're going to continue doing into the next year. Remixes would be – where we take a vocal, like a mash-up – but we originally compose the backbeat. So the backbeat wouldn't be any sampling, it would be something digitally composed by mean on my computer, creating it from the ground up. That's a little bit of a different endeavor that we're starting to dabble in. We have some on our SoundCloud now that have gotten six or seven million plays. We did one for Walk the Moon Shut Up and Dance. We were actually the only remix they commissioned for that song."
Tell us something that people don't know about you, that you'd like them to know about you.
"I'm a much better dancer than you see on stage." *laughing*
Thanks so much. We really appreciate everything.
"No problem, I really appreciate the time."
You can purchase tickets for the White Panda House of Blues Chicago show on Saturday, December 12th at Songkick.com.