Each winter, there are always a few frigid days that make us question our decision to live in Chicago. These are always short-lived for many reasons, and one of them is Lollapalooza.
Yes, there are other great music festivals across the country, but these are few and far between. Not to mention most of other fests focus on a specific genre, and literally none of them can lay claim to better skyline views during shows. There just isn't anything else like Lolla out there, period.
There are plenty of places on the web to find info about the festival, but it's hard to find everything all in one place. That's where we come in.
We decided to create a comprehensive guide for you — complete with advice, do's, don'ts, the lineup, schedule, parking recommendations, and everything else you'd want to know.
So without further ado…
Who's Playing When?
Here's the latest schedule: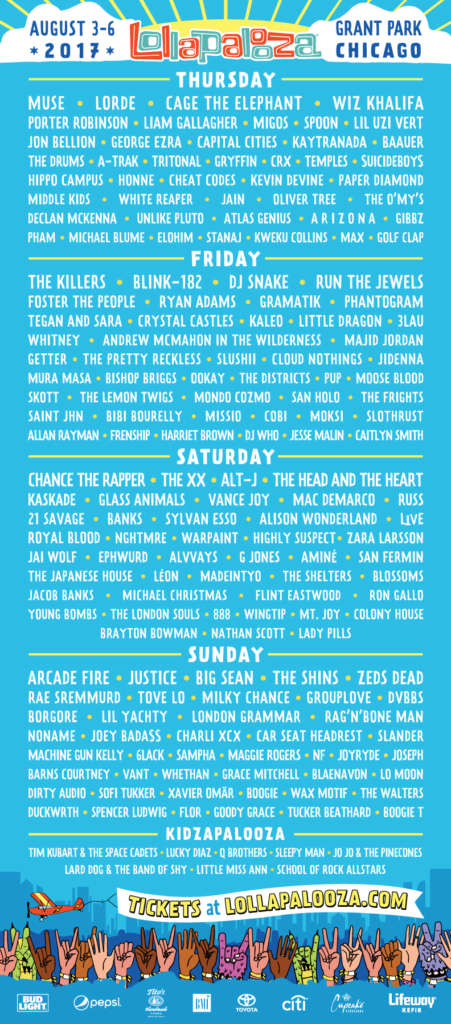 What Should I Do to Prepare?
Well, hopefully you got a ticket. These sold out within hours of being made available to the public, so if you don't have one now, you're probably in trouble. Check with your friends or post on social media to see if anyone in your circle has any extra. Who knows, you might get lucky.
If you were one of the more prepared Lolla-goers who got tickets, don't celebrate just yet: you're still going to need a hotel and place to park if you plan on staying in the Loop overnight. At this point, a lot of places are going to be booked, so check around and don't wait until the last minute. As always, we offer options to reserve parking spots online through our site, so if you want to avoid the hassle of full parking garages, we recommend that as well. Find convenient parking with unbeatably low rates at the 318 S. Federal garage, Wabash Randolph garage, or Adams Wabash garage to make sure you're never far away from the fest.
If you've already got the whole thing planned out – give yourself a nice, big pat on the back and watch some Netflix or something until the fest rolls around.
When Is It?
Lollapalooza is from Thursday, August 3 to Sunday, August 6.
Where Is It?
This is an obvious one to the seasoned Lolla-goers, but it's worth mentioning that the music fest is held in Grant Park. If you've never been, you're in for a treat. You'll be happy to know that Millennium Park is actually a part of Grant Park, along with Buckingham Fountain and some of the most amazing lake and skyline views that the city has to offer. It's a great place to see concerts all day, and if you have any down time, there are plenty of other things to do here as well. Check out our page on Millennium Park if you're interested.
Whether it's the 318 S. Federal garage, Wabash Randolph garage, or the Adams Wabash garage, all of our affordable parking recommendations are just a short walk away from Grant Park.
What Shouldn't I Do?
Hop the fence.
Look, we've all taken some unnecessary risks in our day, but this is just stupid. Not only are there multiple fences and security guards watching them, but you could get in a lot of legal trouble for this little stunt. Every year, people are injured by stampeding crowds crashing the gate too. Just get your hands on a ticket like everyone else or find something else to do.
Who Should I See?
As always with Lollapalooza, there's a quite a bit of everything to choose from. Some of the more major acts we're looking for to this year are Lorde, Migos, The Shins, and The xx. Of course, Arcade Fire is one that can't be missed, and any chance you get to see Chance the Rapper, you're obligated to take.
Well there you have it, the Ultimate Guide to Lollapalooza. Looking for the biggest acts? See the full lineup with the headliners at the top here. Relive last year's best moments to get you pumped for this year by checking out the video below.