Chicago's very own Renegade Craft Fair makes its triumphant return this month in Bridgeport.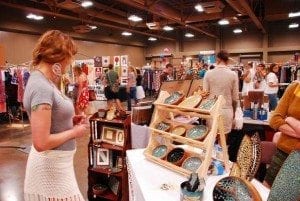 The Renegade Craft Fair began in Chicago in 2003, and since then it has reappeared time and again to appease the city's flourishing indie-craft community. The fair itself features all kinds of contemporary, homemade items like clothing, artwork, jewelry, collectibles, DIY craft kits, housewares, bath & body products, and more. Frankly, if we typed out everything you'd see at the fair, you'd be looking at an encyclopedia's worth of information.
With sites like Etsy and Big Cartel growing people's interest in DIY craft goods, the Renegade Craft Fair has continued to expand well beyond its initial debut. Nowadays, the fair has become the largest of its kind, attracting 325,000 visitors over 20 events in 8 cities across the U.S. and London. 2006 was the first year of the Chicago Holiday Edition, and it came to the Bridgeport Art Center in 2014, the same venue that it will be held in this year.
Here's What You Can Expect
     

250+ vendors

     

DIY workshops

     

DJ tastemakers

     

Homemade treats from local sources

     

Seasonal gift-giving items

     

Hand-drawn portraits

     

Artistic face painting
Here's What You Can Eat
     

Barbecue

     

Empanadas

     

Tamales

     

Gelato

     

Coffee

     

Granola

     

Jam

     

Truffles

     

Honey

     

Jerky

     

Much more!
Visitor Info
Admission to the Renegade Art Fair is free! Hours are 11 am to 6 pm at the Bridgeport Art Center (1200 W. 35th St). Parking is limited, so arrive early, plan on finding an alternative form of transportation, or be prepared to make the trek from down the street.
Want to Learn More?
You can find a complete list of vendors at RenegadeCraft.com. Complete details are available on their official site as well.