Winner of Best Musical and Best Musical Revival presented by Highland Park Players through November 5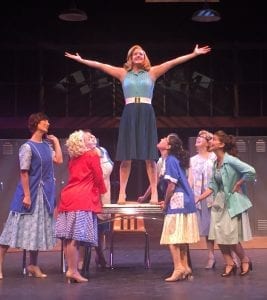 The Pajama Game debuted on Broadway in 1954, but its struggle of workers and their union trying to get a seven-and-a-half cent raise could be taken right off the pages of today's newspapers. The plot of the show centers on the grievances of the hourly-workers in the Iowa-based Sleep-Tite Pajama Factory and a strike is imminent. On one side is management and new superintendent, Sid Sorokin and on the other is Union Leader, Babe Williams, who also happen to fall in love. With music and lyrics by Richard Adler and Jerry Ross (Damn Yankees), the magic continues with such hits as "Hernando's Hideaway," "There Once Was a Man," and "Steam Heat."
The Pajama Game is directed by three-time Jeff Award winner, Dominic Missimi. Trevor Vanderzee plays leading man Sid with strong vocals and a handsome demeanor. Hannah Rose as Babe is beautiful with a great voice and believable character. Standouts include Nicole Frydman as Gladys, Denise Tamburrino and Naomi Hirschman as Mabel.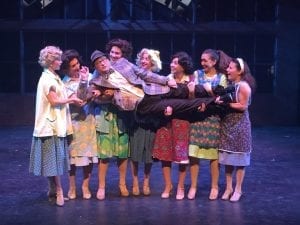 "Having directed more than 150 musicals, it's really wonderful to finally get a chance to tackle this great American classic," said Missimi. "I have a cast of truly professional-caliber leads and the ensemble is first rate. I think audiences are going to feel like they are sitting in the theatres of Chicago's best music theatre companies."
The production team includes Bradley A. Rose (Executive Producer), David Shaw (Producer), Dina DiCostanzo (Choreographer) and Aaron Kaplan (Music Director and Conductor).
Highland Park Players is celebrating its 30th anniversary this season. Performances are November 2, 3, 4 at 7:30pm and November 5 at 2pm at Northbrook Theatre, 3323 Walters Avenue in Northbrook. To purchase tickets, go to www.highlandparkplayers.com, 847-291-2995.
Visit Highland Park Players online at www.highlandparkplayers.com, Facebook, Twitter, and YouTube.
Photographs by Sally Norlie