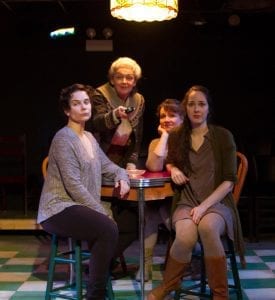 Tucked away on Howard Street is the intimate Factory Theater that maximizes its space and turns it into larger-than-life performances. Rebecca Lenkiewicz's The Night Season is Strawdog Theatre Company's third and final production in its 2016-2017 season.
The premise of the play centers around the tiny hometown of Irish poet, W.B. Yeats, where a film about his life is being made. The Kennedy clan figures that renting out a cottage to the lead actor will bring them some badly needed funds and maybe bring some spark to their lives. They get the extra Euro's as well as the impetus to make some changes. The family's three sisters and their delusional grandmother and father who drowns his sorrows in drink decide to take life into their own hands. But with a runaway mother affecting them all, this skewed romantic comedy is big on laughs as well as realities.
This play is set in-the-round, which makes the audience feel like they're right in the center of all the action. Directed by Elly Green with perfect precision, the production is fast-moving and spot on, as the scenes change and the story evolves. Cast members include ensemble members Janice O'Neill, Michaela Petro, Michael Reyes, John Henry Roberts, Justine C. Turner, Jamie Vann and guest artist Stella Martin. Michaela Petro is a standout as "Rose" whose vulnerability and fear about becoming a "spinster" is raw and real.
The Factory Theater is located at 1623 West Howard Street. The performance schedule is through June 24; Thursdays – Saturdays at 8 pm and Sundays at 4pm. For tickets, call OvationTix toll-free: 866-811-4111 or visit strawdog.org. Strawdog Theatre Company will be moving to another address, 1802 West Berenice Avenue, for the next three years.