With 76 trombones and a whole lot more pizzazz, The Music Man made its triumphant debut at the Goodman Theatre under the direction of Tony Award-winning Director Mary Zimmerman. Due to the popularity of this show, performances have been extended until August 18.
The winner of five Tony Awards including Best Musical in 1957, this American classic was created by Meredith Willson and Franklin Lacey. Willson, who was from Mason City, Iowa creates the magic of a joyful, gentler, more innocent America in River City. The cast of characters is based on a composite of people he knew in his hometown. You'll be singing right along with the beloved music of "Goodnight My Someone," "Seventy-Six Trombones," "Gary, Indiana," and "Till There Was You." Note the similarity between "Goodnight" and "Seventy-Six Trombones." They're the same notes with different tempos!
The Music Man has it all… wonderful music, an engaging tale, breathtaking choreography by Denis Jones, and enough comedic chops to keep the audience laughing at the innovative antics created by Ms. Zimmerman.
As Marian the librarian, Monica West knocks it out of the park. Her lovely voice is a perfect soprano and comes across as sincere and wistful. Geoff Packard has all the charms to sweep her off her feet. Standouts include Heidi Kettering as Mrs. Eulalie Mackecknie Shinn, who has the audience in stitches as the mayor's wife. Conductor Marcellus Washburn, played by Chicago favorite Jonathan Butler Duplessis, sings and dances his way into your heart. Kudos to Mary Ernster for her wonderful portrayal of Mrs. Paroo. Mention must be made of all the children whose sweet voices light up the stage.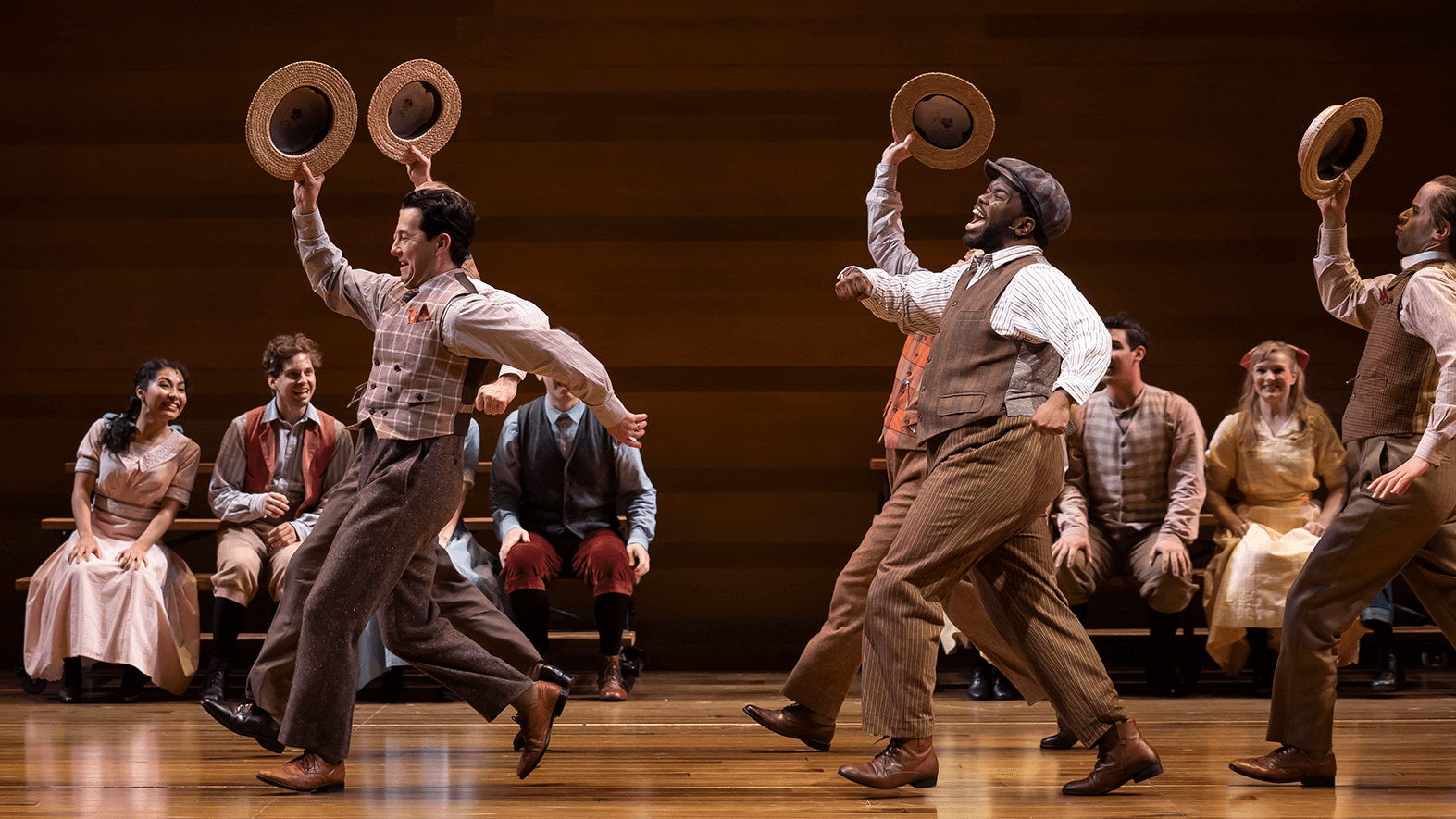 Daniel Ostling's set design is fabulous, played for laughs in many of the scenes, especially the Well's Fargo Wagon. The water tower is larger than life and always looming in the background is the iconic Iowa corn.
From the first boom of the overture, and "Seventy-Six Trombones," directed by Jermaine Hill, the audience is hooked. Don't miss your chance to see this All-American treat. You won't be able to stop tapping your feet until the last note is played!
Get your tickets today! Call 312.443.3800 or pick them up at the box office (170 North Dearborn). Parking near the Goodman is easier than you think.