Finding Mecca in New York City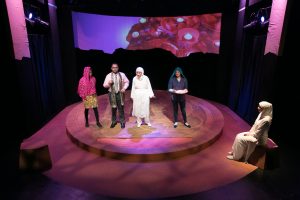 There is something glorious about discovering a new performance space in New York City. It's like finding out a little secret, especially when the production leaves you thinking for days. The Sheen Center for Thought and Culture on Bleeker Street is such a space – and a pleasant surprise.
A project of the Archdiocese of New York, The Sheen Center's mission is to act as a forum for highlighting the true, the good, and the beautiful, as they have been expressed throughout the ages.
Recently playing at The Sheen Center was The Mecca Tales.
The Mecca Tales tells the story of five Muslim women. While on a pilgrimage, their bus is stopped in a traffic jam while headed to Mecca. Miles short of their destination, tempers flare and the women are tested in unexpected ways. They share their personal stories in an attempt to move forward in their lives. They find meaning in a spiritual journey seemingly gone awry.
Directed by Kareem Fahmy, this is a production about the dynamics of individuals and how through sharing their own stories about faith and life, they can overcome any grievance. Written by Rohina Malik, this story will undoubtedly make you ponder upon life and your own purpose.
Entering the production without any expectations, it was refreshing to see five strong female characters represented on stage. The stand-out performance was Grace, played by Kimberly S. Fairbanks. The character of Grace is that of the tour guide who has returned on multiple pilgrimages but never completed the ritual. After seeing this performance, I couldn't think of anyone else to play the role. Kimberly delivers this character in such a way that you cannot help but take notice of her when she is on stage.
The Mecca Tales is an enjoyable stage play that raises many questions about faith and its effects on humans as individuals.
Although The Mecca Tales has completed its run at this venue, stay tuned for more productions playing at The Sheen Center this season.
All Images Courtesy of Beowulf Sheehan