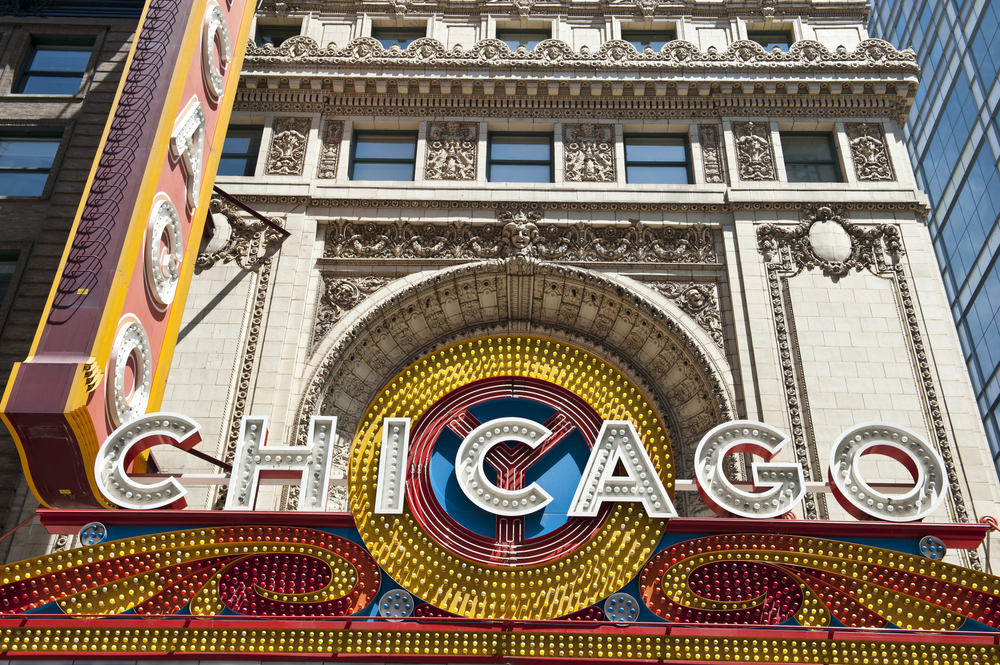 About The Chicago Theatre
Once known as the Balaban and Katz Theatre, this landmark theater in the Loop is Chicago's premier performance venue and show space for everything from music to comedy and more. Erected as early as 1921, the theater has been a citywide favorite for nearly 100 years, and continues to thrill audiences to this day. Now owned by Madison Square Garden, The Chicago Theatre has showcased some of the biggest names in the industry, including Nick Offerman, Mariah Carey, Joe Biden and more.
This Chicago landmark is mostly recognized for its iconic sign, which has appeared regularly in photography, art, and movies over the years. The building, which opened in 1921, seats 3,600 and takes up about half of a city block. The Chicago Theatre is also known for its incredible French Baroque architecture, and it features a massive lobby modeled after the Royal Chapel at Versailles. This theatre was the first great movie auditorium in the United States, and it has served as the prototype ever since then.
Why Visit
In a nutshell—shows, concerts, history, and architecture. The Chicago Theatre regularly hosts comedians, orchestras, bands, stageplays, musicals, and more. Even if you're not seeing a show at the Chicago Theatre, it's worth hosting an event or taking a tour of the building just to be within its walls.
Features
Iconic architecture inside and out
Unique atmosphere not found elsewhere
Daily tours at noon
Rental availability of theatre auditorium, grand lobbies, and downstairs theatre for private events
Central and accessible location in the Loop
FAQs
From the Chicago Theatre website
Can I drink alcohol at the Chicago Theatre?
For most events at The Chicago Theatre, alcoholic beverages are available for purchase as long as guests show an ID. Guests are not permitted to bring in alcoholic beverages from outside and may not leave with alcohol purchased inside The Chicago Theatre.
Am I allowed to bring my service animal to the Theatre?
Yes, service animals are permitted at The Chicago Theatre. If you are an individual bringing a service animal, you should contact The Chicago Theatre's Disabled Services Department at 888-609-7599 to request a photo ID for your animal, which will help to expedite entry and access.
I am hard of hearing. What should I do?
Assistive listening devices are available free of charge at Coat Check during events at The Chicago Theatre.
The Chicago Theatre does not distribute backstage passes for any event.
Can I keep my bag somewhere safe?
Yes, bag and coat check is available for $2 per item.
The Chicago Theatre does not enforce a formal dress code, however it's suggested to use your best judgment in apparel when attending an event.
Am I allowed to leave an event and re-enter?
Re-entry policies vary from show to show. Check with the Box Office and inquire for your particular event ahead of time.
I lost something at the Theatre. Where do I go?
All found items should be brought to the Coat Check area. Check with an attendant at Coat Check or call the Chicago Theatre's customer service line at 312.462.6300.
Outside food or drinks, professional video and audio equipment, and smoking are all prohibited at the Chicago Theatre.
Eager to see the complete 2019 Chicago Theatre lineup? We got your back.