Bringing New Life Into the Classics
What makes classic theatre? A timeless story, humorous situations, and a bit of humanity combined to make a stage play that has been performed over and over for years. First produced in London in 1895, "The Importance of Being Earnest" is one such farcical classic that gives a new generation an appreciation for Oscar Wilde, the most quoted playwright on the planet.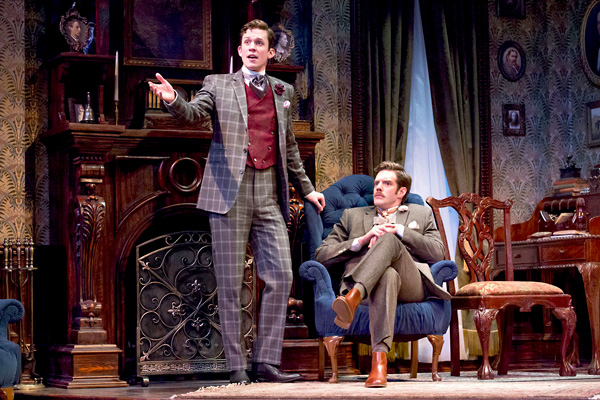 The plot revolves around two refined young gentlemen living in 1890's England who bend the truth to infuse a little excitement into their lives. The proper John Worthing has invented brother Earnest, whose identity he adopts when in London to go wild without repercussion. His best friend, Algernon Moncrieff, has a lovely cousin, the ravishing Gwendolen Fairfax, who Worthing wants to marry. Algernon decides to visit John's young, beautiful ward Cecily, at the manor. Both ladies are determined to only marry a man named Earnest. Hilarity ensues when they all converge in the country. Deceptions are revealed and old secrets are uncovered until the dramatic conclusion.
What makes the play so grand is the historical staging produced by the Dead Writers Theatre Collective on the small stage. This whimsical production features magnificent Victorian costumes, fine acting, and elegant sets. DWTC director Jim Schneider says, "We're using a wonderfully detailed, hand-painted proscenium to frame the top and sides of the stage. Then, each of the three acts are created from several layered pieces just like a Victorian Valentine."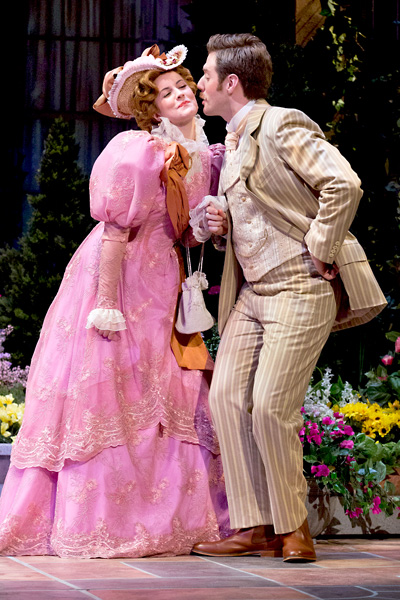 Directed by Artistic Director Jim Schneider, the cast includes: Sean Magill as John Worthing, Jack Dryden as Algernon Moncrieff, Maeghan Looney as Gwendolyn Fairfax, Megan Delay as Cecily Cardew, Patti Roeder as Miss Prism, Mary Anne Bowman as Lady Bracknell, Elliott Fredland as Dr. Chasuble, Chris Bruzzini as Lane and Jonathan Crabtree as Merriman.
Standouts include the lovely Maeghan Looney as Gwendolyn who looks as though she walked off the pages of a London fashion magazine. Megan Daly is adorable as Cecily, who doesn't even know how cute she really is, and Jack Dryden as Moncrieff has all the looks and charms of the character Wilde imagined (and probably secretly lusted after). Mary Anne Bowman as Lady Bracknell pulls off the judgements and racism as a stereotypical proper English lady, while the audience laughs. It's all about class, morals, and keeping people in their place.
The play runs now through July 31 at the Athenaeum Theatre, at 2936 North Southport Avenue in Chicago. Tickets are available at the Athenaeum Box Office at 773-935-6875 or on their website.
Recently chosen to be Jeff Eligible, Dead Writers Theatre Collective produces works either by or about dead writers. Their goal is to provide audiences a chance to understand the original work through its own uniquely beautiful aesthetics. Dead Writers Theatre Collective is located at 1143 West North Shore Avenue in Chicago. Reach them at 773-305-8221 or on their website.